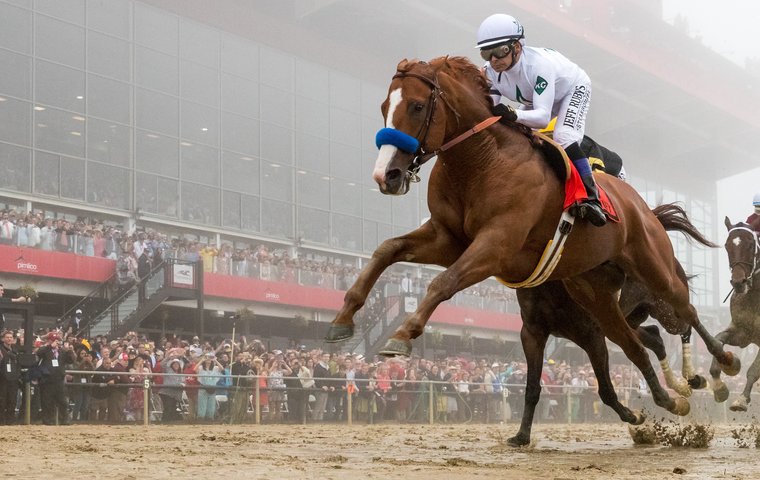 A TRC article about last year's Preakness Stakes has won multi-award winning writer Bob Ehalt another honor. He has just been announced as the winner of the David F. Woods Award for excellence in journalism. It will be presented on Thursday, May 16, at the Alibi Breakfast at Pimlico Race Course ahead of the 2019 Preakness Stakes two days later.

Ehalt's story - Baffert and the Triple Crown: two out of three ain't bad? It's unprecedented - was posted on May 20, 2018. Now a two-time recipient of the David F. Woods Award, Ehalt also received the Joe Hirsch Memorial Writing Award for his work on the Belmont Stakes in 2014 and 2018. He is a native of Queens Village, New York, near Belmont Park.
"It is truly an honor to be presented with this highly respected award and be included among so many great and talented recipients," Ehalt said. "I'm thankful to Pimlico and the Maryland Jockey Club for their continued support of this award that honors David F. Woods and recognizes the tremendous efforts of the journalists who cover this historic event."
The David F. Woods Memorial Award was initiated in 1982 to honor the memory of Dave Woods, a long-time racetrack publicist and columnist.
Last year Ehalt's October 16, 2017, TRC article Racing's draft process: how DO owners decide who will train their horses? received an honorable mention in the News Enterprise category at the Eclipse Awards. He also received an honorable mention at the Eclipse Awards in 2011.
Ehalt will be collecting his award alongside photographer Steve Heuertz, who has won the Jerry Frutkoff Preakness Photography Award, sponsored by Nikon. Heuertz's photo of Preakness and Triple Crown winner Justify racing in front of Pimlico's grandstand (it's at the top of this page) appeared in Mid-Atlantic Thoroughbred magazine. A resident of Chicago, Heuertz frequents Arlington International Racecourse and Hawthorne Race Course and attends the Triple Crown and Breeders' Cup.
The Alibi Breakfast, which began in the 1930s on the porch of the historic Pimlico clubhouse, features a gathering of media, owners, trainers, jockeys, horsemen and fans to celebrate the Preakness and gain interesting and humorous race predictions.
For tickets to the Alibi Breakfast go to: https://www.preakness.com/alibi-breakfast