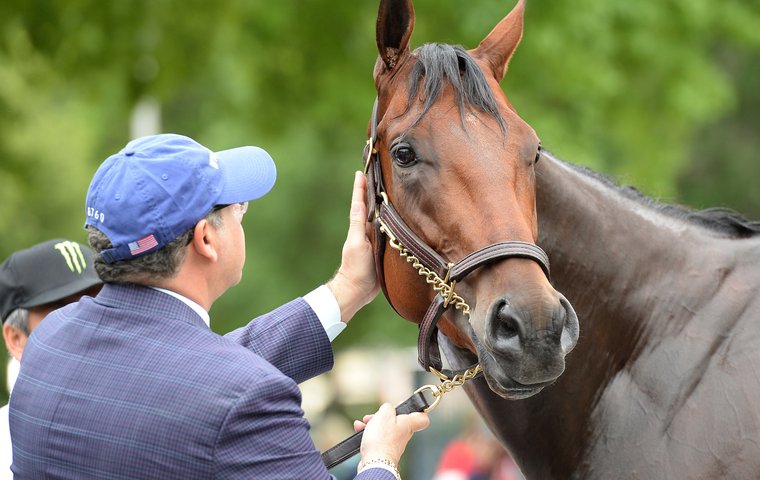 Drafts are becoming increasing popular in U.S. professional sports these days. The National Football League and National Basketball Association drafts are prime-time events. Even Major League Baseball's draft, which covered 1,215 selections over three days in June, is either aired on cable or streamed online.

There are no drafts in Thoroughbred racing, but there is a similar process, equally important as those in the professional sports leagues, that takes place in hundreds of private places with only a handful of people on hand.
Some call it an allocation or a distribution process for a stable's young, unraced horses, and its impact can sometimes determine whether a horse turns into a Grade 1 winner or a claimer.
Why?
In the NFL, consider what the last ten years might have been for the San Francisco 49ers and Green Bay Packers if the 49ers had taken Aaron Rodgers instead of Alex Smith with the first pick in the 2005 draft.
Could Pharoah have missed the Triple Crown with another trainer?
In horse racing, suppose owner Ahmed Zayat had decided to give American Pharoah to one of their other trainers instead of Bob Baffert.
"Who knows what would have happened if we gave American Pharoah to Bill Mott or some other trainer who tends to be conservative?" said Justin Zayat, Racing Manager for his father's Zayat Stables. "Maybe he would have been more conservative with American Pharoah at two and would not have raced him as much."
Under that scenario, maybe American Pharoah would have missed the Triple Crown. Then again, maybe he would have retired as an undefeated Triple Crown and Grand Slam champion.
Beyond that, looking at the process from a different perspective, how does an owner choose between earnings leaders such as Todd Pletcher and Chad Brown in dividing their horses?
They are intriguing possibilities to ponder, especially these days, when large stables have moved away from their policy of a few decades ago when they relied on one primary trainer. Now some can employ a dozen trainers or more sprinkled across the country.
Changes at the sales 'beyond comprehension'
When Robert LaPenta entered the sport in 2001, he entrusted his stable to trainer Nick Zito and together they won important Grade 1 stakes such as the Belmont Stakes, Breeders' Cup Juvenile and Blue Grass Stakes. Now he uses at least six trainers for a stable of about 25 horses he owns by himself or in a variety of partnerships.
"The game has changed so much and there are a lot of factors behind that," LaPenta said. "When I was with Nick, I didn't need partners. Now you look at what's going on at sales and it's beyond comprehension. At the Keeneland September sale, I must have been outbid ten times. You need partners to get those horses and that leads to have multiple trainers."
For about two decades, Juddmonte Farms sent their horses to Bobby Frankel. But, in the years since the Hall of Fame trainer's death in 2009, it has expanded its stable of trainers and uses Baffert, Mott and Brown in the United States.
"If you are to avail yourself of opportunities at other tracks, then it's difficult to do it with one trainer, based in one location," said Juddmonte Manager Garrett O'Rourke. "So, it narrows your options. When there were private trainers, the bulk of the good racing was at Belmont Park and Saratoga and you could get away with just racing there. That was when one trainer or a private trainer made more sense and was popular.
Competition among trainers 'beneficial'
"The reason we used Bobby Frankel was that he was doing so tremendously well for us and he came East in the summer and still kept a very good West Coast string with his assistant [Humberto Ascanio] and we could take advantage of the strong stakes program in California.
"After Bobby's death, Bill Mott took over and did very well in year one, but he did not have the owners to maintain a West Coast stable. Then, after a few years of not having a West Coast division, [Juddmonte owner Prince Khalid Abdullah] decided he wanted a West Coast division and he wanted them with Bob Baffert. Bob wanted fast dirt horses and Prince Khalid directed us to buy them for him."
Barry Irwin, Founder and CEO of Team Valor International, says he has used as many as 20 trainers at one time and believes competition among trainers can be beneficial in the long run.
"By spreading horses out, it will make the trainers work harder to get more horses. Give one guy too many horses and they tend to get complacent," Irwin said.
Of course, having so many more options for placing their 2-year-olds after they leave the farm can lead to some anxious moments for the owners who make those important decisions.
"I've done a lot of things in my career, but the most stressful thing is deciding where each of my horses will go," said Bob Edwards, who has a stable of 25 horses under the banner of Five Racing Thoroughbreds and won the 2016 Breeders' Cup Juvenile Fillies Turf with the Brown-trained New Money Honey in his initial crop of horses.
"In the first year, it was exciting. I didn't know the trainers or the system very well, so I relied on people like [bloodstock agents] Mike Ryan, Niall Brennan and Ian Brennan. But you have to learn as you go, so I looked back on what went right, what went wrong. Was it the horse? Was it the trainer? The second year was nerve-wracking because I was more involved. We had a lot of money involved in the horses and I wanted to make sure they would stay sound and wind up in the right hands."
Where the allocation process begins
Edwards said he felt more like a NFL general manager this past spring when he designated horses for his five trainers - Brown, David Fawkes, Rudy Rodriguez, Steve Asmussen and Jimmy Toner.
"I make a draft board, like one you'll see in the NFL or a fantasy football league, and I'll highlight where each horse is going," Edwards said. "I keep track of how many horses each trainer gets. All my guys are winning races, and I don't want to take horses away from guys who are winning for me. You want to make sure they are taken care of."
In most cases, the first step in the allocation process starts with reports from the farms where the yearlings and 2-year-olds are prepared for their racing careers.
"I'm blessed because my horses are broke at Stonestreet or at Nial Brennan's farm, which are top-notch facilities, and I get great feedback from those guys," Edwards said. "People like Niall are a great source of information but, at the end of the day, I have to make that decision and I have to live with it. There's a lot invested in it."
After those reports from the farm, owners then have to weigh the potential in horses against the strengths of each trainer in search of the best fits.
"You can run stats from Equibase and see who's better with colts or fillies or with 2-year-olds and 3-year-olds or on dirt and turf," Edwards said. "You also have to know what the trainer does best, how they communicate, where they are based and how good are the assistants. There's a lot that goes into that draft board."
The importance of geography
That quick and accurate assessment of a horse's potential is essential in placing the horse in the right hands. In some instances, trainers play a key role in the purchase of a young horse and get the horse, and other times owners and racing managers buy certain types of horses with a specific trainer in mind.
"If they are a West Coast-type, a speed dirt horse, they will go to Bob Baffert. We buy them specifically for Bob and we also give him some homebreds, but only the ones that fit into that category," said O'Rourke, who gave Baffert a $560,000 yearling named Arrogate who became a Breeders' Cup Classic, Pegasus World Cup and Dubai World Cup winner with North America-record earnings of $17.3 million. "The rest we can fairly easily divide between Bill Mott and Chad Brown without much criteria for who gets what."
Aside from playing to a trainer's strengths, geography and an unwillingness to concentrate all of their good horses on one circuit can come into play.
Trainers' wish lists
"Our decisions are based on the jurisdiction where a trainer is based and the racing circuit. We don't want to give all of our best horses to Bob Baffert because they will be running against each other at the same track," said Justin Zayat, whose stable employs about ten trainers. "Our trainers always come to our farm at the McKathan Brothers in Ocala and look at the crop and give us their opinions and a wish list about which ones they want.
"Over the years of working with some trainers, you come to know a trainer's strengths and weaknesses. I won't take a long turf horse type and send it to Bob Baffert. If it's a New York State-bred, we'll leave it on the East Coast. If it's an Oklahoma-bred, we'll leave it in the Midwest. Then we'll look at where these trainers go in the winter. We don't want everyone at the same place. We want to be diversified across America so we have some options."
For large syndicates, geographical considerations are important due to where their partners are clustered.
"Most owners care where their horses are located," said Terry Finley, President and CEO of West Point Thoroughbreds. "We can't send $3 million worth of horses to the West Coast if we do not have enough owners out there to justify it. We usually send six or eight horses out there and Jerry Hollendorfer is our only trainer. The bulk of our horses are in the East and Midwest and we'll use more trainers."
Horses that fit a trainer's 'sweet spot'
Finley said he also chooses trainers for his young horses before selling them to his customer base so that long-time owners can buy packages of horses involving trainers they like.
Team Valor uses Neil Drysdale as its West Coast trainer and sending him horses that fit his sweet spot is of paramount importance to Irwin.
"For me, the first consideration is always what type of horse it is and what type of horses does the trainer excel with," Irwin said. "For example, we will not give Neil Drysdale a sprinter. I would not give a mile-and-a-half grass horse to a New York claiming trainer. For Neil, I look for grass horses who can run a mile or more. Less than that, it's not his forte.
"I like buying young fillies who can go long on turf, but I can't have too many of them because people want variety. I can't give them all grass fillies. I have to pick them out and spread them out, not just to different trainers, but to different locales. That's my dilemma."
The bulk of the horses Team Valor buys have already raced, making it easier to match horses and trainers and circuits.
"Horses that like soft turf, you'll send them to New York. You don't want them in California," Irwin said. "If a horse is training on synthetics in Europe, I'll send it to someone who is training at Fair Hill, like Graham Motion or Arnaud Delacour. If they train on dirt, I'll most likely give it to a trainer at a racetrack.
"I like buying horses with a turn of foot and there are certain trainers that don't train their horses real hard or fast and can send their horses out fresh and finish fast. If I have a horse with pace, I'll give it to a guy like Pletcher or Jimmy Jerkens. What I'll say about Pletcher is that he's the only one who can train any type of horse."
Another common practice is giving a trainer young horses with bloodlines from horses they previously trained.
"Sometimes if a trainer had siblings or the dam or sire of a horse, we'll give him that horse," O'Rourke said. "Otherwise we divide equally."
Irwin, however, avoids that practice.
"I'm different than most guys," he said. "I don't go for giving relatives of their old horses to that trainer. I can recall Bobby Frankel going to a sale for Jerry Moss and buying about 25 horses because he trained the sire, the dam or a half-brother. Maybe three or four broke their maiden. That was quite a lesson for me."
'A fun process'
For larger stables with access to the nation's best trainers, the process of choosing trainers can be akin to a kid in a candy shop. For example, earlier in the year the Zayats divided their 50 2-year-olds among a collection of trainers that includes Baffert, Mott, Pletcher and D. Wayne Lukas among others.
"If I give each trainer five horses, I try to give them one that can be a star," Justin Zayat said. "I don't stack all the good ones with one trainer, even if Bob and Todd are 1-2 in our rankings. Allocating the horses is something I'll do and my dad will do and then we'll put our brains together. We'll ask people like the McKathans, but, at the end of the day, it comes down to my dad and I and we make the final decisions and, believe it or not, there's not many disagreements about our allocations. It's usually smooth sailing and a fun process."
Justin Zayat said his family has a deep loyalty to Baffert, which played a key role in sending 2015 Triple Crown champion American Pharoah to the white-haired trainer.
"I lean toward giving a promising 2-year-old to Bob," he said. "He does so well with 2-year-olds and he always wins the Del Mar Futurity. Bob's really my man when it comes to winning big races. We've won 26 Grade 1s together over the years. I have a special place in my heart for him. He taught me a lot over the years. When I want that big Grade 1 winner, for historical reasons I lean toward Bob."
Bringing out the best in slow developers
Edwards sends his best horses to Brown, and has been rewarded with New Money Honey's Breeders' Cup victory and a runner-up finish on Oct. 7 in the Grade 1 Champagne by Good Magic, a $1 million yearling he co-owns with Stonestreet Stables.
Yet Edwards knows that there is not Grade 1 potential in all of his horses, and he relies on other trainers to bring out the best in horses who are slow to develop for one reason or another.
"Jimmy Toner is great with turf horses and he has a smaller stable, so if you have a horse who needs a little more attention and could get lost in a big system, he's a go-to-guy," Edwards said. "He's every bit as good of a trainer as anyone else, but he has limited horses.
"If you have a horse no one can train, you give it to Rudy [Rodriguez]. Rudy's approachable. An unbelievable horseman and a great guy. He cares about everything, the horses, the owners. He took me under his wing and taught me the business. Rudy does good with a lesser horse that's a head case or doesn't do well with other guys. He knows his horses, he rides them, he's so hands-on.
"The bulk, however, goes to Chad. He's all business. He runs a tight ship and has won huge races for me."
Quick assessment of potential
Of course, sometimes it's hard to go wrong. Among the trainers LaPenta uses for his New York-based stable are both Pletcher and Brown. Choosing between them can be akin to picking Seattle Slew or Affirmed. Nevertheless, LaPenta has a method for sending them horses. He says it can be a tough call, but if he gets a report from the farm that one of his 2-year-olds is quicker and more advanced than the others, he'll usually send it to Pletcher.
"I split my good horses, dividing them among those who are ready, who are a little faster, who will be quicker, who wants to go longer?
"My horses are broke at Bridlewood and Stonestreet and they are very good at assessing the progress and talent of a horse, but you don't know for sure until they run. My B-plus and A horses go either Todd or Chad. Todd is a little more aggressive. On dirt, I feel a little more comfortable with his program and strategy. If they told me I had a very fast A-plus dirt horse with no other distinctions, I'll lean toward sending it to Todd, even though Chad has won some huge races on dirt," said LaPenta, a part owner of Tapwrit, who won the Belmont Stakes for Pletcher.
As for Brown, LaPenta likes how patient the 39-year-old trainer is with a young horse and he marvels at how quickly – and astutely – Brown can assess a horse's potential.
When an expensive horse 'is going nowhere'
"Chad is probably going to be the youngest guy in the Hall of Fame and he's very good at evaluating horses. Chad is a little more patient in developing a horse than Todd, but he's a little less patient in keeping a horse," LaPenta said. "One of the reasons he has such a high win percentage is that he doesn't spend a lot of time with horses that don't have a lot of potential. If a horse isn't cutting it, he'll be the first to tell you to move him.
"I've had expensive horses and Chad will tell me they are going nowhere. You take a big gulp, maybe send him out of town, maybe get him an easier circuit, but nine chances out of ten, if Chad's down on him, he will not turn into something.
"Then when you look at Chad's record on grass, it's just fabulous. I have a good relationship with Chad and he's given me some good opportunities. When people overseas want to send a horse here, Chad is on the top of their list, so we get some good horses through him."
LaPenta has also enjoyed success sending what he called 'C-plus' horses to Ron Moquett, who turned Breeders' Cup Sprint candidate Whitmore and Far Right into Graded stakes winners.
And yet, while LaPenta uses the only two trainers with 2017 earnings of more than $20 million, he also has a Breeders' Cup Juvenile Turf prospect with a trainer who had just eight career wins entering this year.
LaPenta said Jonathan Thomas approached him about training a colt named Catholic Boy, and the Connecticut resident decided to give him a chance. In August, LaPenta was rewarded when the More Than Ready colt won the G3 With Anticipation on the turf at Saratoga for Thomas.
Be it football or horse racing, even if a draft board is filled with All-Americans, there will always be that last-round pick who becomes a star.
"It's amazing how you can get a horse out left field like Catholic Boy. Jonathan is an interesting guy. He buys horses for me. He's a very honest guy, a very capable guy. He used to be a jockey and he saw talent in the horse when a lot of other people didn't, so I gave him a shot with Catholic Boy," LaPenta said. "It's a different story with every horse."
And every trainer, too.