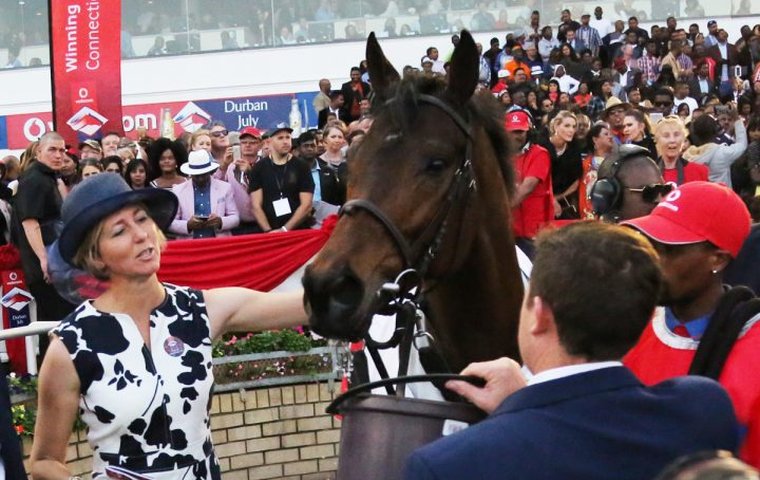 As you'll see from another story on this site today, Candice Bass-Robinson is now the ninth highest-ranked female racehorse trainer in the world. Not bad for someone who didn't take out a licence until the start of the season.

So nobody should be surprised we have chosen her as a TRC Emerging Talent, although in truth 'Exploding Talent' would probably be a more apt designation after what she achieved last Saturday.
The Durban July is South Africa's biggest, richest and most famous horse race. In fact it's the whole of Africa's biggest, richest and famous horse race. It's the country's 'Race that stops a nation', its Kentucky Derby, its Grand National. On Saturday, Candice Bass-Robinson saddled her first runners in the race. Indeed, she saddled three of the 18 that went into the gate for the 2017 edition.
In one of the most blanket of blanket finishes you'll ever see (see YouTube video below), Marinaresco, Nightingale and Horizon crossed the line within threequarters of a length of each other - in first, fourth and sixth places.
That made 42-year-old Bass-Robinson the first female to train the winner - the race has been going since 1987.
Her emergence this year is hardly the biggest shock in South African racing, of course. She learned from one of the best, her father, Mike Bass, one of the giants of the sport in southern Africa, winner of close on 50 G1s, including three Durban Julys and five Metropolitans (three on the trot - 2007-09 - with his most famous horse, Pocket Power, who also dead-heated for the Durban July in 2008).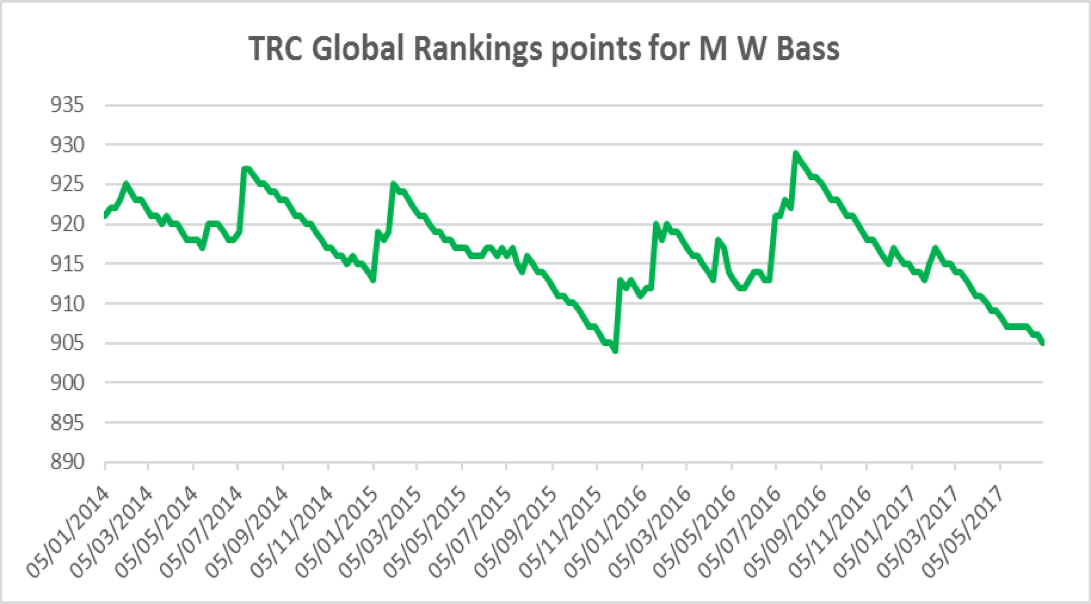 As the graph of Mike Bass's points totals in the TRC Global Rankings since January 2014 shows, the now 72-year-old (who is a part-owner of Marinaresco) has picked a good time to hand over the reins to his daughter.
She had become increasingly significant at the Cape Town stables in recent years, and her taking over the licence has been a seamless transition from an outstanding trainer to someone who looks very much as though she could become one too.
Make no mistake, there is no fluke about what happened at Greyville racecourse in Durban on Saturday. Candice Bass-Robinson and assistant Robert Fayd'herbe, brother of winning jockey Bernard Fayd'herbe, not only produced Marinaresco, disappointing in his previous run, in such fantastic condition that he was able to lug top weight to victory (he had been second in the race last season), they also very nearly won the race with their other two runners.
And it wasn't as if these were obvious contenders. Note the starting odds of the Bass-Robinson trio: Marinaresco 17-1, Nightingale 20-1, Horizon 36-1.
That's top-class conditioning in any book.
Rankings climbers
The Durban July had quite an impact on this week's updated world rankings. Bass-Robinson is the headline act with her 11-point week-on-week gain lifting her 126 places to #168 in the trainers' standings. She is also now joint seventh in the South African list (alongside her now-retired father, who remains in the rankings because of past performances).
Bernard Fayd'herbe gains eight points to climb 31 places to #140 in the jockeys' rankings and Marinaresco's sire, Silvano, a former South African champion sire standing at Maine Chance Farms in the Western Cape, gains nine, moving from #138 to #87 in the sires' standings.
Click here for a list of the week's biggest points gainers.
Click here for a list of the week's Group and Graded winners.
Other TRC Emerging Talents
Pierre-Charles Boudot
Katelyn Mallyon
Callan Murray