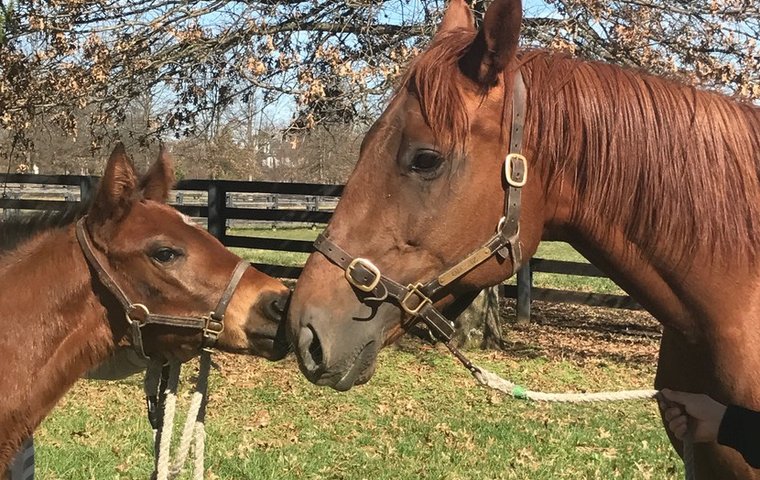 We all love it when a plan starts to come together, and that's exactly what you're seeing in this photograph. The gorgeous little colt foal and his G1-winning, million-guinea mother, pictured sharing a tender moment in Kentucky recently, represent a big tick in the first box of a schedule that would have been mapped out after the Tattersalls December Sale just 16 months ago.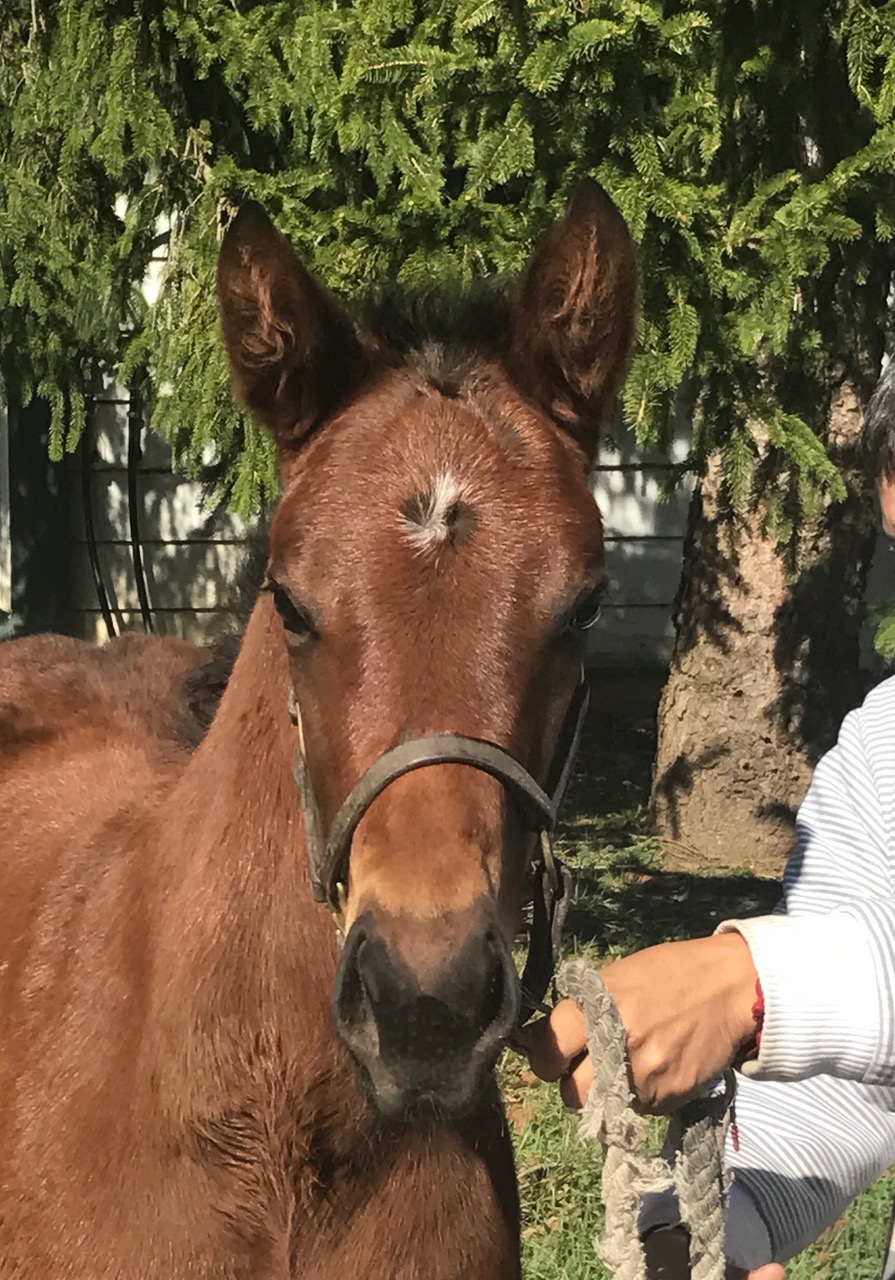 Bloodstock agent Lincoln Collins could certainly have been forgiven a smile of satisfaction when he visited them at Man o' War Farm in Lexington. It was Collins who bought the mare, Odeliz, on behalf of the farm's owners, Reiko and Michael Baum, and he was also involved in planning her mating with supersire Dubawi (covering fee for the world's second most expensive stallion last year: £225,000).
That union has just produced the colt in the pictures. He is strong and alert, and, if he inherits any of the ability of either of his parents, he could be destined for a big future on the racetrack.
Odeliz, now seven, a daughter of French Guineas winner Falco out of the Efisio mare Acatama, won the 2015 Premio Lydia Tesio, which is now Italy's sole G1, as well as the G1 Prix Jean Romanet at Deauville two months earlier, when she defeated dual French classic winner Avenir Certain.
And the Baums clearly prize her highly - she has just been covered by Tapit (the third most expensive stallion the world).
But she wasn't Collins' first choice at that Tattersalls sale in Newmarket - in fact he didn't even put in a bid for her when she went through the ring, as he explains below to John Gilmore. Collins also discusses the crucial importance of Thoroughbred aftercare in this, the second stage of a Q&A interview. Among the topics covered in part one were drugs and medication in racing, which Collins described as being "like The Mad Hatter's tea party".
Click here for part one of the Lincoln Collins Q&A
Q: Odeliz was originally bought back by the owner for 950,000 guineas at the December 2015 Tattersalls Broodmare Sale. As you didn't bid for the horse in the ring, what finally encouraged you to buy her in a private purchase for one million guineas the next day?
A: The reason that the Baums bought the mare after the sale is that their top pick, Ambivalent (Authorized-Darrery), who was in foal to Dubawi, was bought back by the vendor for a huge price (1.6m guineas) after Odeliz went through the ring (bought back for 950,000 guineas). Luckily the Baums were able to go back and buy their second choice the next day in a private sale..
I don't believe you buy a mare like Odeliz based on a simple return calculation. You have to look beyond the first generation in justifying the purchase price.
While a nice colt out of Odeliz would certainly sell very well, daughters of G1 winners have a very good track record as broodmares and will be the ones who will most likely represent her legacy.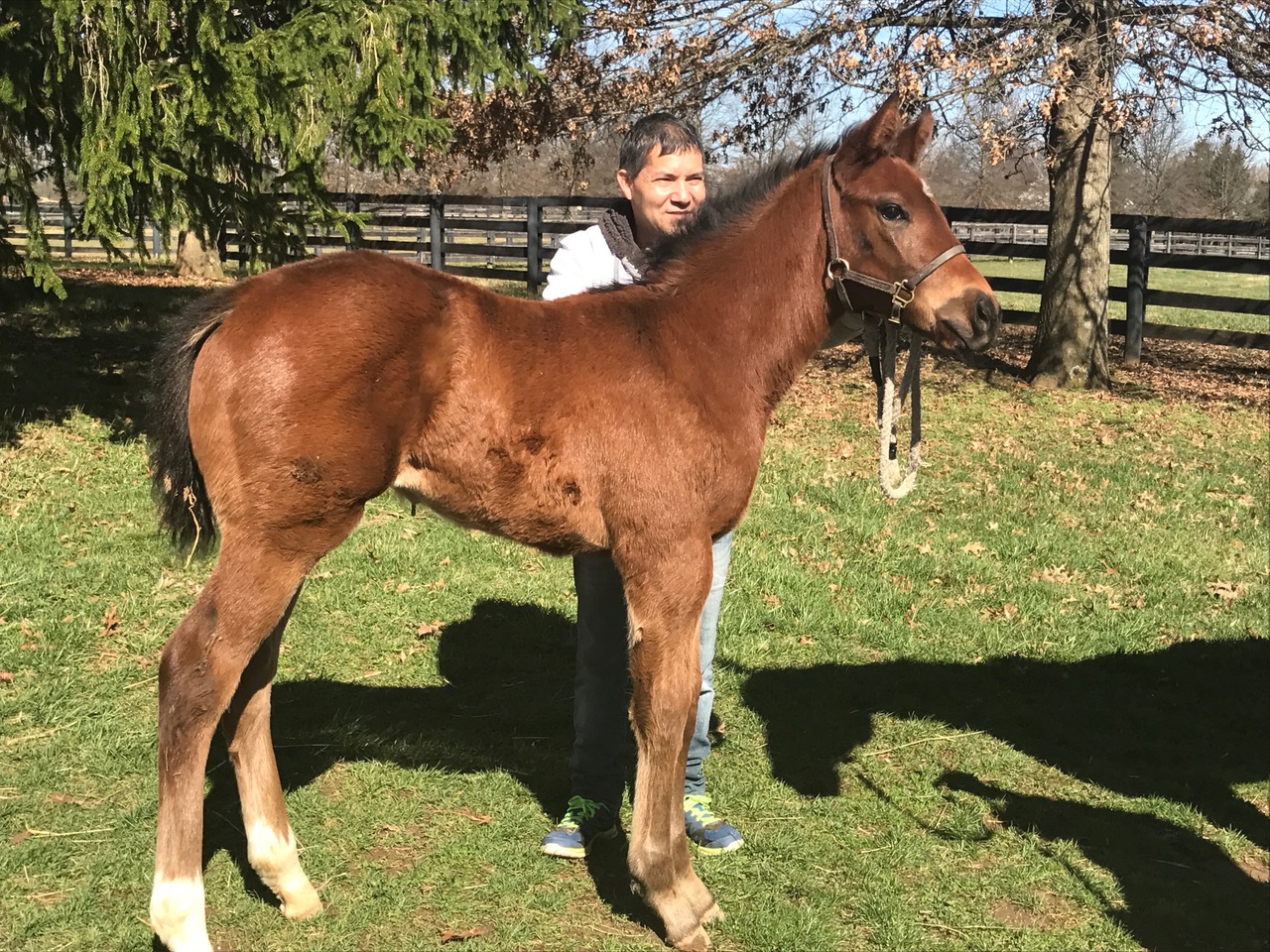 Your bloodstock agency is involved in buying proven racehorses for clients. What qualities are you looking for in terms of ability, number of runs and racing life expectancy. How successful have you been in this area over the past few years in terms of returns for clients on investment?
I prefer to buy horses that are not overexposed - ideally, 3-year-olds that look as if they could run for at least two seasons and are tough. We have tended to buy fillies because they generally have some residual value.
There have been many notable successes and several fillies that we have bought on behalf of clients who have gone on to sell as broodmares for big prices - at least three for over $1 million. But I reiterate that in racing the principal 'return on investment' should be the satisfaction of winning. If you want an investment, buy some blue-chip stocks, but you probably won't have much fun.
You offer a racing stable management for buying, selling, breeding and racing horses, which obviously covers small or bigger set ups. How has this developed over the years in terms of client numbers and what sort of success have you had?
I have always believed that an agent or advisor should be more involved with the client's hopes and dreams, rather than simply buying a horse, taking a commission and disappearing. Obviously commission has its place and does make up a portion of our revenue, but the vast majority comes from fee-based business (including my role as Tattersalls' North America representative).
We keep our client base quite small because we provide a very personal service. Now that [our bloodstock advisor] Joe Miller has earned the respect that he deserves, after more than ten years with the company, we could take one or two more, but it is unlikely that we would ever have more than six or seven advisory clients.
Success is defined differently by different clients, but our overall aim is to maximise success, whether on the track or at the sales, and keep the operation as financially efficient as possible.
We have around half a dozen advisory/management clients and about the same number for whom we regularly buy. While our association with some clients is reasonably well known, it isn't really up to me to name them.
We also run a racing partnership called Triton Racing that we buy for. The super high-risk nature of the business means that I could never promise people success, either financially or at the races. But what I can say is that we will use our experience to help them run their operation, in the most businesslike possible way - if they will let us.
Quality will always sell, but top prices seem to be going through the roof at most yearling and Breeding stock sales, with some buyers saying there is no middle market. Are we due for a correction?
The horse market usually, at least approximately, parallels the stock market. Having said that, I suspect that the top of the market will continue to be relatively strong and the middle weak. Too many yearlings are being produced. The numbers have crept up constantly since the so-called Great Recession, and not enough owners are willing or able to afford the enormous expense of keeping horses in training.
In the U.S. there are far too many cheap claimers running for ridiculously high purses because racetracks want to run races with full fields in order to maximise betting handle. In the UK, it seems that the only real beneficiaries of an abundance of cheap meaningless races with pitifully low prize money are the gambling conglomerates (bookmakers)
What back-up service do you offer for your clients concerning finding second homes for ex-racehorses who may have suffered injuries or are not deemed good enough to breed from. How has this worked out in relation to the services available in the States to help ex-racehorses find homes?
I believe that the threat to racing from animal rights activists is greater than is currently perceived; consequently, Thoroughbred aftercare is very important in more respects than being the right thing to do.
Too many racehorses are allowed to slip down the claiming ladder to a point where they are too unsound to have any further working life. There are also too many tracks that rely on cheap claimers for their day-to-day arrangements for retirement or, in extremis, for having them humanely euthanized.
It is wholly unacceptable for any owner to say to a trainer, "just get rid of it", or words to that effect, and just abrogate responsibility for the fate of their horse. Some of our clients are active in Thoroughbred rehabilitation and rehoming, and all take responsibility for their horses.
In specific answer to your question: we encourage the retraining of Thoroughbreds and Joe Miller is President of the Maker's Mark Secretariat Center, which is a leader in retraining and shows how much can be achieved in a Thoroughbred's life after racing. Obviously not all racehorses can be retrained and the industry should work together to come up with an integrated horse welfare program.
As we see the foal crop increasing again in the United States and the spectre of oversupply looming, perhaps it is worth considering significantly raising the registration fee and putting the excess into a fund devoted to the welfare of equine retirees.
When a client has paid a lot of money for a horse that proves to be no good on the track, how do you deal with it?
Certainly I will look back and see what we might have done differently. Unfortunately, however, this situation will happen to almost all owners ('a lot of money' being a relative concept).
It may be cold comfort, but I probably feel worse about it than anybody. I hope that we would have adequately communicated the risks of racehorse ownership from the outset. Managing dreams of success and nightmares of failure is part of what we do, but there are few things more grindingly dispiriting than a lengthy losing streak.
Name some of your major successes as regards buying horses and breeding arrangements you have been involved in making?
Some successes:
Miss Keller, winner of the G1 E.P.Taylor 1
Ave, winner of the G1 Flower Bowl Invitation
Wigmore Hall, winner of the G1 Canadian International
Art Connoisseur, winner of the G1 Golden Jubilee Stakes
Iridescence, dam of G1 winner Flashy Bull
Oatsee, 2012 U.S. Broodmare of the Year, dam of Preakness winner Shackleford
Golden Apples, U.S. Champion Turf Mare
Red Evie, winner of G1 Matron Stakes and G1 Lockinge Stakes
Valentine Waltz, winner of the French 1,000 Guineas
Zanzibar, winner of (then G1) Oaks d'Italia
La Sky, dam of Epsom Oaks winner Love Divine and granddam of English St Leger winner Sixties Icon
What would you like to achieve that has so far eluded you?
It isn't really about what I would like to achieve, rather it's about what one of my clients would like to achieve. Just to say that, we would all like to win the Kentucky Derby ...