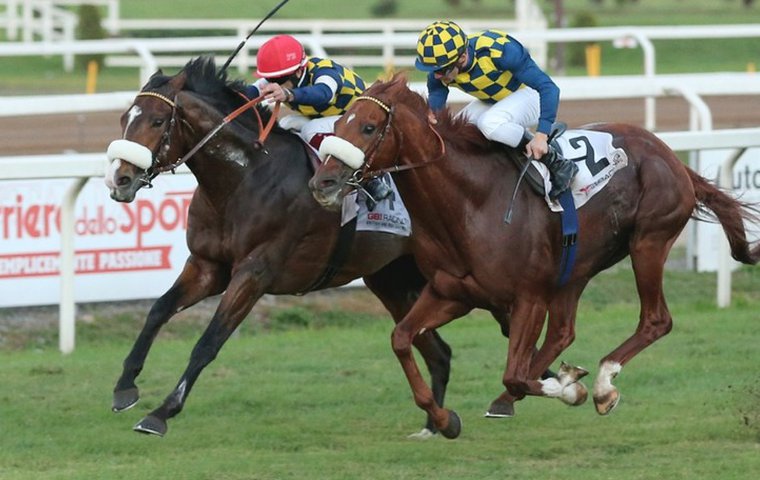 It could be the plot for a movie, although there's the danger of it being dismissed as too far-fetched. It's full of the kind of ingredients you need to make an engrossing drama - or maybe even a black comedy - set in the sport of horse racing: failed drugs tests, bizarre decisions at government level, a champion trainer getting banned but then still being able to do his job - and a racing administration that has become an embarrassment.

The scenes all take place in Italy, that once-proud racing nation where the industry has been in crisis for years, where rapidly falling betting revenue doesn't begin to cover prize money, where some of that prize money has not been paid, and where only one Group 1 will be run this season after the three others that remained were downgraded only recently.
The cast of characters features lead roles for senior government officials and most of the leading members of what is in effect the first family of Italian racing.
And we must stress that at no stage is it suggested that any of them have broken any laws or rules of racing as they stand in Italy.
Act one
Scene one (Rome, 2011)
Let's go back to September 10, 2011. A 2-year-old filly, Cherry Collect, trained by Stefano Botti, the country's dominant trainer, wins a listed race at Capannelle racecourse in Rome.
Cherry Collect - a daughter of Oratorio who will go on to win the G2 Oaks d'Italia (once a G1) and be bought by Katsumi Yoshida to add to his powerhouse broodmare band at Northern Farm in Japan - is tested positive for the synthetic anabolic steroid Stanozolol.
Scene two (Naples, 2014)
We skip forward nearly three years. There has been no news about the Cherry Collect positive, and ostensibly everything has been what passes for normal now in Italian racing, but on July 19, 2014, another horse trained by Stefano Botti, the then 6-year-old Pattaya, is tested positive for cocaine after finishing second in a listed race at Naples.
Scene three (Rome, 2015)
It's now November 6, 2015 - more than four years since the Cherry Collect incident (and, coincidentally, more than one year since the Pattaya positive) - but finally there's some action:
Stefano Botti is disqualified for four months and fined for €1,000 by the Committee of Discipline of the Ministry of Agriculture (Department of Racing and Breeding Thoroughbreds) over the Cherry Collect test result.
An application for a suspension of the ban and fine has been denied by the Administrative Court of the Lazio Region in Rome.
Act two
Scene one (Cenaia, Pisa province, later that same day)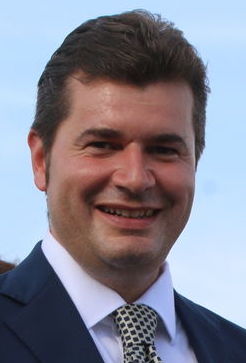 Botti (pictured) has been disqualified from training for four months, so he can have nothing to do with the 200-plus horses in his care for that period, right?
Right. So of course the horses have to change trainers. They are moved from Stefano Botti, who trains in at Cenaia in Pisa, to a new trainer - A & S Botti Srl.
Who runs A & S Botti Srl? Well, the managing director is, erm … Stefano Botti.
(The 'A' refers to Alduino Botti, who is Stefano's father. He has been Italy's champion trainer more than 30 times, in partnership with his brother, Giuseppe. He is also father of the successful British-based trainer Marco Botti.)
The 200-plus horses don't leave their boxes in the yard at Cenaia.
Scene two (Cenaia, later that same day)
Racing doesn't stop for anyone or anything. Entries have to be made, declarations organised, horses saddled. That process continues immediately for 23 of the horses now in the care of A & S Botti Srl. They are ready to run, and are duly entered for races at Milan, Pisa and Rome.
The man doing that paperwork: Stefano Botti.
The horses fulfill their engagements over the next few days. The man saddling them up at the racetracks: Stefano Botti.
Scene three (Capannelle racecourse, Rome, two days later)
It's big-race day. The Premio Roma is one of Italy's few remaining Group 1s (it has since been downgraded to G2). Botti saddles three of those 23 horses, and two, Dylan Mouth and Circus Couture, finish first and second.
Scene four (Cenaia, the next day)
Botti and his lawyer receive a letter from Stefania Mastromarino, who is in charge of the Racing and Breeding Thoroughbreds Department in the Ministry of Agriculture. She says he is in fact allowed to carry on training until further notice (despite the Administrative Court's ruling).
Two days later, however, they receive a second letter from Ms Mastromarino admitting she was wrong and that he is disqualified after all - and is therefore not able to perform any duty as a trainer.
Scene five (Cenaia, six days later)
It is November 17, 2015 - 11 days since the 200-plus horses were moved from the care of Stefano Botti to A & S Botti Srl (without leaving their boxes, you'll remember). Well, now they're on the move again - this time they are registered under the care of Endo Botti Galoppo Snc.
Endo, son of Giuseppe, is Stefano's cousin. This company, a partnership between Endo and his wife, Cristiana Brivio Sforza Botti, has a training establishment at Pisa San Rossore, a 40-minute drive from the Cenaia stable.
The 200-plus horses, however, do not leave their boxes in Cenaia.
(They are switched back to A & S Botti Srl in March 2016, and on June 25, 2016, they are switched again - to Alduino Botti alone. At no stage do they leave the Cenaia training yard.)
Act three
Scene one (Florence, Oct 9, 2016)
The Excellent Art filly Excellent Smile, trained by Endo Botti Galoppo Snc, tests positive for the corticosteroid triamcinolone acetonide after running in a handicap.
Scene two (Milan, the same day)
After another handicap, the colt Vischeto, trained by Alduino Botti, tests positive for the sedative Oxazepam.
Act four
Scene one (Rome, Oct 19, 2016)
Judgement day. The Committee of Discipline of the Ministry of Agriculture (Department of Racing and Breeding Thoroughbreds) has to decide whether Stefano Botti broke any rules of racing when he ran the 23 horses the previous November while he was disqualified for four months over the Cherry Collect positive. It must also decide whether the horses should be disqualified.
President Dr. Raimondo Cerami, with a decision officially published on November 9, 2016, states that, even though he was disqualified as an individual, Botti was perfectly entitled to enter, declare and saddle all those horses in his capacity as managing director of A & S Botti Srl.
And so a legal monster was foaled. From this day forward, this decision is there to be applied to all similar cases in Italy. A trainer disqualified can carry on as an official of a limited company, and conversely a disqualified official can carry on training as an individual.
Alduino Botti, as an individual trainer, according to the rules, could be disqualified for the Vischeto positive of October 9, 2016, but he would be perfectly within his rights to continue training as managing director of A. & S. Botti Srl.
That would also be the case should Endo Botti be disqualified as managing director of Endo Botti Galoppo Snc over the Excellent Smile positive. He would be able to carry on training as an individual.
Scene two (Rome, Dec 6, 2016)
Remember the Stefano Botti-trained Pattaya, who tested positive for cocaine at Naples back in 2014? The case is finally before the discipline committee. Botti is fined €3,000 and disqualified for a year.
No problem. He can carry on training as a managing director of A. & S. Botti Srl.
Epilogue
Italian trainers' prize money table at the end of 2016:
| | | | | |
| --- | --- | --- | --- | --- |
| Position | Name | Wins | Strike rate | Earnings (€) |
| 1 | Alduino Botti | 135 | 28.3% | 1,818,675 |
| 2 | A & S Botti Srl | 91 | 24.07% | 1,480,423 |
| 3 | Endo Botti Galoppo Snc | 97 | 17.9% | 879,024 |
| 4 | Il Cavallo in Testa Srl | 49 | 16.17% | 830,996 |
| 5 | Marco Gasparini | 73 | 15.43% | 597,350 |
Notice Il Cavallo in Testa Srl, the limited company in fourth place. The shareholders are thus:
Mrs Micol Borgato, 75 percent (she is listed as trainer, president and legal representative. She is the former wife of trainer Bruno Grizzetti).

Angelo Vezzosi, 25 percent.
Yet the person who runs the show is the aforementioned Bruno Grizzetti. He has no shares, is not the managing director, not the legal representative, not the trainer, not an employee at all. There is no paper trail linking him to the company. Yet it is he who saddles the horses, he who discusses them with the media, he who makes the decisions.
He has no responsibility under the rules of racing, no liability. If something goes wrong, should an Il Cavallo in Testa runner fall foul of one of the rules, it would not be Senor Grizzetti who faces any censure.
Again, we must stress that no laws or rules of Italian racing have been contravened, even though this could appear an undesirable state of affairs in any other racing jurisdiction. Certainly in most of the major ones it is not allowed at all. But in Italy? No problem - the stewards on the racecourses, as well as the racing authorities in Rome, are happy with the situation.
No wonder bettors are deserting the sport in droves, no wonder Italy gets a wide berth as far as the best horses from the rest of Europe are concerned, no wonder the breeding industry of Federico Tesio is in terminal decline.
This is racing in Italy in 2017. Take it or leave it.
Footnote
While Stefano Botti has been disqualified as an individual trainer on and off since November, 2015, administrative issues have meant that all international databases (including the ones used by the TRC Global Rankings) still list him as trainer of the huge stable of horses at Cenaia.

Carlo Zuccoli, a qualified lawyer and a former bloodstock agent, lives in Italy and is an international consultant on both fixed odds and pari-mutuel betting. He has written books about betting in different racing jurisdictions and about racecourses.