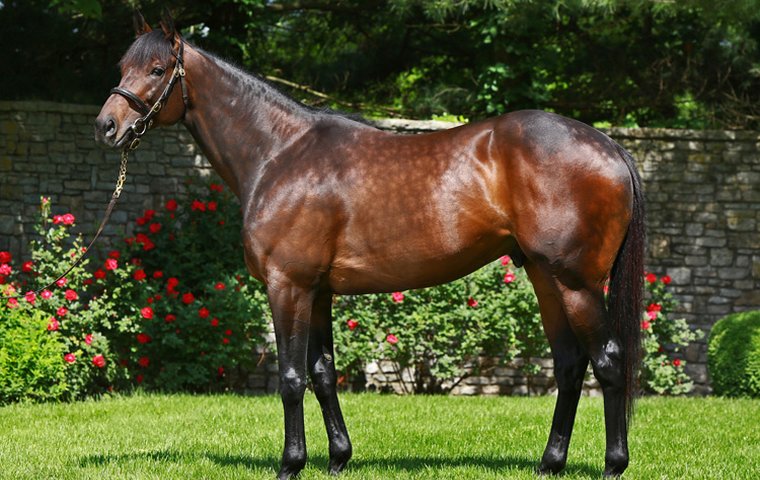 Click here for the world's most expensive sires of 2019

The top ten most expensive sires in the world for 2017 offers an insight into the international nature of the sport. The top four spots are held by Galileo, Dubawi, Tapit and Deep Impact, stallions based in Ireland, Newmarket, Kentucky and Japan.

That quartet are established leaders of their respective domains, as are War Front and Medaglia d'Oro. But the list for 2017 also includes two new American names who are gaining great traction in Curlin and Uncle Mo, both of whom have been increased to $150,000. Curlin sired five G1 winners this year alone, while Uncle Mo is a top-three American sire despite having only two crops to run for him.
In Europe, the younger generation is spearheaded by Frankel, arguably the greatest European runner of the modern era. There was tremendous hype surrounding his first runners and he hasn't disappointed, firing in six stakes winners out of his first crop.
1. GALILEO
1998 Sadler's Wells - Urban Sea (Miswaki)
Stands: Coolmore, Ireland
Fee: private
Galileo's official fee remains unknown to the public, as it has done since 2008. However, off the record reports lead us to assume he is the world's most expensive stallion, a mantle he has seemingly held for several years.
He is the dominant stallion of our time, one who has altered the benchmarks of excellence over a reasonably short period of time.
In 2016, the son of Sadler's Wells secured his eighth British and Irish sires' championship with prize-money of approximately £10.5 million. In Europe, his total stood at a colossal £16.24 million. There was the brilliant filly Minding alongside other Ballydoyle three-year-olds such as Alice Springs, Seventh Heaven and The Gurkha, G1-winning two-year-olds Churchill, Rhododendron and Waldgeist and the older horses Found, Highland Reel and Order Of St George, who provided Galileo with an unprecedented 1-2-3 in the Arc.
He sired a personal best of 13 individual G1 winners in the Northern Hemisphere during 2016, and, when Churchill took the National Stakes in September, it provided him with 60 individual G1 winners, a landmark achieved in a quicker time than it took Sadler's Wells.
Breeders unable to get into Galileo now have the choice of a number of sons, including two proven G1 sires at Darley in New Approach and Teofilo. The best, however, could turn out to be Frankel, a horse of legendary status on the track who sired six stakes winners in his first crop including the G1-winning Japanese filly Soul Stirring.
Galileo is also becoming an important broodmare sire as the likes of Galileo Gold, La Cressionniere, Intricately and Rivet highlighted in 2017.
He is also clear #1 in the TRC Global Rankings.
2. DUBAWI
2002 Dubai Millennium - Zomaradah (Deploy)
Stands: Dalham Hall Stud, Newmarket, UK
Fee: £250,000
Dubawi's fee rose for the fourth consecutive year in response to another strong year on the track and phenomenal demand for his progeny in the sale ring.
Darley's flagship stallion is the sire of 26 G1 winners to date, many of whom were produced when he stood for £25,000 or less. Five G1 winners - Erupt, Journey, Left Hand, Postponed and Wuheida - came his way in 2016, when his progeny earned approximately £5.7 million across Europe. Without a doubt, the star act was Postponed, who swept the Sheema Classic, Coronation Cup and Juddmonte International.
It was away from the track, however, that Dubawi really stole the headlines.
He returned an average of 972,667gns at Book 1 of the Tattersalls October Sale and provided the €1.4 million topper at the Goffs Orby Sale. Sheikh Mohammed's advisor John Ferguson snared nine of those Tattersalls yearlings, including colts for 2.6 million gns, 2.1 million gns and 1.6 million gns. Roger Varian, who trains for Dubawi's owner Sheikh Obaid, came away with just one for 850,000gns but was underbidder to Ferguson on a number of occasions.
Another colt out of G1 winner Zee Zee Top sold for 2.6 million gns to Shadwell Estates.
Dubawi ranks two in the TRC Global Rankings.
3. TAPIT
2001 Pulpit - Tap Your Heels (Unbridled)
Stands: Gainesway Farm, Kentucky, USA
Fee: $300,000 (£238,663)
Records are there to be broken, a feat that has come quite easily to Tapit in recent years.
The Gainesway stallion broke his own North American single-season earnings record for the third consecutive year in 2016 thanks to the winners of close to $19 million, a figure that surpassed his previous record of $18,397,691 set in 2015. In turn, that smashed his 2014 record of $16,813,536.
It is hard to pinpoint a defining moment in Tapit's year. To some onlookers, it would be Frosted's breathtaking 14 1/4 length win in the G1 Metropolitan Handicap. To others, it might be the moment when Creator became his second Belmont Stakes winner in three years. His dominance could also be summed up by the finish to the G1 Spinaway Stakes at Saratoga, in which he supplied the dead-heaters Pretty City and Sweet Loretta.
He also returned an average of $639,839 at the Keeneland September Sale, where four of his yearlings realised over a million dollars.
Tapit is currently fourth in the TRC Global Rankings.
4. DEEP IMPACT
2002 Sunday Silence - Wind In Her Hair (Alzao)
Stands: Shadai Stallion Stakes, Japan
Fee: 30,000,000yen (£206,972)
Deep Impact remains the dominant stallion in Japan, as his sire Sunday Silence was before him.
But his international stature is deservedly growing year on year as more breeders outside Japan take note of his phenomenal record, which is headlined by five consecutive Japanese sires' championships.
There were nine individual G1 winners worldwide in 2016 to bring his overall tally to 27. They included Japanese Oaks heroine Sinhalite, his third winner of the race, and Japanese 2,000 Guineas winner Dee Majesty, who later ran second to Makahiki in the Japanese Derby. Makahiki was Deep Impact's third winner of the event after Deep Brillante and Kizuna and led home a sweep of the top three places for his sire.
Deep Impact's reputation also continues to grow outside Japan. In May, A Shin Hikari ran out the hugely impressive winner of the G1 Prix d'Ispahan at Chantilly and, several months later, Makahiki made his own fruitful raid on France when successful in the G2 Prix Niel. Akihiro, a homebred for the Wertheimer brothers, stamped himself as a legitimate classic contender when beating National Defense in the G3 Prix des Chenes.
With a growing number of European-based representatives and the unwavering loyalty of Japan's leading breeders, Deep Impact's influence will almost certainly strengthen further in 2017.
Deep Impact is #3 in the TRC Global Rankings.
5. WAR FRONT
2002 Danzig - Starry Dreamer (Rubiano)
Stands: Claiborne Farm, Kentucky, USA
Fee: $250,000 (£198,886)
The ongoing support of Coolmore alongside a number of leading American and European breeders has helped ensure that War Front remains one of the most sought-after stallions worldwide.
His 2014 crop were bred the year that Claiborne raised War Front's fee to $80,000. As has become the recent norm, Ballydoyle housed a classy number of those juveniles, namely Brave Anna and Roly Poly, who ran one-two in the G1 Cheveley Park Stakes, G2 Vintage Stakes winner War Decree and G3 Round Tower Stakes winner Intelligence Cross.
Among the older horses, Long Island Sound and Royal Artillery were G3 winners for the Coolmore partners. In America, his quartet of Graded stakes winners were led by Avenge, winner of the G1 Rodeo Drive Stakes at Santa Anita.
War Front's early results were garnered through crops bred off $10,000 to $15,000. His next batch of juveniles, which includes two million-dollar yearlings, were bred when his fee increased to $150,000.
He has also been quick off the mark as a sire of sires through The Factor, a brilliantly fast dirt performer whose first crop contains G1 winner Noted And Quoted.
War Front is joint 11th in the TRC Global Rankings.
6. AMERICAN PHAROAH
2012 Pioneerof The Nile - Littlemissprincessemma (Yankee Gentleman)
Stands: Ashford Stud, Kentucky, USA
Fee: private
Few American runners have captured the imagination of the racing public as American Pharoah, America's 2015 Horse of the Year.
Zayat Stables' charismatic homebred ended the 37-year drought for a Triple Crown winner and in turn became a celebrity outside racing, in one instance appearing on the front cover of Vogue.
Not only that, he was an emphatic winner of the G1 Breeders' Cup Classic, G1 Arkansas Derby and G1 Haskell Invitational and a dual G1 winner at two when successful in the Del Mar Futurity and Frontrunner Stakes.
American Pharoah's fee for 2017 is private but we can assume that it floats somewhere near the level of $200,000 that was set upon his retirement in 2016.
He covered 208 mares during his first season at Coolmore's American arm, Ashford Stud. There were various reports of breeders gaining a 'two for one' discount for sending a second mare but, when all was done and dusted, that first book contained 47 G1 winners and/or producers, among them Broodmare of the Year Take Charge Lady as well as the dams of Bodemeister, I'll Have Another, Lady Eli, Rock Fall, Shanghai Bobby, Songbird and Take Charge Brandi.
The dams of European G1 winners such as Bracelet, Caravaggio, Certify, Hootenanny and Shareta were also among his first book as were the European G1 winners Damson, Imagine, Maybe and Virginia Waters.
7. FRANKEL
2008 Galileo - Kind (Danehill)
Stands: Banstead Manor Stud, Newmarket, UK
Fee: £125,000
Declared by his trainer Sir Henry Cecil as the best he'd ever seen, Frankel racked up an unbeaten sequence of 14 victories, including 10 at the top level. There were many imperious performances along the way, notably his six-length victory in the 2,000 Guineas, in which he was never headed, an 11-length victory in the Queen Anne Stakes at Royal Ascot and seven-length win in the Juddmonte International.
In all, he defeated 25 individual Group 1 winners and was awarded a rating of 147 by Timeform, the highest figure ever recorded in that organisation's history.
As such, the scrutiny on Frankel's first crop has been intense. He covered an outstanding book of mares at £125,000 in his first season and, although it is still early days, the son of Galileo is well on the way justifying those high hopes with a first crop that includes six stakes winners.
A first G1 winner arrived in December courtesy of Soul Stirring in the Hanshin Fillies' Stakes in Japan, while in Europe, the battalion is headed by the G2 Lowther Stakes winner Queen Kindly and G3 Princess Margaret Stakes winner Fair Eva.
Frankel himself progressed well with age, as is typical of progeny by Galileo, so it will be fascinating to see how high he can climb within Europe's elite stallions when his first crop turns three next year.
Despite it being his first season, Frankel already ranks 114 in the TRC Global Rankings.
8 = CURLIN
2004 Smart Strike - Sherriff's Deputy (Deputy Minister)
Stands: Hill 'n' Dale Farm, Kentucky, USA
Fee: $150,000 (£119,331)
A two-time Horse of the Year, seven-time G1 winner and the highest North American money earner of all time with $10,501,800 banked over two seasons, Curlin was already a celebrity when he retired to Lane's End Farm in Kentucky in 2009.
Curlin stood his first season for $75,000. Yet, by 2013, that figure had dropped to $25,000. That's not to say Curlin was a particularly slow starter. There was a first-crop classic winner in Palace Malice, the Belmont Stakes hero of 2013, while two other G1 performers, Diversy Harbor and Ride On Curlin, emerged out of his second. So, when John Sikura's Hill 'n' Dale Farm and Elevage II swooped to pay around $6.2 million for a 20 per cent share in Curlin in the summer of 2015, the transaction looked an intriguing if ambitious call.
As it turns out, Sikura and Elevage II were right on the money. Curlin has absolutely taken off over the past two years, siring an additional six G1 winners, notably Keen Ice, who lowered the colours of American Pharoah in the 2015 Travers Stakes, Preakness and Haskell Invitational winner Exaggerator and champion Stellar Wind.
His fee hit $100,000 for the first time in 2016, his first season at Hill 'n' Dale, and as the second leading North American sire this year, will undoubtedly be popular again despite the recent increase.
Curlin is #10 in the TRC Global Rankings.
8 = MEDAGLIA D'ORO
1999 El Prado - Capuccino Bay (Bailjumper)
Stands: Darley, Kentucky, USA
Fee: $150,000 (£119,331)
Medaglia d'Oro commands $150,000 for the second year running following another high-flying season on the track.
His daughter Songbird established herself as one of the great fillies of the modern era, continuing where she left off from her championship juvenile season with an unbeaten march through her first seven races. Four G1 races were captured along the way, including the Alabama Stakes, won by seven lengths, and Cotillion Stakes, which was won by nearly six, and she lost nothing in defeat when going down by a whisker to Beholder in the Breeders' Cup Distaff.
Few stallions are capable siring a runner of the calibre of Songbird. For Medaglia d'Oro, however, she follows another brilliant representative in Rachel Alexandra and heads an overall list of G1 winners that also includes top Australian 2yo Vancouver and this year's Breeders' Cup Juvenile Fillies Turf heroine New Money Honey.
Medaglia D'Oro is #6 in the TRC Global Rankings.
8 = UNCLE MO
2008 Indian Charlie - Playa Maya (Arch)
Stands: Ashford Stud, Kentucky, USA
Fee: $150,000 (£119,331)
The start that Uncle Mo has made at stud puts him among the elite stallions, certainly in North America.
The champion American juvenile of 2010, he has wasted very little time in establishing himself as the dominant stallion of his generation.
His first two-year-olds earned $3,675,294 in 2015, a record figure for a North American first-crop sire that eclipsed the previous benchmark of $2.8 million set by Tapit in 2009. The group was led by Breeders' Cup Juvenile hero Nyquist, who went on to land the Kentucky Derby, and G1 Alcibiades Stakes winner Gomo, and would come to include G1 Wood Memorial winner Outwork alongside 19 other stakes winners.
While his second crop has yet to be quite so explosive, it does include G2 Remsen Stakes winner Mo Town.
Uncle Mo ends the year as North America's third leading sire of 2016, quite a remarkable feat considering he has only two crops running for him. As result his fee has doubled for 2017.
Uncle Mo has already reached #17 in the TRC Global Rankings.