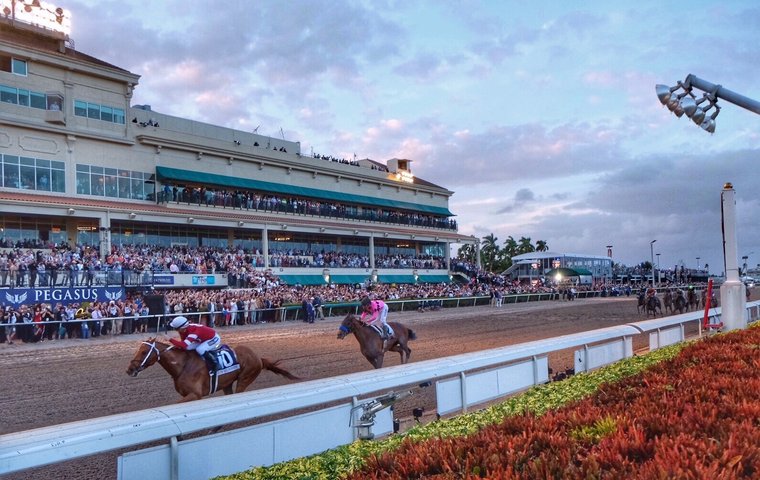 The victory in Japan yesterday of the 3-year-old Blast Onepiece in the famed Arima Kinen completes the set in 2018's top ten richest races in the world list. The colt, who looks the best offspring so far of the runaway 2010 King George winner Harbinger, joins an illustrious roll of big winners this year, including Gun Runner, Enable, Accelerate, Almond Eye and Redzel.

The ten contests listed here are in order of prize money for the winners, rather than total purse.

In 12 months' time, however, the list is likely to look a little different, with three races - the $7 Pegasus World Cup Turf at Gulfstream in January, the A$5 All-Star Mile at Flemington in March, and a race at Randwick, with a total purse reportedly around A$8 million, all new for 2019.

1. Pegasus World Cup
Gulfstream Park, U.S., January 27
Dirt
Nine furlongs (1800m)
Winner: Gun Runner (Candy Ride)
Winner's cheque: $7 million
Total prize fund for the 12-runner $1m-to-enter Pegasus was a soaring $16 million, but that changes in 2019, when the purse is split almost down the middle to create a new $7m turf race to appeal to international challengers. The other $9m will be up for grabs in the dirt contest. It may not be the richest in the world next time, but both events are sure to be in this list for 2019, even though it appears the organisers are struggling to fill the slots for the turf race with quality runners.
2. Dubai World Cup
Meydan, UAE, March 31
Dirt
Ten furlongs (2000m)
Winner: Thunder Snow (Helmet)
Winner's cheque: $5.6 million
After being briefly overtaken by the Pegasus, the DWC will be back on top in 2019 (where it had been since it was first run in 1996) and $2 million richer, with the total purse going up to $12 million - thanks to the revamp on Pegasus day at Gulfstream in January.
3. The Everest
Randwick, Australia, October 13
Turf
Six furlongs (1200m)
Winner: Redzel (Snitzel)
Winner's cheque: $4.75 million
Financed on similar lines to the Pegasus (you fork out loads of cash to buy a spot in the line-up and then hope you've got a fit horse to fill it, or strike a deal with someone else to run one of theirs instead), The Everest is now the richest turf race in the world. Both editions to date have been won by the now 6-year-old Redzel, trained by Peter and Paul Snowdon (#27 in the TRC Global Rankings). The race is not actually credited with Group status as yet, but we treat it as a G1 in the TRC database.
4. Dubai Turf and Dubai Sheema Classic
Meydan, UAE, March 31
Turf
Dubai Turf nine furlongs (1800m); Sheema Classic 12 furlongs (2400m)
Turf winner: Benbatl (Dubawi)
Sheema winner: Hawkbill (Kitten's Joy)
Winner's cheque for each race: $3.4 million
The two races are both on the Dubai World Cup undercard, which means that day contains three of the five richest races in the world in terms of first-place prize money, although all the other races on this list are credited with a greater overall prize fund. The Turf and the Sheema Classic are both due for an overall prize fund increase of $1 million this year.
6. Breeders' Cup Classic
Churchill Downs, U.S., November 3
Dirt
Ten furlongs (2000m)
Winner: Accelerate (Lookin At Lucky)
Winner's cheque: $3.3 million
The Classic was the richest race in the world until the Dubai World Cup came along, and it is now jostling with two other races on the DWC card for fourth place in this list. The Classic has a greater advertised total prize fund ($6 million) but the money the Accelerate team took for winning it was just below the amount the Godolphin pair Benbatl and Hawkbill each netted for their victories at Meydan.
7. Prix de l'Arc de Triomphe
ParisLongchamp, France, October 7
Turf
12 furlongs (2400m)
Winner: Enable (Nathaniel)
Winner's cheque: $3.2 million
Enable's second successive Arc win, followed four weeks later by victory in a race that falls just outside this list, the Longines Breeders' Cup Turf (she picked up a cheque for $2 million for that), lifted her to 12th in the list of all-time highest earning racehorses. She is just behind dual Everest winner Redzel, but still some way behind Winx, one of her rivals in our current reader poll of the world's four highest achieving current fillies or mares.
8. Melbourne Cup
Flemington, Australia, November 7
Turf
Two miles (3200m)
Winner: Cross Counter (Teofilo)
Winner's cheque: $3.1 million
Cross Counter's historic victory (the first British-trained winner of the great race) underlines what a stunning year 2018 has been for Godolphin, having won four of the ten richest races in the world (Cross Counter and Hawkbill trained by Charlie Appleby, Thunder Snow and Benbatl by Saeed Bin Suroor).
9. Japan Cup and Arima Kinen
Tokyo, November 25, and Nakayama, December 23 respectively
Turf
Japan Cup 12 furlongs (2400m); Arima Kinen 12½ furlongs (2500m)
Japan Cup winner: Almond Eye (Lord Kanaloa)
Arima Kinen winner: Blast Onepiece (Harbinger)
Winner's cheque for each race: $2.75 million
Considering how far ahead in prize money levels Japan is over the rest of the world, it is a shade ironic that these are the only two races there to make this top ten. Both Blast Onepiece and Almond Eye are in the ownership of Silk Racing, currently 31st in the TRC Global Rankings.