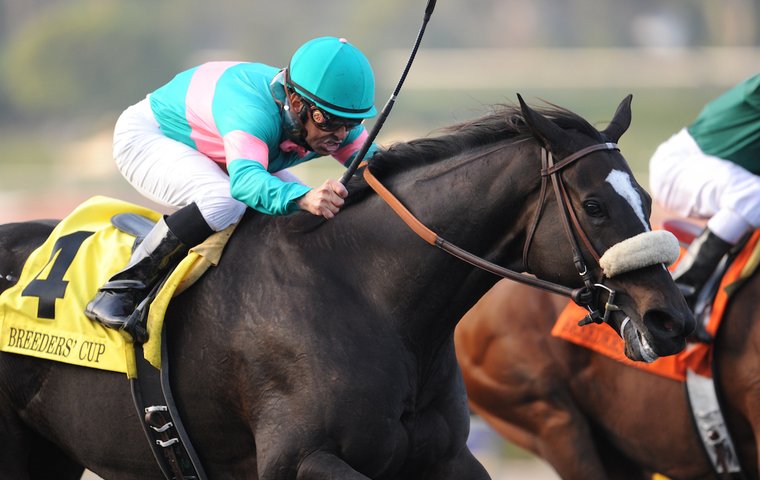 He was an outstanding racehorse who stamped himself on the sport's international roll of honor with two mighty G1 performances in 2002 - winning the Dubai World Cup and Stephen Foster Handicap at Churchill Downs by a combined 10¾ lengths. Yet Street Cry will be remembered not for either of those notable victories, but for the achievements of two of his daughters. For, in first Zenyatta and more recently Winx, he is responsible for two of the greatest mares ever to set foot on a racetrack.

It was a year ago this Saturday that Winx, voted Horse of the Decade by TRC readers last December, bowed out of competition with her 33rd consecutive victory - in the G1 A$4 million Queen Elizabeth Stakes at Randwick.

Over the next two days, Todd Sidor takes the opportunity to celebrate the remarkable careers of Street Cry's two iconic daughters, starting today with the phenomenon that was Zenyatta.

Regal bloodlines
In 2002, Street Cry, the son of Machiavellian, won the most important race of his career, the Group 1 Dubai World Cup. While the winner's share of the $6 million purse was consequential, a win at the United States' classic distance of ten furlongs in a championship race made him an excellent breeding prospect for his owners, Godolphin, given his regal bloodlines.
Through Machiavellian and Helen Street, he was a descendant of British champion and sire extraordinaire Eclipse, with his damsire being by Epsom Derby winner Troy. He finished his career with a win in the G1 Stephen Foster and a runner-up finish in the G1 Whitney Handicap. He was then retired to Darley Jonabel in Lexington, Kentucky, and to Darley down under in a suburb of Bacchus Marsh in Victoria for stallion duties.
During that time, he sired male champions Street Sense (2-year old champion and the first horse to win the Breeders' Cup Juvenile-Kentucky Derby double), 2-year old champion New Year's Day, multiple G1-winning sprinter Street Boss, and 2009 Melbourne Cup winner Shocking.
The story of Zenyatta
Born on April Fool's Day in 2004 (and whose 16th birthday was just a week ago), Zenyatta was bred by Maverick Productions and came from Street Cry's first crop, the one that also included Street Sense.
Her dam was Vertigneux, a granddaughter of Forego's sire Forli on the bottom, who broke her maiden with Jerry Bailey up at ten furlongs at Belmont Park. Vertigneux's only other win was an allowance race - same distance, same track.
Through her and Street Cry, Zenyatta received stamina galore. As a yearling, Zenyatta was purchased in September 2005 by Jerry and Ann Moss for $60,000. Foaled and raised at Winter Quarter Farm in Lexington, she was then sent to Mayberry Farm in Ocala, Florida, for training. Whereas Street Sense was precocious, as a large filly Zenyatta was a late bloomer requiring additional time to grow into her eventual 17.2 hand frame. Her connections' patience in waiting to get her to the track was well rewarded.
Zenyatta broke her maiden in her first run - at 6½ furlongs in late November 2006 at the now defunct Hollywood Park.
After a subsequent allowance win, she entered Graded stakes company a few days after the 2008 New Year had been rung in. Her legend began to grow after she set a stakes record time of 1:40.61 for 8½ furlongs at Santa Anita.
In her next outing, she would travel outside California for the first time (to Oaklawn Park in Arkansas for the G1 Apple Blossom Handicap), race on dirt and face the defending Breeders' Cup Distaff winner and Champion Older Female, Ginger Punch. The result was a comprehensive 4½-length victory for Zenyatta - the first of her 13 career G1 wins. And Ginger Punch, who finished third, was far from past her prime - she doubled her G1 victory total to six during the rest of the year.
Respectable wins in the G2 Milady and G1 Vanity Handicaps followed in the spring before Zenyatta tried her fourth track of the year at Del Mar for the G2 Clement L Hirsch Handicap, in which she set another stakes record on the synthetic surface in a time of 1:41.48 for 8½ furlongs.
Finally, she set a stakes record in the G1 Lady's Secret Stakes, which has since been renamed the Zenyatta Stakes, running the same trip in 1:40.30 at Santa Anita.
By this time, Zenyatta had proved herself the fastest mare on all-weather surfaces at 8½ furlongs. Her time in the 2008 Lady's Secret Stakes was the third fastest on synthetics overall. (She also holds the ninth, 21st, 32nd and 47th fastest times at that distance).
2009
The pièce de résistance was to come in the 2008 Breeders' Cup Ladies Classic at Santa Anita, where she would again face Ginger Punch and other talented fillies in her first championship race, which was run in the second fastest time in the history of the race at 1:46.85 (for nine furlongs). At that trip, Zenyatta remains the second fastest mare on all-weather in North American history behind Carriage Trail, who she happened to beat by five and a quarter lengths in that 2008 Distaff.
2009 was to be a special year for Zenyatta, who won her first Eclipse Award as Champion Older Female for 2008 (with 240 votes against 2 for Ginger Punch), and received 69 votes for Horse of the Year, coming in second to two-time winner Curlin, who received 153.
Early on, Zenyatta's connections, Jerry and Ann Moss, and John Shirreffs and Dottie Ingordo-Shirreffs, were thinking big - that their mare would step up in class and run in the 2009 Breeders' Cup Classic if all went well. The race would again be at Santa Anita, close to Zenyatta's home track at Hollywood Park. So, the group developed a campaign that would have her peaking in November, starting in May, rather than January.
To keep her fresh, she would have six races instead of seven. And they would travel for one race, the G2 Louisville Distaff, to be held on Kentucky Oaks day, May 1, at Churchill Downs. In the event, however, when the track came up sealed because of rain and only rated 'good', Zenyatta was scratched.
The G2 Milady/G1 Vanity Handicap double would start things off. However, given Zenyatta's status, for the Vanity Handicap she would carry a huge 129 lbs, believed to be the most weight assigned to a horse in this race since Cascapedia in 1977. No horse has been assigned more since Silver Spoon in 1960.
Zenyatta had to carry more than the best handicappers in the country, male or female, during the time she ran or since, and she still managed to win by two and a half lengths.
In fact, it appears Hall Of Fame champion Cigar may have been the last horse to carry more than Zenyatta in North America, when he contested Arlington Park's Citation Challenge Invitational in 1996, carrying 130 lbs in his last victory in his 16-race win streak.
Zenyatta acquitted herself well in her remaining Breeders' Cup prep races, winning the G1 Clement L Hirsch and the Lady's Secret Stakes after a $1 million showdown with East Coast rival Rachel Alexandra never materialized in the G1 Beldame Stakes at Belmont Park.
The promised step up in class in the 2009 Breeders' Cup Classic that was planned by Team Zenyatta happened on November 7. The 5-year-old mare was up against not only the best North American males, but, given that turf horses also excelled on synthetic, she was facing an international contingent too, including an Irish champion, Coolmore's Rip Van Winkle, who had just won two important one-mile G1s as a 3-year old, the Queen Elizabeth II Stakes at Ascot and the Sussex Stakes at Goodwood, and had run eventual European Horse of the Year Sea the Stars close in the G1 Coral Eclipse at Sandown, with subsequent Breeders' Cup Turf winner Conduit well behind in third.
Talented European pond-jumper Twice Over, who had won multiple stakes in Europe, including Britain's major year-end G1, the Champion Stakes, was also there, along with eventual 3-year old Eclipse Champion Summer Bird (winner of the Belmont, the Travers and the Jockey Club Gold Cup), multiple G1 winner Einstein, and eventual Champion Older Male and Turf Champion Gio Ponti.
In all, she would face eight G1 winners, including five multiple G1 winners. Her jockey, Mike Smith, appreciated the enormity of the task. She was settled into last place as Smith guided her inside at the top of the stretch to save ground, then unleashed her spectacular late-closing kick to secure the win in 2:00.62 seconds.
In becoming the first and still the only female to win the Classic, Zenyatta also ran the fastest time by a female horse on synthetics at ten furlongs in North America. She also recorded the top Beyer Speed Figure on an all-weather surface at ten furlongs, securing a mark of 112. This stood until 2012, when Game On Dude earned a 116 in the G1 Pacific Classic at Del Mar.
Zenyatta took home her second straight Eclipse Award for 2009 Champion Older Female.
However, the balloting for Horse of the Year was intense between Zenyatta and 3-year old Rachel Alexandra. The latter ended up taking the award 130 to 99 with many saying the two champion females should be co-champions.
2010
Team Zenyatta was naturally disappointed to finish second two years in a row. And that led to the eventual decision to campaign their mare for yet another year.
She had 14 consecutive wins at this point, nine of them G1s, two Breeders' Cup Championships in two different races (the first horse to do this), and she won the second stepping up in class against males, a feat rarely attempted by fillies or mares in North America, let alone in a championship race.
The 2010 campaign would be bolder, G1 races only, starting earlier in the season, and travelling just once - to Oaklawn, once again for the G1 Apple Blossom. The plan was for that race to feature a clash with Rachel Alexandra at a new distance of nine furlongs on a track they had both been successful over.
There would also be a new race added to her repertoire, Santa Anita's G1 Santa Margarita, also at nine furlongs.
While Zenyatta, carrying highweight of 127 lbs, won the Santa Margarita, Rachel Alexandra, carrying highweight of 123, did not fare so well against Zenyatta's stablemate, Zardana, who won the first running of the New Orleans Ladies Stakes.
Coming out of the race, Rachel Alexandra's connections determined she needed more time to recover from the race and scratched her from the Apple Blossom. Zenyatta won that one by 4¼ lengths, a quarter-length shorter than her first victory in the race in only her second effort over dirt, setting a stakes record given it was the only time the race had been contested at nine furlongs.
Zenyatta had scored her two greatest margins of victory on dirt, which confirmed trainer John Shirreffs' impression that she preferred and was actually better on dirt than synthetic surfaces.
In returning to California from Oaklawn, Zenyatta suffered from dehydration and weight loss.
Her next contest was the G1 Vanity Handicap, in which she was again assigned the highweight of 129 lbs. She successfully contested the G1 Clement L Hirsch and the new G1 Zenyatta Stakes. This last victory gave her 13 G1 wins, a North American record for a female, surpassing Lady's Secret, who had 12 when she retired 34 years ago.
The lone defeat
Unbeaten now in 19 races, Zenyatta prepared to head to Churchill Downs for her toughest test in her second consecutive Breeders' Cup Classic.
She would take on another formidable field, which included two horses vying for champion older male plaudits in Quality Road, who had been successful in the G1 Donn Handicap, breaking his own track record at Gulfstream Park, the G1 Metropolitan Handicap and the G1 Woodward Stakes, and Blame, who had won the G1 Stephen Foster Handicap and the G1 Whitney Handicap - by a head over Quality Road.
Eventual 3-year old champion and Preakness winner Lookin At Lucky would also be in the field. Seven of the 12 entrants had experience over the Churchill Downs track. The previous year, Zenyatta had been scratched from racing over the surface when it came up wet.
As the gate opened, Zenyatta appeared to struggle to get her footing. After a quarter of a mile, she was 16¼ lengths behind the leader - further back than she had ever been in any race. But the race appeared to be panning out the same way as it had the previous year at Santa Anita. At the top of the stretch, Smith tried to save ground, moving inside, but he needed to steady her as Quality Road faded in front. Once she got in the clear, Zenyatta's powerful closing kick began working, but it was just too much ground to make up on Blame, who had taken the lead in the stretch.
Smith took full responsibility for the loss, breaking down in tears post-race, but the likely difference-makers were her having trouble with the surface, not liking the kickback, and Blame relishing a track he had won on three times before.
Zenyatta would go on to win Horse of the Year over Blame by a margin of 128 to 102, and her third consecutive Eclipse Award for Champion Older Female.
She also became the inaugural winner of the Vox Populi Award, a fan-based honor established by the late Penny Chenery, the great Secretariat's owner, to represent the people's choice of top horse whether by achievement on the track, winning the hearts and minds of the racing public, or a combination thereof.
Winx would capture the same award eight years later.
Other notable achievements
Raced 20 times, winning 19 races (95%), and placing in her only loss. She contested 18 Graded races, winning all but one (94%). She participated in 14 G1s, winning all but one (93%).
In her 19 wins, she won by a total of 35 lengths, averaging just under two lengths per win. Her margins of victory were a head in multiple races to 4½ lengths in the 2008 Apple Blossom, her first race on dirt. Her margin of defeat was a short head, which is why some have suggested that her record is really 19.99-.01 because she was so very close to that 20th victory.
She defeated or finished ahead of 121 total competitors and faced 103 different horses, finishing ahead of 102 of them, on average facing a field of six with five new horses in each race.
She defeated or finished ahead of 24 different individual G1 winners. Of those, 13 were multiple G1 winners. Her competition had won a total of forty-eight G1s before they faced her, and some of them went on to further glory at the highest level.
She faced 45 individual Graded stakes winners, who had won 112 Graded races between them.
She defeated or finished ahead of four Eclipse Award champions, who eventually won a total of seven Eclipse Awards: Ginger Punch (2007 Champion Older Female); Gio Ponti (2009 Champion Older Male, 2009, 2010 Champion Turf Male); Summer Bird (2009 Champion Three-Year Old Male); and Lookin At Lucky (2009 Champion Two-Year Old Male, 2010 Champion Three-Year Old Male).
She defeated two Breeders' Cup Distaff Champions in Ginger Punch (2007) twice, and Life Is Sweet (2009) three times.
She was ridden by only two jockeys: David Flores in her first three races and Mike Smith in her remaining 17.
Tomorrow: the domination of Winx
Todd Sidor, an attorney by trade, has helped produce equine law seminars, and continues to own horses as a member of racing partnerships. His more than two decades' passion and respect for the sport of horse racing will always make him, first and foremost, a racing enthusiast.