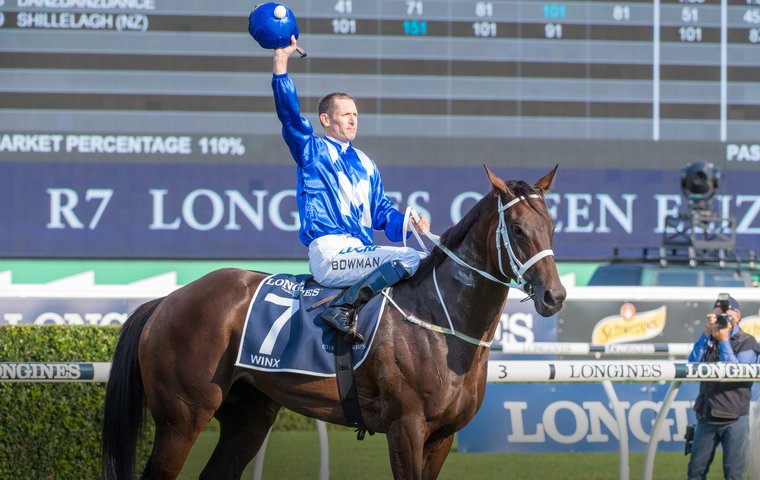 Thoroughbred Racing Commentary is an international publication, and we pride ourselves on our coverage of issues and developments in all the major racing nations. Nevertheless, more than half our readers are based in the United States, which is why the odds seemed stacked in favour of American Pharoah, the only U.S. nominee, in our World Horse of the Decade vote, which closed yesterday (Wednesday).

Yet, while the superb 2015 U.S. Triple Crown winner and Horse of the Year polled slightly over a third of the more-than-2,000 votes the five contenders received from all over the world, he finished second in a poll whose result shows once again that there is no substitute for longevity in the best racehorses for building popularity in the sport.
In fact, the winner, Winx, is five months older than American Pharoah. She raced for the first time in June 2014 - two months before he made his debut in a maiden special weight at Del Mar - and for the last in April this year, by which time Pharoah's first 2-year-olds were beginning to appear on the racetracks of Europe and the U.S.
Indeed the son of Pioneerof The Nile closed his track career by winning the Breeders' Cup Classic, the leading all-aged weight-for-age race in North America, on October 31, 2015 - just seven days after Winx won her first Cox Plate, the leading all-aged weight-for-age race in the Southern Hemisphere. She retired having won the race four times.
Winx raced no less than 43 times in her five-year track career - more than three of the other four World Horse of the Decade nominees put together (American Pharoah ran 11 times, Frankel 14 and Enable 15).
She won 37 of those, including 25 at G1 level, and she was unbeaten in her last 33. She now sits atop the list of leading all-time money earners worldwide.
Winx never raced outside Australia, but her fame and popularity spread across the globe during that time. Fans in the Northern Hemisphere were glued to TV sets every time she ran, and many made the pilgrimage down under to be sure to see her compete in the flesh at least once.
She won not only this TRC poll but also another significant international honour - the 2018 Secretariat Vox Populi Award. Created by Secretariat's owner, Penny Chenery, this recognizes the horse whose popularity and racing excellence best resounded with the general public and gained recognition for Thoroughbred racing. Winx was the top choice among U.S. voters as well as international fans representing 60 countries. She was the first non-American winner of the award since it was established in 2010.
TRC World Horse of the Decade poll result
Winx - 788 votes (38%)
American Pharoah - 689 (34%)
Frankel - 361 (18%)
Black Caviar - 155 (7%)
Enable - 83 (3%)
Some may be surprised at the relative paucity of support for the other three contenders, particularly Enable. Surely it would have been different had she been able to win her third Arc at ParisLongchamp in October.
Black Caviar's numbers were respectable considering it is nearly seven years since she retired at Randwick in April 2013 with an unblemished record of 25 wins from 25 races.
That was six months after the retirement of Frankel, arguably the greatest of all five in terms of sheer ability. Again, his share of the vote would probably have been a lot higher had his career been more recent.
One criticism often levelled at the great horse's connections is that he was never allowed to compete outside Britain. Yet the only two of these five who did actually race in more than one country - Black Caviar and Enable - occupy the bottom two positions.