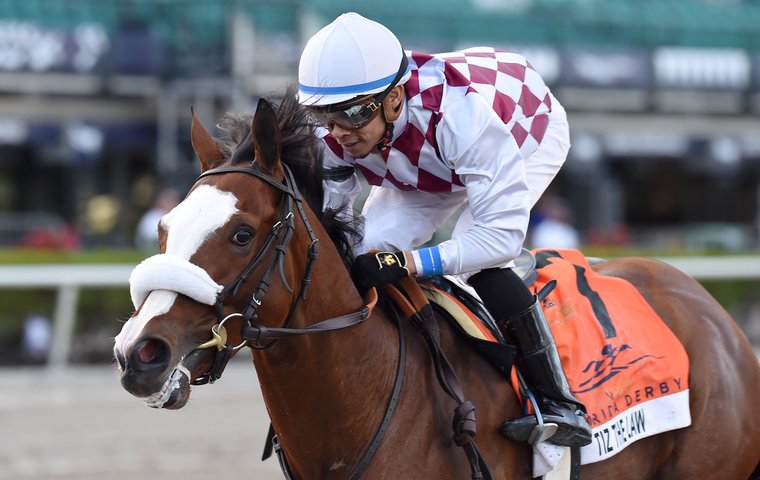 This week, it is the turn of the sires in our review of the first part of a season abbreviated like no other. Notwithstanding that some countries are racing on and others have gone into recess, there have been some interesting developments.

Ranked by Group/Graded wins and then places merely for convenience, here are the aggregated results by sire for all races in 2020 that have counted towards TRC Global Rankings: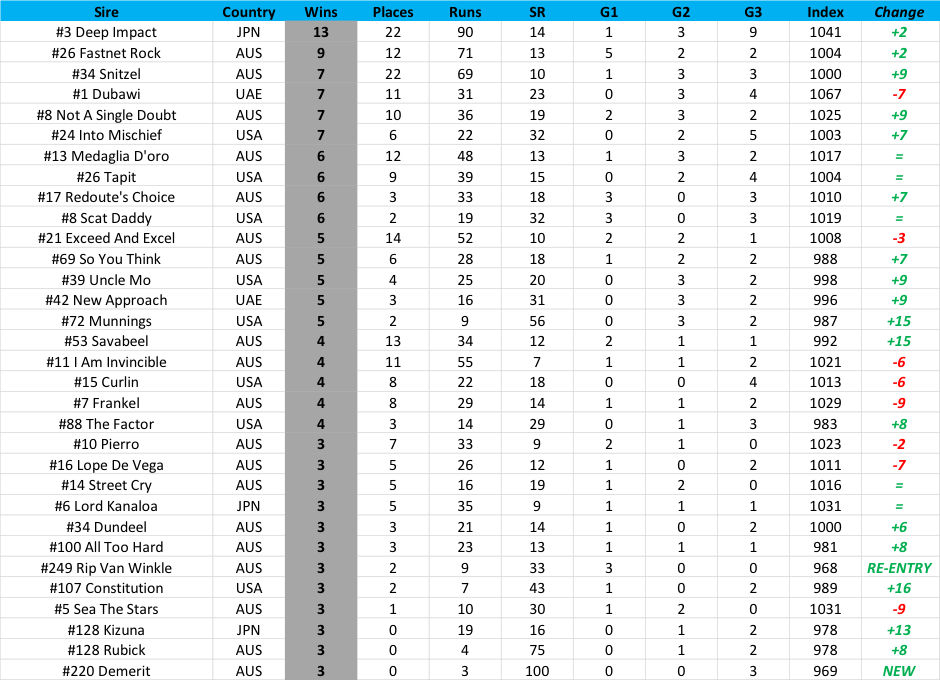 Just below this table resides the the recently deceased #4 Shamardal (2-7) meaning that, of the world's top ten by TRC Global Sires Rankings only #2 Galileo (0-16, 2 places) has failed to register at least two wins in the campaign's pandemic-affected opening stanzas.
This is a stark reminder of the dominance and importance of the leading stallions.
As we have explained over the last two weeks of the series covering jockeys and trainers, appearance on the leaderboard of aggregate wins is certainly no guarantee of a rise in the rankings. This is evidence of TRC Global Rankings regarding counting up wins – the entire basis of many other stallion rankings – as inadequate in inferring the true hierarchy of talent.
Instead, the basis of our rankings is head-to-head results, weighted by many factors that enable the rankings to make the best possible predictions of who-beats-whom in future races – surely the most authentic way to produce rankings – rather than merely assembling a list that seems to jive with general preconception.
We ought to explain here that our sires rankings are calculated in just the same way as for competitors in other categories, but expressed more prominently by the coefficients found by machine learning is the notion of an ageing curve, such as those employed in baseball sabermetrics. Over the course of time, stallions show a characteristic ebb-and-flow in talent, driven not just by mere age but also by factors such as fashion, results and sometimes, sadly, their premature death.
If a set of rankings were to first merely aggregate results by wins, then assume that his future prospects were the same irrespective of how many runners over how many years he has had, those rankings would make much less accurate predictions than ours do.
The use of an ageing curve allows us to promote young stallions of outrageous talent – Frankel and Lord Kanaloa are too recent examples – to their true position in the rankings much faster than waiting many seasons for their numbers to match older sires who have merely had more opportunity.
In the table, you will see that several of the top sires by recent results have actually lost ranking points in the process. This is either because their results have come at low efficiency, in a small sample or against the stock of other stallions we don't particularly rate. Remember, the higher (lower) a stallion is ranked, the harder (easier) it is to gain ranking points.
In #1 the case of Dubawi, for instance, his winners continue to come at a high strike rate, but seven in nearly four months still causes greater uncertainty that he is worth a historically significant rating. That's just the nature of life at the top.
We have tried to make sure that the imbalanced schedule caused by the coronavirus pandemic does not skew TRC Global Rankings towards those competitors who are active.
Evidence of this comes in the demotion from Australian #1 sire of #11 I Am Invincible – despite 55 representatives - because of a lowish strike rate, especially compared with #8 Not A Single Doubt, who is the sire of gifted G1 Golden Slipper winner Farnan.
For the record, Not A Single Doubt leads I Am Invincible by a slender 123-120 all-time heads-up, but it is a much more decisive 50-26 to the former since 2019 and 17-2 this year.
You can search for each stallion's individual results via our drop-down menus in the rankings table, but it would be remiss not to single out #107 Constitution as an exemplar of the ageing curve this article has discussed.
TRC Global Rankings are taking the rise of this son of #26 Tapit very seriously since the WinStar producer has produced a flying start to his stallion career in Kentucky. Apart from the majestic G1 Florida Derby winner Tiz The Law, he has four other Graded stakes winners already.