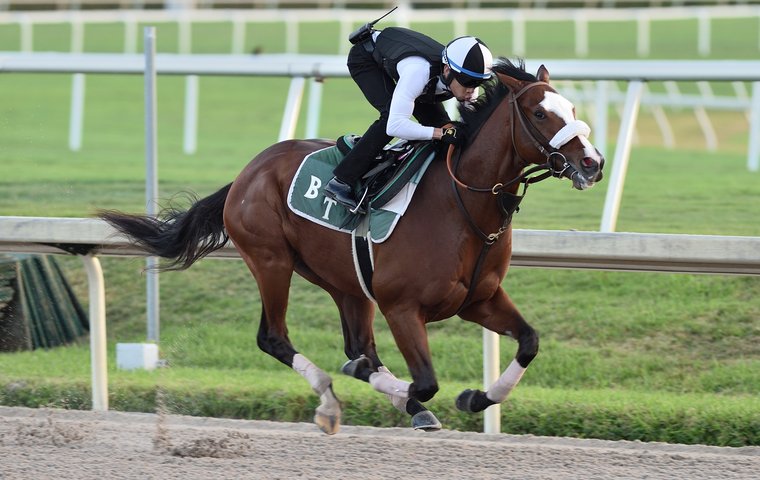 Prep School is our attempt to harness the predictive power of TRC Global Rankings on the road to the Kentucky Derby each year. This year is like none other in recent times, with the Coronavirus pandemic causing the race to be postponed until September. But the key preps are still worth focussing upon as top races in their own right – even if their influence on the main event may not be anywhere as significant as normal.

We use a combination of ranking points and each horse's form to assign a probability of victory to each runner. The horse earning the highest probability appears as the TOP CHOICE, but our de facto selection is VALUE PICK, which is the horse with the highest residual probability of victory once we discount the Morning Line odds. (If we believe the Morning Line odds are unrealistic for a particular race, we will use a different method to gauge the betting public's likely opinion.)

G1 Curlin Florida Derby
Gulfstream Park, 9f
TOP CHOICE Tiz The Law
Todd Sidor's comprehensive analysis of the decision to point TIZ THE LAW at this race made a raft of good points, even if the suitability of this race to put their horse spot on for Churchill Downs has been rendered moot for trainer Barclay Tagg and owners Sackatoga Stable.
Following Don King's famous dictum, the match between Tiz The Law and super talented rival Ete Indien played out in the G3 Holy Bull here last month fully deserves this rematch. True, it was a little one-sided there as Tiz The Law drew off by three lengths, but Ete Indien was still developing and has since flexed his muscles with a haymaker in the G2 Fountain of Youth, which he won by more than eight lengths.
The question for Ete Indien is: can he go the distance with Tiz The Law. The extended trip of nine furlongs seems greatly in Tiz The Law's favour; indeed, it is cast as a distance runner that one can imagine Tiz The Law's transformation from horse to super horse. Maybe that is hyperbole, maybe not. But nothing but a win will do to maintain Tiz The Law as the #1 in our Kentucky Derby rankings.
VALUE PICK Independence Hall
There are nearly as many ways a value-seeker could go here as there are talented rivals ranged against Tiz The Law. The angle chosen is the bounce back, however, with INDEPENDENCE HALL the vehicle.
Winning distances at Aqueduct can become horribly elongated during the winter, as many a follower of an impressive winner has found. But 12-length G2 Nashua Stakes winner Independence Hall is worth one more chance after a disappointing second in the G3 Sam F. Davis Stakes at Tampa.
At least two factors provide reassurance that Independence Hall is for real: he already looked a good horse going into that event, and physically he really stands out with a long stride and obvious power about him.
The Sam F Davis was an interesting race to analyse. There is no getting away from the fact it was disappointing to see a colt as good as this defeated, but the early stages might have left their mark, as he raced in a group well clear through a 46.52 half-mile. While that pace is unsustainable, and he was only beaten two and a half lengths by Sole Volante at the line, it was surprising he did not find a bit more.
Now, however, Independence Hall has had the pause that refreshes. Trainer Mike Trombetta has tried to circle him back with a succession of maintenance works, only letting the handbrake off a little in the morning when he went a half in 48.31 (seventh-fastest of 67) last week.
The most tempting alternative is Gouverneur Morris, who is sitting at #8 in our top ten prospects because he was G1-placed as a juvenile. Candy Tycoon and Soros merit consideration too, but Ajaaweed needs to pick up the bridle earlier. This is quite some race