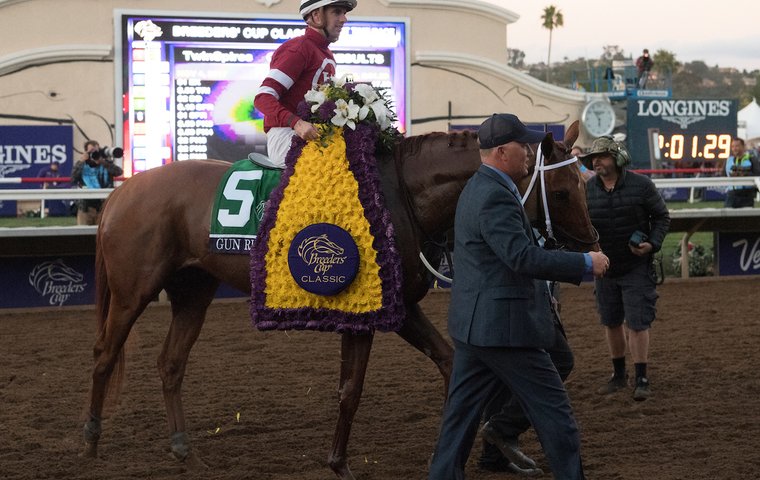 Gun Runner's victory in the Breeders' Cup Classic yesterday means he is the 15th highest money-earner worldwide in Thoroughbred racing history. Arrogate, of course, retires to stud as the clear world number one.

The action at the Breeders' Cup also means a climb for Longines Turf third Highland Reel, who has overtaken France's Cirrus Des Aigles to become top European earner and is now 18th in the world list (see table below).
Two other notable movers since these standings were last published in June are Kitasan Black and Winx, who are both now in the top ten.
The 5-year-old Kitasan Black, a son of Deep Impact's full brother Black Tide, is eighth after his impressive win in the Tenno Sho at Tokyo racecourse last weekend, and Winx is just one place behind after her historic triumph in the Cox Plate at Moonee Valley in Melbourne a day earlier.
Gun Runner moves into third in the North American all-time list according to the calculations used to compile these figures. This will no doubt cause some furrowed brows in the U.S., where even after yesterday's win the 4-year-old ranks only tenth in North America according to Equibase. The Equibase list, however, includes three overseas horses and one (Flintshire) who was trained in the U.S. for only his final season after being based in France for three years.
Equibase's standings include horses that raced in North America even it was only once, whereas the TRC list includes all horses worldwide (and is therefore - Arrogate apart - dominated by Japanese). As an example, Espoir City, who was winning valuable races on the dirt in Japan until he was eight, is third on the Equibase list by virtue of a single run down the field behind Blame in the 2010 Breeders' Cup Classic at Churchill Downs. He ranks 12th on our world list, but we would not include him in North American standings.
Of course, when analysing any list of global leading money-earners, it must be remembered that much depends on what currency is used. Our list was originally compiled by the International Racing Bureau, which is a British company, hence the use of sterling and the official overseas currency exchange rates issued by the British Horseracing Authority in the first week of every January.
When U.S. dollars are used, according to Equibase, Cigar's career total of $9,999,815 leaves him over half a million short of Curlin's $10,501,800. But, since Cigar raced at a time when one dollar would have got you about 67 pence, whereas Curlin's era was when a dollar was the equivalent of only around 50 pence, Cigar is almost £1 million clear of his fellow countryman when sterling is used.
The top 40 all-time world prize money earners