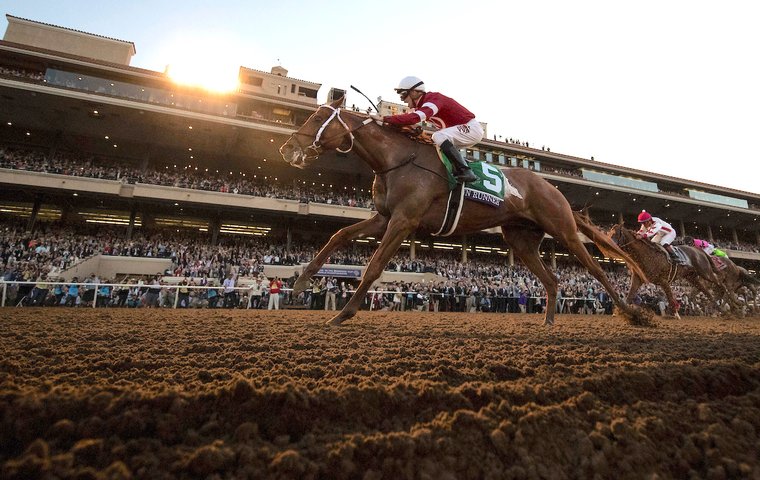 Go back in time to early spring, specifically March 25, and there were scores upon scores of people who correctly believed a horse would win the Breeders' Cup Classic in dominant fashion and turn Horse of the Year voting into an absolute no-brainer. Except they were ga-ga about the wrong horse.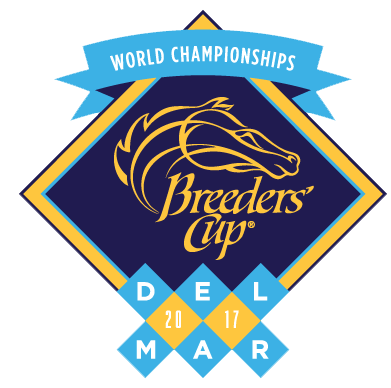 One of the most amazing 180s in racing history was completed yesterday when Gun Runner – not Arrogate – scored a convincing 2¼-length victory in the $6 million Breeders' Cup Classic at Del Mar that made the 4-year-old a worthy candidate to become a unanimous Horse of the Year selection.
Yes, Gun Runner. The same Gun Runner who was second by 2¼ lengths to Arrogate in the Dubai World Cup on the aforementioned March 25, when Arrogate overcame a tardy start and rallied from last to win in breathtaking fashion.
The same Gun Runner who lost to the Juddmonte star for a second straight time that night and seemed destined to play Alydar to Arrogate's Affirmed or Sham to Arrogate's Secretariat, depending on what level of greatness an observer wished to bestow on Arrogate.
Magical things
Yet spring seemed light years away yesterday, when the third and final chapter in their rivalry ended with Gun Runner leaving no doubt about his greatness and Arrogate fading into the sunset with a horde of unanswered questions about what happened in the course of the last seven months.
"In March, no one would have expected this," said Ron Winchell, who owns Gun Runner along with Three Chimneys Farm, "but we scripted an entirely different ending to the year and that's one of the great things about horse racing. These magical things can happen."
Whether it was a fairy godmother, a genie or simply time and fate catching up with two rivals, whatever transpired and tipped the balance of power from Arrogate to Gun Runner, it did the job in a manner few could have anticipated.
"I think letting him be who he is has put him on this stage and undoubtedly made him Horse of the Year," trainer Steve Asmussen said about Gun Runner. "[He's done] a lot of travel this year, [there were] a lot of fast races and I think he's better today than he's ever been. What a blessing it is to have this horse to share with great people, a great team and a great family."
To add even more glitter to Asmussen's words, Gun Runner was already nothing short of spectacular before he broke from the gate in the BC Classic as a slight $2.40 second choice to Arrogate ($2.10).
After returning from Dubai, Gun Runner transformed from a sparring partner into a champion through the fruits of Asmussen's patient handling.
Gun Runner finished 15 lengths behind Arrogate in the 2016 Travers, and after a runner-up finish in the G1 Pennsylvania Derby, a path of lesser resistance was chosen for the Breeders' Cup. He was pointed to the BC Dirt Mile instead of another meeting with Arrogate in the BC Classic.
Turning a corner
A fleet son of Candy Ride, Gun Runner closed 2016 on a promising note by winning the G1 Clark, but was kept out of the Pegasus World Cup because of quarantine issues at Fair Grounds in New Orleans. Instead, he romped in the G3 Razorback at Oaklawn Park as a prep for Dubai and then turned a corner rather sharply after the loss in Dubai.
He streaked to Grade 1 wins in the Stephen Foster, Whitney and Woodward by a combined 22½ lengths, and, after a nine-week layoff and lengthy training in California, he added the BC Classic and 2¼ lengths to that list in the most impressive of fashions.
"I think all of our success has been based on paying attention to anything we have control over and worrying about that," Asmussen said. "I guess you witnessed why we feel the way we do about Gun Runner, and he's done nothing to make us think any different. He's up to the challenge."
Gun Runner was challenged and was pushed from the outside for almost all the mile and a quarter in the BC Classic by Pacific Classic winner Collected, one of four uncoupled Baffert entrants in the field of 11 (see YouTube video below). They were together through speedy fractions of 22.50 and 46.31 seconds and 1:10.50 – splits faster than Collected's fractions at the same track and distance in the Pacific Classic. Yet, when the serious running began at the quarter pole, no one – not Collected or anyone behind him, including Arrogate – could keep up with Gun Runner and French-born jockey Florent Geroux as they covered the ten furlongs in a sparkling 2:01.29 and paid $6.80 to win.
"We all watched races all week [at Del Mar]," Asmussen said. "22 and 3 on the lead on the inside hadn't had a lot of success this week, but I guess it wasn't Gun Runner in that spot the previous times."
The previous time in the BC Classic, it was Arrogate doing what Gun Runner did so impressively yesterday. On the heels of a monstrous 13½-length, track record win in the Travers in his stakes debut, Arrogate beat California Chrome in the BC Classic, though it was the older 2014 Kentucky Derby/Preakness winner who was named Horse of the Year.
Arrogate then started 2017 with wins in the Pegasus and the Dubai World Cup, two races worth a combined $22 million, to become the world's all-time leading earner. Baffert, a Triple Crown winner himself, even compared Arrogate to Secretariat after the spectacular Dubai World Cup win.
The horse was that good.
But, after returning home from Dubai, it was as if Arrogate had forgotten to pack his greatness while leaving the Middle East.
In his first start back, he was a dull fourth, losing by more than 15 lengths as a 1-20 favorite against G2 rivals in the San Diego Handicap at Del Mar. Some improved workouts heading into the Pacific Classic at Del Mar seemed to bode well for a return to top form, but again Arrogate seemed listless on the final turn until he found his best stride in the stretch and closed quickly to lose to Collected by a half-length.
An improved effort in the Pacific Classic once again gave off hope for a vastly improved effort 11 weeks later while bidding to become the second horse to win the BC Classic in back-to-back years and racing for the final time before heading to stud next year.
Yet it was not to be.
Near-empty paddock
Arrogate ducked in at the start of the BC Classic, languished in 10th after six furlongs, and rallied only mildly to finish in a dead-heat for fifth with Gunnevera, some 6¼ lengths in back of the victorious Gun Runner. It was his third straight loss, all of them at Del Mar, and brought his career to a close with seven wins in 11 starts and record earnings of $17,422,600, according to Equibase.
"He just doesn't like this track," jockey Mike Smith said. "For whatever reason, I hate to say it, he has shown it time and time again and showed it today. [His bad start] is what he's been doing every time he runs here. When he's on his A race, he's one of the fastest horses we have ever seen. He just won't run over here. I have tried to talk myself into thinking he would. He has just showed me time and time again that he wouldn't."
Standing in Del Mar's near-empty paddock after the race, Baffert was talking with his wife, Jill, and a couple of friends in a scene that bore little resemblance to the festive celebrations after his victories in the BC Classic in each of the previous three years, after joyous triumphs by Bayern, American Pharoah and Arrogate.
Baffert had a runner-up finish from Collected and a third from West Coast in the BC Classic that probably wrapped up champion 3-year-old male honors for the Hall of Fame trainer's Travers and Pennsylvania Derby winner.
A case for staying in training
Yet it was Arrogate and an inability by the 4-year-old to end his career on an illustrious note that weighed on Baffert as he discounted Smith's thoughts about the racetrack.
"It wasn't the racetrack," Baffert said. "He just lost interest in running. It was like a great pitcher who can't find the plate at the end of his career. I don't know why it happened but he gave us some great wins. He was a great horse"
Time will tell how many more wins Gun Runner will give his connections and fans. He's targeting the Pegasus in January at Gulfstream Park and its $16 million payday, and Winchell says there's a "50-50" chance his star will remain in training throughout his 5-year-old season and point toward the Dubai World Cup and beyond.
Earlier in the fall, Winchell told TRC that, if the Dubai World Cup purse was increased to surpass the Pegasus and become the world's richest race, it would present a compelling case for staying in training. Gun Runner, with earnings of $3.3 million from the BC Classic, now has a career total of $8,988,500, according to Equibase.
"It's 50-50 what we will do," Winchell said on Saturday. "I'd like to continue racing but my partner [Three Chimneys Chairman Borges Torrealba] is in the breeding business. We'll have to sit down and decide what to do."
When they do, what happened in the BC Classic - and could happen several more times down the road in the world's richest races – should make for an interesting conversation.
"My horse," Geroux said in reviewing the race, "was the best horse today."
Make that the best in 2017 and perhaps beyond.
My how things have changed since March.