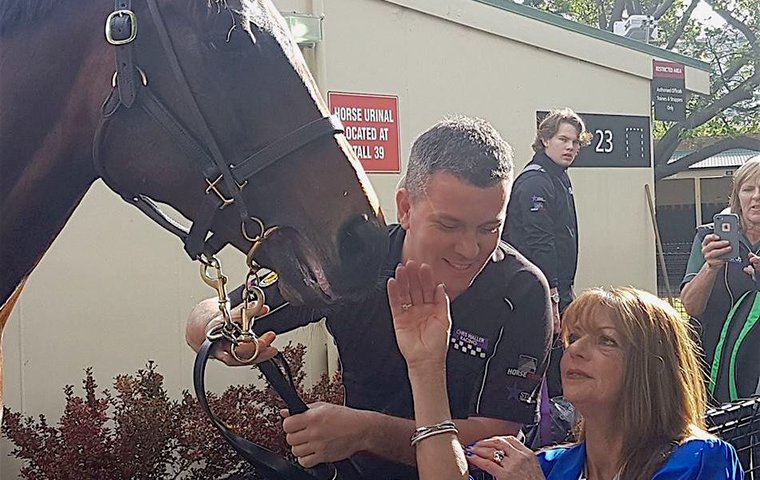 It will go down as one of the finest achievements in the annals of Thoroughbred racing - Winx winning the Southern Hemisphere's greatest weight-for-age race, the Cox Plate, for a third time at Moonee Valley on Saturday. And being there, enjoying the occasion as part of an at-first-expectant and then deliriously happy crowd, was one of the most memorable experiences the sport has to offer anywhere, as Kristen Manning discovered.

It was the day nobody wanted to end. The crowds lingered - long after the star of the show had departed. Racegoers, both old timers and first timers, wandered around looking for an excuse to stay. Well after an hour after the last race the betting ring, despite being devoid of bookmakers, was still crowded, there was still a buzz in the air, a feeling of camaraderie among those left. Together we had all witnessed something incredible.
Stall 54 had been vacated for a while but still people hung around, as if magic was lingering in the air ... and they wanted to capture some of it.
Rewind a few hours and Moonee Valley on Cox Plate day was abuzz even before the gates opened. And when they did there was a rush to the stall where the favourite for the $A3 million feature was to be housed - the same box she had stood in 12 months previously.
Winx was not to leave her Melbourne home, the Flemington stables of Chris Waller, until around 1.30 pm; she would not be arriving at Moonee Valley much before 1.45 pm. Yet even before noon, before the first race was run, there was crowd deep around that stall 54.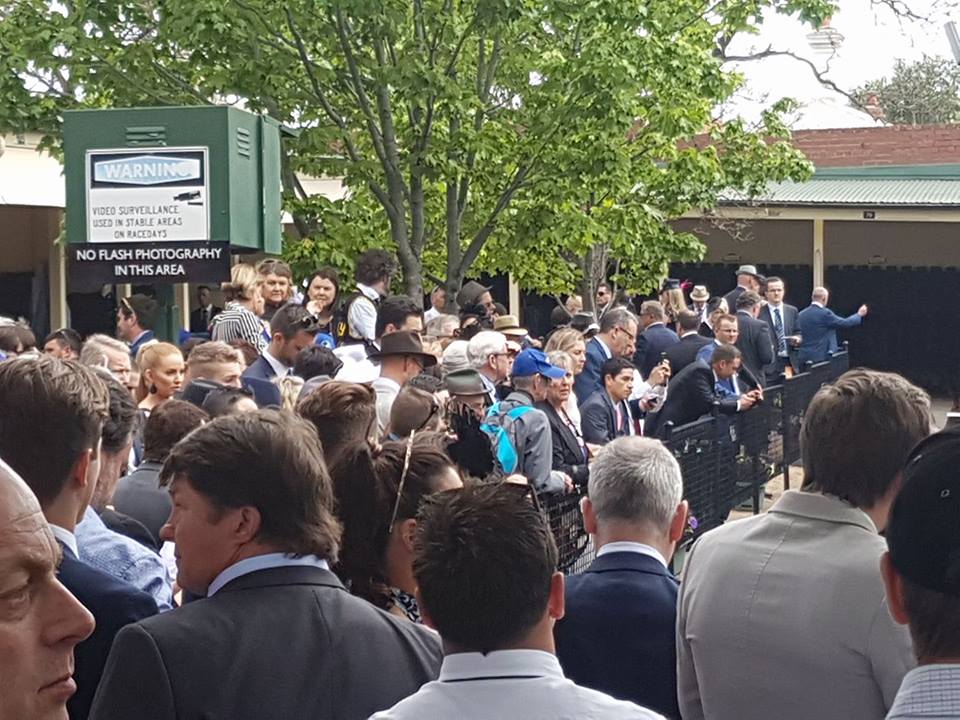 Like a rock band's groupies hanging around a stage door, people were happy to wait. Only they were not going to get signatures or a handshake or a kiss on the cheek from the object of their affection. It was enough for them just to look at her.
As 1.30 drew close, people began to congregate near the horse entrance. "I'm happy to sign autographs, but just one at a time please," joked the man on the gate.
Every time a float parked, each time a horse disembarked, onlookers peered through the gates, hoping it was her.
Other horses making their way into the course looked a bit surprised, you could almost hear them thinking 'wow, are all these people are here for me?'
But they were there, mostly, for just one horse.
A revered silence ensued as that horse walked under the archway into Moonee Valley, a track where she had raced only twice before ... but where she had created quite the impression.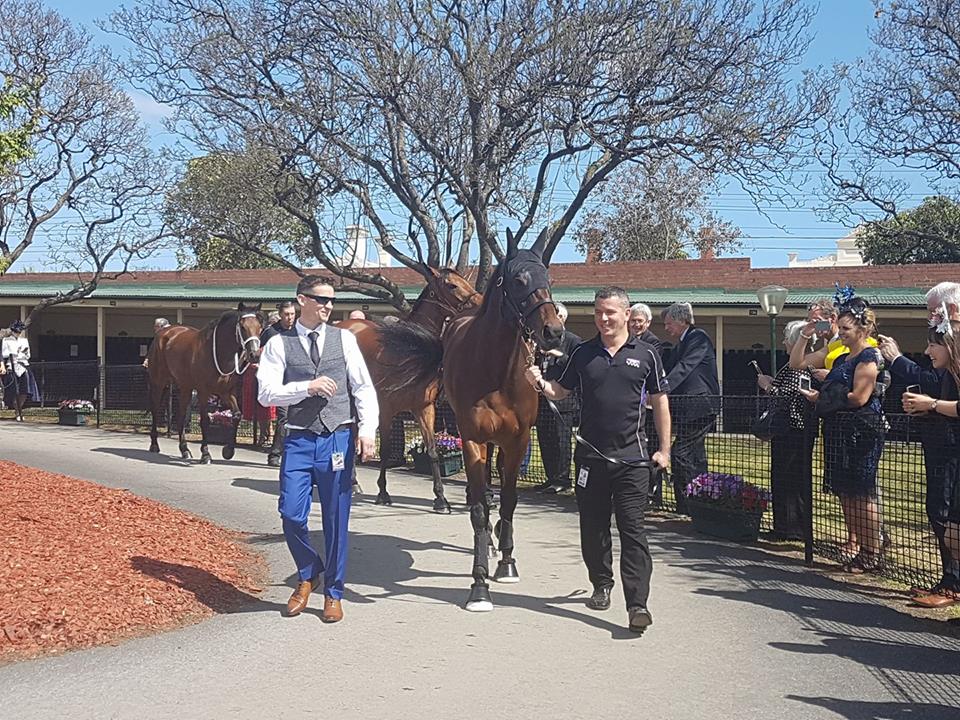 With her devoted strapper Umut Odemislioglu one side, her track rider Ben Cadden on the other, Winx strolled, with an air of quiet confidence, to her box. This is no strutting champion, no prima donna. You could tell with one glance at her that she was there for one thing only.
To win.
As was the case a year ago, Winx was at times so relaxed in her stall that she appeared to be almost asleep. At other times she looked back at those staring at her. Many horses get a bit tense around such large crowds, Winx however seemed to know why they were there. It made sense to her.
When it did become a bit too much, she would be taken for a little walk. And each time a swarm of people followed.
Wherever her owners went, they were bestowed with good wishes, treated like celebrities, asked to pose for photos and sign autographs. Lloyd Menz, who had adorned his suit with Winx paraphernalia, stood proudly aside connections for a picture. Smiles abounded. With him was his daughter, Angela, whose dress was a homage to the Winx silks.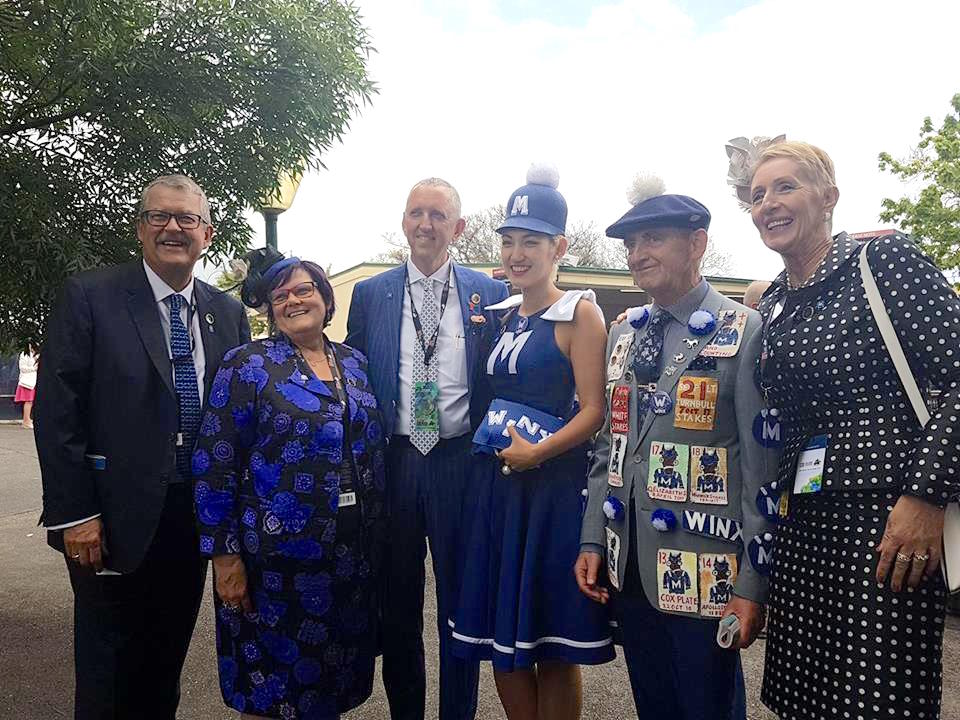 Lloyd raised Angela to love horse racing and she has been going to the track since she was a kid. She loves the fashion side of it and in the past has dressed up in the colours of champions like Takeover Target and Black Caviar. But she made an extra special effort for Winx.
And so the big race drew closer and closer. On the big screen a clock counted down the seconds. With it a big photo of Winx with one word: "Legendary."
One by one, each of the Cox Plate jockeys were introduced to the crowd. Each was enthusiastically cheered, but the biggest roar was, of course, saved for Winx's rider, Hugh Bowman.
A little girl dressed in mini Winx silks perched on her father's shoulders raised her arms into the air. Legendary jockey Malcolm Johnston, best known for his association with the first and only triple Cox Plate winner, Kingston Town, placed the coveted silver trophy on its stand.
The lead-up to the Cox Plate has changed a bit over the years but in recent times the constant has been the appearance of iconic Australian rocker Daryl Braithwaite. For three or so minutes he belts out his famous tune The Horses.
Not that you can always hear him, so loud is the crowd that sings along. And, on this Cox Plate day, it was over 32,000 joining in. That many people in the one place singing the same song ... it sends shivers up the spine.
There was one year where Braithwaite was replaced by another band. Just as locally famous, just as talented. But the crowd wanted none of them - as the singer climbed onto the temporary stage placed in front of the grandstand a chant emerged ... "bring back Daryl, bring back Daryl." As they sang people sang the lyrics to The Horses to a different song.
A year later Daryl was back.
While all this was happening out the back of the grandstand, Winx was in the mounting yard. More crowds gathered, wherever she went people followed.
Many a selfie was taken, the internet in slow mode as thousands tried to share the moment on social media. Double-sided banners ('Winx 3' and 'Go Winx') signs were held aloft.
Breaking protocol
Tense trainers, owners and jockeys sorted themselves into packs, some deep in discussion, others silent, thinking the thoughts of those whose most fervent dreams lie in the ability of their Thoroughbreds to run fast and true.
Winx, as usual, took all the pre-race procedure into her stride. Other less experienced horses, such as 3-year-old Royal Symphony, got up onto their toes, excited and keen. Winx barely blinked.
In the spirit of theatre, Moonee Valley broke protocol as the horses made their way through the tunnel under the grandstand out onto the track. Usually it is done in number order, but on this occasion the best was saved for last.
As Winx made her much anticipated appearance, those in the grandstand - much in the style of a Mexican wave - rose to their feet. Adulation is most often saved for after a race, but Winx was applauded as she cantered to the barriers.
As strapper Umut had let go of the lead rope, he and Ben Cadden turned around to look at the stand ... all this love for their girl. It was overwhelming for them.
As the big screen showed the final stages of previous Cox Plates, including Winx's first two, people chattered nervously. Some conversations revolved around a love of this remarkable horse ... "Isn't she beautiful? Look at those dapples. Isn't she big?" Others on the punt ... "She is the biggest certainty of all time," said one racing scribe.
The field of eight entered the gates.
"We are about to witness an epic two minutes of sport," said race caller Matthew Hill as Winx shook her head a little. She wasn't misbehaving, she just wanted to get going.
And when she did, it was to a roar.
Settling fifth, Winx travelled sweetly as she always does. Watching with Umut, Ben Cadden was calm and composed. Until, that is, just after the 1000m, when Bowman started to make his move.
"Here she comes, brother," Cadden shouted to his friend.
At the 800m, Winx edged even closer. And then closer still.
By the 500m, she as well and truly into her winning run and she was in front well before the turn, three wide. Cruising.
"We've waited 35 years for this," Hill enthused.
"The Valley is rocking and the world is knocking," he said as Winx turned for home.
But there was a challenger. Humidor was making a run. Could the unthinkable happen?
But no, while gallant in defeat, Humidor's run just wasn't strong enough to match Winx as she pulled out all stops to break her own race record (see YouTube video below). "The great mare completes the great trilogy of the turf," declared a somewhat poetic Hill.
Blue streamers cascaded from the top of the grandstand, landing on the large crowd. Ben Cadden put his hand out to shake the hand of his boss, Waller replying, "Nah, give us a hug."
Winx took a little while to return to scale, Hugh Bowman recovering from his exertions in preparation for a horseback interview with Dean Pettit.
Since finding out that he had been appointed to this position just a few weeks previously, Pettit had been counting down the hours to Cox Plate day. And here he was, out near the 1400m mark with "a couple of champions".
It was almost spookily quiet out there, and Winx just stood for at least a minute before turning back. It was quite surreal, "like being in a secluded bubble," Pettit said. Just him, Bowman and Winx ... a moment he knew to be special, one that he would never forget. And a great, emotional, raw interview followed.
All of this gave the crowd a bit of time to take it all in, to catch a breath before she did appear - another roar spreading across the course as she paraded in front of the grandstand - the noise escalating as Bowman threw his helmet into the crowd as a humble Chris Waller was interviewed.
At first congratulating the connections of the runner-up ("they got beaten by a good horse") and then thanking his staff, he was at first calm and collected but, as he discussed the history that he was part of, there was a crack in his voice. "Being associated with horses like Winx, that's a wildest dream."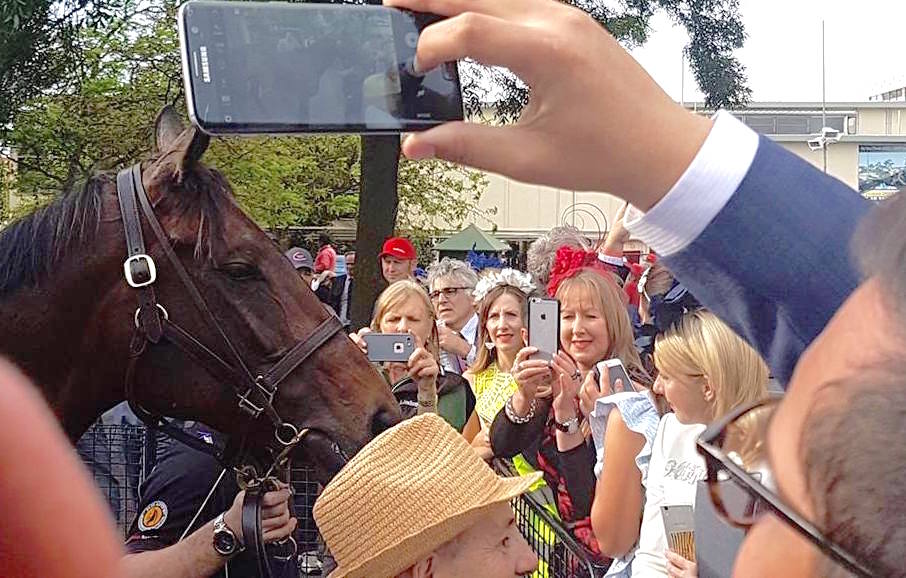 Hordes crowded into Moonee Valley's small winners' circle as someone placed the wrong rug on the champ. Seems she had won the listed Crockett Stakes!
Press and photographers crowded in as Winx made her way back under the tunnel.
As she stepped out into the sunshine out the back, there was a row of people lining the fence ready to provide yet more applause. There were more at the shower bay, yet more waiting at her stall.
Winx was soon in recovery mode and strapper Umut was happy to pause to let adoring fans have a pat and a photo. He spied Carolyn Natt, who had come all the way from South Australia, who had transformed her wheelchair wheels into Winx wheels. Her jacket was Winx blue - so nicely complemented by Winx's lead sash that Umut gifted her.
Carolyn's father, Ashley Day, broke in horses and drove trotters. The Thoroughbreds who crossed his path were always Carolyn's favourites and she was a passionate rider until struck down by Primary Progressive MS.
It was not easy for her to get to Moonee Valley, but nothing was going to stop her seeing Winx create history and her day was made when Chris Waller jumped the fence to sign her wheels.
"I am the luckiest person on course today," she declared.
But really, all of us who were there were lucky.