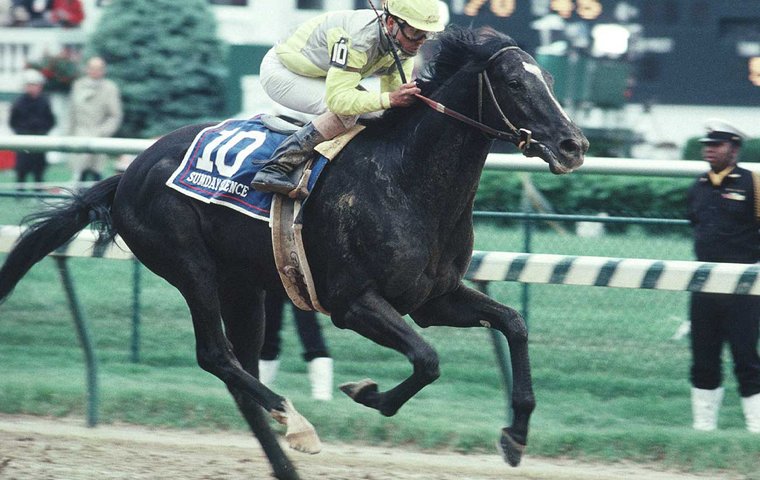 Kristen Manning with the second in her series looking at some of the most influential horses on racing and breeding in Australia and New Zealand.

Cinna, bay, 1917, Polymelus - Baroness La Fleche, by Ladas
When exciting filly Mildred stepped out onto the track for the first time - winning a juvenile contest at Flemington in late September - she had the power of history behind her.
For Mildred is a descendant of one of the turf's great matriarchs, a mare who, despite having never set hoof in the Southern Hemisphere, was able to make a lasting mark on the Australasian Thoroughbred. Not only as ancestress of a myriad of stakes winners, but also as the dam of five stakes-siring stallions, a remarkable achievement.
A hundred years of influence and Mildred, when at her second start taking out the listed Maribyrnong Trial Stakes at Flemington in early October, is her most recent stakes-winning descendant.
The wonderful mare Cinna was foaled in the UK in 1917. She was the product of quite intense line-breeding, her Champion Stakes-winning sire Polymelus (five times leading UK sire) being out of Maid Marian - by Hampton out of Quiver - while her dam, Baroness La Fleche, was by Ladas, son of Hampton, out of the champion filly La Fleche, daughter of Quiver.
Her sire Polymelus, was a member of the Bend Or line, and that Epsom Derby hero's grandam, Ellen Horne, was also the fourth dam of Ladas, while fellow mares of influence Pocahontas, Banter, Martha Lynn and Queen Mary were all duplicated within seven generations of Cinna's pedigree.
And what a classy racehorse she was, a stakes-placed winner at two, and the following year proving to be one of the best of her age and gender with victories in the 1000 Guineas and Coronation Stakes and only just missing out on Epsom Oaks success after a stirring battle with Charlebelle.
Coming back in distance to win the Coronation Stakes at Royal Ascot, she went to stud lightly raced with her finale a third in the Nassau Stakes.
Between her retirement to stud in 1921 and her death in 1939, Cinna produced 16 foals, two of whom - Buckler and Belle Mere - winning contests that the pattern system introduced in the 1970s would recognise as stakes races.
Her first born was the Gay Crusader colt Gay Shield, the first of the Cinna clan to make his way to New Zealand, having been sold at a deceased estate sale for 220 guineas. He was not a champion stallion but he did sire a number of horses better than himself, including the high-class Gay Blonde, who transferred her G1 form from New Zealand to Australia, winning the 1936 Mackinnon Stakes at Flemington.
Impressive foresight
Five years after producing Gay Shield, Cinna foaled, by the great stamina influence Son-In-Law, Beau Pere - a horse more known for his bulk than his talent. He was so lowly thought of on the back of his three wins in modest company that he could attract only a handful of mares and he was put on the market.
Which was good news for John Donald, of Westmere Stud, Wanganui, whose winning bid of 100 guineas at the 1933 December Sales at Newmarket secured the horse for New Zealand. Impressive foresight from Donald with the Son-In-Law sire line about to take off in that country ... in a big way.
For, two years later, Seton Otway would purchase, also from the UK, Son-In-Law's son Foxbridge, who would take out the NZ Sires Premiership on no less then 11 occasions from 1941 onwards.
But from 1938 to 1940 that title belonged to Beau Pere, who, during just three seasons at stud in New Zealand, was able to sire such outstanding gallopers as the dual W.S Cox Plate winner Beau Vite, the NZ Derby and Caulfield Cup winner Beaulivre and the NZ Oaks heroine Peerless.
Due to the ill-health of John Donald, Westmere was dispersed in 1937 and for 3,300 guineas Beau Pere changed hands - heading to Australia, his new home St Aubins Stud in the Hunter Valley.
Three years in a row he was Australia's leading sire, represented by the likes of Ava (Oakleigh Plate), Beau Cheval (Adelaide Cup), Mayfowl (AJC Sires' Produce Stakes) and Hilton (Toorak Handicap).
Enter the Hollywood movie mogul
A close follower of all things racing throughout the world, famed movie maker Louis B. Mayer (who would later purchase the Queensland champ Bernborough) took note of Beau Pere's success and bought him; the United States to be the fourth country (greeted with much fanfare upon his arrival in San Francisco in January 1941) he had stood in!
And the third in which he earned a leading sire gong, this time of juveniles, with his progeny including the great mare Honeymoon and fellow feature-race winners Great Circle, Bellesoeur, Stepfather and Grandpere.
Kentucky breeder Leslie Combs II wanted some of the Beau Pere action, but the asking price was high ... leading to the birth of the phenomenon that is stallion syndication. The first stallion syndicated in the United States, Beau Pere - who had travelled to Kentucky by train - was too big to fit into the horse float that awaited him, and so he was walked the few miles to Spendthrift Stud.
Sadly shortly afterwards, in August 1947 aged 20, he suffered from a fatal colic attack. His legacy: 49 stakes winners - 28 in Australasia, 21 in America, as well as a number of successful sire sons and broodmare daughters, including Iron Reward (dam of Kentucky Derby winner Swaps) and Flower Bed, whose grandson His Majesty is the dam sire of Danehill.
On the back of Beau Pere's initial success in New Zealand, breeders in the country sought further Cinna blood, with the next to make his way there being Mr Standfast, who, like his four-year-older half-brother Beau Pere, was well travelled.
Initially standing in Ireland, having been sold cheaply at the Newmarket Sales, the winner of one race was tracked down by New Zealander Mr M Timms and, during a three-year stint in New Zealand, sired such high-class gallopers as Alethea (NZ Oaks) and Lord Chancellor (Auckland Cup).
Then making his way to Queensland, standing at Alma Vale, Mr Standfast continued on the good work with the likes of Prince Standard (VRC Derby, Rosehill Guineas), Mona's Choice (Flight Stakes), Tamaroa (Railway Quality; now the George Ryder), Te Tana (Queensland Derby), Gay Stand (QTC Sires' Produce Stakes) and the wonderful filly Tea Rose (AJC Derby, Rosehill Guineas).
Mr Standfast also made his mark as a broodmare sire, with his daughter Faster producing one of the greats of the Australian turf ... Rising Fast, the only horse to win the Caulfield Cup, the W.S Cox Plate and the Melbourne Cup in the same year.
Three years after foaling Mr Standfast, Cinna produced the unplaced Dink, who also made his way to New Zealand and then Australia. He was the least successful of her sons but did sire a few stakes winners, including the G1galloper Rosslare.
In 1939 Cinna produced her last colt, Balloch, purchased as an unraced 2-year-old by Alton Lodge. He made his way to New Zealand through treacherous wartime waters accompanied by Nizami, also a maiden but just as regally bred.
Imagine that - on one ship at one time, a son of Cinna and a son of Mumtaz Mahal!
In a country known for giving the well-bred horse a chance despite a lack of performance (later on the unraced but well-related stallions Mellay and Noble Bijou excelled) Nizami fared well, siring among a number of topliners the Melbourne Cup hero Foxzami.
Balloch also enjoyed Melbourne Cup influence, the two-time champion New Zealand sire being responsible for the 1952 winner Dalray, a high-class galloper (winner of 14 of his 27 starts) who succeeded despite the steadier of 61kg; the second highest weight (after Phar Lap) for a 4-year-old winner of the famous two-miler.
Also crowned leading broodmare sire five times, Balloch played a further part in Melbourne Cup history as dam sire of the 1966 winner Galilee, who is generally considered to be one of the best stayers ever to race in Australia, in one season winning the Caulfield, Melbourne and Sydney Cups.
True greats
And that is the story of a great mare's sons. Sadly those lines died out years ago, but Cinna also had seven daughters who spread her influence worldwide, their descendants - as shown by Mildred - still in the winner's circles in feature races.
There were another couple in Australia last year, the Chris Waller-trained Fiesta winning the Silver Shadow Stakes and the Widden Stakes while the Hayes family's Native Soldier won the Caulfield Guineas Prelude, the McNeil Stakes and the Christmas Stakes.
And there have been some true greats among her descendants, including Australia's saddest champion, Dulcify, who so tragically broke down as favourite in the 1979 Melbourne Cup having brilliantly won the Turnbull Stakes, the W.S Cox Plate (by a record-breaking seven lengths) and the Mackinnon Stakes in the lead-up.
At three, he had won the VRC Derby, the AJC Derby, the Rosehill Guineas and the Australian Cup in a memorably stirring battle with the sprinting superstar Manikato ... undoubtedly one of the best races ever run in the country.
There were further great clashes between the great grey Gunsynd and Cinna's descendant Triton. The winner of his first seven in New Zealand, Triton proved himself one of the best sprinter/milers of the early 1970s - beaten by Gunsynd in a Doncaster Handicap, gaining revenge in an Epsom.
The Epsom and The Doncaster are Randwick's two big miles, both won on multiple occasions by members of the Cinna clan - Davey Jones taking out the 1951 Epsom while both Te Poi (1962) and Bye Bye (1969) won the Doncaster.
As already noted, Cinna made her mark on the Melbourne Cup via her sons, but she also had a direct descendant in the winner's circle on that famous First Tuesday in November - in 1977, on the comeback from a serious bout of travel sickness, the Bart Cummings-trained Gold And Black edged out crowd favourite Reckless.
Classic winners
The Adelaide Cup also sits on Cinna's mantle (Grand Scale, 1976), as does the Caulfield Cup, with her brave descendant Mummify claiming that prize in 2003. He so sadly passed away after a gallant third in that same race two years later, but what memories he left us - winning nine races, including the Underwood Stakes, the South Australian Derby, the Caulfield Stakes and the Singapore International Cup.
There are many Classic winners among Cinna's descendants, with the full sisters Sweet Nymph and Sweet Spray taking out the New Zealand Derby and Oaks, both going on to produce Classic winners. The former is the dam of Pique, winner of what is now the AJC Oaks in 1960, while the latter produced the New Zealand St Leger winner Hot Drop, who displayed considerable versatility by also winning one of New Zealand's biggest sprints, the Telegraph Handicap.
Currently standing at picturesque Westbury Stud in New Zealand, Tarzino is another classy Classic performer for Cinna, taking out both the VRC Derby and the Rosehill Guineas. The latter was also won by Sky Chase (AJC Champagne Stakes and the Caulfield Stakes boosting his impressive resume) who went on to sire the mighty Saintly.
Then there is Runaway Bride (South Australian Oaks), Cimarra (South Australian Oaks), Sir Avon (NZ 2000 Guineas), Coniston Bluebird (NZ Derby), Ethiopia (ATC Derby), Rinky Dink (Australasian Oaks) and Kind Regards (Great Northern Oaks).
The latter was a superlative broodmare, well represented by four stakes winners, including the Railway Handicap winner Valencia and the prolific Vice Regal, winner of 21 races in Australia and New Zealand, including the Ellerslie Sires' Produce Stakes, the Freeway Stakes, the NZ 2000 Guineas, the Feehan Stakes and the Liston Stakes.
Placed in the W.S Cox Plate won by Family Of Man, Vice Regal also fared well at stud, siring 33 stakes winners, including the G1 gallopers Vite Cheval, Sapio, Prolific, Reganza, Helene Star, Eva Grace and All Glory.
Kind Regards was such a great mare for Chequers Stud that the farm's Ngaire Fraser branded her horses KR. She foaled down and reared the best horse to carry that brand - the star mare Sunline, whose great grandam Honey Carlyle (descendant of Phar Lap's dam Entreaty) shared a paddock with Kind Regards.
Quality sprinters
There have been plenty of quality sprinters among Cinna's descendants as well, such as the triple G1 winner Sea Siren, who ran some great races in the UK, the Oakleigh Plate winners Clay Hero and Scarlet Bisque, the Goodwood Handicap winners Ambala and Sword, the Robert Sangster Stakes winner Bel Mer, the Manawatu Sires' Produce Stakes winner Kindacross and the Karrakatta Plate winner Hold That Smile.
The latter earned the title of Western Australian Horse Of The Year as did her triple Group-winning full-brother Carry A Smile.
Notoire was another classy sprinting descendant, winning eight races, including the Salinger Stakes. His dam, Lady Violet, owns her special piece of local racing history with no other mare since Australian stud book records have been kept producing more consecutive foals.
A triple city winner retired to stud in 1990, Lady Violet produced 18 foals in a row ... and all of them were named. Fourteen made it to the track, 12 being winners, with Notoire joined by the stakes winners Well Known and Tempest Tost, the latter being the dam of Mildred.
Further G1-winning descendants of Cinna include Suavito (Futurity Stakes, C.F Orr Stakes), Seamist (Auckland Stakes), Maspero (Doomben Cup) and Sir Kinloch (Thorndon Mile) while still at stud in to his 22nd year is the eye-catching chestnut Show A Heart. One of the best Queenslanders of the 2000s, he won four times at elite level, taking out the TJ Smith Classic, the Caulfield Guineas, the Toorak Handicap and the Stradbroke Handicap, and he has done well at stud, with 25 stakes winners, including the G1 horses Heart Of Darkness, Toorak Toff and Woorim.
There have been several Cinna-line stallions to sire stakes winners, others including the already mentioned Vice Regal and Sky Chase as well as Clay Hero, Bye Bye, Sir Avon, Whistling Wind, Avocat General, Wandering Eyes, Turn The Tide, Paramount, Oratorio, Great Tradition, Sir Lustrious, King Tobias, El Mughar, Carry A Smile, Any Suggestion, Western Bay, Triton and Star Of Baroda (sire of the 1963 Melbourne Cup winner Gatum Gatum).
And then there is Indian Ridge, not a G1 winner but a high-class sprinter nevertheless and an even better stallion, siring 85 stakes winners - ten of whom have been successful at G1 level.
The descendant who stands alone
But, while Indian Ridge did a great job at stud, there is one descendant of Cinna who stands alone in terms of success in the breeding shed, of great success in fact ... the legendary Sunday Silence.
A member of the U.S. Hall Of Fame on the back of his Kentucky Derby, Preakness Stakes, Santa Anita Derby, Super Derby, Breeders' Cup Classic and Californian Stakes victories, Sunday Silence would still be remembered even if he had failed at stud.
But instead he excelled, crowned Japan's leading sire on 13 occasions, his 171 stakes winners inclusive of 44 successful in G1 company include the late Deep Impact, who has made his own valuable mark.
This is not the only influence that Cinna had overseas, her G1-winning descendants outside Australasia including Fraise Du Bois (Irish Derby), Welcome Boy (South African Derby, Summer Cup), Nicer (Irish 1000 Guineas), Red Bishop (Hong Kong International Vase, Queen Elizabeth II Cup, San Juan Capistrano Invitational) and Miss Beatrix (Moyglare Stud Stakes).
There is a nice tradition worldwide of naming feature races after influential mares ... Pretty Polly, Selima, Eight Carat, Sun Chariot, Dark Jewel, Frizette, Dahlia, Fairy Bridge, Personal Ensign, Fanfreluche, Pocahontas, Flower Bowl, Busanda, Natalma, Denise's Joy, Summoned ... perhaps it is time for a Cinna Stakes.
Also in this series