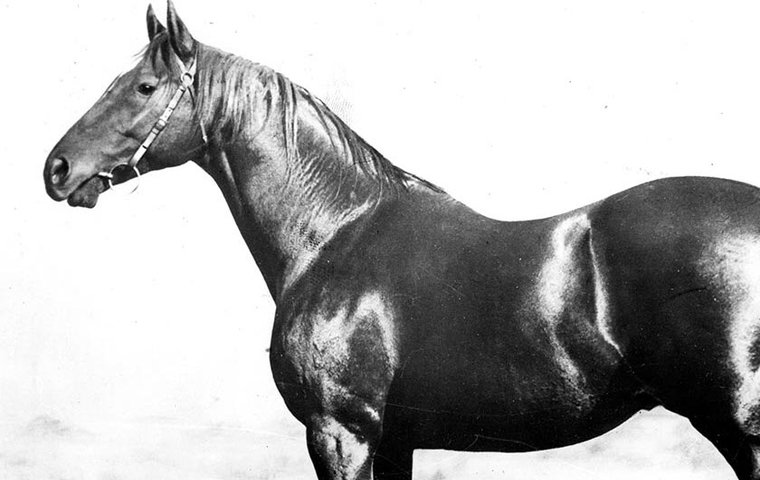 'Wonder stallion of Australia'. That was a headline in the September 8, 1928, edition of The Mail. "Valais can claim to be the most remarkable sire that has Australia has known," the author wrote.

Winner of the 1923-24 general sires premiership with just two crops of racing age, Valais went on to make his mark across the country despite not only unlikely beginnings but a premature end.
The third horse to secure the champion sire title on five occasions - the others being the New Zealand bred Lochiel (over the course of nine seasons) and the local dual Derby winner Maltster (over six seasons) - he created history by being the first to lead the way in so many successive seasons.
Originally retiring to stud in the UK, where his fair but unspectacular race record failed to impress breeders who had plenty of access to more glamorous members of the Bend Or sire line, Valais lasted just one year in the country of his birth.
Fortunately for Australian racing, the Moses brothers William and Frederick kept a close eye on Northern Hemisphere happenings, having already enjoyed great success with the imported stallion St Alwyne, sire of two Melbourne Cup winners, the champion mare Wakeful's son Night Watch and the brilliant but unsound Poitrel.
Instant impact
The achievements of St Alwyne enabled the Moses family to establish Arrowfield Stud in the Hunter Valley, and it was there that they stood Valais, whom they had purchased for 2,000 guineas.
The winner of the 15-furlong Windsor Stakes at Newmarket - and fourth in the substitute wartime Derby run at Newmarket and won by Fifinella (the most recent of her gender to claim the classic), Valais was not the sort of horse expected to make an instant impact, but that is just what he did.
In an era of small books, Valais was represented by 15 winners of 29 races from his first two crops. Major contributors to his first champion sire title were his 3-year-olds Quintus (Newmarket Handicap), Valdoona (Adrian Knox Stakes), Valiant (Railway Handicap, precursor to the George Ryder Stakes) and Lady Valais (AJC St Leger).
It was during this time that Valais changed hands, in April 1924, as part of an Arrowfield Stud dispersal, attracting a then record bid of 14,000 guineas. Herbert Thompson, member of the Widden Stud Thompson family dynasty, was the new owner and Valais headed to that famed New South Wales property.
A big sum had been paid, but the Thompsons must have been rubbing their hands with glee as a member of the young stallion's second crop fulfilled the outstanding promise he had displayed during a busy 2-year-old campaign.
The handsome and temperamental chestnut Heroic (sale-topper at the 1923 Sydney yearling sales) had won six of his ten juvenile starts, including the Champagne Stakes, the Breeders' Plate, the Maribyrnong Plate and the Alma Stakes, in which he lumped a massive 10 stone 2lb (64.5kg).
Setting a prize money record for a 2-year-old, Heroic was just as brilliant at three, though his waywardness - seen when he blew the start in the Debutant Stakes, the Oakleigh Plate and the VRC Sires' Produce Stakes - did not improve.
The Warwick Stakes was his first run at three and, while his antics were not quite Chautauqua-like, they were close! A week later, he turned it all around, defeating the odds-on favourite Gloaming in the Chelmsford Stakes and in doing so smashing the Australian record for nine furlongs.
The AJC Derby ensued, a race that can surely be considered one of the great races in Australian history. Billed as being between an exciting trio - Heroic versus Nigger Minstrel and Spearfelt - it did not disappoint, though Heroic reared at the start, veering to the outside fence before settling a clear last.
Leader Sir Dighlock drew out the field, at one stage leading by 20 lengths, the first chasing from the 800m being Heroic. As the pacemaker tired, Heroic was left alone at the top of the straight but his two main rivals were chasing and soon it was the three of them engaged in an epic battle to the delight of the crowd.
It took the judge to separate the three, a roar rippling through the crowd as Heroic was declared victor, the margins a head and a head.
Again moody when contesting the Caulfield Guineas a week later, Heroic ploughed through demanding heavy conditions to win eased down by three lengths - a victory so impressive that he was instilled as favourite for both the VRC Derby and the Melbourne Cup.
Two races he was not to contest, his owners disqualified, having been found guilty of failing to run a horse on his merits; the veteran Purser safely held in the Coongy Handicap before being spectacularly backed to win the Caulfield Cup, which he did in easy fashion.
Famous antics
During his enforced spell, Heroic was sold to associates of his original owners, a sale not recognised by the Victorian Racing Club. And so to auction he headed, a record price of 16,000 guineas paid.
Heroic's famous antics were again on display at subsequent outings and, in two major races, the All-Aged Stakes and the Cumberland Stakes, he refused to take part at all. But trainer Jack Holt stuck solid, his faith repaid when Heroic jumped well in the 1926 Newmarket Handicap and charged home down the middle of the track to win the then second fastest edition of the acclaimed sprint.
By the following season, at five, Heroic had mellowed a little and was able to win six major races in a row - including the 1926 W.S Cox Plate.
As the winner of 21 of his 51 starts with his prize money tally making him the second highest earner (after Gloaming) in Australian history, Heroic retired to the Thompson family's Tarwyn Park in 1927.
The same year saw his sire Valais pass away, having served just eight books of mares. From those, he was represented by the winners of winners of 476 races with 28 of his sons and daughters stakes winners.
Avant Courier (Caulfield Guineas), Fujisan (Doncaster Handicap, All-Aged Stakes), Metellus (Toorak Handicap, Epsom Handicap), Monash Valley (Queensland Derby), St Valorey (two Brisbane Cups), Vaals (Epsom Handicap, Cantala Stakes), Valaisanne (Goodwood Handicap), Valiard (Newmarket Handicap) and Valicare (Doncaster Handicap, Adrian Knox Stakes, All-Aged Stakes) were all high-class performers for Valais who displayed extreme versatility passing on both speed and stamina.
Heroic inherited both, as well as a hot temperament, all traits also seen in Valais' third crop son Manfred.
On six occasions during his 28-start career, Manfred refused to take part - like Heroic the barriers proving his nemesis.
"Only a stick of dynamite could have moved Manfred when he took it into his head to stay at the post," said jockey Frank Dempsey. But, at his brilliant best, Manfred was breathtaking, and he provided Valais with consecutive W.S Cox Plate, Champagne Stakes, Caulfield Stakes and AJC Derby victories, races all also won by Heroic.
Manfred's AJC Derby 12 months after the success of Heroic was a case of deja vu with success coming on the back of sensation at the start, the horse refusing to begin his race until his rivals had already set off for half a furlong.
And so Valais, who achieved so much in such a short time, provided Australian racegoers with two of their favorite and most enigmatic Thoroughbred heroes.
And the show would go on.
HEROIC AT STUD
While ten sons of Valais would sire stakes winners it would be his best who would prove the strongest influence.
A horse with an intense pedigree, Heroic was bred not only on a 4 X 3 cross of his own third dam, Illuminata, (dam of the legendary broodmare Chelandry) and a 3 X 3 cross of Valais's grandsire, Cyllene, but also on crosses of his own sixth dam, Ellen Horne, grandam of Bend Or, to whom he was line-bred 4 X 5 X 5 X 5.
A prepotent pedigree indeed, one, which teamed with his superior ability and physicality, saw him surpass Valais' record-breaking exploits by earning the leading sire title on seven successive occasions between 1932 and 1939.
He remains the only stallion to do so, though his record number of premierships was matched and then beaten by Danehill, who was champion sire on nine occasions over the course of 11 seasons.
Leased by his owner Charles Kellow to the Thompson family, Heroic - like his sire before him - started with a bang with ten winners of 18 2-year-old races in his first crop, making him leading first-season sire and 20th in the overall list.
His second crop success saw him rise to sixth and, by the following season, he began his historic reign as Australia's champion sire.
From nine crops, Heroic sired 184 individual winners of 964 races with 31 stakes winners of 108 stakes races.
Horses such as Hallmark (Melbourne Cup, VRC Derby, Caulfield Stakes, Champagne Stakes, AJC Sires' Produce Stakes, AJC Derby, Doncaster Handicap, VRC St Leger), Nuffield (VRC Derby, Caulfield Guineas, AJC Derby, AJC Sires' Produce Stakes), Gallantic (VRC Oaks), Heroic Prince (Australian Cup), Heroic's Double (Stradbroke Handicap), Herolage (Brisbane Cup), Heros (Futurity Stakes, William Reid Stakes twice) and Hua (VRC Derby, C.F Orr Stakes, William Reid Stakes, VRC St Leger, VRC Sires' Produce Stakes) were all headliners for Heroic, but not until the latter of stages of his stud career did he produce his masterpiece.
November 6, 1934. Popular galloper Peter Pan wins his second Melbourne Cup. That night a future star arrives, at Widden Stud the Prince Galahad mare Medmenham producing a chestnut the Thompson family would christen Ajax.
46 starts, 36 wins, unplaced only once. A winning streak of 18 races (a run which so famously came to an end with his defeat as a 40/1 on favourite at the hands of Spear Chief in the 1939 Rawson Stakes), six course records ... deservedly recognised as one of the all-time greats of the Australian turf.
A member, like his sire, of the Australian Racing Hall Of Fame. Winner of 22 races now recognised as G1contests, including the W.S Cox Plate, the Caulfield Stakes, the Futurity Stakes (three times), the Memsie Stakes (three times), the Mackinnon Stakes, the Melbourne (Turnbull) Stakes (twice), the Newmarket Handicap, the Underwood Stakes (three times), the All-Aged Stakes (three times), the Champagne Stakes, the AJC Sires' Produce Stakes, the Rosehill Guineas and the Caulfield Guineas.
Another member of this great sire line to stand at stud with the Thompson family, Ajax spent several seasons at Widden Stud before being sold to the United States, eventually ending up in the ownership of Bing Crosby.
While not reaching the heights of his sire and grandsire, Ajax did fare well, with his best being the big-race winners Magnificent (AJC Derby, VRC Derby, AJC Sires' Produce Stakes, Champagne Stakes) and Achilles (Epsom Handicap, All-Aged Stakes). The latter went on to sire a handful of stakes winners, but the line did not boast longevity.
Though there was success through daughters, with Ajax the dam sire of such classy campaigners as Pride Of Egypt (VRC Derby, AJC St Leger, VRC St Leger, Rosehill Guineas, Canterbury Guineas), Second Earl (Doomben 10,000, George Main Stakes), Goldenway (Thousand Guineas), The Tempest (Doomben 10,000), Barfleur (Caulfield Guineas) and Tipperary Star (Doomben 10,000) as well as two winners of the Golden Slipper - Magic Night and Birthday Card, both of whom have G3 races named in their honour.
Meanwhile, another 17 of Heroic's sons sired stakes winners, though only two of those bred black type onto another generation - Hall Mark (the most recent stakes winner from this branch being the 1957 Mornington Cup winner Tradfield) and Royal Step (1958 Anniversary Handicap winner Levardo the most recent success).
Royal Step did however make some mark on history as sire of the champion Flight, winner of 24 races, including two editions of the W.S Cox Plate.
Heroic fared well as a broodmare sire with his daughters producing 38 stakes winners, including the Melbourne Cup heroine Rainbird (ancestress of the still-racing G1 sprinter Malaguerra) and fellow big-race winners Murray Stream, Lindbergh, St Fairy, Dashing Cavalier, Prince O'Fairies, Ocean Bound, True Leader, Cronides, Jalna, Star Of India and The Image.
For reasons either never revealed or never discovered, Heroic, in 1935 became impotent - never again showing interest in mares. In late 1939, spooked by thunder, he ran and slipped on wet ground, snapping his near foreleg. Attempts to save him were made, but the damage was too severe and a great equine life came to an end.
MANFRED AT STUD
Retired to stand at Richmond Park Stud in South Australia, Manfred soon made his way to Victoria. He did not enjoy the success of Valais or Heroic, but he did sire 13 stakes winners, including the 1937 Melbourne Cup winner The Trump, the Perth Cup winner Manolive, the two-time Doncaster Handicap winner Mildura, the Great Northern Derby winner Red Manfred and the high-class sprinter Manrico.
Only two of Manfred's sons sired stakes winners; three for Mildura, while Calshot sired the Doomben Cup winner Repshot.
As a broodmare sire, Manfred contributed to W.S Cox Plate history with his daughter Studio producing the 1947 winner Chanak, while other daughters produced the classic winners Primavera (VRC Oaks) and Kintore (Caulfield Guineas).
Manfred's death due to weakness in the back was reported in newspapers in 1940 where he was described as "one of Australia's greatest racehorses".
THE PRESENT
Sadly each branch of the Valais sire line died out, its most recent glimpse of influence being in the successful stallion Kaoru Star, sire of 35 stakes winners, including the G1 gallopers Luskin Star, Planet Ruler, Marceau, Full On Aces, Zasu, Runaway Kid and Mighty Avalanche.
A wonderful broodmare sire of 73 stakes winners, including successful sires Pins and Danzero and still of importance in the pedigrees of such current stallions Capitalist, Dissident, Dundeel, Criterion, Exosphere and Sebring, Kaoru Star is a grandson of the G2 winner Pantomime who boasts a 3 X 3 cross of Valais via her sire Ajax and grandam Volume.