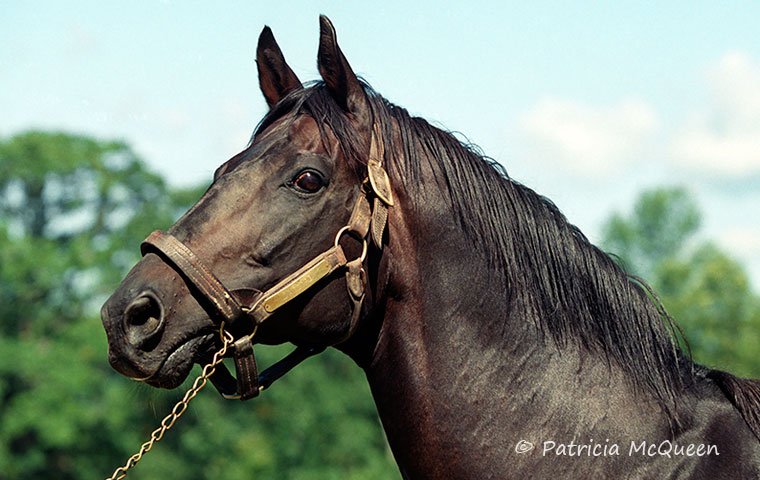 This article continues the story of the remarkable Fanfreluche and her special connection to Secretariat.

After she produced champion Medaille d'Or by the stallion in 1976, the mare was barren for 1977. Bred back to the Triple Crown winner by owner Jean-Louis Levesque, she was in foal when the unthinkable happened – she disappeared from a field at Claiborne Farm in Kentucky late in the afternoon of June 25, 1977. It was a daring daylight theft; the area where the fence had been cut was discovered the next morning.
There never was a ransom demand, and the search went on for months. William Michael McCandless was arrested for the crime that July but of course denied involvement. The FBI finally found Fanfreluche in December on a farm 160 miles south of Claiborne, where she had resided since shortly after the kidnapping.
The farm owners had taken care of the champion mare since discovering her wandering nearby as an apparent stray; they had reported her to the local authorities with the hope of finding her rightful owner. Not knowing who she was, they sometimes used her for pleasure riding. McCandless was ultimately convicted of the theft and sentenced to four years in prison.
Back among equine royalty at Claiborne, Fanfreluche delivered a bay colt on February 16, 1978. Levesque continued his French naming tradition and the new colt was appropriately named Sain Et Sauf, which translates as Safe And Sound. A storybook ending would have Sain Et Sauf become Fanfreluche's next stakes winner, but, while he did win races, he never was never better than fourth in his six stakes attempts.
Levesque sold the mare, back in foal to Secretariat, before the 1979 breeding season to Bert and Diana Firestone. They bred her next ten foals, but only the first one reached stakes class. Born at Catoctin Stud in Virginia on March 9, 1979, the dark bay colt was named D'Accord, a French expression meaning 'okay'.
LeRoy Jolley was still training for the Firestones when D'Accord received his early lessons, and was the trainer of record for the colt's first two starts. Jolley had also trained Secretariat's son General Assembly for the couple.
D'Accord made his debut on September 17, 1981, in a seven-furlong maiden race at Belmont Park, and was fully expected to graduate at first asking – he had worked a bullet 1:11⅘ seven days before. He was almost knocked down at the start, then recovered to make a good run on the turn but weakened to finish second on a muddy track.
Three dominant performances
Ten days later the youngster would not be denied. He took the lead shortly after the quarter pole in a one-mile maiden race at Belmont and powered away from the field. He won by 15 lengths, under "intermittent urging" according to the chart notes. With jockey Darrel McHargue aboard, he went the distance in 1:37⅖.
After that effort, he got a new trainer – owner Bert Firestone. The Firestones wanted a private trainer, so they and Jolley parted ways. In his next start, D'Accord aired again, this time in an allowance race at Keeneland on October 17. Despite a trouble line, he won by a dozen lengths.
The big colt – reported as 16.1 hands at two – brought smiles from jockey McHargue. "I think this colt's a runner," he said shortly thereafter. "His time the other day wasn't impressive, but the way he won certainly was. I just hope he goes on."
On he went, making his stakes debut in the G2 Breeders' Futurity on October 24. Again a heavy favorite, he broke well under McHargue and raced forwardly from the start. Heading into the far turn, he quickly took the lead. As in his earlier races, he raced somewhat greenly, ducking in towards the rail. But he was already clear and won by 7½ lengths over Arlington-Washington Futurity winner Lets Dont Fight, getting the 8½ furlongs in 1:44⅖.
After the race, Firestone told the media, "I think he ran super. He hasn't had a lot of experience, but every time he runs he learns a little bit more." At that point the owner-trainer decided to take the colt home to Virginia for a break in anticipation of bigger things to come. "I would love to go on with him and try for the championship, but I have to think of my horse first," he said.
The colt was weighted at 125 pounds on the Experimental Free Handicap for 2-year-olds, just one pound below champion Deputy Minister and early division leader Timely Writer.
On the Kentucky Derby trail
D'Accord got to work in earnest in late January at Hialeah, turning in a series of bullet works. McHargue flew in from California for a work on February 17. The colt started in company with Really Smart but was on his own after six furlongs in a "sparkling" 1:11⅗, galloping out seven furlongs in 1:25⅘. "It was a super move," Firestone told the Daily Racing Form.
He appeared primed for his 3-year-old debut on February 24 in probably one of the best allowance races ever run – the top three 2-year-olds of 1981 were in the seven-furlong 'Flamingo Prep'. However, Deputy Minister, Timely Writer and D'Accord were all upstaged by Distinctive Pro, a crack sprinter in his element who ran off from the field. D'Accord was the best of the rest, finishing second.
In Jack Wilson's column in the Form, Firestone said, "We would have liked to have won, but he did as well as could have been expected. Believe me, we were delighted. Distinctive Pro is a runner and we were playing his game – sprinting. Of course, our main objective is the Derby and there are a lot of stops along the way. One thing for sure, you can't try and win them all if you want to make Louisville."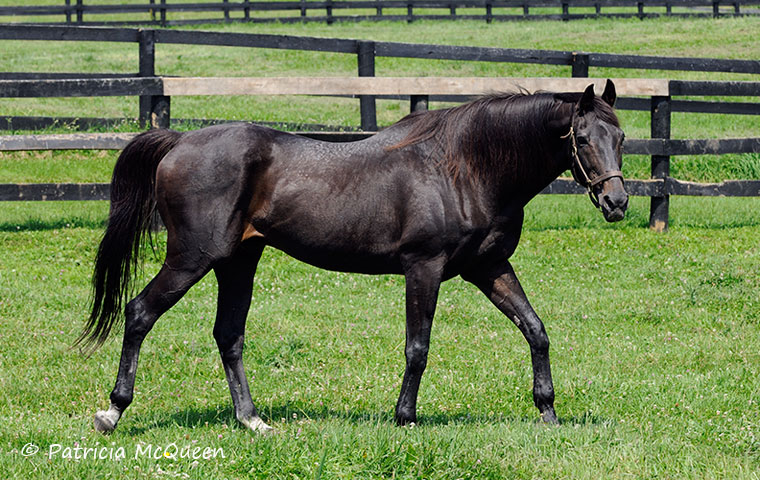 Initially Firestone planned to send him to New York for the Bay Shore, but instead chose Gulfstream's G2 Fountain of Youth at 8½ furlongs in order to get more distance. Secretariat's son kept working strongly in the morning, turning in more bullet works at Hialeah. Yet he could only finish fourth in the Fountain of Youth on March 22. Winner Star Gallant made a slow pace and went wire to wire over Distinctive Pro; D'Accord got close in the stretch but weakened.
The colt was shipped to Keeneland with the G1 Blue Grass as his major goal, but first came a start in an allowance race on April 13. He disappointed as the 2/5 favorite, finishing third, and continued to puzzle Firestone with his afternoon performances.
The answer came after the April 22 Blue Grass. Failing to eat the day after his fourth-place finish in the key Derby prep, D'Accord spiked a temperature. Blood tests revealed a bacterial infection and he was immediately removed from training.
Firestone hoped the colt could get back to the races in July despite having to start over after his illness. "Maybe it will all work out," he told the Form's Herb Goldstein. "He should be fresh for Saratoga when most of those colts running now will be tired horses. We have to live and hope in this game."
Back to the winner's circle
When he resurfaced at Saratoga, D'Accord had a new trainer, as Stanley Hough took over training the Firestone horses on July 15. The big bay returned a winner, taking an allowance race on August 17 by 1¾ lengths, going the seven furlongs in 1:22 with Don MacBeth in the saddle.
A training setback, one that would make him miss his primary goal, the Marlboro Cup, sent him to the sidelines again. Joe Hirsch wrote in the Form, "Hough feels that, since the 3-year-old Secretariat colt is intended for racing next season, it would be in his best interests to put him away now and come out swinging in Miami next winter."
The first part of that plan went as expected, with D'Accord easily winning a six-furlong allowance race at Gulfstream Park on February 7, 1983. By all counts it was a very impressive race, but surprisingly, it would be his last.
He was retired the next month, purchased by John Hettinger of Akindale Farm in New York. Reports were that he retired sound, but would not begin stud duty until 1984. "With a lesser horse, I might be tempted to get him some mares right away, but he's the best I've ever had and I'm going to take the time to do it right," said Hettinger to the media.
So it was that D'Accord closed out his racing career with five wins in ten starts, two seconds and a third, for earnings of $163,368.
Successful New York sire
The young stallion's first starter was a winner, the filly Mithrandir, who won a maiden race at Belmont on July 8, 1987; later that year she also became D'Accord's first stakes winner. He ranked ninth on the list of leading first-crop sires in 1987 by earnings, with $206,367, and was the leading sire of 2-year-olds based on percentage of winners to starters.
It was a good beginning for a stallion who would become a fixture in the New York breeding industry. After starting his career at Akindale, he also stood at Sugar Maple Farm and McMahon of Saratoga Thoroughbreds, with a brief stint in Kentucky along the way. He concluded his stud career at McMahon in 1998 and was eventually sent back to Akindale as a pensioner.
D'Accord was usually in the top ten New York stallions by progeny earnings, often siring the winners of more than $1 million annually. Among his 335 foals were 21 stakes winners, including Montreal Red, Lady d'Accord, North East Bound, Warfie and Yestday's Kisses. He also had success as a broodmare sire, with several G1 winners to his credit.
As a stallion, he was one of Secretariat's best sons. In total, his progeny earned $15.3 million, ranking him fourth among Secretariat's American-based sons by that measure. But he led that group in terms of percentage of stakes winners from foals (6.3 percent), and was also a consistent producer of winners from starters. Interestingly, the two best Secretariat stallions by percentage of winners from starters were D'Accord (77.1 percent) and his brother Medaille d'Or (77.8 percent).
He spent almost a dozen years as a pensioner at Akindale under the watchful eyes of Karin Mallard, a long-time Akindale employee. Age finally got the best of the stallion at age 32, and he was euthanized on October 3, 2011.
Mallard remembered him as "big and beautiful", a stallion who was a lot of fun and sometimes a challenge. He liked being around other horses, and could be difficult to catch in his paddock if there were horses in a nearby field that were more interesting than whatever any human had to offer.
He tended to be mouthy; as a breeding stallion in his younger days he was all business, and handlers had to watch his teeth. And, while he loved his weekly summer baths, he probably thought his caretakers were overprotective, especially as he got older. "We were very careful about winter days," said Mallard, noting that he wouldn't be turned out if the ground was too snowy or icy. "He wasn't very happy if he couldn't get out."
Endearing trait
Late in life there were annual birthday celebrations, and when it came time for his 32nd birthday in 2011, Mallard discovered one new thing about the old stallion. He was afraid of balloons!
"He almost ran me over to get away from those balloons," she recalled, laughing, adding that he was quite happy to retreat to the comfort of his paddock, away from those terrifying things.
D'Accord's most endearing trait stayed with him all of his 32 years. For a 1982 story in the New York Times, Firestone showed off the then 3-year-old's habit to a reporter as he grabbed the colt's hanging tongue and gave him a peppermint. "He's always sticking his tongue out the side of his mouth like that," he told the reporter. "He was born with it sticking out – we always had to push it back when he was a baby so he could nurse."
Decades later, Mallard recalled that the horse never stopped that habit. "His cutest and almost daily occurrence was that he hung his tongue out the side of his mouth," said Mallard. "He passed it down to many of his offspring."
As the record books show, the brothers Medaille d'Or and D'Accord were similar in many ways. Both were talented runners who were in the spotlight at age two. Both were compromised as they started down the Kentucky Derby trail at three. And both were among Secretariat's top sons as stallions and made the most of their opportunities at stud.
In addition, their sister, L'On Vite, produced yet another dominant 2-year-old in Holy Roman Emperor, who never got a chance to race at three but who is a solid international sire at age 15. The strength of the Fanfreluche female family lives on.