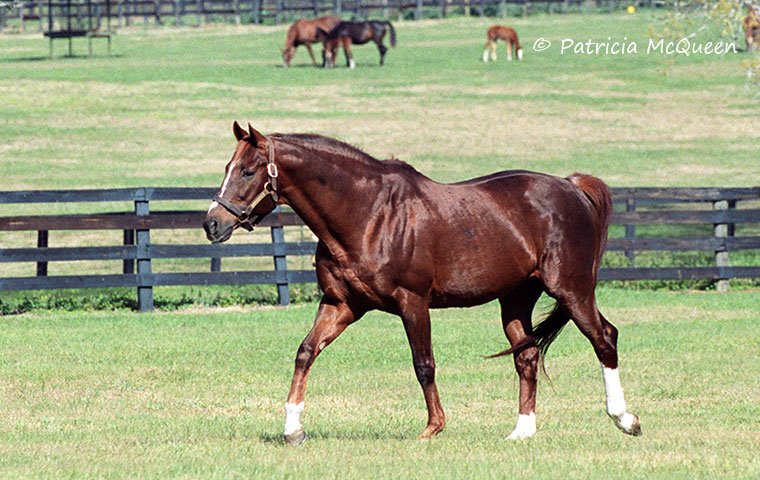 Every now and then a very special broodmare comes along. One who produces a multitude of stakes winners herself and/or produces offspring who go on to further shape the breed.

Secretariat sired some of those mares – Kentucky Broodmare of the Year Weekend Surprise, Terlingua, Secrettame, Lady Winborne (who produced more stakes winners than any other daughter of Secretariat) and many others.
Secretariat was also bred to some of those special mares, one of whom was Fanfreluche. Few mares crossed with the stallion as well and as often as she did, but then again, as a young broodmare she could practically do no wrong no matter her mate.
After all, Fanfreluche's first foal was two-time Canadian Horse of the Year L'Enjoleur, by Buckpasser, and her next four foals (all by different stallions) included two more Canadian champions, a stakes winner and a stakes-placed runner. A daughter of Northern Dancer, Fanfreluche was herself a champion racehorse for owner-breeder Jean-Louis Levesque – the 1970 Horse of the Year in her native Canada, she also shared champion 3-year-old filly honors in the U.S. that year.
Perhaps overlooked in her produce record is a key foal she produced late in life, long after her string of early champions and stakes winners ended in 1979. A key foal when it comes to Secretariat, that is.
Although the 1986 filly L'On Vite was unraced, she was Fanfreluche's only filly by the Triple Crown winner. The family's quality continues with her – L'On Vite produced four stakes winners, including Irish-trained French 2-year-old champion Holy Roman Emperor, who is now the best of the very few remaining grandsons of Secretariat still at stud. Standing in Ireland and Australia, Holy Roman Emperor has sired more than 80 stakes winners, including G1 winners in nine countries. He has twice been champion sire in Hong Kong and has also led 2-year-old sire lists in Europe.
But back to the beginning of Fanfreluche's love affair with Secretariat. Her first mating with the champion produced a colt who looked much like his sire: Medaille d'Or, French for 'gold medal'. Bred by Levesque, he was the mare's fifth foal, born in Ontario on May 23, 1976.
Consistency at two
Trained by the owner's regular conditioner John (Yonnie) Starr, Medaille d'Or was the first of Secretariat's three 2-year-old stars of 1978 (the others being Terlingua and General Assembly) to hit the races, finishing fourth in a maiden race at Woodbine on June 10. Starr wheeled him back in a similar race a week later, and the chestnut colt won for the first time.
Sent right into stakes company for his third start, in the July 3 Clarendon, he rallied to finish second to Dreamy Prospect, beaten just 1½ lengths. It would be the last time he was not favored in a race during his 2-year-old year, either alone or as part of an entry.
Sandy Hawley was aboard the colt in the July 15 Colin Stakes, where he again rallied from the back of the pack but ended up third to Levesque's Vent d'Ouest, beaten three lengths and a nose. The 6½ furlongs was run in 1:16 3/5, a stakes record.
Eight days later he finished second in a Woodbine allowance race to another stablemate, Coup de Chance, while again coming from far back going six furlongs.
Levesque then sent Medaille d'Or west to Manitoba for the August 7 Winnipeg Futurity at Assiniboia Downs. In the six-furlong race, he unleashed a furious run from far back, only to miss victory by a neck. The winner that day was the filly Liz's Pride, who won her first stakes race in the Futurity on the way to her own Sovereign Award as champion 2-year-old filly in Canada that year.
As versatile as his sire
Given his running style, longer distances beckoned, and the colt proved to be as versatile as his sire, winning on both dirt and turf.
His turf debut was at Fort Erie on August 13 going about seven furlongs. He got the job done this time, coming from far back to win by 1½ lengths under Sandy Hawley. A week later, in the Summer Stakes at one mile on a yielding Fort Erie turf course, his rally only got him third, beaten just over 3½ lengths by winner Nonparrell.
Medaille d'Or then got the longest break of his young career, and resurfaced September 30 on the Woodbine dirt. Again he closed well but settled for second in a seven-furlong allowance race, beaten two lengths. On October 7, going 1 mile and 70 yards over a muddy track, he stayed much closer to the pace than in his previous efforts and ended up third.
To that point, his record was that of a useful runner, with two wins in his first ten starts with only one finish not in the top three. He had been second or third in four stakes, so it would be the next two races that gave him the championship.
On October 15, he was part of the odds-on favored entry with stablemate Coup de Chance in the Coronation Futurity at Woodbine, a nine-furlong event on the dirt restricted to Canadian-breds. Again staying more in touch with the field early, he took the lead entering the stretch and won ridden out by 1¼ lengths. Under jockey Jean Cruguet, he earned his biggest payday, $94,870. Coup de Chance held second over Nonparrell, while Steady Growth checked in fourth. The latter would be the next year's Queen's Plate winner and champion 3-year-old in Canada.
Medaille d'Or's final start at two came in the October 29 Cup and Saucer, raced at nine furlongs over yielding Woodbine turf. With Cruguet up and again part of a favored entry with Coup de Chance, Medaille d'Or finished first by a nose over Nonparrell, but was disqualified and placed second for interfering with that one at the sixteenth pole.
That left him officially with three victories in 12 starts, but he won when it counted, earning the Sovereign Award as champion 2-year-old male in Canada. He was high-weighted at 122 pounds on the Canadian Free Handicap, two pounds more than Nonparrell.
Trouble in Florida
His promising efforts going long sent Medaille d'Or to Florida to prepare for the spring Classics. Trainer Starr, who was inducted into the Canadian Racing Hall of Fame that January, told Daily Racing Form's Joe Hirsch, "He definitely is not a sprinter and he took the worst of it in his early races last season. In the fall, when he had a chance to go around two turns, he did very well. The thing I like about him is his consistency. Even though he was at a disadvantage in the shorter races, he still wanted to get a piece of the purse. He ran 12 times in all and was in the money 11 times. Consistency is usually an indication of quality."
The colt made his 3-year-old debut in the six-furlong Preview Stakes at Gulfstream on January 27, 1979 – although shorter than Starr wanted, he needed a race. The handsome chestnut carried high weight of 122 pounds, ten more than anyone else in the field, and was second choice with stablemate Coup de Chance to the odds-on Northern Prospect, who won easily. Medaille d'Or never got into the race and was far back in the worst race of his career to date, finishing seventh, beaten eight lengths.
Hirsch noted in his column after the Preview that Secretariat's trainer, Lucien Lauren, had admired the colt in the paddock, commenting how much he looked like his sire, right down to his three white stockings – although Levesque's colt had the white on his left front instead of the right like Secretariat. A smattering of white on his face completed the look-alike appearance.
Taking on Spectacular Bid
The biggest challenge faced by 3-year-olds training in Florida that winter was the great Spectacular Bid. Medaille d'Or was one of just three horses to face the champion in the February 7 Hutcheson at seven furlongs, and he trailed throughout as the longest shot on the board. He was last again in a dull effort in the February 19 Fountain of Youth at 8½ furlongs, another race in which Spectacular Bid aired.
Medaille d'Or was clearly a shadow of his old self, although he showed some spark when returned to the turf in a Gulfstream allowance race on February 27. Rallying from far back in the about-one-mile event, he finished third to winner Some One Frisky and stablemate Coup De Chance.
He tried the big leagues again in the nine-furlong Florida Derby on March 6, and again finished last as Spectacular Bid won with ease. Before the race, Starr was surprisingly optimistic about a colt who had lost his last three races by a total of 42 lengths. At the pre-race press breakfast, Starr thought he would do well in the race. "This colt wants a distance. He was closing well in his race earlier this week, and the extra distance of the Florida Derby will help him."
Levesque and Starr had the colt in mind for the Queen's Plate so still planned to go in the Flamingo at Hialeah to keep him in condition. But on March 21, he went to the sidelines after developing a slight filling in his right knee. It was diagnosed as a bone chip, which had likely compromised his Florida performance all season.
Early to stud
Rather than operate on the colt, Levesque retired him, and Medaille d'Or entered stud immediately at Windfields Farm in Maryland. The farm had acquired a majority interest in the horse, and despite the late start at stud, he sired 28 foals in his first crop, foals of 1980. Both Levesque and Windfields shifted their bookings to support the newcomer, and he was well received as a young 3-year-old stallion.
He got his first stakes winner in 1984, the colt Baby Chile from his second crop. His third crop in 1982 would be the most productive, with four of his eight stakes winners coming that year, including his star performer, Tour d'Or.
While he started his career for Prince Khalid Abdullah's Juddmonte Farms, Tour d'Or didn't come into his own until his 5-year-old season, after he was purchased by Gerald Benjamin and Ben Shulman. The horse truly got better with age, placing in stakes at age five, when he also equaled the Belmont Park track record at 8½ furlongs, 1:40 2/5, a feat he duplicated two years later in 1989. He won a total of three stakes at ages seven and eight and placed in multiple Graded stakes, including a second in the G1 Gulfstream Park Handicap.
Tragically, Medaille d'Or died just two days after his tenth birthday, on May 25, 1986. He fell after being turned out in his paddock, fracturing the base of his skull and apparently severing an artery. With his life cut short, he had sired just under 200 foals over eight crops, with eight stakes winners and the earners of almost $5.5 million.
A clear exception
In addition to being one of Secretariat's few champions, Medaille d'Or stands out among the Triple Crown winner's offspring as the only son who in turn sired a good stallion. While many of Secretariat's daughters produced outstanding stallions, for the most part Secretariat's sons failed to carry on their lines. Medaille d'Or was the clear exception – his son Tour d'Or would become by far the best Secretariat male-line stallion past the first generation.
Another chestnut with three white stockings, Tour d'Or sired 27 stakes winners and the earners of more than $27 million. Among his progeny are Express Tour, winner of the second running of the UAE Derby in 2001 in the fastest time the race has been run at 1,800 meters. He also sired G1 winner Take d'Tour and several other multiple Graded winners.
Tour d'Or figures prominently in the pedigree of current multiple G1 winner Midnight Bisou as the sire of the filly's second dam. Another 2019 stakes winner, Prendimi, is out of a Tour d'Or mare.
More on Fanfreluche and her magical connection to Secretariat will be in the next instalment of this series - the story of her son D'Accord.