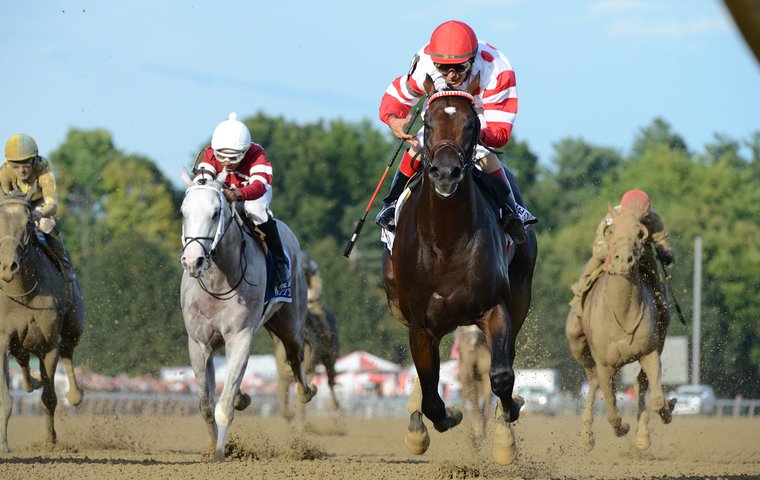 We had superb wagering levels, including records on the two biggest days, memorable racing, and some important - and extremely well received - new features at the race course. But, while Saratoga 2018, which ended its 40-day run last week, was a triumph, all the signs are that the 2019 version could be even better. More later in this article about the exciting developments that promise much for next year and beyond, but first here are my reflections on a race meet that has left us with much to discuss.

Field sizes: the issue that won't go away
Despite some very rainy weather in the first half of the meet, the final all-source handle for the 40 days was $659.083,459, the second highest ever recorded. Only the 2017 total - $676,709,490 - was higher and the fall off from 2017 was only 2.6 percent.
This was a remarkable achievement given the number of races that were washed off the turf this season. Fifty races were moved to the dirt, compared with an average of 20 moved each year from 2015 to 2017. This meant a reduction in field size from 8.25 per race for last season to 7.75.
Of course, field size is the most significant driver of wagering activity, and the fact that it declined on average six percent in 2018 from the prior three-year average and all-source handle declined only 2.6 percent from record handle of 2017 is a testament to the strength of the NYRA wagering product.
In this space a few weeks ago, Jeffrey Cannizzo, Executive Director of the New York Thoroughbred Breeders and a NYRA board member, wrote this column, headlined Increasing field sizes is the key to racing's future health. While the average field size for 2018 was 8.25, the figure for turf races was 8.66 and for dirt races it was 7.17. When races are moved from turf to dirt - and remember there were 50 of those at Saratoga this year - the number of scratches from the turf depresses the number of horses that stay to race on dirt, which is not their preferred surface. And the number of off-the-turf races also artificially reduces the true dirt-race field size.
With the exception of the boutique meet currently running at Kentucky Downs, NYRA purses, thanks in part to the Aqueduct gaming facility, are the highest in the country for both their overnight and stakes programs.
With maiden special weight purses at Saratoga paying $70,000-$90,000 and allowance races at $70,000-$80,000, it might be realistic to expect field sizes larger than the current 7+ on the dirt and 8+ on the turf. However, this is not simply a racing office problem for NYRA, this is an industry problem, as Cannizzo points out in his article.
For example, when I arrived in Saratoga Springs in late July for the opening of the race meet, I was told by a few people that the racing office had to keep the entry box open for a number of hours to be able to get adequate entries for the first Monday card. I would have thought that, with the number of horses training at Belmont and Saratoga. along with the Saratoga purses, the entry box would have been overflowing.
There is not a simple answer. However, at the Jockey Club Roundtable in Saratoga Springs in August, Dan Singer and Mike Salvaris, of McKinsey, presented a 2018 Situation Analysis for Thoroughbred Racing, which included some potential opportunities in this area.
Their report was broad-ranging (and you can read my article on it here) but they had two thoughts regarding field size and trainers that are worth further consideration and development.
They discussed what they defined were 'super trainers' - those who train more than 100 horses over the course of a calendar year. These are only one percent of the total number of U.S. trainers, but they account for 17 percent of the active horses and 33 percent of total annual purse earnings. Super trainers race their horses less than other trainers, with 4.2 starts per horse per year as compared to 4.7 for the rest of the trainer population.
McKinsey did not recommend any action except to point out that purses are increasingly accruing to larger owners and super trainers. I personally believe that the tracks must be more diligent in calculating the financial return they are getting from the stalls they have allocated to trainers without regard to the number of horses the trainer has under his or her care. Also, tracks need to be firm in establishing the maximum limits of stalls for each trainer.
One recommendation McKinsey did make was to develop a new metric that goes beyond the simple trainer winning percentage that is available in every past performance for any horse and trainer. Simply stated, owners want trainers that win races. However, McKinsey's research suggests that most owners want to see their horses race more often and they value in-the-money finishes and not just wins.
Recognizing that no metric is perfect, McKinsey has proposed an example of a good trainer metric would be Stakes and Allowance Wins, Place and Show per starter per year. They believe that this would encourage more racing participation, resulting in fuller fields and align better with owner goals.
Does stacking up the 'big' days really work?
Turning back to racing activity, NYRA had record-setting days on both Travers and Woodward Saturdays.
The blockbuster Travers Day card generated a new record all-source handle of $52,086,597, which broke the previous record, set in 2015, by 4.9 percent. There was another record on the Woodward Day card, with an all-source record handle of $31,030,032, beating the previous Woodward Day record, set in 2017, by 11.3 percent. So NYRA set big all source records on their two biggest racing days, yet their full season total was 2.6 percent less than the record set in 2017.
Is it possible that the placement of numerous stakes races on big days is cannibalizing the other racing days?
Although NYRA believe strongly in stacking Graded stakes on big days for maximum financial benefit, I do not agree. Of course, running seven Graded stakes on Travers Day helps contribute to one big day, but I believe it may, in fact, reduce the impact of, say, the Forego, the Ballerina or the Personal Ensign if they were the headliner on days of their own.
My view is that every day at Saratoga should be considered a big day. Looking back to the 1990s and early 2000s, Saratoga Race Course had a reputation of running a stakes race on almost every day. This 2018 season, there were 18 days out of the total 40 live race days when the 'feature' and highest purse race of the day was a $100,000 overnight stake. Twenty years ago, a $100,000 stakes race was an important race. However, today at Saratoga, with $90,000 maiden special weight races and $80-90,000 allowance races, a $100,000 overnight stake is not going to be a draw.
Races to remember
My favorite races of the meet were the G1 Travers and the G1 Hopeful.
Jim Dandy weekend is always important because both the Jim Dandy and the Curlin are run four weeks out from the Travers and serve as preps, as does the G1 Haskell Invitational run at Monmouth Park that same weekend. As it turned out, all three races had relatively short, lackluster fields, and it did not seem to bode well for the Travers. However, a relatively strong group of 11 3-year-olds from a largely disappointing crop lined up for the race.
Catholic Boy, trained brilliantly by Jonathan Thomas and ridden by Javier Castellano, sat off a moderate pace by Mendelssohn, ridden by Ryan Moore, and won easily, beating Mendelssohn by four lengths with Bravazo a distant third. Catholic Boy is now a five-time Graded stakes winner with G1 wins on both turf and dirt. The Breeders' Cup Classic is his ultimate goal this year.
The Hopeful, a seven-furlong race for 2-year-olds on the dirt on the closing day of the meet, has always been one of my favorite races. This year's winner was Mind Control, a colt home-bred by Red Oak Stable and co-owned by Sol Kumin's Madaket Stable.
It was a first G1 for trainer Greg Sacco, who has trained for the Red Oak/Brunetti family for many years. Johnny Velasquez was brilliant in the saddle, sitting close to the pace and out-finishing the favorite, Mucho, ridden by Jose Ortiz and trained by Bill Mott.
A unique opportunity
NYRA made a substantial hospitality investment during this past off-season, which greeted enthusiastically by the Saratoga patrons. The racing association took a large portion of the grandstand at the top of the stretch, which was utilized only on very few days during the race meet, and built out a new hospitality area, called The Stretch. This is an all-new exclusive private hospitality area featuring modern and upscale amenities not available anywhere else on the track. These facilities include:
Brand new bar
Full service kitchen and concessions
Tiered box seating, lounge seating and dining tables
Touchscreen tablets throughout for betting, ordering food and beverage and watching live TV
Private restrooms and betting windows
While viewing the race from the top of the stretch is exciting as the horses turn for home, one really has to look at the televisions or tablets to see the finish. The Stretch truly offers a unique hospitality opportunity for the racetrack patron.
Something to look forward to
On Tuesday September 4, NYRA broke ground on the most substantial facility they will have built in the last 50-plus years. The 1863 Club, a new three-storey climate-controlled facility will include various seating, dining and spectacular views of the track. The plan calls for completion for the start of next year's meet.
There are many exciting things going on at NYRA. For those who have never experienced racing at Saratoga, next year will definitely be a great time to make that first visit.