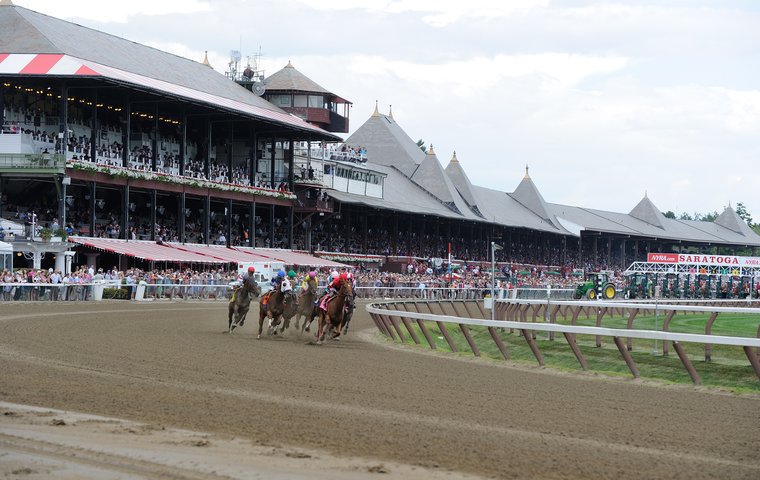 Jeffrey Cannizzo (pictured below), executive director of the New York Thoroughbred Breeders and a member of the New York Racing Association's board of directors, is the guest writer of TRC's latest View from the Rail column.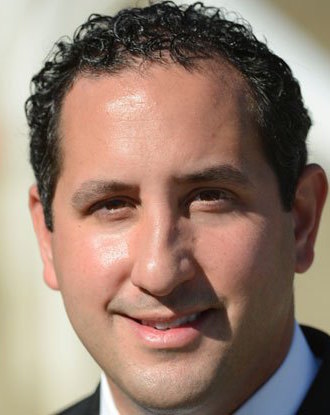 For nearly 40 years, coming to Saratoga has been a part of my life. My life's experiences here started with the 1982 Travers, when Runaway Groom beat three classic winners (I was three). Fourstardave was the number one sports name in our household in the late 1980s.
There have been so many great races over that same period, and two that have stuck in my mind as an adult are Point Given in the 2001 Travers and You in the 2002 Test. Both those races nearly brought the grandstand down.
The stretch run of You and Carson Hollow is what horse racing is all about. The movement of the wooden floor beams against the roar of the crowd is what I remember most. Truly remarkable and like nowhere else on earth. For me, that is Saratoga.
Back then, my focus wasn't on New York-breds, so I will admit I had the exacta straight (You - Carson Hollow).
I feel the most important thing about Saratoga is the main reason it's here: racing. It's the core of what makes Saratoga Saratoga.
In 1990, nationally we had a foal crop of 40,000 horses with 89,000 starters in 73,000 races, averaging 7.94 starts, with average field sizes of 8.91. Fast forward to today and we have 20,000 foals with 50,000 starters in 40,000 races, averaging 6.21 starts, with average field sizes of 7.7.
Everyday racing should be the industry's focus
That's essentially almost two fewer starts per horse (-22 percent) and one and quarter fewer horses in every race. The point: the pressure on race conditions and stakes programs looms even at meets like the mighty Saratoga.
Field size is the key to the equation, both for the customer and the track. After all, that is what makes Saratoga a jewel. Competitive racing with playable, desired odds. You cannot have that without full fields.
Saratoga works because it's the perfect blend of quality mixed with the appropriate quantity. In my opinion, field size is the one obstacle that Saratoga faces and could be most pressing - keeping field size up while remaining competitive with the various obstacles that surround everyday racing and the sport in general. After all, it is everyday racing that needs the most help and should be the entire industry's focus.
As Joe Appelbaum, President of the New York Thoroughbred Horsemen says, "Increasing the number of starts our horses make would do more to benefit horse racing than anything I can think of. Owners would receive more utility from their purchases, trainers would have additional chances to earn, tracks would fill races easier, bettors would have more options - it's really a virtuous cycle."
The highest levels of our sport are healthy and we prove it time and time again on every big Saturday. Unfortunately, the typical everyday card is struggling to be filled. Just ask any of the smaller barns.
Rather than just being backstretch conversation, we need everyday racing to be the frontside conversation.
There are so many intricate challenges we face when it comes to everyday racing. In the old days, horses ran. Today they breeze four times between races and may make a start every month and a half. As reported, horses are averaging 6.21 starts per year. If we can work as an industry to get to that number up by half a horse (.5), the subsequent economics of racetracks would change dramatically.
Multi-pronged approach
Says Appelbaum, "There is no clear recipe for increasing starts per horse. What we really need is a multi-pronged approach to figure out what can be done. Who is willing to step forward, put their self-interests aside and figure out a comprehensive plan of what to do?"
This year NYRA instituted the 'loyalty program' for rewarding horses and their connections who run in New York. It's a tangible way of adding value to horsemen. There need to be dozens other measurable efforts done or regulated to address our everyday racing challenges.
Saratoga's handle per betting interest is best bar none. On average, it yields $200,000 per betting interest, making it one of the leaders, if not the leader, in the country for handle per interest.
Having an extra horse per race goes a long way towards leading back to profitability for NYRA, and the purse account itself. Additionally, every $1 of purse distributed at Saratoga yields on average a $16.5 return on investment from handle, a figure essentially unmatched in our industry.
To put it this in perspective, if Saratoga increases its field sizes by half a horse with an average $100,000 a race in added handle, it would equate to roughly $1 million in additional handle each day. Obviously, this is the full extreme for racing versus smaller meets across the country. However, this is the way (the only way) our industry sustains itself, grows purses, and expands on capital racetrack projects and real marketing and promotion.
The need to further reduce costs
Other significant challenges we face in New York involving Saratoga are workers' compensation and the general cost of doing business in the state. Both have inflated at astronomical proportions.
These challenges discourage participation in everyday racing and have lead to a reduction of out-of-town starters and added horsemen in New York. The results are smaller fields and races failing to fill.
The good news is that both NYRA and the New York Thoroughbred Horsemen (NYTHA) have long-term strategies to reduce workers' compensation for backstretch employees and riders. The need to further reduce costs for horsemen and owners is absolutely necessary. If we could reduce the cost of each day, via outside-the-box feed and purchasing co-ops for simple products like hay, straw, grain, etc., the results would be significantly economical for owners and trainers.
Just because you're operating in New York City doesn't mean the agricultural products you're buying (from rural places) should be quadrupled in cost. The price of hay and straw downstate is 70 to 90 percent more than in upstate New York.
One thing that has changed in the last decade is the importance of the NY-bred program to the Saratoga meet. As we know, the two most important ingredients in a racing program's recipe for success are field size and handle. As it happens, NY-bred races are outperforming their open counterparts virtually across the board in New York.
For the 406 races run at Saratoga in 2017, the average field size for open races was 8.05. The average field size for New York-bred races, on the other hand, was 8.88, or 0.83 horses more. Although less than entire racehorse may not sound like much, in reality it is substantial, and in terms of percentage this means that New York-bred fields are ten percent larger than for open races.
"New York-breds are punching above their weight in terms of the number of starts they make," says Appelbaum. "They form the core of our year-round racing program."
Click here for full details of the New York owner and breeder awards
In 2017, NY-breds won 135 of the total 406 races (33 percent) at Saratoga, earning $9.8 million of the $41 million (24 percent) total purse money. Furthermore, NY-breds made 1,151 of the total 3,349 starts (34 percent) during the 2017 Saratoga meet.
These figures may appear astonishing to some, but the expansion and success of our state-bred program should be a shock to none.
At the same time, if open-company racing doesn't succeed, it all fumbles. We need full fields across the board and, in some circumstances, there's a point where NY-breds need to compete in open company. It's a larger ecosystem to make racing healthy. As the numbers show, without NY-breds, you'd have a third fewer starts than we have today, which would collapse it all.
All in all, we'd like every meet and every track experience to be Saratoga. Unfortunately, that's not reality.
Saratoga will always be here. In order to keep it special, we must strengthen our everyday racing, which feeds its boutique nature. With 50 percent fewer foals than 20 years ago and horses making 22 percent fewer starts each year, something has to give.
I believe we all see it giving a little more each year throughout the country. The 71 stakes worth $19 million or 40 percent of purses at Saratoga are unparalleled numbers, making up 25 percent of the handle. The remaining 75 percent of handle comes from 83 percent of the various other overnight races. Nationally, stakes are only two percent of racing, with one percent of them Graded.
The point is that the vast majority of horses and races are not and cannot be top-level. The top is what drives our sport - no question. However, it's what's directly underneath that will help keep Saratoga, and perhaps all racing, intact as we know it.