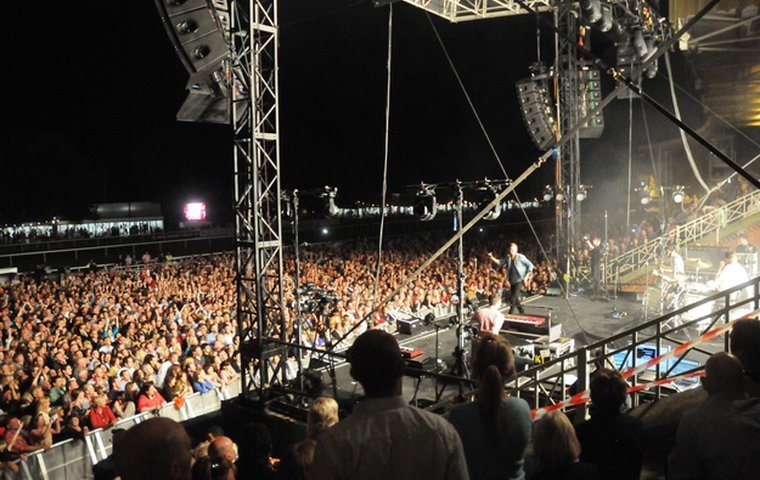 Sunday was an exciting day for the future of Thoroughbred racing in America. A plan for a series of ground-breaking initiatives was unveiled at the 66th annual Jockey Club Round Table Conference in Saratoga Springs, and each and every one of them could provide a major shot in the arm for the industry.

Much of the conference was devoted to a presentation by Dan Singer, leader of the Global Sports and Gaming practice for McKinsey and Company, and Mike Salvaris, a senior adviser for the organization. The first part was an update on a 2011 report on the state of the racing industry, which at the time was presented by Dan Singer and his McKinsey colleagues. The second portion of the presentation involved four major growth themes that represent new opportunities for the Thoroughbred racing industry.
At the time of the 2011 McKinsey presentation, the industry was facing a challenging set of trends. Wagering handle had declined 37 percent over the previous decade, race days and starts per horse were down 14 percent and attendance had dropped 30 percent.
The magnitude of these declines was particularly alarming due to the capital requirements of the racing and breeding industries. McKinsey found that racing was not keeping pace with other sports in terms of coverage and fan interest, and also not keeping pace with other forms of gaming. While Thoroughbred racing handle was in serious decline, in that same time frame casino wagering had grown 34 percent.
At the Round Table Conference in 2011, McKinsey recommended nine strategies to grow the racing business. These initiatives included race scheduling, innovation, television coverage, digital gaming, integrity reforms and ownership initiatives. On Sunday, McKinsey reported that the industry had made significant in many of these areas.
Progress since 2011: TV coverage
The most significant improvement has been the progress made on national television.
In 2011, the industry had only 43 hours of Thoroughbred racing on national TV as compared to 175 hours in 2003. Through a number of initiatives with Breeders' Cup, Keeneland, NYRA, Stronach, Fox, NBC and others, there are currently over 200 hours of racing on national TV.
There are clear demonstrable results from the increase in national TV coverage. There has been a ten-point increase in the number of fans who believe racing is well covered by the media despite a large decline in racing coverage in major market newspapers. And the number of new racing fans introduced to racing by television has grown by almost half.
Progress since 2011: ownership
There also has been significant progress in the industry ownership experience. The Jockey Club developed and launched the website OwnerView and established the three-day annual Thoroughbred Owner Conference, which is held the for three days around Breeders' Cup weekend in the city of the host site.
Progress since 2011: wagering
Perhaps the most critical improvement has been the stabilization of the national racing wagering handle. Since 2011, handle has stabilized at just under $11 billion, which is encouraging given the decade-long handle declines through 2011.
Digging a little deeper into the handle numbers, McKinsey broke out the racetracks into Tier 1, Tier 2 and Tier3 based on total handle, the number of Graded stakes and purses paid per day. From 2011 to 2017, Tier 1 tracks (a total of 12) actually increased their total annual handle from $5.6 billion to $6.8 billion for a growth rate of 3 percent per year. Conversely, Tier 2 and 3 tracks declined from $5.1 billion in 2011 to $4.2 billion.
Since 2011, despite stable overall handle, there has been a decline in several underlying metrics. The foal crop continued to decline from 2011 to 2017 at about one percent per year and total starters are down four percent per year to 51,000 in 2017.
The numbers of starts per horse has been fairly constant. Fewer available horses has resulted in a reduction in field size, from 8.04 to 7.7, and less racing - the number of races in the U.S. has declined from 45,417 in 2011 to 37,628 last year.
Progress since 2011: Advance Deposit Wagering
Another issue regarding wagering handle is the continued growth of Advance Deposit Wagering (ADW). Since 2011, despite flat total handle, ADW handle has grown 14 percent per year since 2011 and is now 33 percent of all handle, up from 11 percent in 2011.
According to McKinsey's research, there would appear to be the potential for further growth in the ADW sector. Just 22 percent of Thoroughbred racing customers that McKinsey surveyed use an ADW today and only 28 percent have ever used an ADW.
Owner concerns
Horse ownership is down four percent, which is consistent with the drop in the foal crop. When McKinsey interviewed owners, most were largely happy with their involvement in the sport, yet owners consistently cited three areas of concern:
The racetrack experience has not stayed competitive with hospitality and amenities in other major sports.

There are concerns about the rise of the 'super trainer', particularly its effect on field sizes. McKinsey defines a super trainer as someone who has at least 100 horses in active training in a given year. By this definition, super trainers are the top one percent of all trainers. They account for 33 percent of purse earnings yet only 17 percent of the starts. They also start their horses less often, 4.2 times per horse per year against 4.7 for the rest of the trainer population.

A third concern from owners was racing integrity, specifically the lack of unified regulation and accountability for medication and the cost of veterinary care.
Four key areas of potential customer development are outlined in the 2018 McKinsey report to the Jockey Club:
1. Ensuring major league cities have major league tracks
This may be the most challenging of the proposed customer development issues.
Other major league sports have significantly raised the bar on the game-day experience with amenities such as restaurants and bars that allow social viewing of the game, interesting food selections from local chefs, micro-breweries, clean and numerous bathrooms and well merchandised retail outlets. As McKinsey pointed out, since 2011 eleven tracks in the U.S. have ceased Thoroughbred racing and many others have had limited capital for renovation.
However, McKinsey strongly believes it is imperative for the future of racing that the industry innovates and upgrades the track experience in the major population centers.
One model that might warrant some consideration and review is the redevelopment of the race courses in the UK and Ireland over the last two decades. The UK and Irish tracks do not receive nearly as much contribution from the betting as the tracks do in the U.S. and they also have many fewer race days. Yet these tracks have made great strides in the four areas that are the biggest drivers of the track experience:
Food and beverage
Cleanliness
A unique atmosphere and guest experience
Non-racing events, such as concerts, festivals and corporate hospitality events
Capital investment in race course facilities and significantly upgrading the hospitality and customer experience have resulted in substantial financial gains for these racing companies.
2. Digital fan development and engagement
The biggest disruption since the 2011 McKinsey report has been the rapid development of mobile-based social media.
The average American spent 24 minutes per day on mobile digital media in 2011. Today the average person spends 3 hours 20 minutes a day consuming and creating media on smartphones and tablets - eight times as much as in 2011. Mobile media has dramatically changed the ways fans engage with sports and the ways leagues and teams are developing new fans.
McKinsey believes that the mobile media disruption has three major implications for racing:
Racing needs to create more engaging mobile content, especially photos and video. Currently, racing videos and posts to social media get very low engagement, typically under 1,000 views per YouTube video and Facebook posts a day. That is less than half the engagement that even niche sports (such as poker, Pro Bull Riding and Monster Supercross) achieve, and a tiny fraction of what major leagues accomplish. Racing needs to increase its output dramatically. In particular, lifestyle content is a huge opportunity for racing. Big-race days are a celebration of fashion, food and drink and American traditions, which are perfect content for social media.
Racing should promote its best mobile content so that new fans can find it. Simply publishing content to social media sites is not enough - we need to promote our content so that casual fans can see it. Publishers of all types have discovered that the vast majority of their consumption happens outside their sites and apps, and therefore they need to invest to target fans and promote their content to them on social platforms.
Racing needs to capture fan data from social media engagement and invest in targeted, personalized digital marketing to get new fans to the tracks. As marketing shifts rapidly from traditional media to digital, it is critical to be able to identify and communicate with fans with highly personalized offers, which requires customer databases with email addresses, cookies and other identifiers. Today, major sports leagues know about 40-50 percent of their fans who attend an event. Casinos and theme parks know 70-90 percent of their patrons. By contrast, most tracks can identify only 10-15 percent of customers at the track, and, unlike major leagues, there is no central database of fans and no sharing of fan data across the sport.
3. Advanced analytics
McKinsey has identified four new applications of big data and advanced analytics:
1. Simulcasting
The first is race scheduling and coordination in the simulcast marketplace. At the 2017 Round Table, McKinsey presented a model that refining the scheduling of races among racetracks with purses greater than $50,000 could result in additional incremental handle to the industry of $400 million.
In April 2018, McKinsey held a pilot with eight tracks around the country. Using simple digital tools such as group texts and spreadsheets, the pilot improved communication among mutual managers significantly. It became clear that optimizing schedules to eliminate all conflicts between high-handle races will require explicit agreements among the major tracks with regard to which races have precedence. The project remains under development.
2. Takeout
The second application of advanced analytics was to test the theory that takeout rates are above the optimal level. This is an exciting endeavor as the industry collectively has never devoted any serious money or effort to study optimum takeout rates.
For this study, McKinsey, with the assistance of the Horseplayers Association of North America (HANA), compiled takeout rates and handle figures from 63 U.S. Thoroughbred tracks for 2017 and ran a series of non-linear regressions. They found that the average Win/Place/Show (WPS) takeout rate for these tracks was 17.3 percent and the WPS handle per race was $61,000.
Some tracks had WPS takeout rates over 19 percent. The model found an optimal WPS of 15.8 percent, i.e. the takeout rate that would maximize WPS handle per race. McKinsey and the Jockey Club will facilitate further study and communication with racetracks to test WPS reductions over an appropriate time frame to measure the impact properly.McKinsey stated that, when it analyzed the exotic pools, it saw little or no correlation between takeout and handle per race.
It is my hope that McKinsey, the Jockey Club and the racetracks will do further analysis on the possible elasticity of takeout at all takeout levels.
3. The complexity of betting
Thirty three percent of all customers rank betting complexity as the third most important issue in racing.
As McKinsey reported, anyone who has tried to read a past performance line for the first time knows the difficulty of understanding the jargon and translating the data into a betting decision. The key principle is that learning to handicap can be much more intuitive if we take established handicapping strategies (using data from past performances) and radically simplify them for a new customer.
There are many valid handicapping principles, such as speed figures, breeding stats, wins per start, performance over the distance, performance over this track. Providing a new customer with these simplified and distilled concepts will provide them with more confidence and enjoyment (and hopefully more success) in placing the bet.
I personally believe that this is a huge opportunity for customer development as we will be replacing betting on jockey names, horse names, gray horse, silk colors and so on with easy-to-read handicapping concepts.
4. Judging trainers
The final analytic metric that McKinsey proposes to investigate is a new trainer metric. When McKinsey asked industry experts why horses don't start as often today as they did in times past, most believe that trainers are seeking to maximize their win percentage because it is the most popular metric used by owners in choosing a trainer.
Most owners want to see their horses race more often and they value in-the-money finishes and not just wins. Racing would benefit from a trainer metric (or metrics) that encourage fuller fields and align better with owner goals. Although no metric is perfect, McKinsey believes that an example of a good trainer metric is 'Stakes and allowance WPS per starter per year'.
I know from my years at Daily Racing Form that the biggest complaint from trainers was always the trainer's win percentage for the current race meet and the current year. McKinsey will continue to develop and refine a better and more accurate metric that more adequately measures trainer performance.
4. Capitalizing on the legalization of sports betting
The fourth growth theme provided by McKinsey was a 2018 strategy for the Supreme Court ruling allowing states to make new laws that will establish sports betting in many states across the United States.
Dan Singer presented an excellent distillation of the opportunities and potential pitfalls that sports betting could do for the Thoroughbred racing industry. Shortly after the Supreme Court decision was handed down, Dan Singer and his McKinsey colleague Ben Vonmiller, wrote this concise analysis for The Blood-Horse on May 14 that was the basis for McKinsey's sports betting presentation at the Sunday Round Table.
Crucial role of the Jockey Club
I have been attending Jockey Club Round Table conferences for two decades and they have always been well planned and important for the industry.
For that same 20 years, I have regularly heard that what the racing industry needs is a central body with a commissioner. As I have written in the past, that is not going to happen for two critical reasons.
First, all professional sports league offices and commissioners control the intellectual property and media rights that generates the overwhelming majority of the league's revenues and funding. In racing, those rights are owned and controlled by the racetracks, who will never relinquish those rights.
Second, the states maintain all the regulatory authority for racing and will not be relinquishing those rights anytime soon.
We may not have a league office, but we do have the Jockey Club. This year's Round Table was devoted almost exclusively to an evaluation of the McKinsey 2011 plan and a new strategic plan for 2018. After the McKinsey plan was presented, chairman Stuart Janney announced that the board of stewards had committed to fund a number of new initiatives that were consistent with and, in some cases supplemented, the 2018 McKinsey strategic plan:
Develop plans to consider becoming a track owner, lessor or partner when a racing venue is imperiled.
Develop a capital improvement grant fund for HD (high definition) conversion.
Expand America's Best Racing into a fully-fledged digital media services company.
Further invest in live racing on national television.
Fund a permanent office of race-day scheduling.
Advocate for tracks to experiment with decreased win, place, and show takeout rates.
Partner to fund a U.S. pilot of single-pool betting.
Promote cross-marketing of sports betting and betting on horse racing.
Lobby for a fixed odds betting pilot.
"For a long time, we have consistently and comprehensively engaged on issues whenever the industry was at need," said Janney. "Whether the start-up of Equibase or the NTRA corrective actions in the wake of a totalisator breach, providing funds for critical research and out-of-competition testing, and new fan and owner development programs, to name a few, the Jockey Club has – and will – be there for the industry."