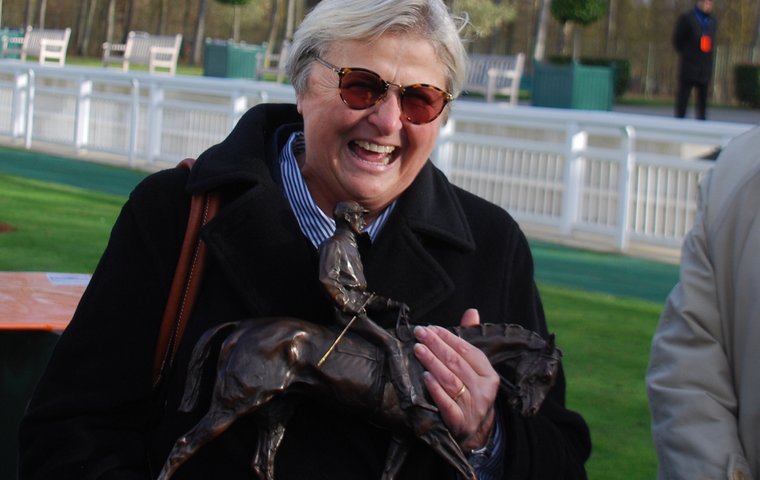 A glorious horse racing era came to an end yesterday when the great Criquette Head-Maarek, the most successful female trainer there's ever been in the Northern Hemisphere, had her final runners. Neither of them hit the scoreboard, but it was a hugely memorable day at Chantilly anyway. Earlier she talked to John Gilmore about her career, her love of racing, and her plans for her retirement.

Head-Maarek had been planning her farewell for the past couple of months, making sure there were other jobs to go to for the 27 staff at her famous Chantilly yard.
"It's not a decision you take easily, but I am coming up to 70 and want to do other things I can't do with racing. I've worked hard at this game for many years and now is the right time," she said ahead of saddling her final two runners at Chantilly yesterday.
"When you are a trainer, it's a full-time job, from five in the morning til eight at night, no weekends free and racehorses depending on you to take care of them. But I never felt bored or fed up over the years, watching each generation of racehorses develop and train on the gallops.
"I loved my job. I will miss receiving the annual new batch of young horses and the air of expectancy of what you may have. We work with nature and what you are getting is a challenge as every day is different. That is the attraction."
Click here to read some rare insights from Head-Maarek on training and breeding
Head-Maarek was unable to sign off with a winner yesterday - Damanda's Dream ran down the field and her final runner, the luckless Monsieur Enzo, who did not have a clear run, was a fast-finishing fourth.
Yet the lack of success didn't seem to matter as far as the racegoers were concerned. Among those there to help provide a special send-off were IFHA president Louis Romanet, France Galop chief Edouard de Rothschild, and trainers Corine Barande-Barbe and Myriam Bollack-Badel. Rothschild and local deputy Eric Woerth presented Head-Maarek with a bronze to mark the occasion, and she also received flowers.
A film of her racing highlights, played on the big screen, brought tears to her eyes.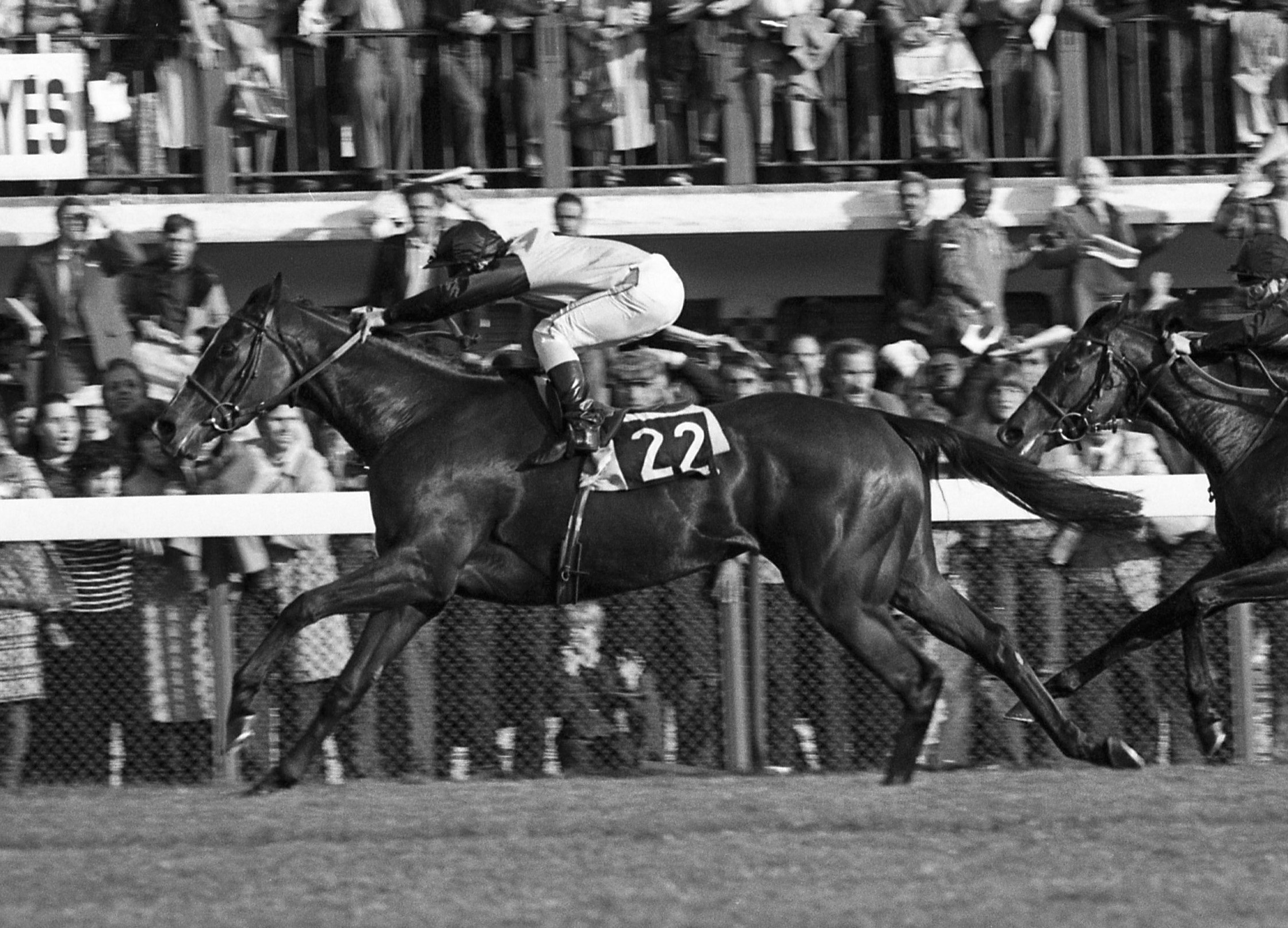 Brother Freddy, a six-time French champion jockey and later a top trainer, said: "Racing was the passion of Criquette's life and Three Troikas winning the Arc [in 1979] was my meilleur souvenir [best moment] riding for her because of the family connection [the filly was owned by their mother, Ghislaine]."
Typically, Head-Maarek was determined to recognise the contribution of others. During the presentation, she invited Myriam Bollack-Badel to share the flowers. "Myriam was the first women trainer in France," she told the crowd. "She opened the doors for women in this profession, including myself."
So the trainer's last winner was the 4-year-old colt Reve in a 2,700m handicap at Chantilly on January 6, which is apt as he is another horse owned by her mother.
Head-Maarek has a career haul of 80 G1 victories, including three Prix de l'Arc de Triomphes, seven French 1,000 Guineas, four English 1,000 Guineas, one Beverley D Stakes at Arlington and three E P Taylor Stakes at Woodbine. The stable's most recent G1 success was in the Prix Jean-Luc Lagardére at Chantilly on Arc day in 2016 with National Defense - that in a year when her horses were badly affected by a virus.
Her most famous runner, certainly in recent times, has been Treve. The daughter of Motivator, bred at the Head family's Haras du Quesnay in Normandy, burst on the scene with a breathtaking performance under Thierry Jarnet in the 2013 Prix de Diane, smashing the track record in the process. The partnership followed up with two successive Arcs in similarly commanding fashion, the second even more outstanding as most had written the filly off after three increasingly disappointing defeats.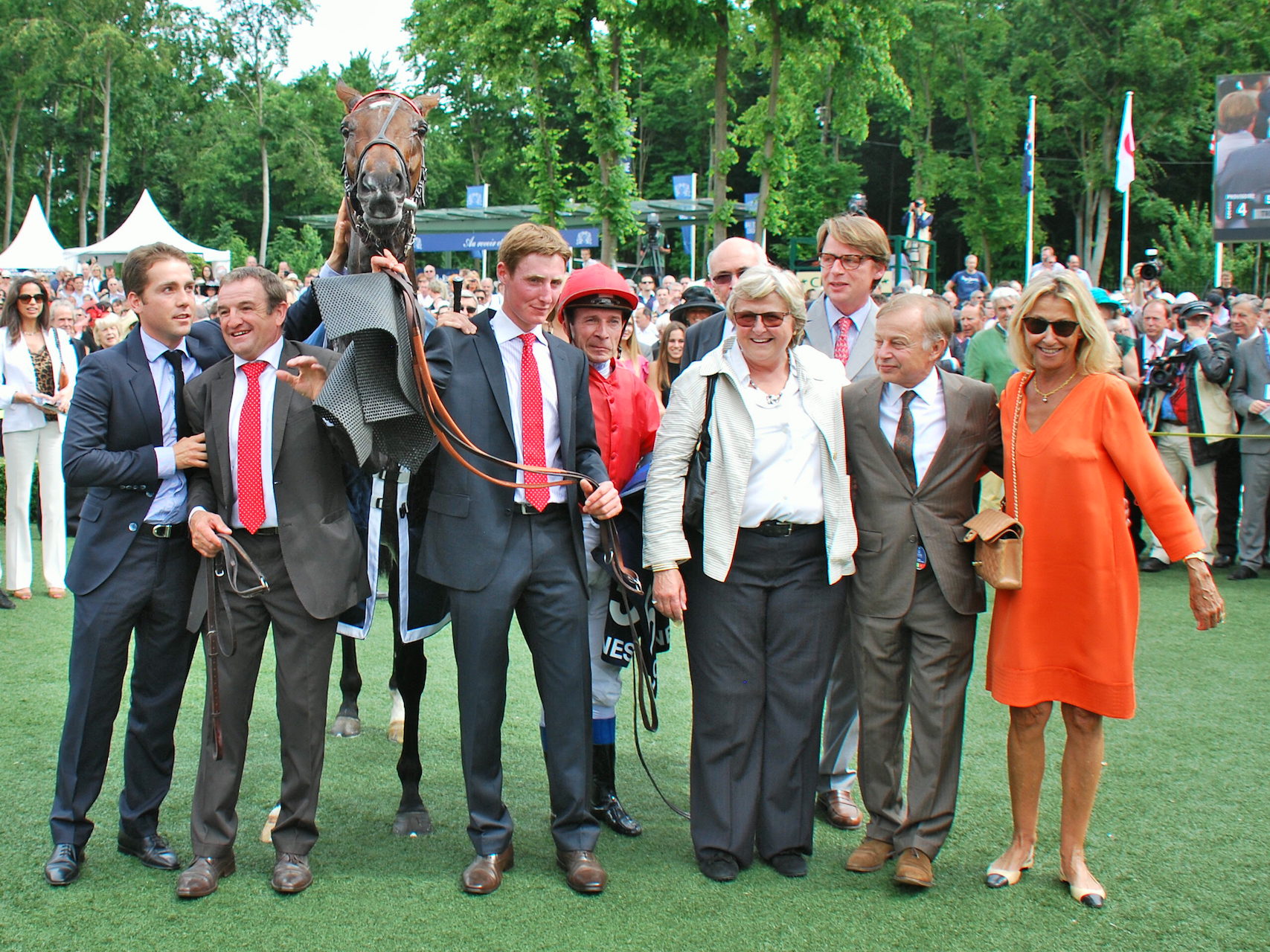 But Head-Maarek never lost faith. Her years of experience and patience with racehorses truly came into play as she gradually nursed Treve back to her peak. The horse's below-par performances earlier that season were put down to a back injury that required careful treatment over several months. Head-Maarek used a specially adapted racing saddle to ease the pressure.
Unfortunately, a record-breaking third Arc the following year was not to be, Treve finishing fourth to Golden Horn.
So how did Head-Maarek cope with the long hours and pressure the job entailed, training expensive racehorses? Up at the crack of dawn for the first lots on the forest gallops at Chantilly, checking the well-being of her horses and planning various training requirements, taking in a race meeting if the stable had runners, making entries, and speaking to owners, breeders and journalists at all hours of the day?
(I contacted her many, many times over the years for comments, or requests to visit her yard, and it was never a problem. She always had the time and provided interesting things to say on any subject.)
"Things have changed over the years since I began training," she said. "At that time there was just two women trainers - Myriam Bollack and myself. Today there is no difference, men and women trainers compete on equal terms. But racing has become an everyday experience.
"When I first started, you weren't racing everyday and you had more time to pay attention and take care of the horses. Now it's a bit too much and you have no time to do the job properly. The only break was a few weeks in the winter.
"I had up to 200 horses at one time but coped very well, having good stable staff that I could rely on, which is crucial. I was always able to handle the pressure and slept like a log from ten until five in the morning, safe in the knowledge that the most important thing was the calm and quiet surroundings of the yard, which created the ideal conditions to ensure the horses were relaxed and not stressed."
What's next
Head-Maarek is not going to leave racing entirely. "I have been going to Haras du Quesnay in Normandy once a week and will now be there on a more regular basis, to assist in selling nominations, and trying to find the best stallions for our mares," she said.
And she will still be involved in ownership, with her horses in training with brother Freddy, who hasn't done badly himself as a trainer, with Goldikova, Solow and Moonlight Cloud among his stars.
She added: "I intend to do other things I haven't done too much for years, including going to the movies and the theatre. I particularly want to see the Winston Churchill movie Les Heures Sombres [the Oscar-nominated Darkest Hour]."
Her main goal, though, is well away from horse racing. "I have been taking sailing lessons for a while in Paris and also learning how to use a map, with a project to buy a sailing boat and perhaps eventually go around the world in it," she said. "I have been sailing before with friends around Corsica and the Caribbean and loved every minute of it.'
Dream owners
Head-Maarek has had some health issues, having recovered from a brain tumour in 1990 and cancer in 2005, but each time she showed her battling character and bounced back to do the job she loved. "I have been privileged to work with some fantastic owners over the years: Prince Khalid Abdullah, the Wertheimer brothers, Sheikh Maktoum Al Maktoum, my parents and many others," she said.
"In fact, all my owners were dream owners in that they left me to do my job of training their horses. When you have good owners in this way, it makes the job a lot easier and I have also been lucky during my career to have trained many good horses.
"Sometimes along the way things don't work out, and I lost the Wertheimer horses in 2006, but that is life and in this game nothing is ever sure and you have to be able to take the good as well as the bad, otherwise you will never be successful."
Head-Maarek is keeping her yard in Chantilly for the moment. "If someone wants to buy it, I would sell, but it is not on the market, and for the moment I am getting income from renting out boxes," she said.
Father's guidance
When and if the famous yard is eventually sold, it will be the end of an era that began with her first winner at Rouen in 1978. A first Group 1 came later the same year via Sigy in the Prix de l'Abbaye at Longchamp, and the following year she became the first women to train the winner of the Arc with Three Troikas - owned by her mother, Ghislaine, and ridden by brother Freddy. Head-Maarek had bought Three Troikas as a yearling at Newmarket for 41,000 guineas.
Head-Maarek has no doubt who should received most thanks for her success. "I owe everything that I know as a trainer to my father [Alec, now 93], who patiently passed on his vast experience and knowledge of training racehorses," she said. "I was his assistant before he became confident in me starting out on my own in September 1977. His continued advice over the years has been invaluable."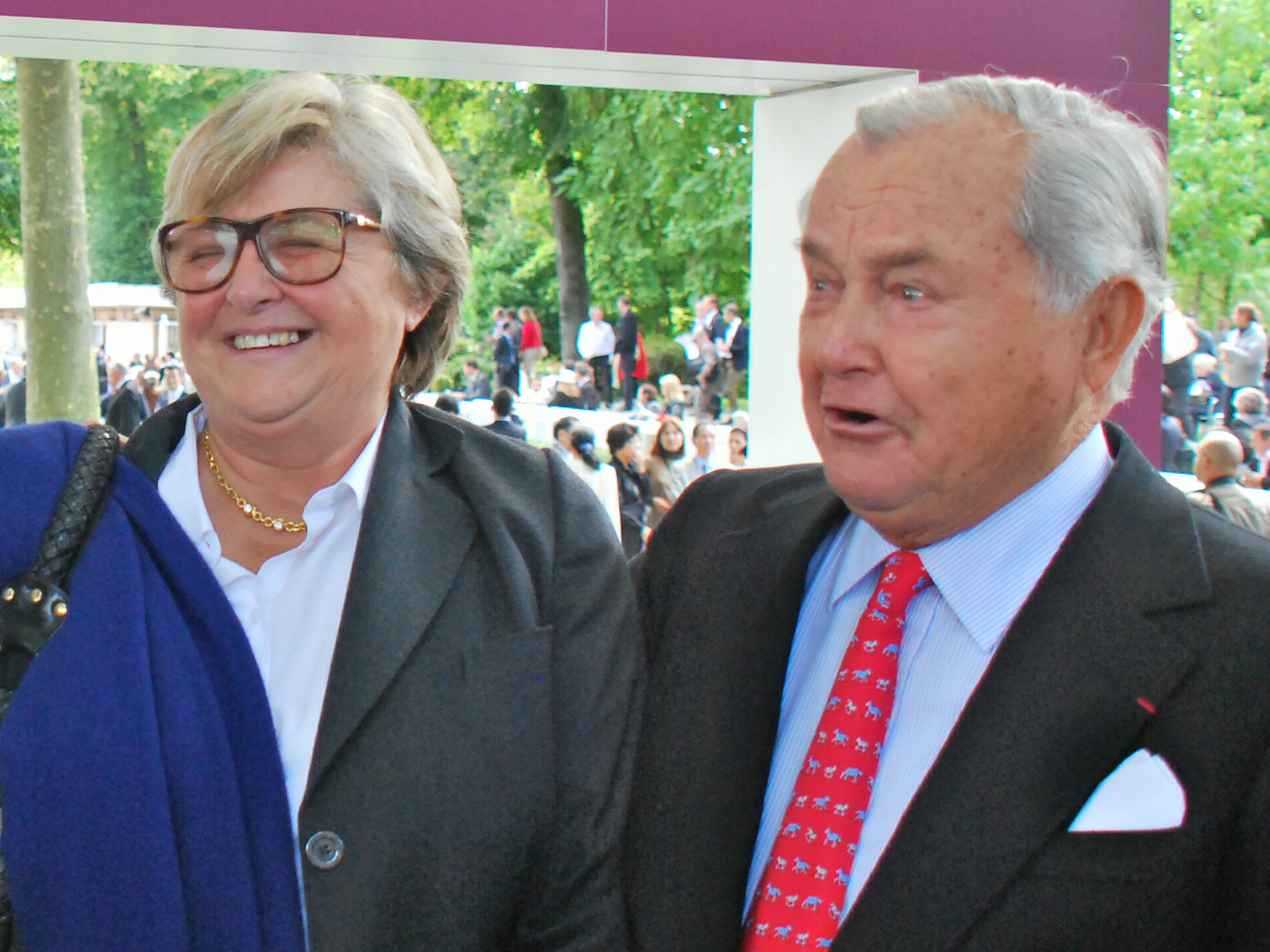 She added: "I have trained some top horses over the years and I wouldn't like to compare my Arc winners, Three Troikas and Treve. They were both champions. But certainly my 1986 Prix du Jockey Club winner Bering was my best colt. He would definitely have beaten Dancing Brave in the Arc that year if not suffering an injury inside the last 100 metres [finishing second].
"It would be impossible to separate the different Guineas winners as they were all good in their years, but Sigy was by far and away my best sprinter."
Fillies leading the way
Criquette Head-Maarek has trained a lot of top-class fillies in her career. "I always had more fillies than colts in my yard as I trained for a lot of top owners who were also breeders and they would send me more fillies than colts. Fillies need less work than colts and I was never hard with them on the gallops."
It was a recipe for success as results at top level show: fillies have been responsible for 53 of her G1 successes, colts 27.
Two of her fillies, Ravinella and Special Duty, notably completed the Cheveley Park-French and English 1,000 Guineas treble, Special Duty being awarded both Guineas in the stewards' room.
Head-Maarek's much travelled filly Hatoof completed the Cheveley Park-1,000 Guineas-Champion Stakes treble in Britain and won the Beverley D and the E P Taylor in North America.
"Each time one of my horses won was important, although the bigger races, like the Guineas or the Arc, give you a tremendous boost. My only regret was I never managed to win the English Derby or the Prix Jacques le Marois at Deauville."
The Head family still has a strong interest in training through brother Freddy and daughter Patricia, who is married to trainer Carlos Laffon-Parias (who trained 2012 Arc winner Solemia). And Freddy's assistant trainer son, Christopher, is set to become the next generation of the family to train in France, after recently receiving his full licence
Head-Maarek will still make the occasional visit to the racetrack. "The sport has given me the opportunity to travel the world and meet a lot of interesting people along the way, and I don't think I can live without racing. It's too much in my blood."