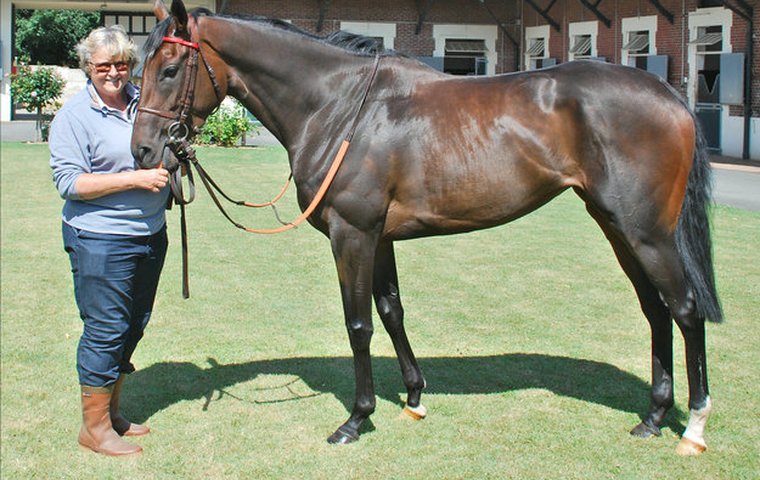 She's already a figure of huge significance in the sport, but on Sunday Criquette Head-Maarek has an outstanding chance to leave an indelible mark on the history of Thoroughbred racing when she bids to achieve something never done before - win the Arc de Triomphe a third time with the same horse.

Of course, the awesome 5-year-old mare Treve, who is odds-on to win the world's leading turf race, is an animal of prodigious natural ability, but don't believe for a second that she would be in this position were it not for the way her trainer has handled her career, nursing her through health issues, maintaining faith when most had written her off. Indeed, Treve's second Arc win at Longchamp last October is surely one of the great training performances of recent times.
Just like the elite horses she has trained in her 36-year career, Criquette Head-Maarek, who heralds from one of the world's most successful racing families, is bred for the job. Yet it's not just as a trainer that she is making a mark. Along with brother Freddie Head, another world-class trainer (and a former six-time champion jockey), she is at the helm of the family's Haras du Quesnay, one of the most powerful stud farms in Europe, and the birthplace of Treve herself.
Head-Maarek spoke frankly about the way she trains and how things work at Haras du Quesnay in conversation with John Gilmore - with occasional contributions from her father, the legendary Alec Head.
----------
Nobody wanted Treve as a yearling
Treve, the product of the 2009 mating of Motivator and the Haras du Quesnay mare Trevise, was put in the October 2011 Deauville yearling sale, but Head-Maarek bought her back for €24,000. "I was expecting at least three times this price," she said. "As it turns out, I was fortunate she didn't reach that level."
Alec Head added: "Treve had the pedigree on both the dam and sire side. Yearling sales anyway are just a question of fashion. And the reputation that there are not good stallions in France is also false. It's why a lot of buyers don't believe in our horses, although yearling prices at the top end are crazy. It's the rich versus the rich and, everything considered, I don't think you should be paying more than €200,000-300,000 for the best yearlings."
But she went for €8m two years later
Qatar's Sheikh Joaan allegedly paid €8 million for Treve after her win in the Prix de Diane in June, 2013. The deal was agreed jointly by Head-Maarek and her brother, Freddie Head, who are in day-to-day control of the farm. "In this game everything is for sale at the right price and the money gives us the means to further develop our stud," said Head-Maarek.
They wouldn't sell her mother though
Head-Maarek said: "Sheikh Joaan wanted to also buy the dam, Trevise [a daughter of Anabaa], but we refused. Being breeders of horses, we need to maintain the quality of our broodmares to ensure the future success of the stud and its progeny."
€1.2m was bid for her sister last month - but it wasn't enough
The Arqana sales ring at Deauville was overflowing with fascinated observers in August when bidding got underway for the as-yet unnamed yearling.
No confirmation has been given of the Heads' valuation (some rumours put it at €4 million) but certainly they were not impressed when the bidding stopped at €1.2 million, so the filly went back to Haras de Quesnay. The Heads have received private offers since, but Head-Maarek said the filly would be sold "only if we get the price we want".
Trevise lost her last foal after another mating with Motivator. She is not in foal this season.
Why it's so tough for breeders who take chances
Head-Maarek said: "Years ago breeding racehorses was not run on a strictly business sense by owner-breeders, but as a way of breeding to create something, as they were breeding to race, not sell.
"All this has changed during the past 30 years. We now have breeders in the business to sell and have gone from 40 visits to top stallions a season to 120-plus - and double this figure if shuttling for both North and Southern Hemisphere seasons.
"Today, if studs are different and don't to a certain extent follow the tide - by taking risks by breeding with a less well-known stallion, then they may have difficulty selling their yearlings at a profit."
Criquette: my faith in old-school training methods
Head-Maarek is one of the old school of trainers for both her horse-feeding policy and method of training, which hasn't changed over the years. "I feed my horses wholesome natural food of oats, carrots and artichokes, with no added vitamins," she said.
"The first lots go out throughout the year when it's light, around 6.30 in the summer but later in the winter months. The horses have plenty of walking exercise and cantering work on the gallops and in the forest."
She added: "A trainer, by experience, should be able to train without a vet and know just by looking at a horse its condition at any time and what to do if the horse is unwell.
"I never weigh or blood-test racehorses and only use my vet for serious problems. The first thing I do with an assistant trainer is to pass on this experience. Good horses anyway make good trainers and jockeys, not the other way round."
Happy to stick to that full-on schedule
"I only get six hours sleep a night but I sleep like a log," she said. "If I ever lose interest in getting up in the morning to watch the first lots, then that will be the time to stop, but at the moment it's a long way off.
"The only real break I get is in January, when I go and stay with my parents in the Bahamas for a month. I will probably slip down to Florida for a couple of days in January with my father, who has three horses there with Christophe Clement."
The birth of a great stud farm
The property that became one of Europe's leading breeding operations was badly run down when Alec Head and his father, William, acquired it in 1957. It was originally converted into a stud farm by wealthy American William Vanderbilt in 1907 but was abandoned before the Second World War.
It took a couple of years to get into shape but quickly a succession of top-class horses were being produced at Haras Du Quesnay.
"I was always fond of breeding," said Alec. "It's an important and very interesting part of racing, and I began searching for the best bloodstock - not only in Europe but also in the U.S. - to build up the stud."
The aptly named Lucky Dip was the first stallion to arrive at Le Quesnay and more than 40 have taken up duties since, including Dancers Image, Green Dancer, Le Fabuleux, Riverman, Artic Tern, Gay Mecene, Bering, Anabaa and recent additions Motivator and Youmzain.
The first G1 winner bred at Le Quesnay was Le Fabuleux, who went on to win the 1964 Prix du Jockey Club, trained by William Head for owner Mrs Guy Weisweiller. In total, the Heads have bred 25 G1 winners at the Haras Du Quesnay.
Ushering in a more commercial era
In 2009, Alec handed over the reins of Le Quesnay to his four children, who are equal partners, although Criquette and Freddie have day-to-day control. The stud is managed by Vincent Rimaud.
Head-Maarek said: "There was never any thought of selling the stud and we all wanted to continue the lifetime work that my father had put into it. The policy has not changed, but we are now running the stud on more commercial lines, having trimmed the mares to 48, together with around 70-odd boarders."
"Our breeding policy is to breed to sell the family-owned yearling colts at the sales and generally keep the fillies to race and later breed from the successful ones," said Head-Maarek.
In recent years, Le Quesnay lost stallions Bering, Anabaa and Highest Honour and replaced them with Treve's sire, Motivator (2005 Epsom Derby winner, in whom the family owns two of the original 50 syndication shares, plus full breeding rights now Motivator is standing at Le Quesnay), Youmzain, Fuisse and Mr Sidney.
"My father always liked Motivator as a racehorse and stallion," said Head-Maarek. "It was an inspired decision by him in 2009 to send Trevise to the Royal Stud in England to be covered by him, and again [he made a big contribution leading to] Motivator taking up stud duties at Le Quesnay from 2013."
The rise of Motivator
In his first breeding season at Le Quesnay in 2013, the son of Montjeu covered 135 mares. The figure was 122 in 2014 and 98 this year, even though his fee rose in 2014 from €7,000 to €15,000 on the back of his daughter's Arc success, along with a G2 win for another daughter, the now 5-year-old mare Cocktail Queen (out of Premier Prize), trained by Myriam Bollack. Motivator has produced 13 Group winners to date.
Previously the stallion stood at the Royal Stud in England. In 2012 and 2011, he covered just 45 and 59 mares respectively.
The promise of Youmzain
Youmzain, who was Arc runner-up three times (2007 to Dylan Thomas, 2008 to Zarkava and 2009 to Sea The Stars) has also been making his mark as a stallion at a fee of €3,000. His 23 winners since his first crop last year include Suits You, a juvenile winner at Royal Ascot in June, and the 3-year-old filly Sea Calisi, an impressive G2 winner at Saint Cloud the same month.
Things didn't work out for Mr Sidney
American stallion Mr Sidney, a G1-winning son of Storm Cat, has returned to Walmac Farm in Kentucky after a four-year stint at Le Quesnay having covered just 25 mares during the first year and only 15 in 2014.
"It's very difficult to encourage French breeders to have their mares covered by a stallion they do not know, even if the horse in this case has proven American form at Grade 1 level and good breeding lines," said Head-Maarek.
Breeders' Cup nearly horse a popular newcomer
The stud was strengthened by the arrival of Goldikova's five-time G1-placed brother Anodin in time for the 2015 breeding season.
Owned by the Wertheimer family and formerly trained by Freddie Head, he was a length runner-up to Karakontie at Santa Anita last November in the Breeders' Cup Mile, a race his sister won three times.
"Anodin is already proving very popular, covering 138 mares this season," said Head-Maarek.
Another newcomer is Intello, a son of Galileo and the 2013 Prix du Jockey Club winner, who arrived from Cheveley Park Stud in July to take up stud duties for the 2016 breeding season and will be at Haras du Quesnay for two years. " Breeders are already showing interest in nominations," said Head-Maarek.
Stallions for 2016: the numbers
For the 2015 breeding season at Le Quesnay, 331 mares were covered by four stallions (Anodin, Youmzain, Motivator and Fuisse). That was down on the 2014 total of 414, but that year there were six stallions (Motivator, Fuisse, Youmzain, Mr Sidney, Kentucky Dynamite and Dunkerque).
The latter two later left for just one season to take up duties at Haras de Sorelis at Pau in South West France and Haras Du Grand Chesnaie at Menil in the Pays Du Loire region, respectively.
They will be back at Le Quesnay in 2016, so, with Intello, the complement will be back up to seven for next season.
My greatest horses
Head-Maarek would not be drawn on which of her Arc winners she considered the best. "I have had some great horses over the years and my first Arc winner, Three Troikas, like Treve, was something special," she said. "I wouldn't want to compare them."
As for the colts, there was only one contender. "Bering, who we bred to win the 1986 Prix du Jockey Club, was easily the best," she said. "He would have beaten Dancing Brave in that year's Arc but for an injury in the last furlong.
"Sigy who won the 1978 Prix de l'Abbaye, was by far my best sprinter. My biggest disappointment in racing was when Millamix, my leading fancy for 2004 Prix du Jockey Club and owned by my father, broke a leg on the training gallops at Chantilly two weeks before the race and had to be put down."
Two final points about Treve in 2015 (no joy for her rivals here)
"This year Treve is physically stronger and back to her best, both in training and on the track as her performance in the Prix Vermeille showed," said her trainer. "And we now know how to shoe her better."