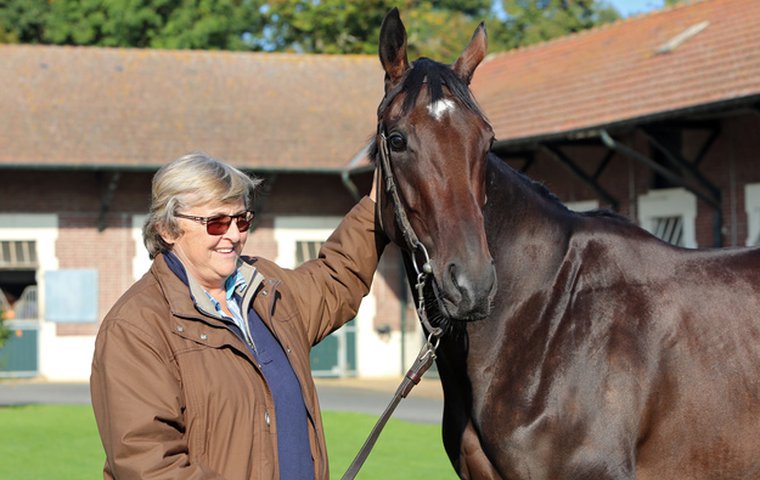 Imagine for a moment you are Criquette Head-Maarek at Longchamp just before 3:30 on the afternoon of Sunday, Oct. 5. Now try to feel the pressure you are under.

Here's a little help. At the same place 12 months earlier, you were the queen of racing, feted and celebrated, euphoric and triumphant, after Treve's astonishing five-length demolition of a field of superstars in the Prix de l'Arc de Triomphe. Things have changed quite a bit since then.
So majestic had been the 3-year-old filly's season – unbeaten and hardly tested in four starts, three of them at G1 – that she was officially crowned world champion (jointly with the Australian sprint titan Black Caviar) in the Longines World's Best Racehorse Rankings. The panel, including experts from every major jurisdiction, agreed there was no finer racehorse on Earth. Treve in 2013 had been better than Wise Dan, better than Orfevre, better than Novellist, better than Animal Kingdom.
Her owner, Qatar's Sheikh Joaan Al Thani and his Al Shaqab Racing, decided Treve should stay in training to try to win the Arc for a second time (a feat not achieved since Alleged 36 years ago).
And then it started to unravel.
To be fair to Treve, the problem initially had a lot to do with the expectations of a racing world completely seduced by the Head family's homebred filly and her barely credible dominance of 2013. Why else would she go off 30-to-100 favourite to win her first race of 2014 when it was as close to mission impossible as you can get?
The G1 Prix Ganay at Longchamp in April was a virtual match race against that extraordinary old warrior Cirrus Des Aigles, who had been mixing it with the best and had proved he was still close to his magnificent peak with a second in the $5 million Dubai Sheema Classic at Meydan a month earlier. Cirrus was fit and ready, this was his best trip (10 furlongs) and he was effective on the ground (very soft). Treve hadn't run for six months, she was warming up for a long campaign by running over a distance shorter than ideal on ground softer than she'd ever encountered against one of the best horses in the world.
Even without the benefit of hindsight, it should have been obvious that the word "difficult" wasn't going to get close to describing the task she faced. And Treve's performance – Cirrus prevailed by a short-neck after a sustained, attritional duel up the Longchamp straight with the rest strung out behind – should actually have enhanced her reputation rather than tarnish it as it did.
Unreasonably, a racing public that should have been even more in awe was disappointed. And the doubting began. Maybe Treve wasn't as good this season. Maybe she wasn't the certainty to win a second Arc we'd all assumed.
Seven and a half weeks later it got much, much worse.
The next day's headlines tell you all you need to know about the reaction to the filly's third-place finish in the Prince Of Wales's Stakes: "Treve flops in UK debut at Royal Ascot," "The Fugue storms to victory as inquest into Treve flop begins," "Another Treve flop blows Arc betting wide open."
Flop?
On a track she'd never seen before on ground firmer than she'd ever been asked to race on and again over the less-than-ideal mile-and-a-quarter trip, she was beaten in track record time by the razor-sharp, fast ground-loving, triple G1-winning, John Gosden-trained filly The Fugue, winner of the Irish Champion Stakes the previous September and a narrowly beaten favourite in the Breeders' Cup Turf a few weeks after that. Second, just a length ahead of Treve, was the horse who had edged out The Fugue at Santa Anita, Aidan O'Brien's Magician. And fourth, a length and a half behind, was another world-class animal, the charging, battle-hardened, 10-furlong specialist Mukhadram, who had been runner-up in the Dubai World Cup in March and would go on to win the prestigious G1 Eclipse Stakes at Sandown Park less than three weeks after Ascot.
Okay, so this wasn't what the crowd had hoped to see from the 8-to-13 favourite, the big draw in Royal Ascot's biggest race. They'd come to behold a superhorse, and they hadn't seen that. Treve hadn't set the world alight in the same way she had in the Arc, but it wasn't a bad performance either, not against that lot on that day. Not that anyone was prepared to see it that way.
Jockey Frankie Dettori asserted that Treve hadn't felt right on the way to the start. Head-Maarek insisted: "Her action was not right, but I don't know why. Maybe we'll discover something when we get home."
But nobody was convinced. There was nothing wrong with Treve, the theory went. She was just not as good this year. The Arc was almost certainly beyond her this time.
Some began to doubt Criquette Head-Maarek. Okay, she was once a great trainer – more than 100 G1s around the world (including two Arcs) attested to that – but was she the same force these days? She had been consistently in the top three trainers in France during the '80s and '90s, at one time having up to 150 horses in training. But the numbers had fallen to around 60 in recent years, since her recovery from cancer, diagnosed in 2005, and the big wins were far fewer. She would turn 66 in November. Was her judgement quite as sharp nowadays?
Head-Maarek discovered that something had indeed been wrong with Treve at Ascot, and she set about putting it right.
The filly was diagnosed with a condition known as "kissing spine," where a section of the bones attached to the vertebrae are too close together and impinge on each other. She was treated and given a complete rest for a month.
"Treve began light training in August, switching to a lighter girl work-rider rather than the previous, heavier boy," Head-Maarek said. "The saddle was also changed in design to protect the spine and the blacksmith moulded a special shoe to alleviate the problem of flat feet."
Head-Maarek took one other step. She got Sheikh Joaan to agree to replace Dettori, the No. 1 jockey for Al Shaqab, with French rider Thierry Jarnet. Jarnet had ridden Treve to win the 2013 Arc and Head-Maarek was convinced he had a better understanding of the filly than Dettori.
The big test came three weeks before the Arc. Had the measures done the trick? Could Head-Maarek return Treve to somewhere near her best? Treve was back at Longchamp, back on good ground, back over a mile and a half, back in the G1 Prix Vermeille, a race she had won comfortably a year earlier. The opposition did not look strong.
Treve finished fourth.
And that, as far as the public was concerned, was that. Treve was no longer a realistic Arc contender. There wasn't really much point in her running in the race. Sheikh Joann, who had reportedly paid the Heads' Haras du Quesnay stud €8 million for the filly after she won the Prix de Diane (French Oaks) at Chantilly in June 2013, should spare connections any embarrassment and pack Treve off to begin life as a broodmare.
Head-Maarek had still not lost faith in the filly. She believed Treve had needed the race in the Vermeille. But she stood virtually alone. Even Jarnet had his doubts. "He told me that maybe she should be retired," Head-Maarek said later. "I said 'Thierry, no. If you come back in 10 days, you are going to ride a different horse.'"
But the trainer wasn't quite alone. Sheikh Joaan stood by her. He agreed Treve should still go for the Arc.
"I never listen to people and I back my own judgement," Head-Maarek said. "If I had [listened to them], she would have gone to stud after the Vermeille."
The trainer had actually been happy with the Vermeille run. "The filly was a bit rusty, having been off the track for some time and only having been back in training for a few weeks," she said.
After the race, Treve was left to hack in the forest for eight days and, with the Indian summer weather, she began to bloom.
"Ten days before the Arc, I called Jarnet to give her a test over 2,200 metres with a lead horse and to just let her go over the last 400 metres," Head-Maarek said. "She flew like a rocket at the end and Jarnet couldn't believe the improvement since the Vermeille."
The following Tuesday, she had her final gallop on a gloomy, foggy morning on the famous Les Aigles turf behind Head-Maarek's stables at Chantilly, near Paris, and again showed the same magic turn of foot - so much so that the trainer's 90-year-old father, Alec, himself the trainer of four Arc winners, told everyone within earshot afterwards: "Treve will win the Arc again."
But very few people at Longchamp on Sunday Oct. 5 had heard that message, or took much notice of it if they had. Treve was all but written off – at 11-to-1, she was sixth favourite as the gates opened.
At that point, Criquette Head-Maarek had just 2 minutes, 26.05 seconds more to endure of the ever-building pressure that had burdened her so heavily for most of the year. A bit less actually, because she began to relax before the field had turned for home.
"I could see in the false straight [just before the final turn] that she was going to win," the trainer said later, quoted by Greg Wood in The Guardian.
Head-Maarek was spectacularly vindicated as her superhorse lit up Paris once again – sprinting past some of the best horses in Europe to win unchallenged by two lengths – and a thousand or more jaws dropped in utter disbelief.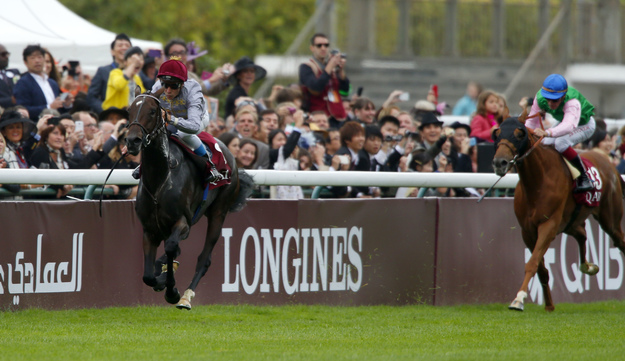 The headlines were a shade more positive this time: "Wonder mare Treve wins the Arc again," "Treve's Arc win a monumental achievement for Head-Maarek," "Superb Treve emulates Alleged with second Arc win."
After the race, Harry Herbert, the winning owner's racing manager, described it as "one of the great training performances." He added (quoted by Wood in The Guardian): "I think we all had our doubts at some stage. There were downs and depressions, maybe she's not trained on. But not once did the trainer lose faith. Not once."
The Racing Post's official form-book post-race comment on Treve's performance read: "Took keen hold, midfield in touch on inner, smooth headway to challenge 2f out, soon shaken up and quickened to lead, ridden and stayed on strongly final furlong, easily."
Well beaten in second was the outstanding Juddmonte 4-year-old Flintshire, who would go on to run Main Sequence to half a length in the Breeders' Cup Turf. Third was Taghrooda, who had won the King George at Ascot in July. Fourth, four lengths back, was St Leger hero Kingston Hill, who had run Australia to a length and a quarter in the Epsom Derby.
You may think then that this would entitle Treve to top billing again when the World's Best Racehorse Rankings were being worked out on the experts' slide rules. Not a bit of it. Such are the nuances of international ratings that her performance in the Arc (based on the perceived abilities displayed by her opponents on the day) was assessed 5 pounds below that of the Japanese 4-year-old Just A Way (who finished eighth in the Arc) in the Dubai Duty Free over a mile and an eighth at Meydan in March.
Not that any of that will worry Criquette Head-Maarek. Treve has been a labour of love for her since the day she was born on April 7, 2010. The product of the 2009 mating of Motivator and the Haras du Quesnay mare Trevise, she was put in the October 2011 Deauville yearling sale, but Head-Maarek bought her back for €24,000. "I was expecting at least three times this price," she said. "As it turns out, I was fortunate she didn't reach that level."
Trevise currently has a filly foal by Motivator and is in foal again to Motivator.
And such is Sheikh Joaan's faith in Criquette Head-Maarek that Treve will be back in training in 2015 – with the aim of becoming the only horse ever to win the Arc three times.