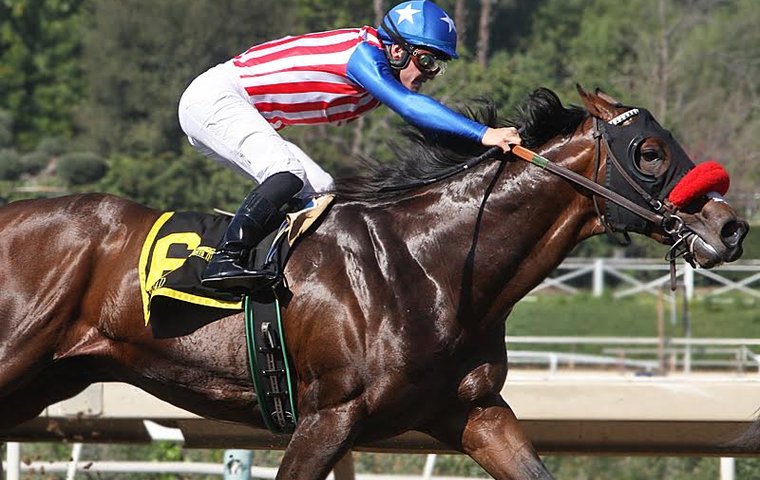 Twice in the past five years, trainer Doug O'Neill has tried taking a horse through the entire Triple Crown, capturing the Kentucky Derby but falling short in his quest for American racing's most fabled prize.

In 2012, I'll Have Another won both the Derby and the Preakness Stakes, but minor injury knocked him out of the Belmont Stakes the day before the race. Last year, unbeaten Nyquist became just the second Breeders' Cup Juvenile winner to take the Derby, but he finished a game third in a muddy Preakness and was found to have an elevated white blood cell count after the race. Nyquist also missed the Belmont and never won again.
Just one year later, O'Neill brings forth Iliad, a sleek son of Ghostzapper who is likely to be the favorite for the G1 Santa Anita Derby on Saturday. Iliad has proven himself to be a gutsy, classy performer, and will have the chance to vault to the top of many Triple Crown lists with a win in California's premier Derby prep. But, unlike I'll Have Another and Nyquist, Team O'Neill did not develop Iliad. In fact, the sophomore colt only joined the O'Neill barn in late December after being campaigned as a juvenile by Hall of Famer Bob Baffert.
"He just kind of slipped right in to our program," O'Neill said of the transfer, which happened when owner Kaleem Shah parted ways with Baffert following an eight-year business relationship. "He came to us ready made and in good shape. We were majorly excited about the possibilities with him"
Same starting point as Nyquist
Iliad had debuted December 3 at Del Mar, finishing a weak ninth of 12 runners. Baffert wheeled him back at Los Alamitos just 15 days later and Iliad broke his maiden in style, scoring by 3½ lengths.
Two weeks later, he departed Baffert's Santa Anita barn for O'Neill's stable several hundred yards away. "He was coming off a huge effort at Los Alamitos, so we picked the San Vicente for him," O'Neill said. The trainer used the same race as the starting point for Nyquist in 2016.
A short but competitive field of five went to the post in the seven-furlong, $200,000 G2 San Vicente, a race that, aside from Nyquist, most recently produced Kentucky Derby winner Silver Charm in 1997. The well-regarded Battle Of Midway, who is also targeting the Santa Anita Derby, went favored, but Iliad thrashed the field, winning by 3½ lengths after stalking the early pace.
A thrilling matchup of leading Derby candidates Mastery, Gormley, and Iliad was slated for the $400,690 G2 San Felipe Stakes on March 11. The 1 1/16 mile event lived up to the hype, with the big three runners in a line turning for home, but Mastery pulled away and ran off to a 6¾-length victory. His reign as California's brightest Derby hopeful ended shortly thereafter, as he was pulled up with a fracture and never made it back to the winner's circle.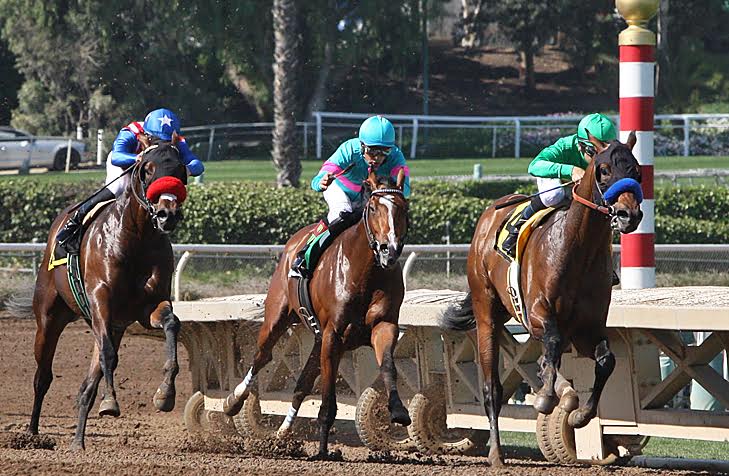 While no one wants to see a top runner hurt, the boyishly charismatic O'Neill, known for his accommodation with both media and fans, believes he has the horse to beat since Mastery's defection. "When you get lucky enough to land a horse like Iliad in your barn, you really just need to stay injury free and let them do everything else."
While many horses on the Triple Crown trail eventually face the question of whether or not they will handle the 1¼ mile distance of the Kentucky Derby or the 1½ miles of the Belmont, the distance should not be a problem for Iliad. Although his You And I dam Little Swoon only won sprinting, her first foal – Iliad's half-brother – is the popular marathoner Melmich.
Melmich, a gelded son of Wilko, has earned $579,890 largely by winning route races. He has won twice at 1 5/8 miles, and took a 1¾-mile stakes race by a commanding 10¼ lengths. He finished fourth, beaten a nose for third, in the G2 Marathon Stakes on the 2016 Breeders' Cup undercard at Santa Anita. At the time, Iliad was preparing for his debut just yards away.
"Distance is something that Shah and I spoke about," O'Neill confirmed. "Until you actually succeed going two turns, you look for the little things, and having a sibling that is a true marathoner is a big thing. Even though we ran second in the San Felipe and didn't win, he ran a credible effort behind an amazing horse that won. We are looking to move him forward off that effort and get him to the point where he can mimic his brother at a distance."
Iliad, who has earned $227,345 with two wins in four starts, is generally easy to train, but has an odd quirk that keeps the O'Neill staff on their toes. "He's straightforward for the most part, but he can be a little crazy about lead ponies," O'Neill explained. "He will follow the pony, but he doesn't want to go alongside. He's a strong-minded individual, very confident, but he's not a show-off and he doesn't act up. Other than giving the pony grief from time to time, he's pretty easy."
The prospect of another Derby starter has O'Neill quietly hopeful.
"It's definitely something that's been exciting to think about," he admitted. He won the Santa Anita Derby in 2012 with I'll Have Another, then again just a year later with Goldencents. His barn is planning to send out as many as four horses in this edition of the prep race. He said, "Our goal is to surround ourselves with incredible horses and go from there."