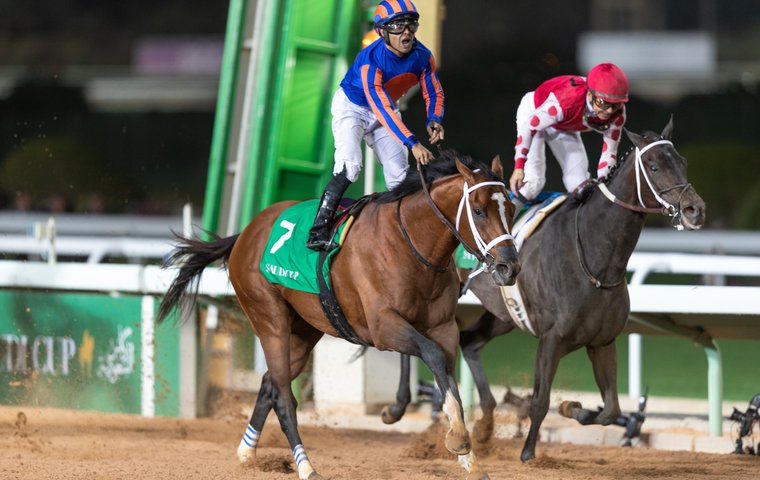 Money isn't always everything, and offering the richest prize the sport has ever seen could easily have been left looking little more than an exercise in hubris without a race – and more specifically a racehorse – to match its status.

Fortunately for everyone concerned with the inaugural edition of the $20 million Saudi Cup, the headline act delivered a headline performance as Maximum Security denied a phalanx of world-class horses in an absolute thriller, run medication-free, beneath the banks of floodlights at King Abdulaziz racecourse on the outskirts of Riyadh. Let's call it a case of the Max factor.
In a brutal, contentious and in the end controversial race, the horse who had been disqualified after passing the post first in last year's Kentucky Derby secured the most lucrative redemption possible.
Responding valiantly in a driving finish, Maximum Security wore down front-runner Mucho Gusto in the stretch before holding late-running compatriot, the champion mare Midnight Bisou, by three-quarters of a length. Godolphin's Benbatl ran a fine race to claim third, denying a clean sweep for the much vaunted U.S. visitors, for whom Macho Gusto kept on well enough for fourth with another American, Tacitus, in fifth.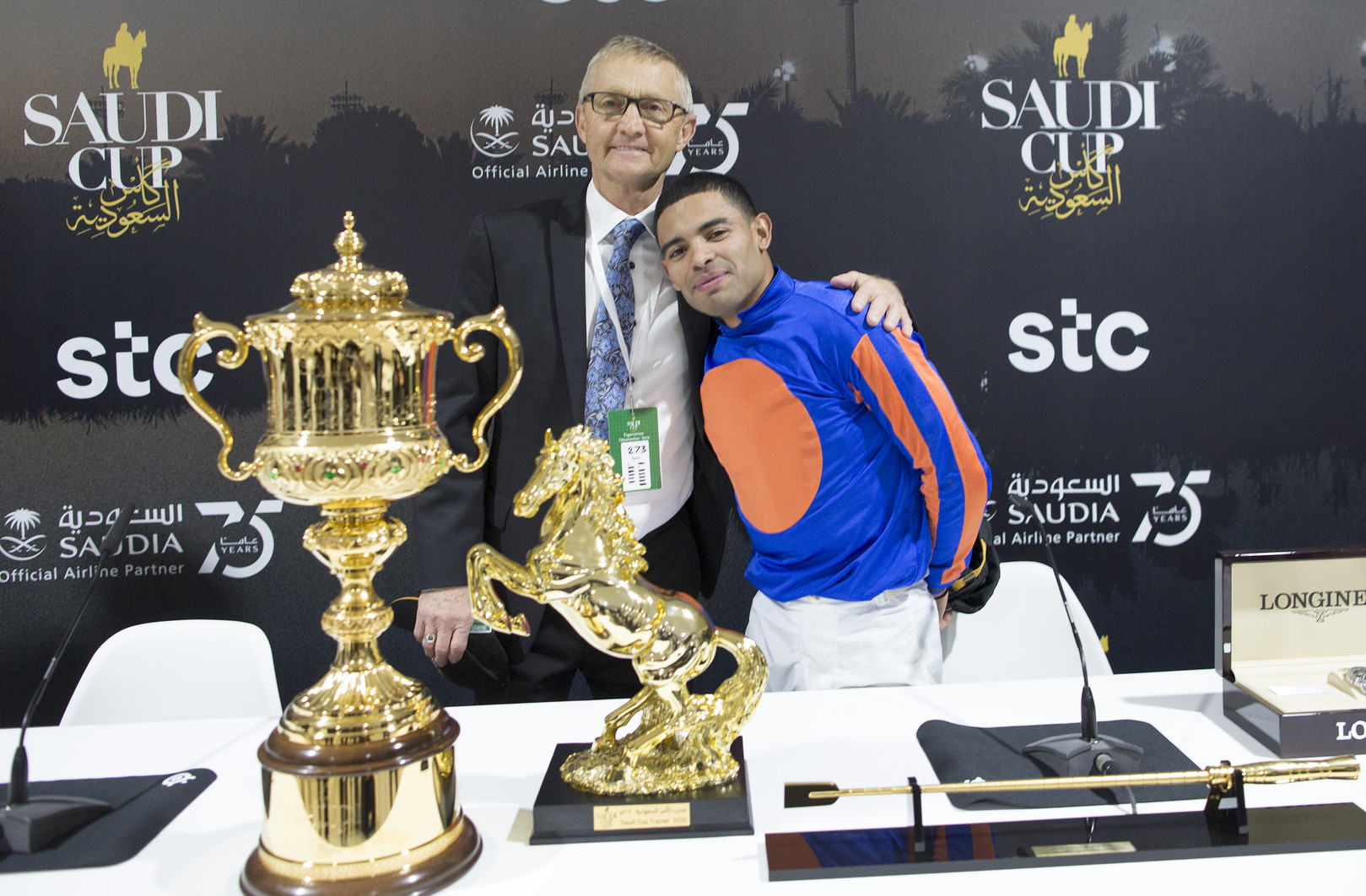 Midnight Bisou's rider, Mike Smith, the world #6, was later at the centre of a storm when it emerged he had been banned for a total of nine days for whip offences, giving him a total ban of 11 days from the meeting. In addition, the rider known as 'Big Money Mike' was hit where it hurts - in the pocketbook, forfeiting more than $200,000 of his share of prize-money.
Which has to be regarded as more than a trifle unfortunate, because this was a truly outstanding contest with a brilliant winner. Mind you, even Maximum Security's trainer, Jason Servis, could not help but reflect on another notorious episode, when his colt was thrown out by the Kentucky Derby stewards for interference, handing the race to Country House.
"It's gotta be some vindication," admitted Servis, who has never really been in the spotlight in a long training career. "Man, that horse has a lotta heart, right?" the 62-year-old went on. "He's just some horse. I can't believe it, it's going to take about a week for it to set in."
Winning jockey Luis Saez, seen to excellent effect in a brilliant ride, was also left marvelling at Maximum Security's effort. "That's what the world was waiting for from Max," said the Panamanian. "He was very, very impressive. Everybody wanted him to fight and we did it today. He's the toughest horse I've ever seen in my life. This is a big deal. It's amazing – he's the true Kentucky Derby winner."
Sent off 2/1 favourite with British bookmakers, Maximum Security entered the race as perhaps the only horse in the field with pretensions to proper superstar status. Well, guess what? The 4-year-old is a superstar now, bettered only once at the wire in a ten-race career that started off, incredibly enough, in a low-level maiden claimer. Yes, irony of ironies, the winner of the richest race ever run could have been yours for just $16,000 at Gulfstream Park on his career debut.
Okay, he won by nearly ten lengths – but he wasn't even favourite !
Maximum Security's most remunerative display owed as much to courage as talent as he was forced wide throughout, four or five paths out on the sweeping turn into the stretch, where Saez seemed to be asking serious questions.
Irad Ortiz looked to be exuding confidence on leader Mucho Gusto, even taking a peak behind to see if anything was challenging as he entered the long stretch. Bob Baffert's Pegasus hero looked set to complete a famous double as he opened up a couple of lengths, but Maximum Security dug deep and kicked again as Saez switched him to the inner for the final winning assault.
Saez, 27, thanked the heavens after the race, crossing himself before returning to unsaddle in the parade ring in front of the packed grandstand at a ground-breaking event for the Kingdom of Saudi Arabia.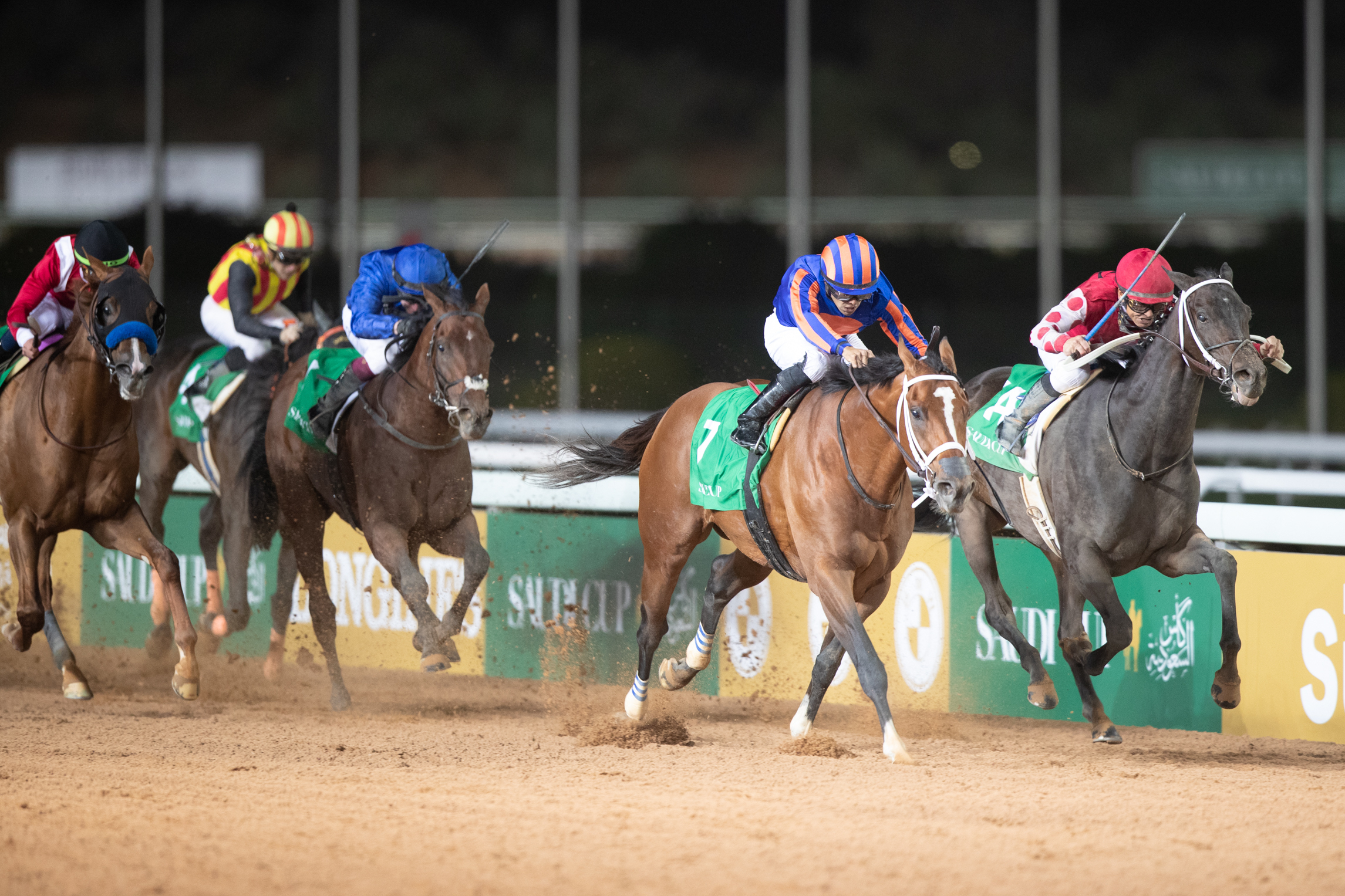 "Today was a historic moment for me, for Jason, for Max, for everybody," said Saez, currently #38 in the TRC Global Rankings, who had looked a broken man after the Kentucky Derby disqualification. Now he seemed to be struggling to take in the magnitude of his achievement.
"Oh my God – it's just amazing to travel from far away and get this victory for the United States, for Panama, for all my people," he said. "It was tough. When we broke from the gate, it was tough, Even behind the gate it was tough! He is amazing and has a big heart."
Both Servis and Saez criticised the riding tactics of Ortiz on Mucho Gusto. "I don't want to sound harsh but it was a little bit of a dirty match," said Saez. "My horse wants a fight, but he was carrying me a little bit out. I waited so that I could jump inside in the stretch and he gave me that kick so we can be there and that moment we attacked."
Servis decided discretion was the better part of valour – easier to do, one imagines, when you've just landed a $10m first prize. "I'm trying to hold back because I was a little upset with Irad Ortiz carrying me out the backside and he carried me out at the turn," he said. "Max ducked inside and he came down on me, but that's a story for another day. He ran hard and I thought he was a little creased up in behind."
With Coolmore having bought into a partnership with original owners Gary and Mary West, Maximum Security carried the colours of Michael Tabor for the first time and will stand at stud in the States at the end of his racing career.
However, the Irish behemoth's representative, MV Magnier, confirmed the son of New Year's Day will stay in training for the remainder of his 4-year-old season before any decision is made on his future. Magnier also admitted he hadn't been entirely confident during the race. "There were a couple of flutters, all right," he smiled.
There was to be no immediate decision on Maximum Security's next target, with Servis sounding reticent about the prospect of attempting a lavishly endowed Middle East double in the Dubai World Cup at Meydan in four weeks' time.
"Ah, I would like to get back to the barn before I say anything about that," he said. "He ran hard, he really did. I don't know — we'll look and see how he is about whether he'll make the Dubai Cup or not."
There was a double blow for Mike Smith after being beaten into second as he was banned for eight days for using his whip 14 times on Midnight Bisou, four more than the permitted ten-strike limit; he was also suspended for another day for using the whip with no regard to the horse's stride; and he forfeited 60 percent of his share of the $3.5m second-place prize-money. The veteran, who won Friday's male-v-female jockey challenge, had already incurred a two-day ban for not weighing in after finishing fifth in an earlier race to take his total Saudi suspensions to 11 days.
Smith said after the race he was "so proud" of Midnight Bisou. "She ran awesome," he said. "I did everything but we didn't come first, but she won, do you know what I am saying?"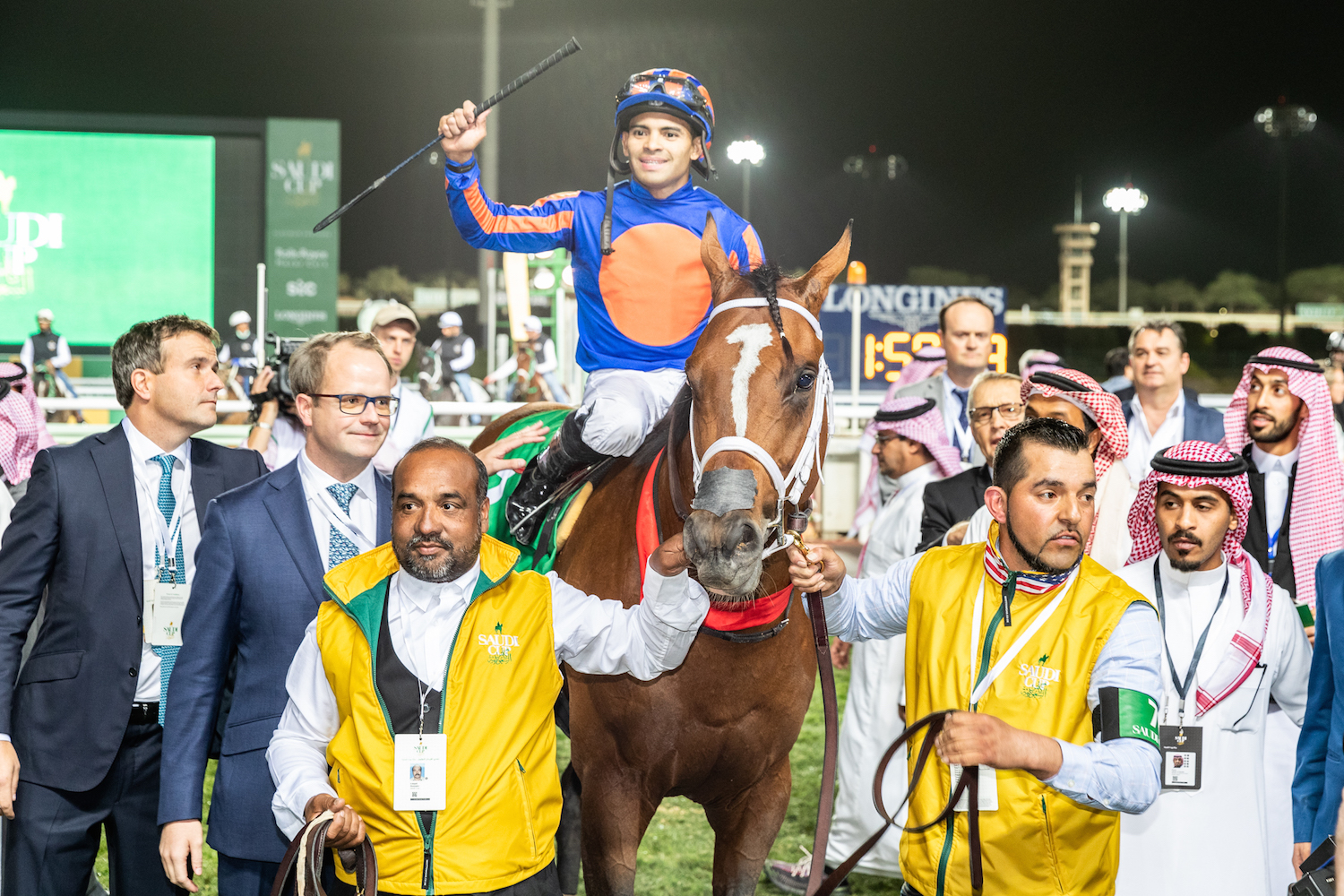 Oisin Murphy lauded a "stormer" from Benbatl; he is now likely to run in the Dubai World Cup on Godolphin home territory at Meydan.
Coolmore's second runner, the much travelled Magic Wand, ran a respectable race for Aidan O'Brien on her dirt debut before fading to finish ninth. "She ran super, bless her," reported Ryan Moore. "She got tired on that surface. It's just a different style of racing and it found her out. She felt magnificent and she ran her usual honest race.
"She was on top of them turning for home, but it's a different type of race and she's running with very, very good American dirt horses."
Indeed she was, and their presence alone did much to legitimise the Saudi Cup at a single $20 million stroke.
Nearly four years ago, Saudi Arabia's Vision 2030 blueprint was unveiled, outlining the bold project that aims to diversify the Kingdom's economy and reduce its dependence on oil. Tourism – and therefore, sport – are an integral part of this initiative, in which context the Saudi Cup is a stunningly ambitious statement of intent.
A top-class field featuring five of the best dirt horses in America plus stars from Japan, Ireland and Dubai suggested we might be seeing something special. Maximum Security ensured that we did.
Rather like Cigar in Dubai 25 years ago, almost on his own, he put Saudi Arabia on the racing map.
Bans for Irad and Oisin
It later emerged that the champion jockeys of both the U.S. and Britain - Irad Ortiz Jr and Oisin Murphy - had received bans over the two days.
Ortiz was suspended for eight days for excessive use of the whip in the final race on Friday, and another two days for the same offence in the Saudi Cup. The world #7 was fined ten per cent of his prize-money share.
Murphy, world #21, was given a two-day ban for excessive use of the whip on beaten favourite Deidre in the $2.5m Mohamed Yousuf Naghi Motors Cup, one of the highlights of the enthralling undercard.