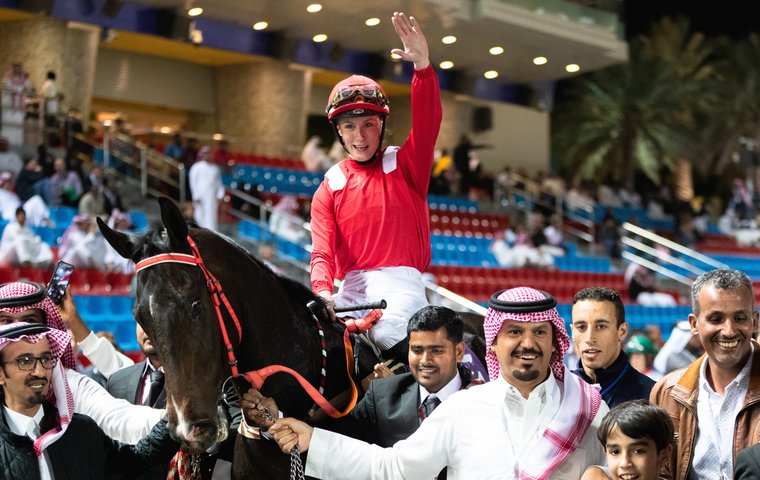 'Big Money' Mike Smith won the inaugural men-v-women jockeys' challenge in Saudi Arabia - but it was a mere footnote in the significance of a day in which Kiwi star Lisa Allpress made history by becoming the first female to ride a winner in the Kingdom.

U.S. Hall of Famer Smith, who is ranked #6 in the world, captured two of the four races at Riyadh's King Abdulaziz racetrack to earn the $30,000 first prize, but the headlines belonged to Allpress and Swiss jockey Sybille Vogt, who claimed the other two in what was already a significant week for female jockeys.
The women filled the next three places on the podium behind Smith, who secured 33 points, as Vogt (29) was second and Allpress and France's Mickaëlle Michel (both 15) tied for third place at the end of an event in which the bigger names, like Frankie Dettori, Irad Ortiz Jr and Yutaka Take, were down the field.
In a country trying to show a more progressive face to the outside world, the stc International Jockeys' Challenge, held on the eve of the first running of the world's richest race, the $20 million Saudi Cup, was created to symbolise how far it has come and where it is heading.
No women had ever ridden in a competitive race in Saudi Arabia until the gates opened for the first race, a 7f handicap on dirt, but Allpress, New Zealand's 44-year-old three-time champion jockey, made an even bigger statement.
With the race looking set to be claimed from the front by Olivier Peslier, Allpress galvanised her mount, Matmon (owned by the Saudi Royal Family), to steal up the Frenchman's inside and snatch victory by a quarter of a length.
"Where I come from, it's not a crazy thing for a woman to be riding in the big races. I'm just happy to be here but also extremely thankful," said Allpress.
"I could see myself running third and then second and then I just forgot about the whip rule and just kept going. The horse was laying in too much and I thought I needed to get the momentum so I let him balance up another stride and kick through the inside.
"I was very surprised to get that route against world-class jockeys but his horse had been doing all the running and it was probably coming to the end a little bit. My horse was always running."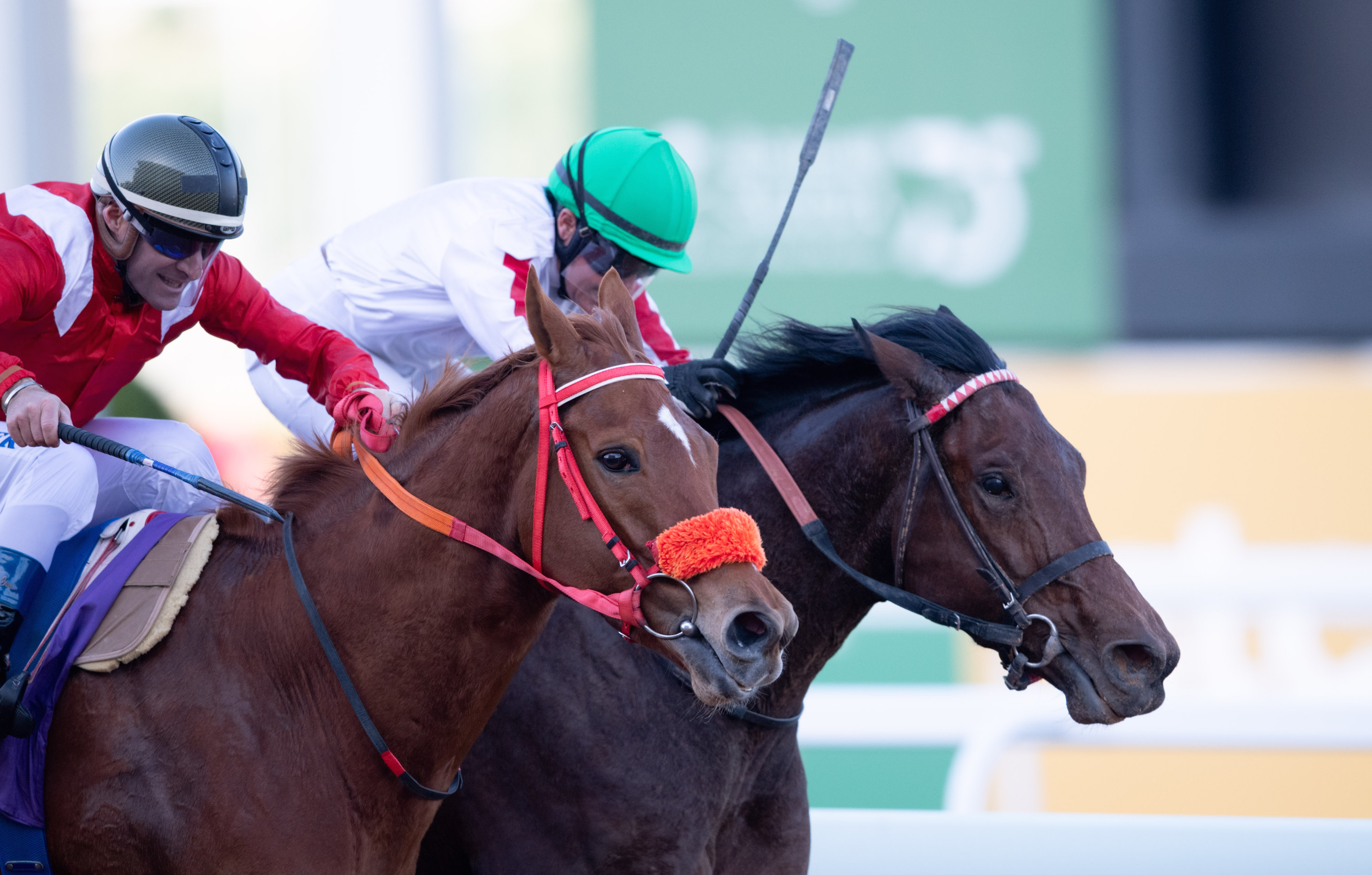 Vogt, who is based in Germany, said, "I have won 96 winners before now and now it's 97 and I'm so happy I can win here. It's a big event for me to ride with all these female jockeys and boy jockeys.
"My idol is Frankie Dettori and I'm so happy he was behind me."
Smith, 54, has other priorities over the weekend when he seeks to add to his haul of lucrative prizes in the $20m Saudi Cup on Midnight Bisou. "At my age I'm stoked to win this jockeys challenge." he said.
"I was hoping to do well in the challenge and then we have the Saudi Cup tomorrow and I'm really, really looking forward to tomorrow."
The Saudi Cup meeting is the latest sporting event to fulfil Saudi Arabia's Vision 2030, a bold project aiming to diversify the economy and reduce its dependence on oil.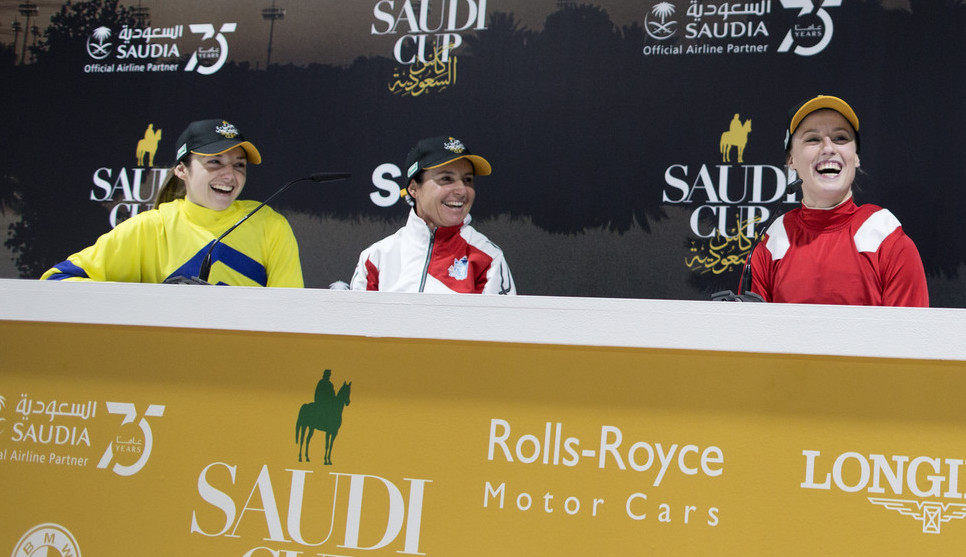 Prince Bandar bin Khalid Al Faisal, the chairman of the Jockey Club of Saudi Arabia, hoped the jockeys' challenge, contested by seven of the world's best male and female riders, would provide "a wonderful talking point" and "inspire our young people and others around the world to consider what can be achieved in the sporting sphere".
Sophie Doyle, the British rider who competes in the U.S., said the event was a step in the right direction. "To come from ten years ago to be told 'No, you can't ride here' to now having two women win here tonight is phenomenal," she said.
"To be able to showcase to the women in Saudi Arabia what we can do against the men will really help them to empower themselves and bring forward what they want to do in 2030.
"We love our job and it's amazing that we are able to travel across the world and perform in front of all of these people, especially in a country like Saudi Arabia, where finally females can come.
"It is fantastic that the King is able to use the horseracing community to help bring forward what he wants for the country. Like everything, it takes time, it's small baby steps. Once it reaches its goal it will be brilliant."
Canadian Emma-Jayne Wilson, a fine second behid Vogt in the final event, said, "I am happy and proud to be part of such a momentous event."