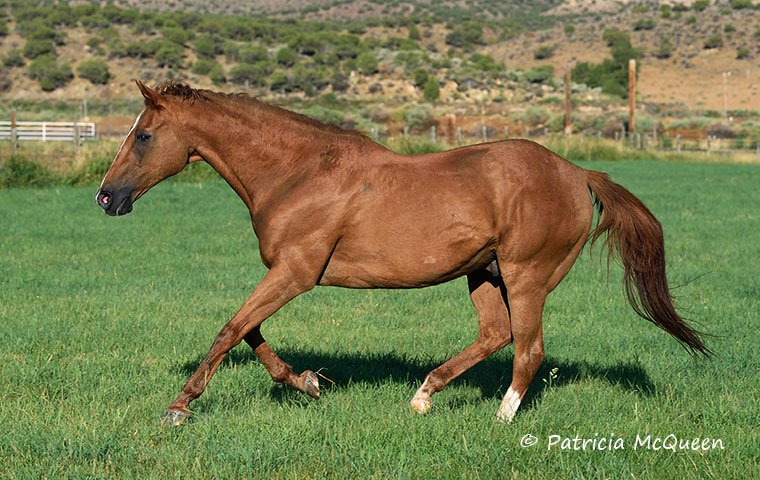 There are less than a handful left. Only four known living sons and daughters of Secretariat, ranging in age from 29 to 31. Two mares (Ball Chairman and Trusted Company) and two geldings (Border Run and Secret Of The Sea). They all seem to be thriving now, but at these ages their owners know that every new day is a blessing and a gift.

It was time to revisit the two sons this summer. Border Run is 31, while Secret Of The Sea (known as Strider these days) is a youthful 29 and the only known surviving member of Secretariat's last crop.
Border Run's claim to fame – aside from his mere existence in 2019 – is as a full brother to the speedy Terlingua, a mare who helped shape the breed with her son Storm Cat. Not surprisingly, he has become a bit of a celebrity for Curtis and Margo Wright, who acquired the gelding in 2011. He has received a few visitors over the past couple of years; most have been racing fans local to the Seattle area, but Troy Keller traveled a bit further.
"As a lifelong Secretariat fan, believe me when I say that meeting Border Run was a dream come true," said Keller, a Kentucky resident who visited the gelding earlier this year while on business in Washington. "I was awestruck to say the least. Standing in the presence of racehorse royalty was an immense honor, but interacting with him was the icing on the cake. He's as sweet as the treats he cajoled from me that day. I thoroughly enjoyed every minute I spent with him, and I can't thank the Wrights enough for their hospitality."
Border Run is a member of the family's three-horse herd, the others being 23-year-old Thoroughbred Anniversary Year (AY) and a Quarter Horse named Harley. Last March, an elderly pony named Opie died at the age of 36; she had been AY's best friend for about ten years. AY reacted to the loss by transferring his affections to Border Run.
The two had been friendly before, but now they are inseparable. "They kind of need to be together at all times. Margo calls it a 'bromance'," Wright said, laughing.
Healthwise, Secretariat's son has been fairly low maintenance in his senior years. He has had some trouble with his feet, although his tendency to develop abscesses has lessened over time. As if to prove that his feet are pretty good these days, the gelding had no problem running around recently when the farrier came for a regular visit. Feeling ornery, he (and of course his pal AY) led Wright on a merry chase around the pasture until an accidental step on a small rock quickly changed his mind. "The farrier and I became pretty popular at that point!"
Border Run is still in love with the Gravenstein apples on the tree behind the barn. "He's in heaven out there when they are ripe enough for him to knock off the tree. They are nice and soft." He will also eat all the carrots he can get, and enjoys watermelon (complete with rind) and bananas, along with horse cookies.
Even with all the treats, like many old horses, Border Run's biggest problem has been maintaining weight.
"Every year it gets tougher and tougher, and recently I changed up his feed to try to get some weight on him," explained Wright. After intensive investigation, he started giving the gelding LMF Gold. "He's pretty level-headed, so it hasn't really changed his demeanor at all, and he has slowly put the weight on."
Supplemented with other products and additional flax meal, Border has gained a little weight and has a shiny coat. Wright also thinks the food change has helped his feet, so overall he's happy with how the gelding is doing.
"Border won't go on forever, but right now he's in good shape," he said. And he's philosophical about his role as caretaker of one of the last Secretariats. "It's Border's world – I'm just living in it."
Bless the chiropractor
Keeping weight on is also an ongoing issue with Secret Of The Sea, aka Strider, who has lived in Colorado with his proud humans, Scott and Linda Riba, since 2011.
A year ago, Linda thought the Darley-bred gelding was looking a little frail, so a food change was in order. He now gets Nutrena senior feed, wetted down to help him eat, along with various supplements. He has a good appetite for sure, although he has a naughty habit of flipping his food out of the feed tub and ends up eating it off the stall floor.
"Maybe he's trying to find more carrots," said Linda. "He gets more carrots than a horse probably ought to have!"
While he likes horse cookies, they are sometimes too hard for him to eat. The carrots are softer, and are his favorite food. "It's not like he's spoiled or anything," she said with a smile.
Strider belies his 29 years, and his gelded status, when he's with his 'girls' – the Ribas' two mustang mares in their late teens. They are very attracted to the old gelding, and he reciprocates. Last year a new horse – Rio, then ten years old – joined the small group, bringing the herd up to six. The mares went to check Rio out when he was introduced to everyone in the pasture. "Strider was not happy!" exclaimed Linda, adding that the old gelding rushed to get between Rio and the mares, acting all studdish like a young stallion with other things on his mind.
Age does have its privileges when the horses are turned out. While the mares always go out first, as the senior member of the herd Strider has to go out next, before the other geldings. "Otherwise, he pitches a fit," and of course the Ribas abide by his wishes to make sure he doesn't hurt himself.
Even if he were to strain something in his enthusiasm, he now has a chiropractor waiting to help him. "He just loves her," said Linda. "You can actually see it in his expression when she adjusts something and it goes back in right. His expression softens."
For her part, the chiropractor is thrilled to be working with a living legend. When she learned who Strider was, she had her photo taken with him. The next time she came, she brought her visiting parents, and they wanted photos with him as well. That old Secretariat magic lives on through the personable gelding.
Like Border Run, Strider has had very few health issues. He's weaker in his hind end these days, and has his own problems with the occasional abscess on a foot, but overall he has been very sound. For the Ribas, the goal is to just keep him as comfortable as possible – keeping him eating and keeping his feet in good shape.
Linda takes her status as the owner of one of the last few Secretariats very seriously, and marvels that some – including her prized Strider – are still with us. "It's truly amazing when you realize how long ago it was that Secretariat did that astonishing Triple Crown."