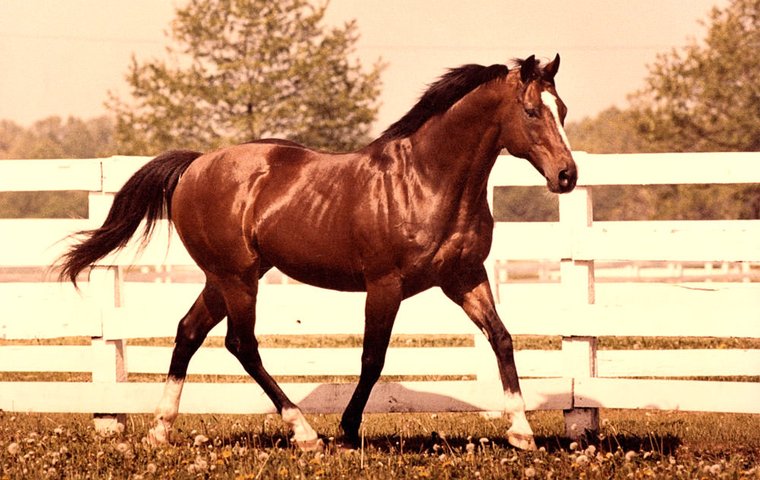 At the highest levels of international turf racing there's Northern Dancer – and then there's everybody else. Tail-male descendants of the legendary sire continue to dominate to the extent that soon only a few other sire lines may effectively exist.

Northern Dancer's influence extends well beyond the top line of pedigrees. It's not unusual for horses to have four or five crosses, with a couple of strains of Mr Prospector thrown in.
At this point, a horse descending tail-male from, say, Roberto or Blushing Groom, may have as much (or more) Northern Dancer blood as a horse by a Northern Dancer-line stallion.
What is the extent of Northern Dancer's influence on dirt: read Jeff Scott's analysis here
The accompanying table shows the combined G1 turf wins over the past ten years, by sire line, in the four main racing countries of Europe (England, Ireland, France and Germany), as well as Canada and the U.S.
The figures show Northern Dancer-line horses winning 73 percent of turf G1s in Europe, 56 percent in North America and 67 percent in the two continents combined. Mr Prospector, with 16 percent, is the only other sire line on an upward trajectory.
The remaining six lines in the table accounted for 13 percent of G1s, with the final four percent divided among a dozen or so fading or faded bloodlines. Brief notes on selected lines follow below.
G1 turf wins by sire line in Europe and North America, 2009-2018 **
** - includes G1 races in England, Ireland, France, Germany, Canada and the U.S.
NORTHERN DANCER
Sadler's Wells and Danzig continue as the chief branches of Northern Dancer, with a whopping 297 and 296 G1 wins, respectively, in Europe and North America since 2009. Storm Cat is next with 98. Nureyev's G1 total fell from 34 to 17 in 2014-18, while the Nijinsky line plummeted from 18 to zero during the same period.
Any discussion of Sadler's Wells begins with Galileo, his greatest sire son and currently world #2 in the TRC Global Rankings.
Sons and daughters of the 21-year-old supersire have accounted for an astounding 123 G1 victories since 2009, 107 in Europe and 16 in North America. With Frankel (world-ranked 4), Teofilo (#12) and Nathaniel (#23) off to strong starts, Galileo – ranked the top European sire by progeny earnings for eight consecutive years – appears set for the near future, and probably beyond.
Danzig owes his success less to one stallion than to the sheer number of his descendants at stud – there are 97 currently standing in England and Ireland alone, according to Underwood's Review of 2018. Top G1 stallions of the past decade include Sea The Stars (TRC #10), Dansili (#74), Invincible Spirit (#51) and Fastnet Rock (#20).
In North America, nearly half (96 of 218, or 44 percent) of the Northern Dancer line's G1 turf wins were recorded by horses bred elsewhere, the vast majority in Europe. Kitten's Joy (#15) sired the most of any North American stallion with 25, including four by Roaring Lion, the 2018 European Horse of the Year.
MR PROSPECTOR
Descendants of Mr Prospector have had twice the impact on G1 turf racing in North America over the past decade (24 percent of total G1s) than they've had in Europe (12 percent). Current world #1 Dubawi, however, is the most successful individual Mr P-line turf stallion on either continent with 33 G1 victories, including six in North America.
The 95 Mr Prospector-line G1 wins in the U.S. and Canada were sired by over 30 different stallions. English Channel (#64) is the most successful of the line's North American turf sires with ten G1s over the past decade.
HAIL TO REASON
Dynaformer was the Hail To Reason line's most prolific G1 turf sire of the past two decades. Most of his best horses raced in North America, but there were also a few G1 winners in Europe, as well as Melbourne Cup winner Americain. Point Of Entry (#173) and Temple City (#186) are the last best hopes to carry on the Dynaformer line. More Than Ready (#13) has been the top American sire from the Halo branch of Hail To Reason but has yet to produce an established heir.
In Europe, Hail To Reason's most successful recent sire has been Tagula, best known for five-time G1-winner Canford Cliffs (#173), who is off to a slow start at stud. Saxon Warrior, a son of Japan's Deep Impact (#3) and the winner of last year's Newmarket 2000 Guineas, stands at Coolmore Ireland, where he is one of only two of 27 stallions not descending tail-male from Northern Dancer.
MONSUN
Monsun (now #92) attracted increased attention outside Germany in 2007, when his son Manduro won G1s in France and England. Other top-class sons and daughters followed, among them Novelist, Maxios and Stacelita, who, after a stellar European career, was named U.S. female turf champion in 2011.
Remarkably, sons of Monsun won three Melbourne Cups between 2013 and 2016. With Manduro (#108) not doing particularly well at stud, however, and other prominent sons exported to Japan or transferred to National Hunt duty, the chances of Monsun establishing a viable alternative to the Northern Dancer/Mr Prospector colossus are probably nil.
GREY SOVEREIGN
The number of Grey Sovereign-line G1s declined from 14 in 2009-2013 to seven in 2014-2018. Kentucky's Mizzen Mast had the most of any individual stallion, with five in North America and two in Europe. The line's only European stallion to crack the top 100 in progeny earnings last year was France's Kendargent (#279), who has yet to sire the winner of a G1.
MILL REEF
With only one stallion listed among Europe's top 100 on progeny earnings last year – Sir Percy, the 2006 Epsom Derby winner, 90th in that money list but currently unranked in the TRC standings – the Mill Reef male line faces an uncertain future. The pensioned Dalakhani has been its most important sire over the past decade, with seven G1s in North America and two in Europe. Lord Of England accounted for four G1 wins in Germany.
BLUSHING GROOM and TOURBILLON
Among the 'other' sire lines in the table are Blushing Groom and Tourbillon, both of whom have declined in recent years. According to Underwood's Review of 2018, the 243 stallions currently standing in England and Ireland do not include a single tail-male descendant of Blushing Groom. France's Le Havre, who ranked 42nd in the European money list but 35th in the TRC standings, was the line's only stallion to finish in the top 50 in progeny earnings last year.
Tourbillon did not have a stallion in the top 100 in 2018. The line's best recent runner was the redoubtable Cirrus des Aigles, whose five G1 victories included a Dubai Sheema Classic, a British Champion Stakes, a Coronation Cup and back-to-back editions of the Prix Ganay. Cirrus des Aigles, alas, is a gelding.
Read Tony Morris's article on Blushing Groom in his 100 Shapers of the Breed series