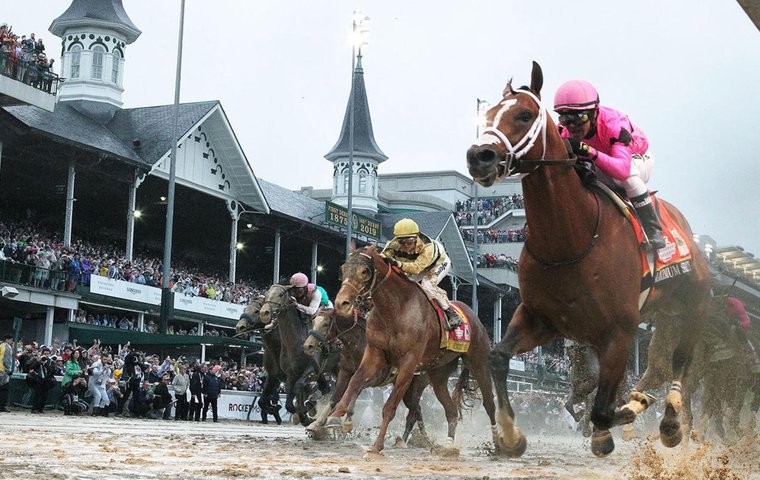 The result of the Kentucky Derby on Saturday may have been hugely controversial, but whichever way the stewards had called it the winner would have been yet another descendent of one of the three sire lines that are dominating American dirt racing. Both Maximum Security, who hit the wire first, and Country House, who was awarded the race on his disqualification, are descended from Mr Prospector, and, as such they have much in common with around two G1 winners in every five on U.S. dirt over the last three years, as Jeff Scott reports.

It's no surprise that tail-male descendants of Mr Prospector, Northern Dancer and A.P. Indy continue to win the overwhelming majority of G1 dirt races in the U.S. It is perhaps surprising, though, that during the four years since the American synthetic experiment largely ended, only three other sire lines have managed to account for even one percent of the total.
Of 218 dirt G1s over the past three years, only one was won by a horse from a sire line other than the six included in the table below.
If this table had been drawn up ten years ago, four other lines would have qualified for inclusion: Ribot, Blushing Groom, Icecapade and Himyar. Go back another ten years and it would have included Damascus, Buckpasser and Alydar. Even Hyperion and Princequillo, bloodlines generally associated with a much earlier era, came up with an occasional G1 winner in the 1990s.
The narrowing gene pool seems like less of an issue in an age when more horses are bred to sell than to race, when furthering genetic diversity means sending a Tale Of The Cat mare to a son of Unbridled's Song. But maybe if more stallions from these disappearing (and disappeared) lines were still around – if mostly to provide stouter mares for today's fashionable stallions – horses would be making more than five or six starts per year, and a career would total more than nine or ten.
Notes on the six sire lines in the table follow below. An article this time next week on turf racing will include results from England, Ireland, France, Germany, Canada and the U.S.
U.S. G1 wins on dirt by sire line, 2015-2018 **
** - includes sire lines with at least 1% of all G1 wins in 2015-18
MR PROSPECTOR
His most successful branch line remains his oldest: Fappiano, a foal from his second crop in 1977. Fappiano, who more closely resembled his broodmare sire, Dr Fager, survives today almost exclusively through three sons, Unbridled, Cryptoclearance and Quiet American.
Although Unbridled has been the most influential of the three – known especially for his descendants' 14 classic victories – current TRC world #14 sire Candy Ride (a grandson of Cryptoclearance) has been the Fappiano line's most successful recent stallion. In Gun Runner, the 2017 Horse of the Year, Candy Ride may finally have a proper heir. The Unbridled branch, however, boasts a more impressive roster of young stallions, headed by American Pharoah and Arrogate.
The Smart Strike branch of Mr Prospector has prospered through Curlin (currently world-ranked 16), English Channel (61) and Lookin At Lucky (currently #27 but likely to be significantly higher in the updated standings next week after the Kentucky Derby victory of his son, Country House). Curlin has already stamped himself as an important sire of top-class two-turn runners, including classic winners Palace Malice and Exaggerator; multiple G1 fillies Stellar Wind and Curalina; and 2017 juvenile champ Good Magic.
Gone West has been re-invigorated by Speightstown and, especially, Quality Road (world #9), who overcame a slow start to become one of America's elite stallions.
Maximum Security is a son of New Year's Day, who descends from Mr Prospector via Machiavellian and Street Cry.
NORTHERN DANCER
Storm Cat and Deputy Minister, Northern Dancer's two main dirt branch lines over the past three decades, are both in need of new blood.
For Storm Cat, the early deaths of Scat Daddy and Harlan's Holiday ended promising careers. Into Mischief (48) has been popular with breeders, but, with only four G1 wins over the past four years and an AWD (Average Winning Distance) of 6.65 furlongs, he seems an unlikely candidate to carry the Storm Cat line forward. Enter Triple Crown winner Justify (a son of Scat Daddy), who of course will be given every opportunity to do just that.
Ghostzapper (36) is the top stallion in the Deputy Minister branch, although he remains without an established heir. Recent retirees McCraken and Shaman Ghost will be the latest to try.
Sadler's Wells, of course, is overwhelmingly associated with turf racing. The one exception is his grandson Medaglia d'Oro (currently #24), who accounted for 15 of the Sadler's Wells branch's 16 dirt G1s in the table, nine of them by dual-champion Songbird. MDO's dirt G1s plummeted from eight in 2017 to zero last year.
A.P. INDY
The extraordinary success of Tapit (also at 24 now) has been a major factor in the rise of A.P. Indy, who at this point is effectively the sole heir to Bold Ruler and Seattle Slew. A three-time leading sire, Tapit produced the winners of 17 G1 races during 2015-2018, the most of any stallion. In order to thrive, though, the A.P. Indy line may need to develop additional threads, perhaps through Malibu Moon (46) and Bernardini. It hasn't helped that at least 11 G1-winning A.P. Indy-line stallions have been exported. Reinforcements are on the way, however, as runners by California Chrome, Honor Code, Tonalist, Frosted and West Coast make it to the races.
CARO
Until early in this century, the Caro male line was best known for distance-loving turf horses. The transition to a primarily dirt line began with handicap star In Excess in the 90s, continuing with Indian Charlie and Uncle Mo, Indian Charlie's 2010 juvenile champion son. Uncle Mo has cooled off since his fast start in 2015 (leading first-crop sire) and 2016 (leading second-crop sire, third on the general sire list). If Caro has a future, Uncle Mo (whose current TRC ranking is just 82) will probably have to show the way.
HAIL TO REASON
The loss of Sunday Silence to Japan in 1990 and the early deaths of Saint Ballado and Saint Liam dealt serious blows to Halo, the primary dirt branch of Hail To Reason. The line managed to produce ten G1 wins in 2015-2018, but four of them were by ace sprinter Roy H, a gelding. Hail To Reason's main hope lies with Blame – a descendant of Roberto, Hail To Reason's other main branch – who had his best year in 2018. Other stallion possibilities include current dual-surface stars Yoshida (Heart's Cry) and Catholic Boy (More Than Ready).
IN REALITY
The In Reality male line has essentially narrowed to Tiznow, the two-time Breeders' Cup Classic winner and a seventh-generation descendant of Man o' War. Tiznow was an instant success at stud but has tailed off as he aged. He is 90th in the latest TRC standings. Sons of Tiznow are often sold overseas. With Colonel John, Tizway and Tiz Wonderful now standing in Korea, the last tail-male link to arguably America's greatest racehorse could make its last stand in East Asia, not in central Kentucky.