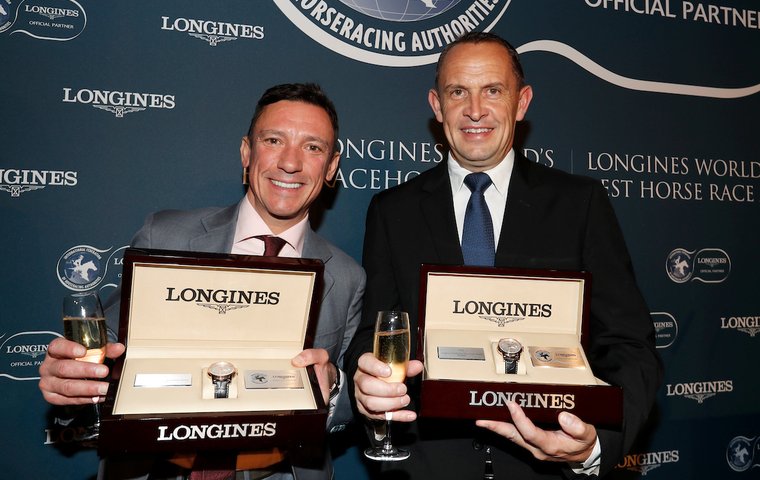 In this space this time last year, we considered the publication of the official Longines World's Best Racehorse Rankings for 2017 - and, most significantly, the faint fumes of controversy that drifted around when Arrogate was named as the table-topper. Okay, he was brilliant when he won the Dubai World Cup, the argument went, but he limped through the rest of the season (three runs, three defeats) and no way was he entitled to be called Champion of the World by the end of the year.

He was well and truly outgunned by Gun Runner in the voting for U.S. Horse of the Year, and surely that was about right. Wouldn't Gun Runner have been a more appropriate world #1, or Europe's Cartier Horse of the Year, Enable, or Australia's horse of just about every year recently, Winx?
We suggested a compromise. Why not have two awards? One, which Arrogate could have had, surely with no hint of controversy, for the World's Best Performance; the other for World Horse of the Year.
Of course, the World Horse of the Year would have to be decided by a vote of some kind, probably including the panel of ratings experts of the International Federation of Horseracing Authorities (IFHA), who finalise the WBRR figures. Their rankings emerge largely from objective mathematical assessment of race results (pounds for lengths, collateral form, that sort of thing), whereas voting for World Horse of the Year would require a deeper, more emotional, more subjective understanding of a horse's contribution over the 12 months.
The WBRR standings for 2018, announced in London on Wednesday, may not have been as contentious as Arrogate-gate last time, but they have not passed without debate either. The panel named joint world champions - Winx and Cracksman - on a mark of 130, two pounds clear of third-ranked Accelerate.
Cracksman's admirers believe his 6¾-length Champion Stakes romp at Ascot in October (he was undeniably impressive - see video below) was a far stronger performance than anything Winx achieved against allegedly weaker opposition in Australia through the year, that the mare wouldn't be competitive if she lined up against their boy, or any other top-level European. They insist the panel have elevated Winx's rating beyond its true merit for political reasons.
Winx's army of fans, on the other hand, are confident the mare, who is rarely asked to do more than enough to win, would have nothing to fear from any horse anywhere, and that she easily swatted aside the tough Euro campaigner Benbatl, who had won the mega-rich Dubai Turf in March, when he tried to stop her winning a fourth Cox Plate in October (see video below).
In truth, there are question marks over the exact merit of Cracksman's Ascot effort anyway. The panel chose to be impressed that he'd thrashed the narrow King George runner-up Crystal Ocean with three G1 winners further back. But there is a different interpretation of the form: none of the field, Crystal Ocean included, ran anywhere near their true capabilities in very soft ground, which played straight into Cracksman's wheelhouse. Otherwise, how do you explain away the presence of the Czech-trained 6-year-old Subway Dancer, a 66/1 shot, in third, just threequarters of a length behind Crystal Ocean?
This isn't to say that Cracksman was not the best horse in the world in 2018. Or that Winx wasn't? Merely that there are different ways of interpreting performance.
Indeed, how can we be sure either was better than Accelerate? Or the dual Arc winner Enable? But wasn't Hong Kong's Horse of the Year Beauty Generation better than all of them anyway? Or maybe the Japanese Triple Crown filly and Horse of the Year Almond Eye was? Or U.S. Triple Crown hero and newly-crowned Horse of the Year Justify? Or Cartier European Horse of the Year Roaring Lion? And what about Gun Runner's blistering victory in the Pegasus last January?
You can cut the numbers anyway you want to make a case for each and every one of them.
Back to our World Horse of the Year idea. That would be some list of finalists, wouldn't it? Accelerate, Almond Eye, Beauty Generation, Enable, Justify, Roaring Lion, Winx. (Cracksman doesn't make the shortlist - he finished behind both Roaring Lion and Enable in the Cartier vote - but there's certainly a case to include another John Gosden trainee, the WH Stayers' Million hero Stradivarius.)
Who would you vote for? For me, it would be between Justify and Winx, with the mare edging it on account of that remarkable Cox Plate achievement and the outrageous level of international love she has inspired.
But there's no wrong answer whoever you'd pick.