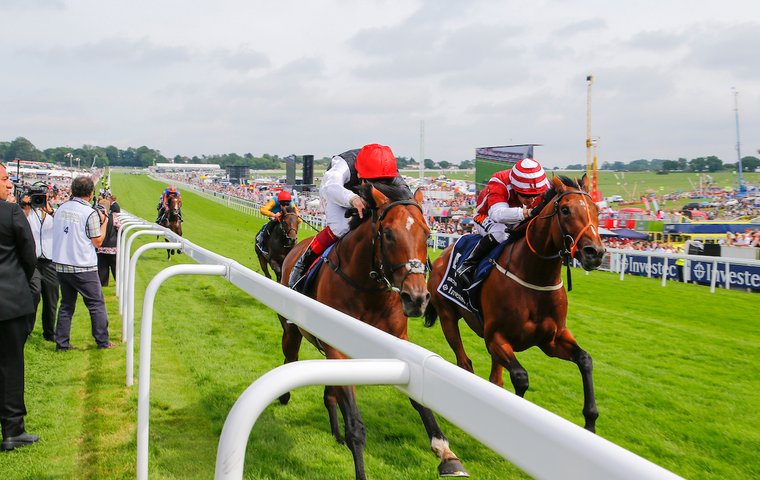 What makes a great performance? What does a racehorse have to do on the track to earn rave reviews? Is it just about beating good horses by a wide margin, or can a run qualify if the horse shows guts, class and determination in overcoming adversity?

Like Cracksman did last Friday.
To listen to most of the post-race comments, even from his own connections, you'd have thought the son of Frankel had run a stinker in the G1 Coronation Cup over the mile-and-a-half Derby course at Epsom.
"He's not the horse we know," his trainer, John Gosden, said after the 4-year-old had scraped home by a head from an unconsidered 33/1 outsider.
"You didn't see the best of him," said jockey Frankie Dettori. "We know he's a better horse than we saw today."
And the handicappers, the experts who compile the ratings, were particularly unimpressed, reckoning Europe's highest-rated racehorse had run 11 pounds below form.
They, certainly, were missing the point. And they may have been wrong in their assessments.
Take a look at the video below, paying particular attention to the ride that outsider, Salouen, receives from British champion jockey Silvestre de Sousa. The brilliant Brazilian was so nearly the architect of what would have been one of the shocks of the year.
While Cracksman and the other four runners toiled uncomfortably on the long descent around Tattenham Corner, de Sousa was delivering a masterclass. "Silvestre got five lengths on me and made it really hard work," Dettori said later.
Make no mistake, though, this was not a sub-par effort from Cracksman. On the contrary, it was a solid piece of form. With quality runners like Idaho and Hawkbill floundering well behind, Salouen showed what his trainer, Sylvester Kirk, has been saying all along - that he is entitled to be considered a high-class performer in his own right. The son of Canford Cliffs has been highly tried many times - last year's Derby, last year's Eclipse, Royal Ascot, Group races in France, the 2016 Racing Post Trophy - but things have never gone his way, conditions probably never really suiting him. Last Friday he showed what he is capable of.
Yet Salouen was the fly in the Coronation Cup ointment for the ratings people. With a horse with a PB (previous best rating) of 111 finishing just a head behind, they chose to think that Cracksman had had a bad day. The world's second-highest ranked turf runner of 2017 (rated 130 in the Longines World's Best Racehorse Rankings) was judged (in both the BHA's official ratings and on Racing Post Ratings) to have performed to a mark of 119.
That, of course, meant writing off the runs of Idaho and Hawkbill and conceding that Salouen might have done a bit better than previously, awarding him 118.
But they'd probably prefer us not to dwell on the performance of the third horse, the German Derby winner, Windstoss. He finished 3¾ lengths behind the first two, and was given an official BHA rating of 113 for his troubles. All very well except that Windstoss has a PB of 118, and it's stretching it quite a lot to say his eye-catching effort at Epsom was five pounds worse than his easy victory over inferior opposition in the G1 Preis von Europa at Cologne last September. It's stretching it to say he ran below form at all, to be honest.
If we say Windstoss did indeed perform to his best, then Cracksman's effort comes out at 124 (his second highest mark ever, and probably not a bad assessment of what he achieved in the Coronation Cup). It also has Salouen on 123. Maybe subsequent events this season will show that to be a much more accurate reflection of his true ability.
Even if they don't, however, this was still a run to greatly admire from the winner. He may not have been "the horse we know", according to Gosden, but he was certainly one we should enjoy getting to know. This was Cracksman showing a valuable edge of steel as well as that touch of class we already knew about. More and more, he's beginning to look like the complete package.
"It's very hard to accelerate and catch one on this ground, but particularly when you aren't enjoying running down the hill," Gosden admitted. "I'm pleased he showed a lot of courage to get the job done, as that's always the test of a good horse."
He added: "It was very nearly stolen by Silvestre with a very clever ride, but I liked the way [Cracksman] finished."
De Sousa, incidentally, remains one of the most underrated jockeys in the world. The TRC Global Rankings, which considers only rides in Group and Graded races, can rank him no higher than 139 (+2pts, up from 145) because he doesn't get the opportunities his talent warrants in those races.
To underline the point, he produced another fabulous display on another outsider, 20/1 chance Dee Ex Bee for trainer Mark Johnston, to finish second in the Investec Derby itself on Saturday. He was also crowned top rider of the two-day Investec Epsom Derby Festival with three winners (all in handicaps).
The trainers of those three: David Elsworth, Ian Williams and Mark Johnston (again). At least there are some believers.