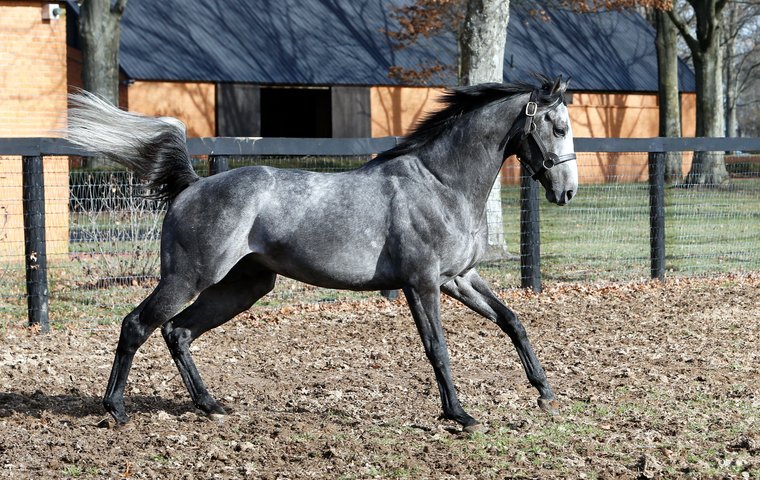 The racing and breeding world was in shock today after the news that Arrogate, arguably one of the best racehorses of the modern era, was put down this morning. A statement from owners Juddmonte Farms said he was euthanized after a battle to save him from an illness that began last week. It is still unclear what the illness was and a post-mortem is currently being carried out.

The son of Unbridled's Song missed the Triple Crown races but exploded onto the G1 scene with a stunning 13½-length victory in the G1 Travers Stakes at Saratoga in August 2016 for trainer Bob Baffert. He followed up just over two months later by edging out California Chrome in one of the races of the decade for the Breeders' Cup Classic at Santa Anita, the pair 10¾ lengths clear of the rest.
Those performances meant he was crowned the Longines World's Best Racehorse as the highest-rated runner in the world for 2016 according to the handicappers of the International Federation of Horseracing Authorities.
He began 2017 with an easy victory in the inaugural running of the then $12 million Pegasus World Cup Invitational at Gulfstream Park in January, but it was his next race, the $10 million Dubai World Cup, that was perhaps his most memorable. After missing the break, jockey Mike Smith gradually worked the grey round the field from last to first to win going away from the subsequent BC Classic and Pegasus winner Gun Runner (see video below).
Baffert was one of the many who felt goosebumps watching the run. "This is the greatest horse we have seen since Secretariat," he told reporters afterwards. "Unbelievable."
No horse bettered that performance all year and Arrogate was named World's Best Racehorse for the second year in succession. It also made him the leading all-time prize money winner worldwide (his £13.6m career total has since been surpassed by Winx).
Arrogate never totally regained that spark in his three subsequent races before he was retired with high expectation to Prince Khalid Abdfullah's Juddmonte Farm in Kentucky at the end of 2017. Indeed, he enjoyed visits by a choice book of G1-standard mares, and his first foals, born just over a year ago, delighted the team at Juddmonte.
"It's great to see in a lot of the foals that he is duplicating himself," Juddmonte USA general manager Garrett O'Rourke said at the time. "There are certain traits that he is throwing — very correct front legs, lovely clean limbs, plenty of scope. It's all exciting and it's definitely nice to see that he's got an influence, and it's what I would call a positive influence, on all of the offspring."
Arrogate had another successful breeding season this year until last week, when his breeding was suspended due to an initial suspected sore neck, according to today's Juddmonte statement..
Later in the week, he fell to the ground in his stall and efforts to get him back up proved unsuccessful. He was transported to the Hagyard Clinic under the care of Dr Bob Hunt and Dr Nathan Slovis with Dr Steve Reed representing the insurance company.
They worked tirelessly with the staff from the Hagyard Clinic, eliminating all the obvious causes and performing all available tests, including spinal tap evaluation, x-ray, ultrasound, CT scan and many blood tests.
Unfortunately, Arrogate was still unable to stand after four exhausting days for him. His will to fight, so valuable to him on the racetrack, became a challenge in his care. When serious secondary health issues set in, the decision was made to put him to sleep.
Unforgettable ride
Douglas Erskine Crum, the Juddmonte Group CEO, said, "This is very hard on everyone at Juddmonte, most especially on Steve Dotsey, Stallion Manager, and Jorge Chavarria, who cared for Arrogate daily and who had such a great rapport with him.
"It was a bold decision to ask Bob Baffert to purchase and train top dirt horses for Prince Khalid and, assisted by Donato Lanni, the selection of Arrogate was one of the success stories of the decade on the racetrack. Arrogate has bred three crops at stud, has his first yearlings to present to the sales this year and his physical and personality traits are passing very strongly to his offspring."
O'Rourke added, "We will never forget the ride Arrogate took us on. Those four amazing races established him as one of the great racehorses of our time, breaking two track records, taking down champion California Chrome in a battle for the ages and then running by Gun Runner in another worldly performance in Dubai.
"We hope that the heartbreak of losing him so young can be soothed by proudly watching the achievement of his runners."
Arrogate's passing is the second major body blow Juddmonte has suffered this year - the potential superstar homebred filly Taraz had to be euthanized in February after fracturing her left front pastern in a workout at Oaklawn Park.