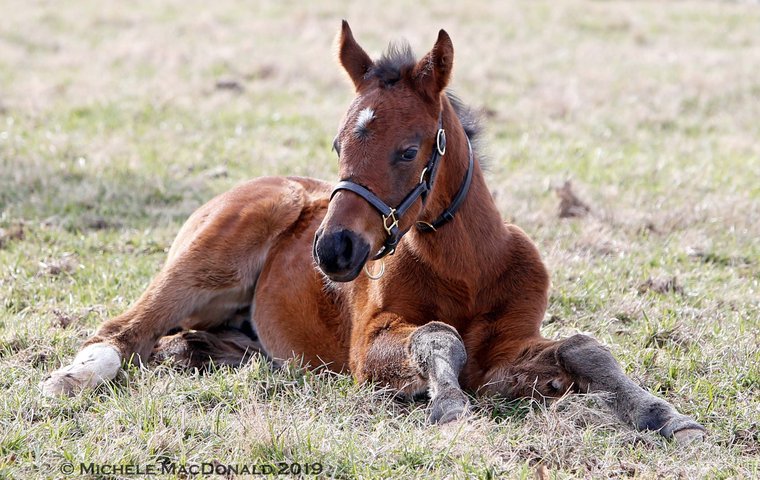 When the phone rang in Juddmonte Farms' Lexington office recently, the caller on the line, who manages another Kentucky nursery, wanted to register an unusual protest.

Responding to an advertisement he had seen about one of champion Arrogate's first foals, he contended that Juddmonte should have highlighted the foal born on his farm instead because, in his view, his filly was even better than the foal whose photograph had been used.
This is the kind of 'complaint' that stud farms are delighted to receive from breeders, and so far at Juddmonte, reviews of the initial foals by Arrogate — who reigned as the Longines World's Best Racehorse for both 2016 and 2017 — are enthusiastic.
"It's still early days and foals change a lot, but we couldn't be happier with what's out there," said Juddmonte's Leif Aaron, who coordinates Arrogate's book of mares, after the first 15 offspring of the stallion had been reported born.
Perhaps most exciting to the Juddmonte team is that Arrogate seems to be passing along the traits that contributed to his becoming such an extraordinary racehorse.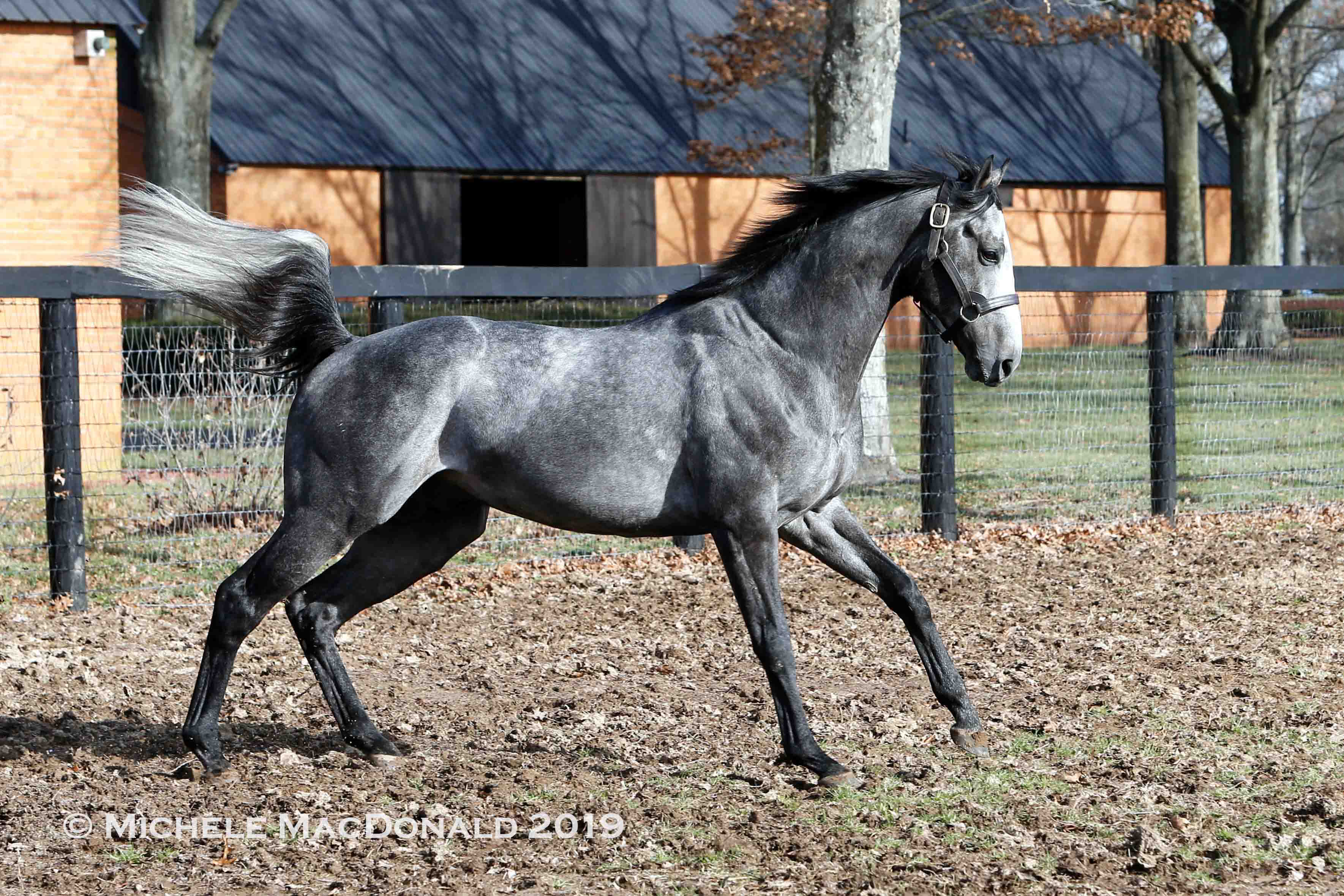 The son of Unbridled's Song — who soared atop the world's leading all-time earners list through victories that included a thrilling stretch duel with California Chrome in the Breeders' Cup Classic and an epic last-to-first Dubai World Cup run over Gun Runner — seems to be reproducing characteristics for soundness and athleticism, observed Juddmonte General Manager Garrett O'Rourke.
"It's great to see in a lot of the foals that he is duplicating himself," O'Rourke said. "There are certain traits that he is throwing — very correct front legs, lovely clean limbs, plenty of scope. It's all exciting and it's definitely nice to see that he's got an influence, and it's what I would call a positive influence, on all of the offspring.
"The first thing you've got to see is an ability to be (a) sound and (b) athletic, and I think that's exactly what we are seeing. They're not heavy foals — they don't have bulk to them. I think some people thought, 'Oh, Arrogate is a big horse,' but he's not throwing bulk at all, just pure athleticism. Based on that, I wouldn't be afraid to breed some of our stronger Juddmonte mares to him, so I think we're learning what we can breed. Definitely he's an influence for correctness and for athleticism, and those are very important features in producing a racehorse," O'Rourke continued.
On the night of February 27, O'Rourke said Juddmonte's Mizzen Mast mare Filimbi — winner of a stakes in France and the G2 Goldikova Stakes in America while also placing in four G1s — delivered a colt that he described as "just all Arrogate".
Earlier in the month, Juddmonte's multiple G1 winner and $1.5 million earner Paulassilverlining, by Ghostzapper, delivered a long-legged, classically handsome Arrogate colt who also is the mare's first produce. "He is an absolutely beautiful colt, as strong as he can be," Aaron said.
O'Rourke and Aaron have traveled to other farms to inspect members of Arrogate's first crop and they have been greeted with some rave assessments, such as what they heard from Arthur Hancock of Stone Farm, whose Graded stakes-placed Wildcat Heir mare My Dear Venezuela foaled a colt on January 25.
"He's beyond what I was hoping for. I'm not one to pass out compliments, but this one is a crackerjack. He's a beautiful foal. I nicknamed him 'Bones' the first day because he has so much bone," Hancock said of the colt, who was purchased in utero with his dam for $440,000 at the Keeneland November sale.
Hancock doesn't often nickname his foals, but it is worth noting that one of the others who garnered a moniker from him was Fusaichi Pegasus, who evolved from being called 'Superman' as a baby into a $4 million yearling and eventual winner of the Kentucky Derby.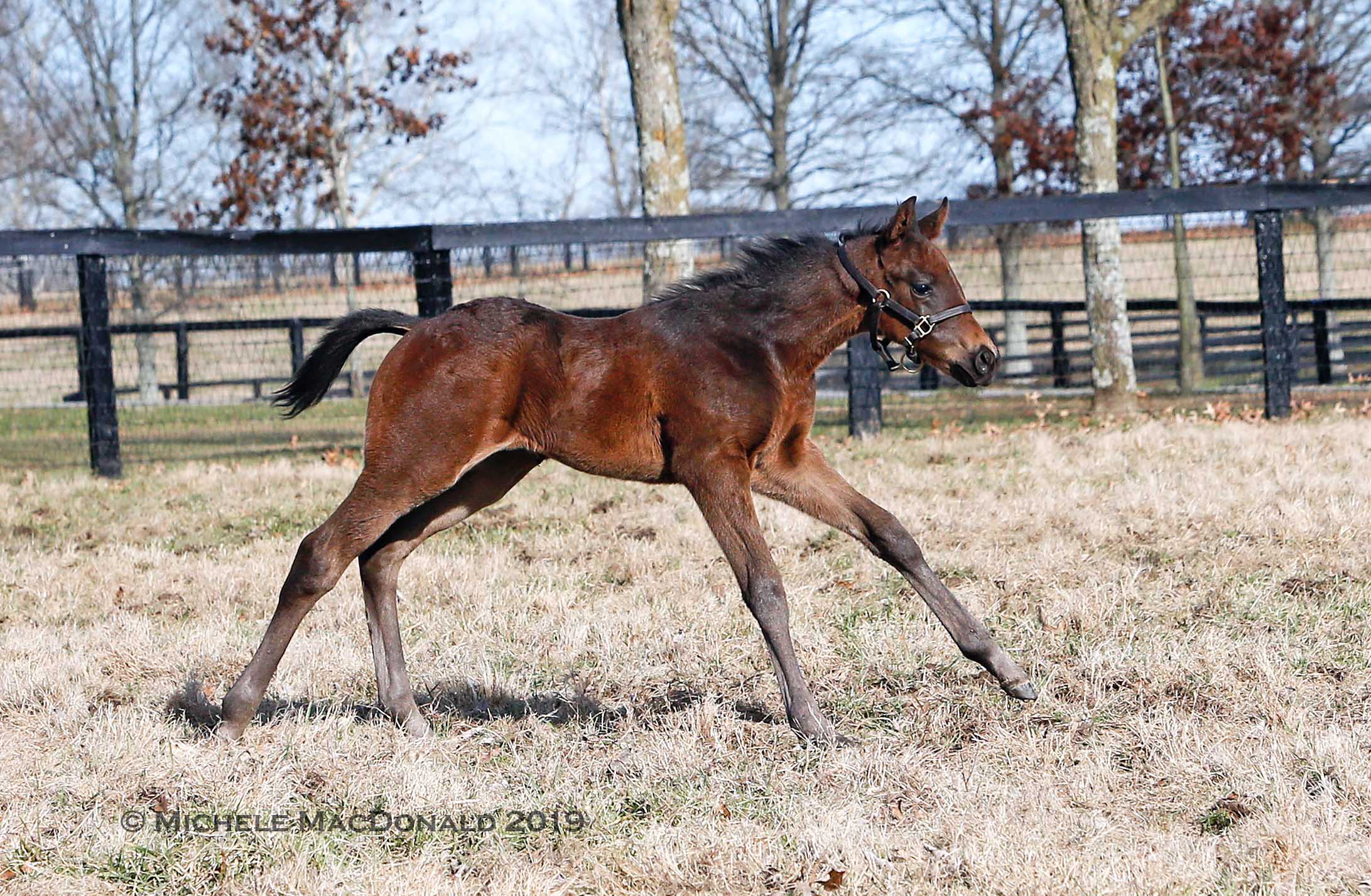 "What's impressive about the Arrogate colt is his balance and his personality. Seeing him run out in the field, he uncoils with a nice, long stride," Hancock said. "And he's as smart as he can be. When you come around to the fence, there are four other foals in there with him and with their mothers, but he'll nicker at you and come over to see you. He's just got a lot of personality and presence about him. We're crazy about him."
Perhaps the best indication of Hancock's feelings about the colt is that he decided to send My Dear Venezuela back to Arrogate, and she was covered in late February.
"That's the best advertising you can get," he said. "We went straight back to Arrogate because my philosophy is 'Go back to the well where the water is good' at least once."
My Dear Venezuela is from the family of European champion Monade, ancestress of a flock of high-caliber runners, including champion Queena and G1 winners including Too Chic, Chic Shirine, Serra Lake, Verrazano, Somali Lemonade and Brahms.
On the same day My Dear Venezuela's colt was born, a filly by Arrogate arrived at John and Leslie Malone's Bridlewood Farm in Ocala to attain equal honors as the first born by the champion. Delivered by the G3-winning War Front mare Peace Preserver, the filly is described in equally impressive terms as the colt.
"I told Leif Aaron that she's a ten — she's that nice," said Bridlewood General Manager George Isaacs.
"As somewhat of a commercial breeder, I'm always hoping to get a boy, but aside from the sex, I couldn't be any more pleased with the foal. Just an outstanding, big, strapping filly. As I recall, she weighed 151 pounds when she was born — a very good-sized foal, what you would expect by a horse of Arrogate's size. She has plenty of leg and is good and correct with plenty of bone. There's not very much you would change about her."
Peace Preserver, a $1.9 million acquisition at Keeneland in 2014 and a full sister to multiple Graded winner Jack Milton, claims champion Bayou, a half sister to Broodmares of the Year Levee and Delta, as her fifth dam and her family includes champion and sire War Pass and G1 winner Oath.
Isaacs has even more to anticipate this foaling season.
"I'm very excited about another foal coming, out of Concinnous, who has been a model of consistency so far for what she has produced for us. She's in foal to Arrogate also, and she is the dam of [multiple G1 winner] Iotapa. Maybe I'll get my boy when she foals. But as long as we get a healthy foal, I'm always pleased," Isaacs said.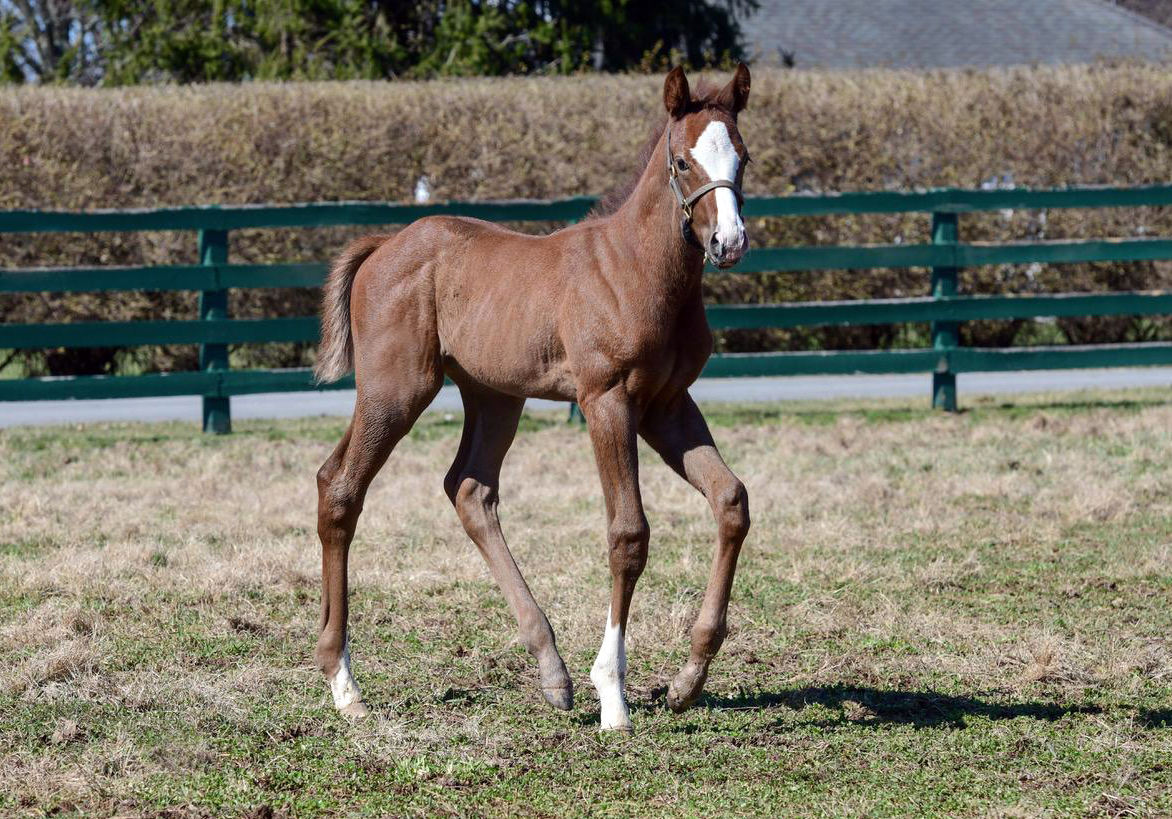 Concinnous has a juvenile American Pharoah colt named Freedom Force, who was sold as a yearling for $600,000 to China Horse Club and Maverick Racing, and a yearling filly by Frosted. The mare was a $2 million purchase at Fasig-Tipton in 2014 while she was carrying a Tapit filly later named Rella.
Another newborn Arrogate foal who has gained accolades is the filly produced by G. Watts Humphrey's G1-winning Smart Strike mare Centre Court at Shawnee Farm.
"Garrett and I went over to Shawnee and saw Centre Court's foal and she is a very, very nice individual with a ton of leg and a similar body to Arrogate. A lot of them have a very similar body," Aaron said. "He's really stamping the leg on them, and a lot of them have very, very nice shoulders. Good symmetrical bodies with a lot of leg is kind of overall what we're looking at in his foals. They are definitely fitting into a type."
Centre Court is from another distinguished female family with some of the most notable members including European Horse of the Year Arazi, French and English champion sprinter Ajdal, English highweight Noverre, G1 winner Joyeux Danseur and her dam, the G1-winning A.P. Indy mare Let.
Of course, the most high-profile of the early foals by Arrogate is the filly delivered by twice champion and $9.5 million mare Songbird, owned by Mandy Pope and boarded at Cathy and Wayne Sweezey's Timber Town Stable in Lexington.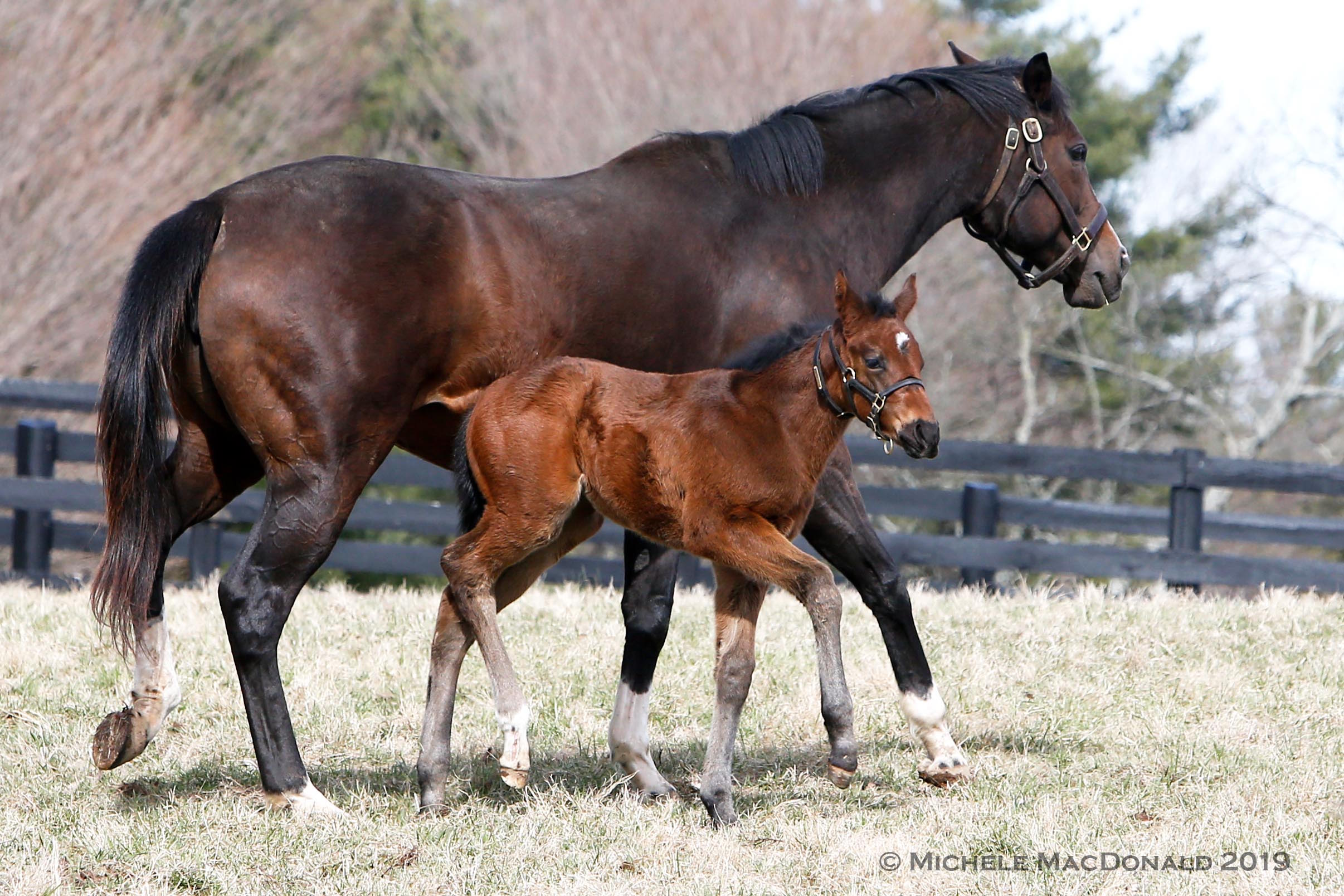 Born on January 28, Songbird's filly is perhaps, of all the early Arrogate foals, most like the dam.
"I'm delighted with her physically," Wayne Sweezey said. "At this point, she's just like her mom — she's got a beautiful hind leg and is correct. She's just a really pretty package. And she's intelligent. She hasn't taken a wrong step. She's just a really, really nice foal."
Another high-profile mare owned by Pope, Kentucky Oaks winner and $4.2 million acquisition Plum Pretty, is in foal to Arrogate. Like Songbird, Plum Pretty is a daughter of Medaglia d'Oro.
Through March 1, a total of ten colts and 14 fillies by Arrogate had been born, according to Juddmonte. Other potential stars include a half sister to Breeders' Cup Filly & Mare Sprint winner Wavell Avenue, delivered on February 23 at Bonne Chance Farm in Lexington by the Silver Deputy mare Lucas Street and a colt born at Don Alberto Corp. on February 1 who is the first foal of Santa Anita Oaks runner-up Luminance, a $1 million acquisition by Tale Of The Cat.
Overall, Arrogate covered a brilliant book of mares in his first season that featured more G1 winners and G1 producers than was greeted by any other American stallion in 2018 but Tapit, according to Juddmonte. To help protect breeders from facing an oversupply of foals, Arrogate's initial book was limited to 142 mares and his fee set at $75,000.
Juddmonte bred 20 of its own mares to Arrogate in 2018, with some of the others including multiple G1 winner Sightseek; Rising Tornado, dam of champion Close Hatches; Soothing Touch, dam of Grade 1 winner Emollient, and Bandana, an unraced War Front daughter of G1 winner Honest Lady and thus a granddaughter of Broodmare of the Year Toussaud, whose foals included Belmont Stakes winner and influential sire Empire Maker.
Famed broodmare band
Aaron said Juddmonte will again limit Arrogate's book in 2019 and plans to support the horse with 21 mares.
Filimbi and Soothing Touch will return to visit Arrogate again this season, as will G2 winner High Ridge Road. By Quality Road, High Ridge Road produced an Arrogate colt on February 15.
Also in Arrogate's 2019 book is Juddmonte's G2 winner Golden Mischief, by Into Mischief and an earner of just under $700,000. Now five, Golden Mischief raced through the end of 2018 following her private acquisition by Juddmonte.
"We have gone out and bought some dirt-oriented mares that we thought would suit him and there are a few more this year that we bought in addition to the ones we bought last year to breed to him," Aaron said.
After learning from the experience of standing Empire Maker in his early years at stud and also G1 winner Aptitude, Juddmonte is trying to manage its patronage of Arrogate with more dirt-performing and speedy mares while also drawing on some of the turf-oriented members of its famed broodmare band.
O'Rourke has said he is pleased that the stallion, who is listed at 16.2½ hands tall, has received a wide variety of mares in terms of physical types and bloodlines and knows that the rest will be up to nature and Arrogate.
'He likes his new job'
For his part, Arrogate seems to be thoroughly enjoying his new life, whether standing regally like a marble sculpture or flagging his silvery tail and soaring across his paddock. He has relaxed into the farm routine while keeping himself as svelte as in his best days of racing, although he is happiest when busy.
"He enjoys his new life more during the breeding season than he does in the off season. He's not a horse to hang around and mope; even when we're showing him to people, he gets a little bit impatient. He was always that type, even in training — he wanted to be busy all the time, to be on the move," O'Rourke said. "I think he's even more so now. He gets out and gets his run-around, but he can get bored out in the paddock after a while.
"Yet, when he got his test mares bred in January, and mares started to arrive at the breeding shed in February, he was just loving being busy again. You can tell he's that type of horse that doesn't like being idle. Some horses love retirement and adapt to it really well, and the same with mares. Others just like to be busy and he's that type. He likes activity. And he's very happy at the moment — and he likes his new job, too," O'Rourke said.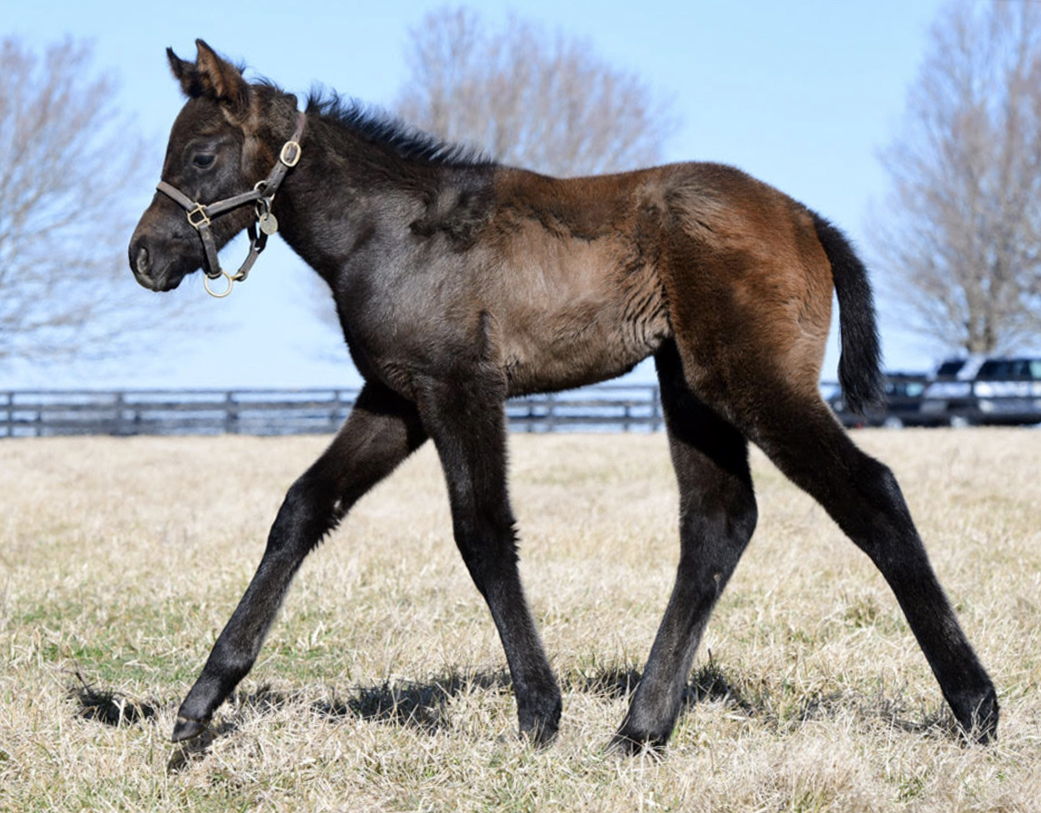 A 1¼-mile specialist possessing withering speed, with his other wins including a record-breaking wire-to-wire romp in the Travers Stakes completed in 1:59.36 and by a margin of 13½ lengths over rivals including Gun Runner and classic winners Exaggerator and Creator, Arrogate has the potential to become the next important link in the classic chain perpetuated by his grandsire, Unbridled.
"Generally, your best sires are your best racehorses, and he certainly was a great racehorse," Hancock said. "He's got every chance to make a tip-top stallion."
"I go back to Arrogate's Travers performance and he had me there," said Isaacs, who recounted how lucky he felt when Bridlewood was able to buy Arrogate's yearling half sister to Medaglia d'Oro for $300,000 just weeks after the Travers. That filly, named Osare, has gone on to be a stakes winner and is due to race more this year at age four.
"I've been a lifelong horseman and there have been few horses, in my opinion, that had that beautiful, fluid, long range of motion like Arrogate did and held the form that he did as long as he did," Isaacs added. "He certainly impressed me as being a very special racehorse that had extra athletic ability and demonstrated that for a long time. I'm sure thinking that he's got every reason to be a good stallion."