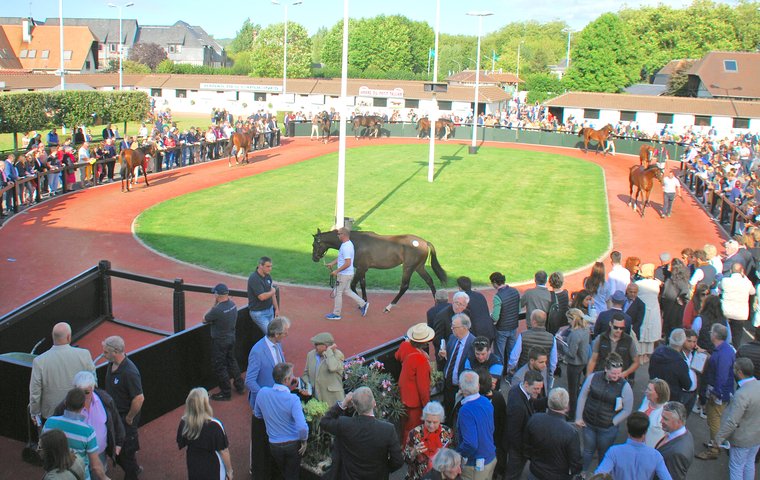 American buyers were more in evidence than ever at the recent three-day Arqana August Yearling Sales at Deauville, with U.S. breeders and agents becoming more aware of the possibilities purchasing European turf-bred horses can bring, and a new impetus behind turf racing starting to take effect Stateside. John Gilmore asked two of them, Duncan Taylor of Taylor Made Sales Agency, and Kenny McPeek, of Magdalena Farm, how they found the experience.

Duncan Taylor
The sale saw the start of a new consigning partnership between Taylor Made and the Normandy-based Haras de Gouffern. They didn't quite get off to the start they wanted, their sole U.S.-bred, a Giant Causeway colt out of Grey Lina, bought back unsold at €145,000. They are looking for offers, but if the yearling remains unsold it will be sent to a trainer in France.
The three European yearlings the partnership presented had mixed results - a Gutaifan colt went for €35,000, a colt by The Ghurka was bought back for €80,000 and an Iffraj colt was sold for €90,000.
"The idea was to get the venture off the ground, and the Giant's Causeway colt's owner has raced horses in France before so it was a natural progression and hopefully will encourage more American-bred yearlings to sell here through us in the coming years," said Duncan Taylor.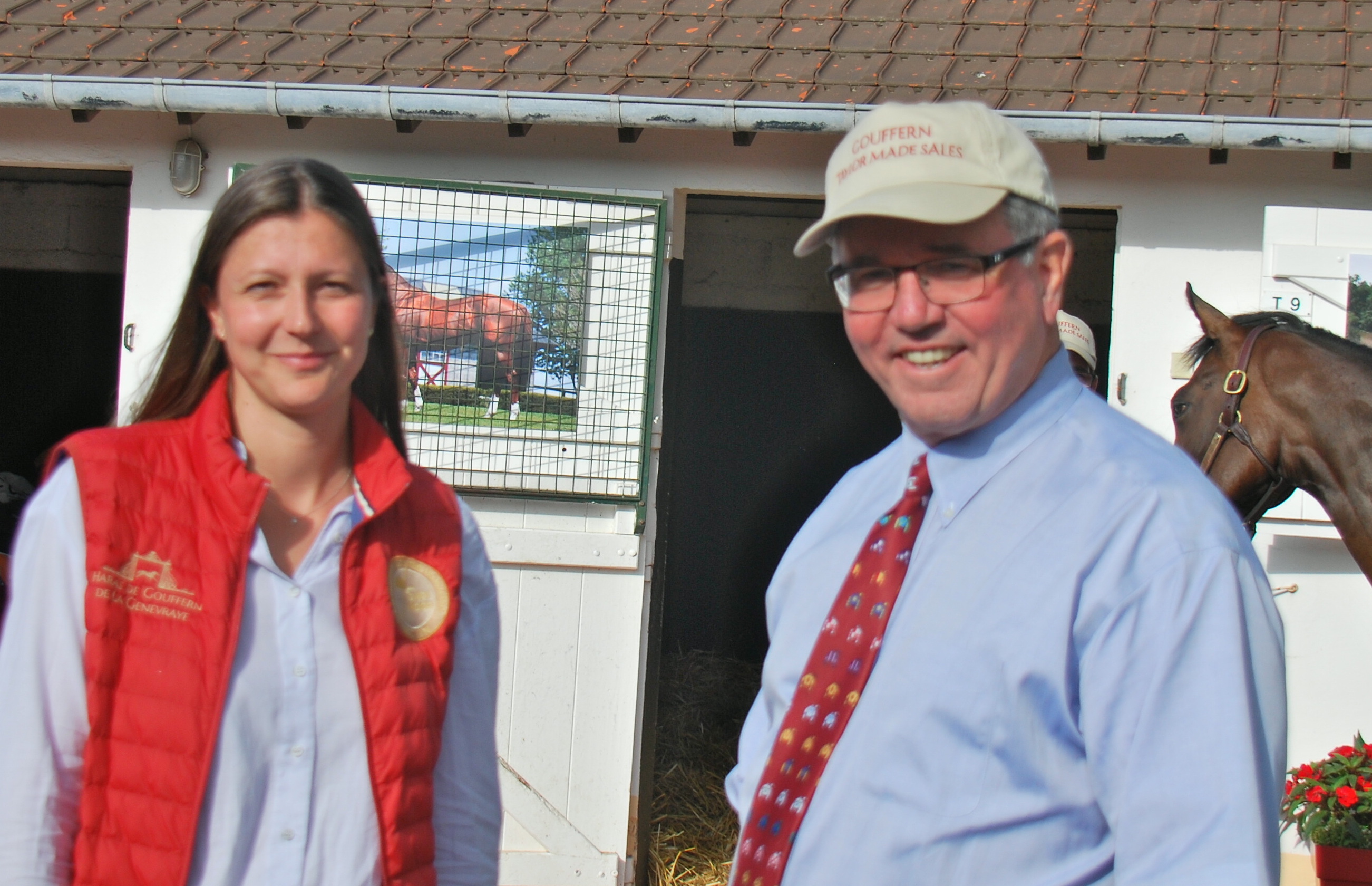 The venture has been meticulous in its detail and the Giant Causeway yearling was given time to acclimatise at Haras de Gouffern, having been flown in six months ago.
"I would like to have brought more over but couldn't even get any Kitten's Joy yearlings - no one was interested despite his Roaring Lion being Horse of the Year in [Europe] for 2018," said Taylor. "Next year, I may pinhook young foals at the U.S. November and January sales and bring them over here to sell as yearlings. Kitten's Joy, More Than Ready and Speightstown offspring should bring more of a premium here than in the States.
"Jean Pierre de Gaste has a great set-up at the Haras de Gouffern and we have been friends for many years, so we know each other very well, both having similar views on breeding and developing racehorses. The long-term objective is to give our customers more options to maximise the value of their horses, for people in America who breed and sell horses in the States."
Typically, the Taylor Made agency put around 1,000 horses a year through public auctions and is looking for Europe to provide alternative options in the future. "The other built-in factor to consider in the equation is shipping yearlings to France," said Taylor. "It cost around $15,000 to bring the Giant Causeway yearling to Deauville."
He added that nearly 95 percent of mares in the U.S. are dirt-bred. "Most tracks have turf and dirt courses, but the infrastructure for training at the track is not conducive to grass racing as you are working on dirt."
This was a particular drawback for younger horses racing on turf there. "Young horses even with grass-track breeding still need to practise and they get little opportunity to train on grass, with very few grass races for 2- and 3-year-olds.
"Kentucky Downs is the only track in the States offering just grass racing, but there are only about [ten days of racing] a year. Older horses don't need to work so much on grass and many proven European older horses have been bought or transferred to run in the States with considerable success, benefitting from having grass training and racing experience in Europe before, notably recently Sistercharlie and Flintshire with Chad Brown.
"But, if we are really serious about turf racing, we would need to build turf training centres and a top-class turf track along European lines similar to Deauville or Ascot, which both have a mile-long straight track and round course.
"Undoubtedly straight-line training on gallops away from the track and racing on sweeping bends as in Europe, rather than training and racing on sharp turning race tracks in the States, is probably more beneficial for the horse's joints."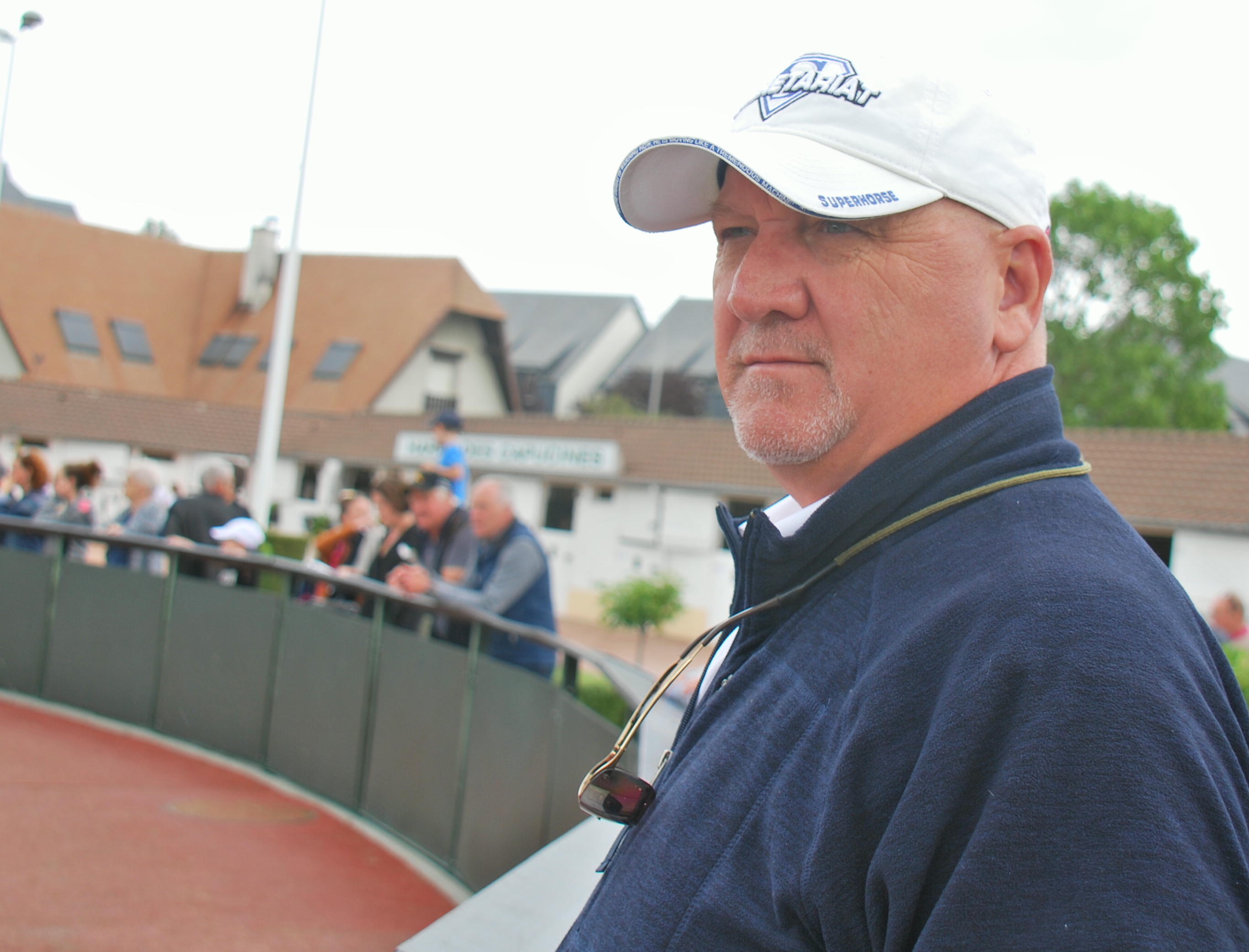 Kenny McPeek
McPeek came back for a second visit at the last minute, having no runners at Saratoga over the weekend, after going home empty handed three years ago.
"Last time was a learning exercise on European breeding and pricing here, and I made the mistake in bidding for horses on the first day that were way too expensive," said McPeek. "This time I didn't participate the first day and concentrated just on the second and third. I was looking for fillies with good pedigrees to race first and keep as broodmares."
McPeek bought two fillies for Rick Greenberg - one by New Bay for €140,000 and the other by Shalaa for €160,000. "I like to have 40 or 50 2-year-olds each spring and roughly 20 percent end up quality. Even those that don't can have a second chance as breeding stock," he said.
Both fillies will be heading back to McPeek's Magdalena Farm, where he has built a straight grass track, ideal for European turf-breds, which gives him an advantage over many other American trainers.
McPeek had previously bought eight yearlings at Saratoga, including a well bred Curlin colt for $950,000.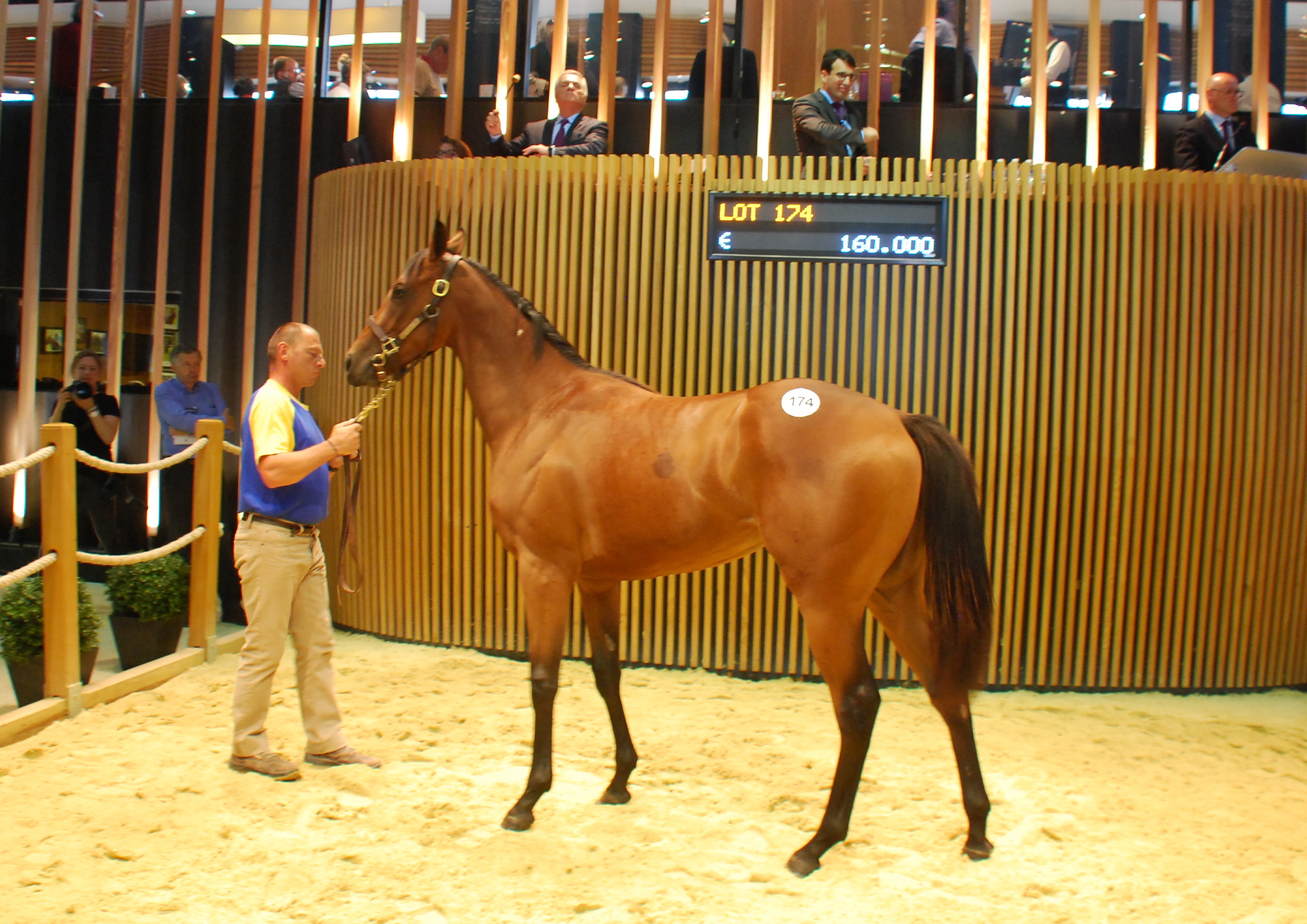 Other U.S. agents
The other American agents at Deauville also bought only fillies, except for Deuce Greathouse, who bought two colts on the third day - a son of Helmet (€40,000) and a son of Siyouni (€66,000). Shaun Duggan spent €1.95m on five lots ranging from €230,000 to €700,000 (a Frankel filly presented by Ecurie des Monceaux).
Justin Casse chipped in with two for €615,000, including a Frankel filly presented by Haras Du Capucines for €535,000. Peter Brant's White Birch Farm, who purchased this year's Prix du Jockey Club winner Sottsass, a son of Siyouni, for €340,000 at the sale in 2017, bought three this time through agent Oceanic Bloodstock for a total €840,000. This included €500,000 for a Le Havre filly presented by Haras de la Louvière.
Regular buyers Soliss/Litt bought a Siyouni filly from the Fairway Consignment for €650,000. And a member of the three-man syndicate that owns Prix de Diane third Grand Glory bought a filly by Sea The Stars for €145,000 through agent Marco Bozzi from Haras De Castillon.
White Birch Farm also own Sottsass's 2-year-old Charm Spirit half-brother, called Radiant Child, purchased by Oceanic Bloodstock at last year's August sale for €400,000. And they have a major interest in six-time G1 winner Sistercharlie, a Myboycharlie half-sister to Sottsass - the dam is the Galileo mare Starlet's Sister. However, they did not purchase the mare's latest yearling, by Fastnet Rock, who went to David Redvers for €700,000.
"Top buyers go to sales all around the world and certain things are sure, whatever the breed, if your horse doesn't have great conformation and physical, there will be no interest," said Taylor.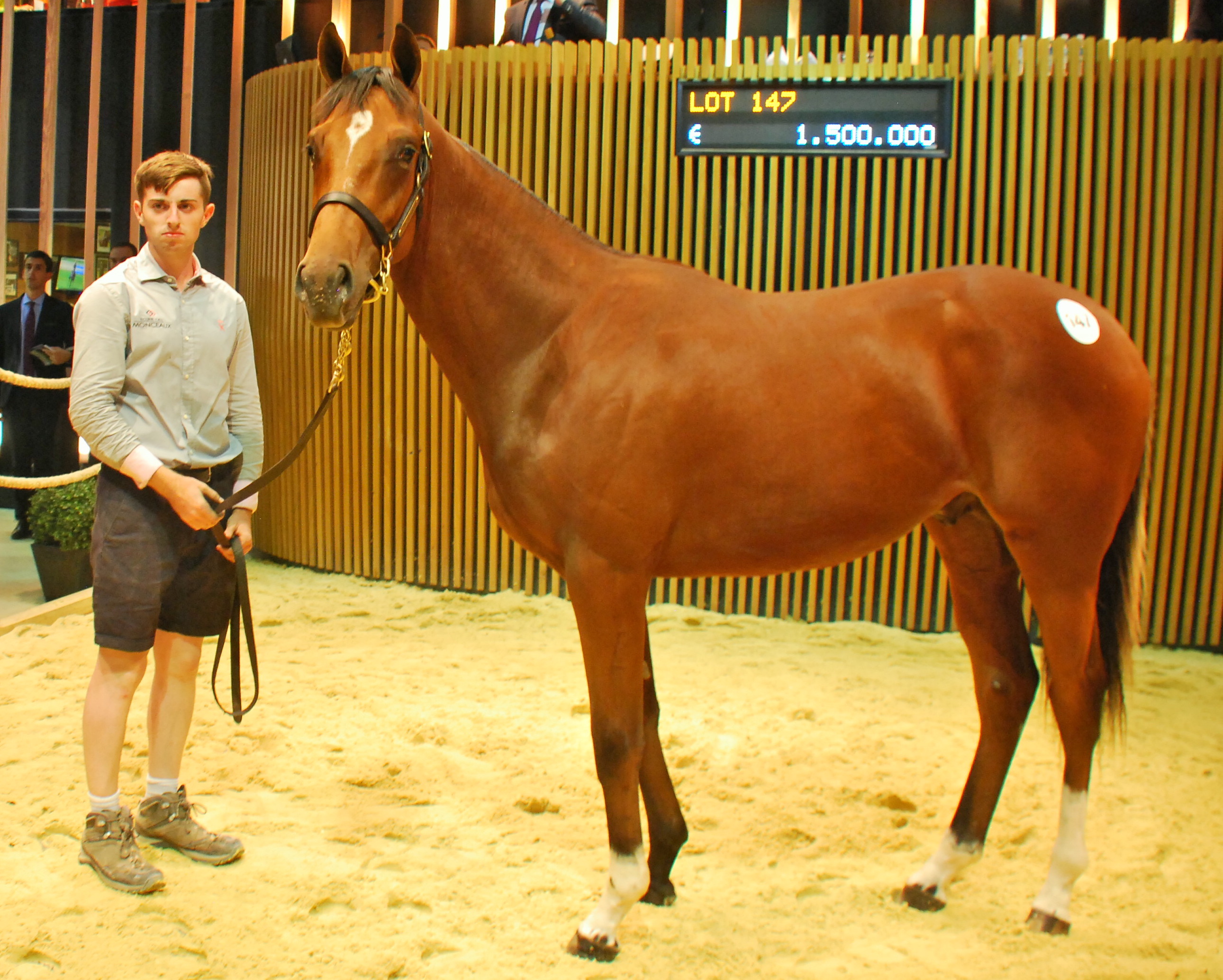 Sale facts and figures
Overall turnover at the sale rose 14.8 percent to €43,704,000 from the same number of 230 yearlings that went through the ring last year.
Once again Ecurie Des Monceaux led the way with 28 yearlings sold for a total of €9,975,000, including the two highest - a Galileo colt out of Prudente sold for €1.5m to Japanese trainer Mitsu Nakauchida, and a filly by Dubawi out of Prudenzia bought by Godolphin for €1.625m.