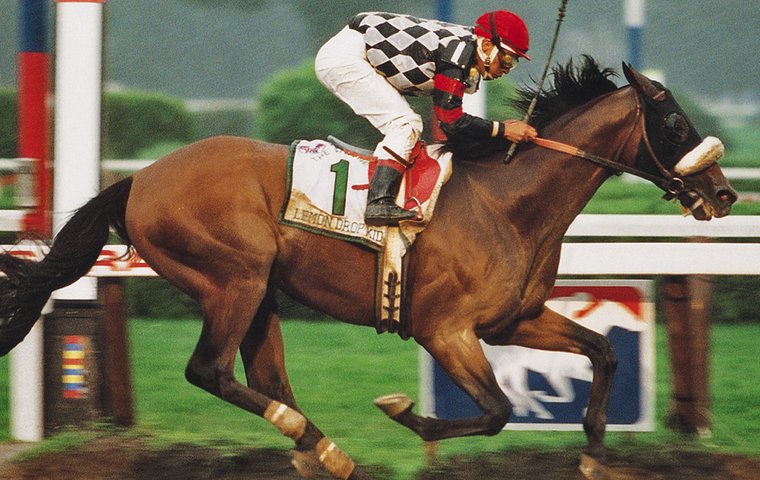 Continuing our series looking back at Travers Stakes posters produced by equine artist Greg Montgomery, here we look at the 1999 renewal and the 2000 poster that commemorates that year's race.

1999 was a year of upsets in the 3-year-old division. The Kentucky Derby went to a 31-1 shot in Charismatic, who had run in claiming races only a few months previously. He went on to follow up in the Preaknes, beating the same horse into second, Menifee. It was hoped by many that Charismatic could win the Triple Crown and the two horses might go on to form a rivalry similar the one between the greats Affirmed and Alydar in 1978.
Turning into the straight in the Belmont, Charismatic looked as though he might just do it as Menifee was way back in the pack. But he started to tire and the crowd quickly realised the 21-year wait for another Triple Crown hero was not about to end. In the closing stages, he was passed by two long shots - Lemon Drop Kid (30-1) and Vision And Verse (50-1), who slugged out a close finish with Lemon Drop Kid getting his head in front.
Charismatic had to settle for third. It was discovered he had sustained a fracture during the race and he was swiftly retired.
With no Kentucky Derby winner and Menifee failing to place, the 3-year-old division was wide open. Going into the Travers, it was expected that the shorter distance would suit Menifee and he was sent off a hot favourite. It was not to be. Menifee did not figure as Lemon Drop Kid and Vision And Verse fought out another close finish, with the former coming out on top once more, albeit by a slightly more comfortable margin this time.
It was not a vintage classic crop, but Lemon Drop Kid showed himself to be a tough and genuine competitor. He would come back as a 4-year-old and win four Graded races in succession, although he was never a superstar.
He has been a success at stud, however, producing numerous stakes winners on both dirt and turf.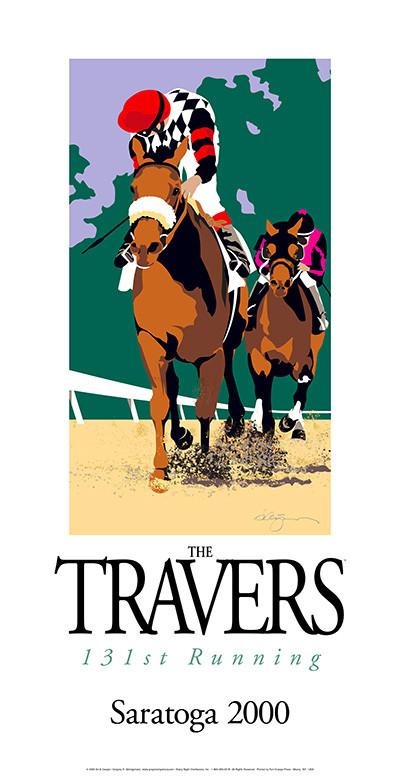 Lemon Drop Kid's biggest achievements
Belmont Futurity Stakes (1998)

Belmont Stakes (1999)

Travers Stakes (1999)

Brooklyn Handicap (2000)

Suburban Handicap (2000)

Whitney Handicap (2000)

Woodward Stakes (2000)
What the artist says
Here Montgomery talks about the 2000 poster 'First Across' (right) commemorating that race.
The jockey I drew here just won. Looking back at the others now, he's safely across the finish line. It's just a quick glance and a natural reflex, but there was something about the look that caught my eye. I love how the jockey's backward glance quickly pulls me into the image. In an instant, I'm looking where he's looking. I'm drawn into the action — every time. I used a very low angle to emphasize the action of the flying hooves and the ubiquitous mud. The red, black and white silks against Saratoga's famous green surroundings looks so classic.
You can purchase copies of all Greg Montgomery's posters here
Other posters featured in this series
1988 (Forty Niner)
1993 (Sea Hero)
1994 (Holy Bull)
1998 (Coronado's Quest)