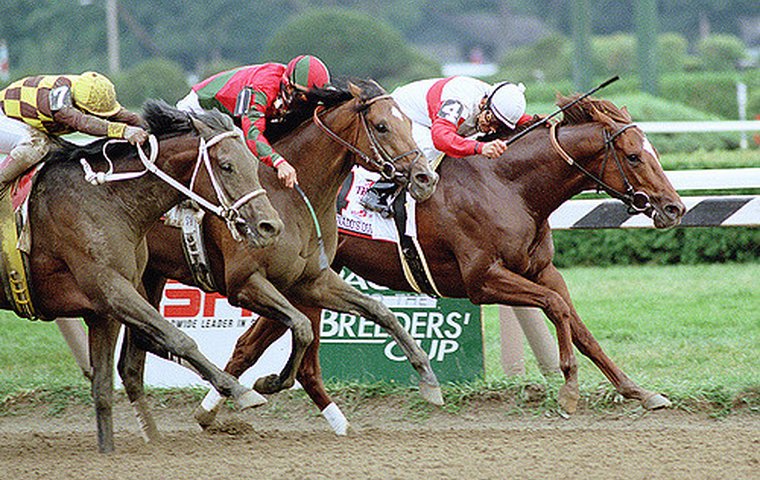 Continuing our series looking back at Travers Stakes posters produced by equine artist Greg Montgomery, here we look at the 1998 renewal and the 1999 poster that commemorates that years race.

It had been exactly ten years since Forty Niner prevailed by a nose to win the 1988 Travers. Now his son, Coronado's Quest, had the opportunity to continue the family tradition, although just a few months earlier it would have seemed impossible.
Coronado's Quest had always showed a great deal of talent. In his 2-year-old season, he managed to win three Graded races, all in New York, which led many to have him down as a possible Triple Crown contender.
However, as a 3-year-old, he started to display unmanageable pre-race behaviour. He often would not let his jockey mount - he threw Mike Smith on more than one occasion. In the Florida Derby, he wasted so much energy pre-race that he finished a disappointing fifth and was ruled out of the Kentucky Derby.
After he came back from Florida, he had minor surgery to fix an entrapped epiglottis. Trainer Shug McGaughey reported he was now a different horse - and it seemed he was right as Coronado's Quest recorded four straight Graded wins, including the G2 Wood Memorial and G1 Haskell, all while behaving perfectly.
He then went to the Travers looking to make it five in a row. He still was not favourite on the day, however. That mantle went to Victory Gallop, who had finished second to Real Quiet in the Kentucky Derby and the Preakness but got his revenge in the Belmont.
When the race started, the soft early pace meant Coronado's Quest took the lead turning for home still full of running. However Victory Gallop, who had raced closer to the pace than usual, started to close a furlong out. Outsider Raffie's Majesty also started to stay on from way back.
A furious three-way dash for the line ensued and, in the end, racing's 'Bad Boy' showed tremendous heart to hold on by a nose and a nose in a finish reminiscent of the three-way battle Forty Niner won ten years earlier.
Both Coronado's Quest and Victory Gallop would go on to be close again in the Breeders' Cup that year, although fifth and sixth respectively behind Awesome Again. Real Quiet, who was out injured after the Belmont, eventually took the 3-year-old crown, even though in reality all three were closely matched.
Unfortunately none of them has managed to make much of an impact at stud, but that can't detract from what was a contest of huge excitement.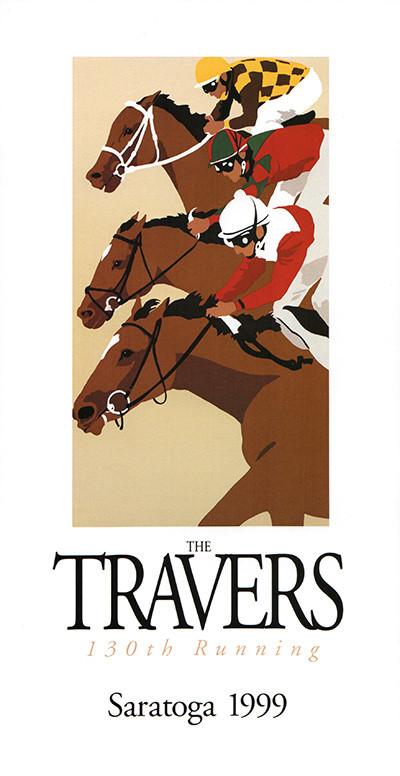 Coronado's Quest's biggest achievements
Travers Stakes (1998)
Haskell Invitational (1998)
Remsen Stakes (1997)
Cowdin Stakes (1997)
Nashua Stakes (1997)
Wood Memorial (1998)
Dwyer Stakes (1998)
Riva Ridge Stakes (1998)
What the artists says
Here Montgomery talks about the 1999 poster "By A Nose" (right) commemorating that race.
This poster commemorates one of the greatest Travers finishes I ever saw — 1998. Three incredible horses came within six inches of winning it all. Coronado's Quest won with Mike Smith aboard, but Victory Gallup and Raffie's Majesty were just a heartbeat away. With about 20 lengths to go, the cheers were deafening, and they got louder. This finish was so close, there were three times as many people thinking — and yelling — that they had the winning ticket. It was wonderful fun. Then came the announcement of the winner from the officials at the finish line — and it was pandemonium all over again. I just loved it. Thoroughbred racing has always been a beautiful pageant, but it's the 'stand on anything to get a better look', heart-racing, flat-out adrenalin rush of finishes like these that keep me coming back.
I wanted a different perspective, and different background color for this poster. So I drew these horses as seen from the inside of the track, right at the finish line. The horses are running right to left, not the more usual, and comfortable, left to right — like we read. I used a high, down angle so that the horse closest to the viewer — the winning horse — would not obscure the other two. The left edge of the print is the finish line. I pulled many original prints of this image showing a texture to the track surface (tan background). In the end, I decided that I liked the simplicity of the untextured track. So, that's the way the poster appears. I used Adobe Photoshop to delete the tan background from the four-color separations and replace it with a solid tan ink.
You can purchase copies of all Greg Montgomery's posters here
Other posters featured in this series
1988 (Forty Niner)
1993 (Sea Hero)
1994 (Holy Bull)