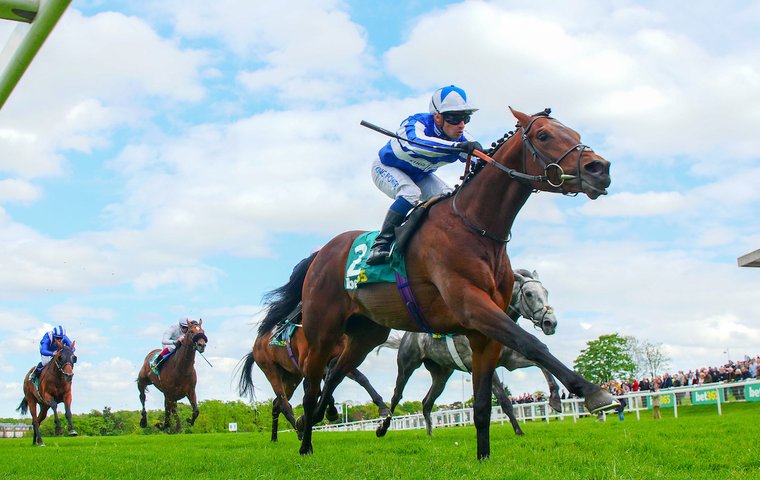 There's a huge link – and a heavy note of poignancy - in three of our choices for TRC Performers of the Week this week.

TRC JOCKEY OF THE WEEK
The two jockeys to ride doubles this week have both received extensive coverage in our pages. Blake Shinn (+5pts, #32 from #35) won the G2 Victory Stakes and G3 General Gunsynd Classic at Eagle Farm, but SILVESTRE DE SOUSA (+7pts, #66 from #78) gets the nod for the G2 bet365 Mile and G3 Classic Trial at Sandown.
Historically, TRC Global Rankings has not been able to do De Sousa full justice for the most part. This is no fault of his or ours, but lies in the Brazilian being overlooked at the top table of racing since leaving a job at Godolphin. He did not last long in that job, despite rising to world #8 on our rankings for the weeks March 30 to April 13 in 2014.
Back in 2017, we wrote: "The fact that De Sousa doesn't have a top job in Britain should be an embarrassment to British owners and trainers. It is like leaving Cristiano Ronaldo on the bench because a lesser forward talks a better game."
In that article, we used De Sousa's domestic statistics in Britain to provide an objective measure of the amazing degree to which he has been underrated. Over the course of his career, De Sousa had totalled an amazing +149.2 Wins Above Expectation (WAX). This metric is calculated by subtracting from a rider's realised victories the aggregate of the odds of his mounts on the Betfair Exchange.
Let's update the table we provided in that article to show the leading riders by WAX over the last 20 seasons. This, in effect, is the aggregate of their effect over the outcome of races not captured by betting odds; in other words, how greatly they have been underrated over the years.

Since the article – and in a period where it should now be obvious to everyone except those recently descended from Mars that following De Sousa is free money – the great rider has added 14 more Wins Above Expectation. He is now more than 40 WAX clear of world #25 Jim Crowley. (Note that three of the five riders in the table above have all ridden regularly for the same trainer, the remarkable #85 Mark Johnston, who is the all-time leader in race wins in Britain.)
Incidentally, there is a theory doing the rounds that De Sousa's approach to riding is more suited to lesser races. Sure enough, his WAX figures in 379 career Group races is actually a minus figure, -3.79. But a sample of 379 is only four percent of De Sousa's total rides in the table above. And if you were to take merely random samples of 379 from the 9,358 rides, many of these would also total negative WAX.
By means of illustration of this important consideration of statistical inference, consider the period July to September of the 2014 season, when De Sousa had 354 rides for a total WAX of -4.13. Nevertheless, it has to be admitted that these periods are relatively rare, so it is correct to not totally discount the propounded theory.
But, would you really want to bet against De Sousa's mount in future Group races. One organisation who won't be doing is …
TRC OWNER OF THE WEEK
It is not without considerable and belated poignancy that we recognise the ascent of KING POWER RACING CO LTD (+6pts, #57 from #84) to its highest ranking yet, posterior to the tragic death of its founder, Vichai Srivaddhanaprabha. It seems like the Leicester City Football Club owners remain committed to a racing operation, and the dividends of their considerable financial commitment are beginning to show.
The blue-and-white King Power livery was sported to a Sandown double by De Sousa on Beat The Bank in the G2 Mile and Bangkok in the G3 bet365 Classic Trial. Next stop for the latter is the G1 Derby at Epsom.
At time of writing, De Sousa was 16-39 41% (2-5 40% Group races) on his opening rides under the King Power contract, good for a superb +6.22 WAX (+0.96 Group races) already.
King Power have engaged some very talented trainers who themselves are going to benefit rankings-wise from the synergy, notably …
TRC TRAINER OF THE WEEK
The historic Kingsclere, Hampshire, stables of Andrew Balding – formerly occupied by his training great father, Ian – increasingly houses some outstanding equine talent. During the years 2015-2018, Andrew bettered his TRC Global Ranking each time, and it is our expectation that 2019 will see a first top 30 slot for the trainer.
This week, Balding teamed up with King Power Racing Co Ltd and Silvestre De Sousa to land the G2 bet365 Mile and G3 Classic Trial at Sandown, his first Group winners of the young campaign.
The table below aggregates Balding's Group-race results for the years that count towards our rankings. Note that 2017 and 2018 saw a surge in runners (55, 65) and wins (7, 7), with the data that really pushed the trainer from #62 to #38 indicated by the 'Places' column, which saw double the number of the previous campaign for the 2018 season. (TRC Global Rankings counts the performances of all horses, and placed horses running well often boosts a competitor's ranking.)

We often see that the rise of one entity in a given rankings category (Jockey, Owner, Trainer or Sire) is correlated with another in a different category, for obvious reasons. Racing is a team game at the highest level, and there is a co-dependency across categories exemplified in this article.
Click here for a list of all last week's biggest TRC Global Rankings points gainers.
Click here for a list of all the week's Group and Graded winners