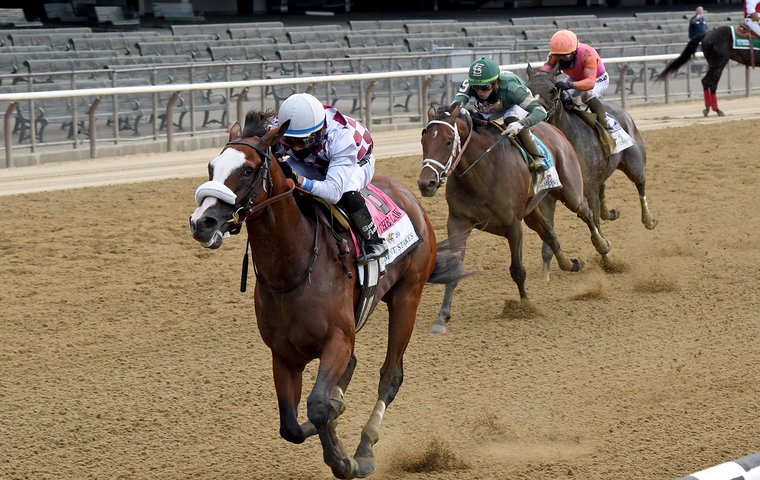 A trial like no other trial. Saturday's Travers Stakes at Saratoga has been pushed forward in the schedule to serve as a stepping-stone to the Kentucky Derby on September 5.

It's strange to think of a race with a 150-year history littered with top-class performances as a prep race. In effect, that's what the Travers will serve as in this strangest of seasons. Correspondingly, there are 100, 40, 20 and 10 qualifying points available for the Derby for the top four finishers.
In the context of previewing the Travers, it's time to update the 2020 TRC Kentucky Derby rankings. The top horse throughout this series retains his spot, but there is a new #2, who has progressed as anticipated and now deserves a top billing. Injury has knocked the former #3, #4 and #5 from our previous iteration in early May off the trail.
#1 (WAS #1) TIZ THE LAW
Constitution – Tizfiz (Tiznow)
The standout colt of his generation did everything expected in the Belmont. There wasn't a moment he looked in trouble, and his near four-length defeat of Dr Post could have been a lot more had they gone the all-out gallop that really suits him.
For the Travers, the seventh start of his career, Tiz The Law returns to the track where it all started last August. He draws stall six, which looks perfect for his quick-starting, stalking style and he is fully expected to put on another show. His workouts have been sensational and he will be fun to watch against a nice group of rivals with likeable profiles.
#2 (#8) HONOR A.P.
Honor Code – Hollywood Story (Wild Rush)
He strides like a fairly tremendous machine. This column has been high on this colt since his second in the G2 San Felipe Stakes and there is nothing about his defeat by former #2 Thousand Words in a Listed race at Del Mar to dissuade us. He earns the #2 slot via his defeat of Authetic in the G1 Santa Anita Derby, having been returning from a layoff when that race-fit rival defeated him previously. Clearly, it is close between the two and our rankings here reflect that.
But Honor A.P. is a colt built for prime time. The harder and further they go, the more it will suit him. Thousand Words got to dictate a steady pace when turning him over, while Honor A.P. was banged at the start and had to cover ground early while not yet into his running and was just getting rolling by the end. That's not him and he should not be knocked for it.
#3 (#2) AUTHENTIC
Into Mischief – Flawless (Mr Greeley)
While others in the Bob Baffert barn have fallen by the wayside, the talented son of talented sire Into Mischief has remained steadfast to the cause. True, he took a sucker punch by #5 Honor A.P. when not completely focussed in the G1 Santa Anita Derby, but that first defeat of his career seems to have just emboldened him. Certainly, he was tenacious in the G1 Haskell to hold off Ny Traffic by a nose as they drew clear of #7 Dr Post.
If these rankings were down to a colt's CV, Authetic would retain his #2 slot. But, the logic of rankings as we do them sees him below his Santa Anita conqueror because he does not own a performance better than that horse and did nothing to change that at Monmouth.
But let's be positive: this is a highly accomplished runner and there is nothing tougher on the trail.
#4 (NEW ENTRY) ART COLLECTOR
Bernardini – Distorted Legacy (Distorted Humor)
The fastest-riser in the list, Art Collector earns a lofty billing by dint of his brilliant display in the rescheduled G2 Blue Grass Stakes at Keeneland. Notable here was the margin of more than eight lengths back to the fancied third-horse, Rushie, and the fact the winner gave 5lb to talented filly Swiss Skydiver, who filled the runner-up slot.
While Art Collector's level of achievement surpassed his previous efforts in allowance races, it came as no surprise to the betting market – he disputed favouritism with the filly, who was coming off a four-length victory in the G1 Santa Anita Oaks, gained in a very fast time. That the runner-up pulled clear encourages the belief she was somewhere near her best, yet Art Collector beat her easily after controlling the race throughout. And he was only going further away at the wire.
This is a very good colt. He is far less exposed in Graded stakes than many in this list and he is now guaranteed a berth in the Churchill Downs finale. He runs in the Elllis Park Derby on Travers day.
#5 (#6) KING GUILLERMO
Uncle Mo – Slow Sand (Dixieland Band)
There might be a few tempted to overlook King Guillermo, despite him standing in the #6 slot in the Derby points table. The reason may be that he hasn't been seen since defeat in a division of the G1 Arkansas Derby in May. But the colt owned by former baseball star Victor Martinez remains very much on course.
His second to Nadal at Oaklawn was only the fifth start of his career and he is eligible to improve again, particularly as he has had the pause that refreshed. The G2 Tampa Bay Derby win is still one of the most impressive performances we have seen on the Derby road.
#6 (NEW) NY TRAFFIC
Cross Traffic – Mamie Reilly (Graeme Hall)
When third in the G2 Risen Star Stakes at Fair Grounds in February, he didn't come over as having the profile of a runner who would be #6 in our list at this stage, but this tough grey deserves it after adding further placings in the G2 Louisiana Derby, G3 Matt Winn Stakes and, notably, the G1 Haskell Stakes. Ny Traffic has to be ranked somewhere around here after running #3 Authetic close, especially as he pulled clear of the rest.
After nine starts, you would have to doubt he has the upside to take his game to championship level but his form is getting better in steps and you have to respect him off the last.
#7 (NEW) DR POST
Quality Road – Mary Delaney (Hennessy)
The notoriously speed-favouring Monmouth track did not suit the strong-staying closer Dr Post and he ran okay when third to Authetic and Ny Traffic in the G1 Haskell. But, he is ranked a slot behind the runner-up because he did not close off well enough, even allowing for the track.
is previous G1 Belmont Stakes second to #1 Tiz The Law demands he be ranked about the third, #10 Max Player, but you have to just wonder how the placed horses will slot in by the end of the season. How much strength-in-depth was there is the rescheduled Classic over nine furlongs? We need more evidence.
#8 (NEW) UNCLE CHUCK
Uncle Mo – Forest Music (Unbridled's Song)
There is plenty riding on Uncle Chuck's performance in the Travers here at TRC as he also made our inaugural Virtual Barn. Admittedly, there is a bit of projection involved in getting him to #8 in this list of the back of the G3 Los Alamitos Derby, but it is logical he is ranked above #9 Thousand Words, whom he defeated by four lengths there. With that one going on to beat #2 Honor A.P., it all suggests that Uncle Chuck should be ranked around this spot.
The Travers is a huge test for him, but he has clearly got a ton of ability. Let's see where that gets him at Saratoga.
#9 (RE-ENTRY) THOUSAND WORDS
Pioneerof The Nile – Pomeroys Pistol (Pomeroy)
After three wins to open his career, Thousand Words made it as high as #2 on this list. And he deserved it too, landing the G2 Los Alamitos Futurity and the G3 Robert B. Lewis Stakes in the early stages of the campaign. However, after he failed to reach the first three on his next two starts – notably a disastrous 11th in a listed race at Oaklawn, we dropped him from the list altogether.
Those earlier exploits, added to a runner-up finish to #9 Uncle Chuck and an all-the-way defeat of #2 Honor A.P. earns him a reprieve. There are still lingering doubts over his ability to handle a big field and attending a strong pace, but fair is fair. He merits inclusion.
#10 (#10) MAX PLAYER
Honor Code – Fools In Love (Not For Love)
Having his first run since winning the G3 Withers Stakes at Aqueduct in April, Max Player stayed on nicely into third in the G1 Belmont, behind #1 Tiz The Law and #7 Dr Post. He remains on the shelf since then, but is due to line up for the Travers, when we should learn a lot more about him. He comes over as a horse lacking the weapons to be truly top-class, but he is eligible to improve again and is one of the most talented closers in America – if he gets into a meltdown.