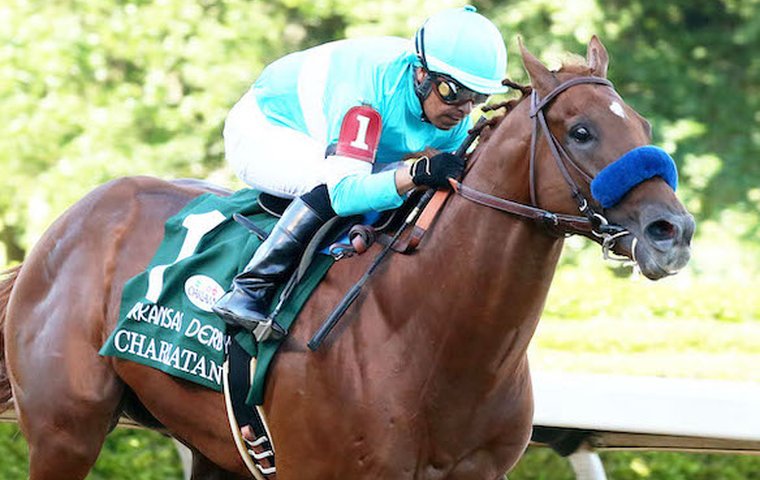 The Road to the Kentucky Derby has never looked so different. The two divisions of the Arkansas Derby last week reminded us of how much is to come before the great race is restaged in the autumn. Both Bob Baffert-trained colts were seriously impressive. But, preference between them as Derby prospects is clear according to our model. At least for now …

1. TIZ THE LAW (stays #1)
Constitution ex Tizfiz by Tiznow
Some bookmakers have promoted Charlatan to Derby favourite after his win in a division of the G1 Arkansas Derby. Right or wrong, we take a much different view here.
It's Tiz The Law that deserves top spot because he owns the best form. He is twice a G1 winner, most recently in the G1 Florida Derby, in which he looked a top-notcher every step of the way. This is very solid form: victims Shivaree, Ete Indien, Gouverneur Morris and Independence Hall all have smart form.
This is a Derby horse through and through: he has the pedigree and the connections also. Trainer Barclay Tagg and owners Sackatoga Stable combined with the 2003 Derby winner Funny Cide and have another exceptional prospect for the great race on their hands.
2. AUTHENTIC (stays #2)
Into The Mischief ex Flawless by Mr. Greeley
We last updated these rankings in March, but there is no need to impose change for change's sake. Fourth in the betting in some list, this runner is arguably the best value in the book. He remains unbeaten after three starts after dominating the G2 San Felipe, when we last saw him, and is a key player in trainer Bob Baffert's impressive Derby portfolio.
On film, Authentic looks a strong stayer. He has an extra gear at the end of well-run races – as he proved with a seven-length win in the G3 Sham in January – and he should get 10f well. There is some reason to pause over classic distances as a result of the presence of speed influence Mr. Greeley on his dam's side, however. One thing is for sure: this chap is seriously good.
3. NADAL (stays #3)
Blame ex Ascending Angel by Pulpit
Like Baffert's 2018 Derby winner, Justify, Nadal was unraced as a juvenile. He made a stunning debut slightly earlier than the Triple Crown hero when winning a maiden in January in a fast time and has gone on to prove himself a tough, talented and strong running sort while retaining his unbeaten record.
Now, while Justify proved he could stretch his speed to classic distance, it did not mean for certain we should take that for granted with this fast horst - he has pressed a 21.81 - 22.28 pace while looking untroubled - but he has the pedigree and his convincing three-length defeat of King Guillermo in a division of the G1 Arkansas Derby strongly pointed to his having the stamina too.
Indeed we rank him above Charlatan here for that reason. According to our inferred criteria from studying the profiles of previous Derby winners, a fair amount of weight needs to be given to finishing a trial strongly. The fact is that Nadal outfinished Charlatan, according to their respective split times.
So it is the son of Breeders' Cup Classic winner Blame who gets preference to the offspring of a Sprint winner.
4. CHARLATAN (new)
Speightstown ex Authenticity by Quiet American
Charlatan's first foray into Graded company resulted in a six-length win in the first division of the G1 Arkansas Derby. Only very smart horses can do that; this fellow may be the most naturally talented runner in the country.
However, there is some reason for pause here. The inclination here is to agree with the remarks made in our comments section on this colt before the race by Team Valor supremo Barry Irwin – he may well have distance limitations once faced with more pace pressure
After all, Charlatan clocked just 13.16 sec for the final furlong, compared with Nadal's 12.71sec in the other division. True, he had gone harder early than his stablemate, but he was not hard sent to do that; rather, it was his terrific early speed that carried him to a two-length lead through a half-mile in 46.08 (Nadal was on the shoulder of the leader in 46.21sec).
We will see. As Justify showed, brilliant speed does not imply a lack of stamina, only the probability that this will be the case because very few horses own both.
One thing is for sure: this colt can absolutely fly. There is plenty more to come, whether his forte proves classic distances or a stretched mile.
5. MAXFIELD (from #6)
Street Sense ex Velvety by Bernardini
The G1 Breeders' Futurity winner would be much higher ranked than this had we seen him since his stunning triumph at Keeneland last October. He has had surgery for ankle chips and could be out soon.
Trained by Brendan Walsh - the handler of last year's G2 UAE Derby winner Plus Que Parfait - the Godolphin colt was very impressive, sweeping round the field around the second turn and storming clear.
Race times on the deeper tracks of the east are usually not so impressive than the harder surfaces out west, but Maxfield's closing strength means he has nothing to fear from a stronger pace.
When he proves his well-being, this colt could challenge for the top of the rankings. He is that good.
6. KING GUILLERMO (from #7)
Uncle Mo ex Slow Sand by Dixieland Band
Defeat is always disappointing, but often it is no disgrace. Such was the case with King Guillermo's three-length second to #3 Nadal in the Arkansas Derby (Division 2). Prior to this, he was so impressive in the G2 Tampa Bay Derby, swooping around the final turn like a wild horse and thumping his old rival Sole Volante by nearly five lengths in a fast time.
Now we have seen confirmation of this, King Guillermo can use the added seasoning and conditioning to move up again. He has nothing to fear from the mile and a quarter at Churchill Downs.
7. ETE INDIEN (from #5)
Summer Front ex East India by Mizzen Mast
Ete Indien first made the list on the back of his running-on second to #1 Tiz The Law in the G3 Holy Bull at Gulfstream. He was miles clear of the rest and is a good horse in the making.
He more than confirmed his place when third to the same horse in the Florida Derby. The problem for him – as anticipated – seemed to be the extra distance. Prior to this defeat, he had won the G2 Fountain of Youth at 8.5f furlongs in the style of a fast horse. He deserves huge respect because of his deep ability, but we have reservations about his stamina.
8. HONOR A.P (from #9)
Honor Code ex Hollywood Story by Wild Rush
The John Shirreffs-trained colt makes the list because of the quality of his second to San Felipe Stakes winner Authentic at Santa Anita in March. He was coming back from a break on his 3-year-old debut and could strip fitter at some point in future.
Turning out of the back, Honor A.P was the only runner who could make smooth progress in the backwash of Authentic, and that kind of middle-move could make him a formidable runner if he can sustain it longer with a run under his belt.
9. MISCHEVIOUS ALEX (from #10)
Into Mischief ex White Pants Night by Speightstown
We have grave stamina reservations about this colt, but he has now banked 50 qualifying points and stands in joint-third in the process. He has been impressive in the G3 Swale Stakes (7f) and G3 Gotham Stakes (1m) and has a ton of speed - surely too much - but we need to rank him because he has achieved a lot more than other horses we might put in his place.
At Gulfstream, Mischevious Alex pressed a 22.41 - 22.61 pace and ran 1:22.83 while geared down. Wow. That is a seriously impressive effort, and, if the John Servis-trained colt can stretch his speed, he might have a shot to emulate the stable's 2004 Derby and Preakness winner Smarty Jones.
It is a big 'if' at this stage, but you have to give this runner respect.
10. MAX PLAYER (new)
Honor Code ex Fools In Love by Not For Love
This fellow has a lot to prove, but it is a long time since the first day of February, when he won the G3 Withers at nine furlongs by more than three lengths from Shotski. That form is nowhere near good enough, but he deserves some consideration as a progressive type trained by the excellent Linda Rice.