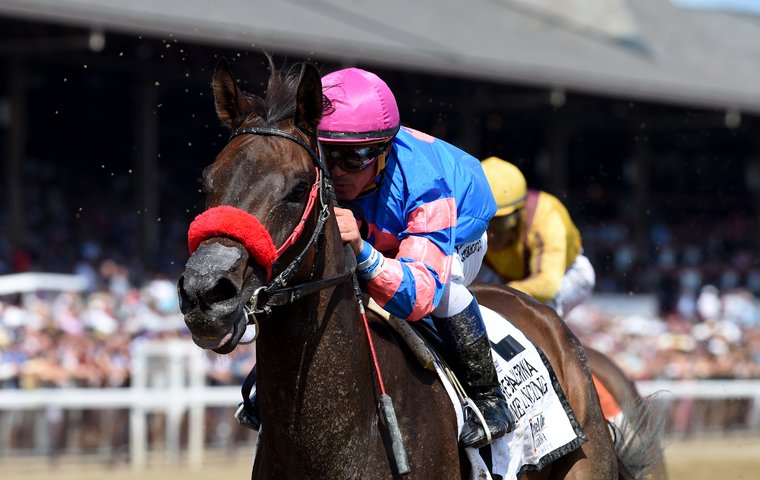 James Willoughby uses TRC data from our upcoming Horse rankings to construct a team for the rest of the year.

In any normal year, the great race meeting at Saratoga - which got underway yesterday (Thursday) - would be the de facto midpoint of the season, a place where early-season form is tested by later-developing horses who were not ready for prime time. As a result, there is no better time to use a data-driven approach to highlight horses who could survive the examination here and elsewhere.
Aimlessly throwing a list out there is not the TRC way. Just as our rankings are tested by their efficacy in diagnosing future results, we are going to try the exercise of updating this list optimally as results come in. Therefore, some horses will be thrown out of Virtual Barn and replaced by others, but we reserve the right to retain unlucky losers or those who still have potential.
The exercise is to balance this process so that future results – as measured by the usual performance metrics like win percentage and betting return on investment – are optimised.
We will provide more details with each update of Virtual Barn, which will take place at least every two weeks. Here is the initial team:
CEZZANE
(Bob Baffert) 3yo c, Curlin – Achieving (Bernardini)
Since we don't have to pay for the horses in Virtual Barn, why not include a $3.65m colt? But there is a lot more to recommend the Coolmore Partners colt after two wins. He made a winning debut at Santa Anita as recently as June, but the way he graduated from an entry level allowance at Los Alamitos was mighty impressive. He was so smooth doing it, idled in the straight and a winning margin under two lengths massively hid his superiority. It is time for stakes racing.
COME DANCING
(Carlos Martin) 6yo m, Malibu Moon – Tizahit (Tiznow)
Everybody who knows New York racing knows this fantastic mare. She has been so skilfully handled by Carlos Martin that she has won half her 16 starts, including the G1 Ballerina at Saratoga last year. She is selected because the chances are that she could improve again at six, judged by her late-developing trajectory, and her talent level is remarkable when on song. Ignore her second in the G3 Vagrancy at Belmont on her reappearance – she needed it and had a difficult trip on an off track.
LARGENT
(Todd Pletcher) 4yo g, Into Mischief – Life In Seattle (Unbridled)
The cleverly named Largent has not run since Gulfstream in March but has appeared on the Belmont training tab on a number of recent occasions. Not many Virginia-breds make the big time, but this gelding makes the list because he has never run in a stakes race after five starts but has the potential to make an impact. He has won a maiden and allowance down in Florida, recording some decent figures, and caught the eye when second in a second-level turf event In February. This is an interesting turf miler in the making.
LONG WEEKEND
(Tom Amoss) 3yo c, Majesticperfection – Liza Too (Olmodovar)
A disappointing third in the listed Gold Fever Stakes at Belmont on a sloppy track, Long Weekend is worth another chance to prove himself a useful young sprinter in the making. He has perhaps the two most important facets to do well in this sphere: early pace and guts. Both were on display at Oaklawn in April, when he beat Echo Town by a head in another listed race. He should develop well for us.
MUNDAYE CALL
(Brad Cox) 3yo f, Into Mischief – Reve D'Amour (Warrior's Reward)
Last of seven on his only try in Graded stakes in the G1 Spinaway at Saratoga last year, Mundaye Call has won both her starts since. She had little trouble breaking her maiden at Del Mar last November, then bolted up in an entry-level allowance at Keeneland on her reappearance this month – despite running as if she were a little fresh. This is a filly with so much speed and upside, and, like others in the list, she has the potential to step up her game a good deal. Trainer Brad Cox continues to climb our trainer rankings and he is clearly very talented.
SPICE IS NICE
(Todd Pletcher) 3yo f, Curlin – Dame Dorothy (Bernardini)
Following her maiden win at Gulfstream in January, Spice Is Nice was defeated in both the G2 Davone Dale (second to Tonalist's Shape, which is hopefully very good form) and fifth in the G2 Gulfstream Park Oaks. Is that her ceiling? We will see, but the pause-that-refreshes seemed to do her the power of good when she won an allowance at Belmont in July in good style. Let's take her to do better in Graded races with that under her belt.
TACITUS
(Bill Mott) 4yo c, Tapit – Close Hatches (First Defence)
This colt has been so, so frustrating so far, but is he about to reveal his all-world potential finally? He was Classic-placed twice last year, after winning the G2 Wood Memorial, but places were all he garnered for the rest of the year. Physically imposing, perhaps the truth is he has grown into his strength, given the style in which he won the G2 Suburban last up by nine lengths; though perhaps it was also an ease in company that did it. Before that win, he had been working sharper than ever and has a massive stride. If the improvement Tacitus seemed to show last time on the figures can be replicated in the highest grade, he could prove the next Juddmonte-owned star.
TIZ THE LAW
(Barclay Tagg) 3yo c, Constitution – Tizfiz (Tiznow)
No marks for originality, right? But, you surely did not think we would leave him out? This is a 3-year-old colt of immense talent who has the ability to complete this strangest-of-all Triple Crowns. Tiz The Law won the G1 Belmont very easily. Though it would seem the spaced-out version of the Crown affords him an easier task in completing the sweep than in other years, that doesn't count the G1 Travers coming in between. Even American Pharoah was beaten there. Whenever this colt runs, it is unmissable.
TONALIST'S SHAPE
(Saffie Joseph) 3yo f, Tonalist – Hitechnoweenie (Harlan's Holiday)
An entry in the CCA American Oaks at Saratoga tomorrow (Saturday), Tonalist's Shape will bid to break through at G1 level for the first time. She won five straight races to start her career, notably the G3 Forward Gal and G2 Davona Dale at Gulfstream before the run came to a juddering halt in the G2 Gulfstream Park Oaks. Sequences rarely last forever, and this tough front-runner might have started another one by winning the listed Hollywood Wildcat at Gulfstream in May.
UNCLE CHUCK
(Bob Baffert) 3yo c, Uncle Mo – Forest Music (Unbridled's Song)
It has been a season of highs and lows for trainer Bob Baffert. Clearly, not everyone is a fan of his. But, to be keen on his horses does not constitute being some kind of fanboy. After all, to be a fan of his colt Uncle Chuck requires only to switch on the tape and watch the G3 Los Alamitos Derby, which he won on his second racecourse start by four lengths. It is too soon to say what Baffert will do with Uncle Chuck, following the disruption to the Del Mar meet caused by the coronavirus pandemic. He is a horse to follow, regardless.