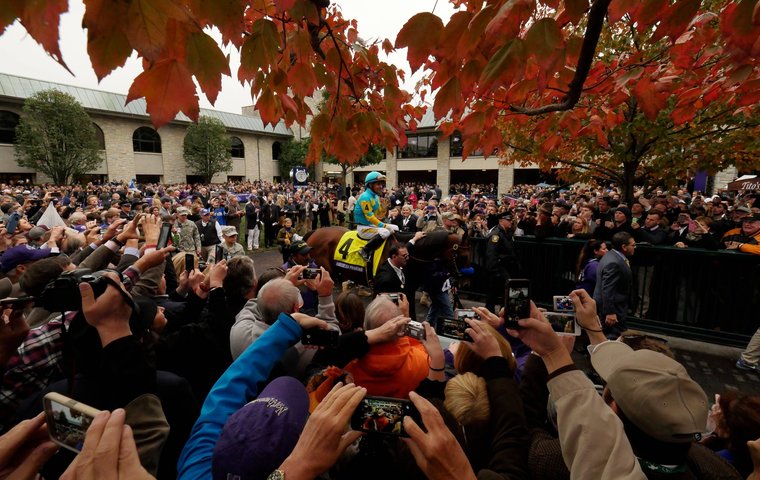 In the final part of a major three-part interview, John G. Sikura, president of Hill 'n' Dale Farm in Kentucky and one of America's leading horseman, tells Amanda Duckworth about his goals, his successes and failures - and his answer to people who want to make the Triple Crown easier to win.

Anyone deeply involved in the Thoroughbred industry will tell you that, no matter what, it is a time-intensive endeavor. For John Sikura, horses rank behind only one thing: his family. He and his wife, Angela, have three sons, John Edward, Jackson, and Jaden. Hockey remains a passion as well, and it is something he has also passed on to his boys.
"For me, horses are not a hobby, it's what I do for a living," said Sikura. "Really it is more than that. It's a lifestyle, and it is an all entrenching point of view. I live on the farm, and when I get up there are horses. All day, every day, there is good news and there is bad news.
"I am either at a hockey rink or at a horse sale or in a horse barn. I think the last movie I saw was The Godfather. You don't get to do too much, but I can't think of anything more important than my wife, my boys, and my horses."
Highs and lows
Because horses have become a way of life for Sikura, he remains fairly pragmatic about both his successes and his failures. Although he enjoys the former and attempts to learn from the latter, he tries not to dwell on either.
"I don't try to focus singularly on a success because, if you look back admiring your successes, you are not paying attention to the future, and this business is constantly moving," he said. "Enjoy what has happened, but plan forward.
"There have been multiple good things to happen, but also it is a very hard business and bad things happen, too. The same premise, the same risk, the same emotion that allowed for the purchase of our big-name mares went into buying mares that were no good."
Although Sikura has done incredibly well for himself, he did point to several key stallion losses as disappointments.
Candy Ride (the 23rd highest-ranked sire in the world in the TRC Global Rankings) began his career at Hill 'n' Dale before being relocated to Lane's End Farm, and Medaglia d'Oro (world-ranked 6, and second in the U.S.) also got his start there before his owner at the time decided to open his own farm.
"There are disappointments, but from those you learn and you always get a chance to get another at bat," said Sikura. "It might not be when you want it, and it might not be how you expect it, but, if you work hard, look forward, and have character, you are going to get another chance.
"If you are looking back and focusing on the past, you are not in a place to recognize this new chance, this gift that clears the page of negativity and turns it into the next great opportunity."
Coming home
As a breeder, Sikura's goal is always to breed a filly and then have her earn a spot back in his broodmare band through her race performances.
"The ultimate reward is if you can buy a mare, plan a mating, raise a foal, win a stakes as a homebred, and have that filly come back to your broodmare band," said Sikura. "I think that is the most sophisticated, in-depth success that anyone can hope to enjoy in the business, and it's very hard to do."
A classic example is G1 winner Got Lucky, who is a member of A.P. Indy's last crop. Her story is one that embodies so many of Sikura's beliefs. When her dam, Malka, broke her maiden, Sikura tried to buy her outright. Co-owner Philip J. Steinberg wouldn't sell, but Ben Walden did.
"I know I overpaid, but I wasn't focusing on what Malka cost," said Sikura. "I was trying to get into a family that was virtually impossible to get involved in. I bought the mare, bred her, and her first foal at auction sold as the most expensive colt at Keeneland. He was a beautiful gray A.P. Indy, went for $1.4 million, and how he didn't run I don't know.
"A.P. Indy was subfertile by then and had even more difficulty the next year. I owned 10 percent of A.P.Indy, multiple shares, and I think we bred the Malka to him five times in 2010. We sent her back again and again and again. There were only 36 mares that had a foal, and she was one of them. It was a filly, we kept her, and we raced her. That was Got Lucky. She is another example of a belief in an idea and an undeterred march toward what you are trying to do."
A familiar name
One horse who made an impression on Sikura at an early age was champion Deputy Minister, and that impression has continued to pay dividends throughout the decades.
"I remember when Deputy Minister broke his maiden," said Sikura. "He was a big, magnificent horse, and I was just awed. I never forgot Deputy Minister, and talk about impressions of youth. Usually they dissolve over time but sometimes they remain pertinent in your life."
Many of Sikura's biggest successes have come via Deputy Minister in some form or fashion. Better Than Honour? By Deputy Minister. Curlin? Deputy Minister is his broodmare sire. One of the first big horses he sold at auction? Touch Gold, a son of Deputy Minister who won the 1997 Belmont Stakes.
It should come as little surprise, then, that Sikura's all-time favorite horse is a daughter of Deputy Minister. Daijin, Touch Gold's sister, was a stakes winner in her own right and finished third in the G1 Test Stakes before a bout with EPM cut her career short. As a broodmare, she produced Canadian champion Serenading as well as multiple stakes winner Handpainted.
"She had such a beautiful face," said Sikura. "For 15 years, every time I looked at her, she would have her eyes wide open and her ears straightforward like she was looking into the moon. There was never a time where she didn't stand completely square and on full alert. Every time she came out, every time I went to her, she was like that."
Keeneland pride
Lessons Sikura learned from his family growing up still impact him today, and he tries to pass them on to his sons.
"I always tell my kids that you go to the races in a suit and tie, you respect the game, and you go there with reverence," said Sikura. "I love to bring them to the races and go to the paddock. You might read about a certain horse but, when you see the horse in the flesh and it is a living being in front of you, it brings it all together and makes it real.
"I am a huge proponent on attending live races. The smells, the feel, the sounds, the vibe are things you can't create over the internet or simulcast. Fortunately, a place like Keeneland lets them see racing at its very best, and some of those ideas can be instilled in them."
In fact, last year when Keeneland hosted the Breeders' Cup World Championships for the first time, it was a point of pride for the Canadian turned Kentuckian.
"The Breeders' Cup at Keeneland was so memorable for me because I was a very strong proponent of the unique environment here and the respect for the horse that you don't find anywhere else in America," said Sikura. "For the local community to see a business you just read about come alive in front of them at the highest level, it was really special. I hope it will return. In my mind, it was the greatest Breeders' Cup there has been, from every metric."
Triple Crown sacrilege
Of course, 2015 was a memorable year in American racing courtesy of American Pharoah breaking the Triple Crown drought and also winning the Breeders' Cup Classic. His trainer, Bob Baffert, is not only one of Sikura's business colleagues but a close friend as well.
"I always thought it was sacrilege for people to say we needed to short the Triple Crown or add another month or you can't jump in during the third leg," said Sikura. "The Triple Crown is meant for greatness. It is supposed to be challenging, and it isn't even supposed to be fair. If you are great, you will do it. If you are very good, you won't.
"American Pharoah was great, and his Belmont was fantastic. I was there, right on the wire. It's embarrassing, but I was standing on my chair jumping up and down. That's the power of a great horse. You can be transfixed and fall into the performance."
Whether Sikura's sons follow in his footsteps and remain in the family business remains to be seen, as the eldest is only 15, but Sikura will support them either way.
"In the end, it is for them to decide if racing is meaningful or not, but, hey, at a young age they sure like and are exposed to it," said Sikura. "Without my exposure to it through my father, I wouldn't be here. Whatever they do, I hope they do it better than I did.
"In their own way, every parent sacrifices for their kids. That's really the legacy you leave. If I have three bad, selfish kids that are lazy because I didn't spend time with them or instill in them work ethic and character, I lived a pretty shallow life. You can't control them, but you can try to set a standard and be there for them and teach them."
The handshake guy
As for horse racing, Sikura wants to be remembered as a man of his word. He still believes in the power of a deal done by handshake, but also the importance of dealing with an ever-changing environment.
"Mike Pegram once told me to remember you can never do a good deal with a bad guy," said Sikura. "I want to deal with the handshake guy. I have been lucky enough to do work with Coolmore and buy some fillies from the vastness of their female families. If Paul Shanahan shakes my hand, that deal is done. Nothing that can happen in the interim can upset that deal. I want to be the same.
"I hope I am always open-minded enough to grow and change with the times. I am sure there will be a time when I don't get it anymore, and that's the time to step aside. In a business like this that isn't cut and dry, and not in a lot of ways quantifiable, you have to have emotion, belief, and faith in what you are doing, and the ability to bet on yourself."