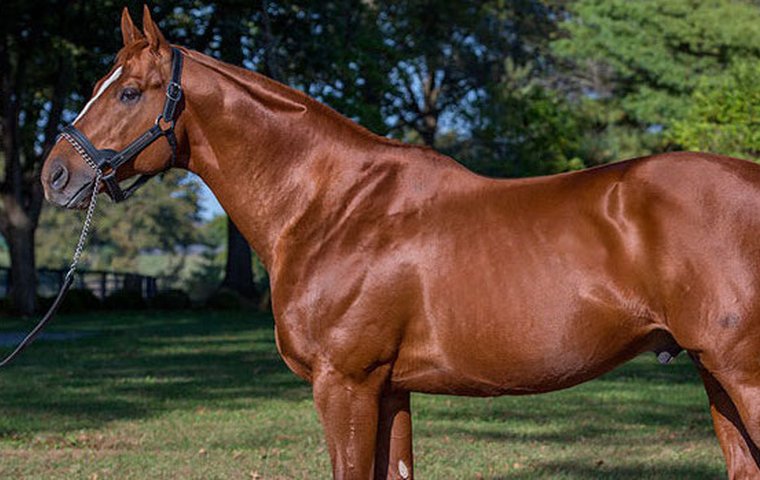 In the second part of a major three-part interview, John G. Sikura, president of Hill 'n' Dale Farm in Kentucky and one of America's leading horseman, tells Amanda Duckworth about the Hill 'n' Dale operation today, and why he believes elite Thoroughbreds are 'living, breathing pieces of art'.

Click here for part one of the John Sikura interview
Spurred on by his father's death in 1994, John Sikura decided to aim higher than he originally intended in the Thoroughbred business, although he is not one who is comfortable talking about it.
"It's not my personality to be chatty with everybody I don't know," said Sikura. "Nobody likes to hear you talk about how smart you are, or how much money you made, or how good it was. It is a boring subject. There are enough metrics of success that are printed. Who is the leading sire? Who topped the sale? Who bred a stakes winner? Everybody knows what everyone else has done."
By any measure, Sikura has done a lot. His family's original, smaller Kentucky Hill 'n' Dale operation was located on Winchester Road, outside Lexington, but when the opportunity became available in 1997, he purchased what was then North Ridge Farm on the west side of town. Today, the farm has grown from a few hundred acres to around 1,300 and is a showpiece.
Home to champions
"The farm has a pulse, and I try to respect that," said Sikura. "Building stone walls, planting trees, and causing visual effects makes it kind of like a canvas. We have about a mile of stone wall, which is to show respect to the heritage of Kentucky. It was all done by hand, and it is a tribute to the history of the area.
"It is the same with trees. We try to honor different seasons with different trees that thrive during different parts of the year. It's a great reward when you come over the crest of a hill and you see all the Redbuds, crab apples, Evergreens or Pin Oaks.
"There is always something that seems alive. That's another part of what really commits me to the business. There is an integration of place, horse, and aspirations. All those things are intermingled. It is not a pen and a paper and what is my return on investment."
Through the decades, a number of champions have called Hill 'n' Dale home. In 2001, 1987 Breeders' Cup Turf winner and champion Theatrical was relocated the farm and remained there until his death at age 30 in 2012. Champion Vindication, a son of 1977 Triple Crown winner Seattle Slew, began his stud career there before his untimely death from colic in 2008. Seattle Slew himself was moved to Hill 'n' Dale near the end of his life, and 14 years after his death, fans still come to pay respects at his grave site.
The stallion game
Unquestionably, currently leading the farm's stallion roster is two-time American Horse of the Year Curlin, who relocated to Hill 'n' Dale after the 2015 breeding season.
The champion Smart Strike colt began his stallion career at nearby Lane's End Farm, but when a 20 percent interest in the horse became available, Hill 'n' Dale was the successful bidder. The remaining 80 percent in Curlin is owned by Stonestreet Farms, which campaigned him in partnership during his historic racing career.
"Curlin is a horse that I got an overwhelming feeling was Smart Strike in the making, and I don't think people had caught up yet to who he was going to become," said Sikura. "When he sired a classic winner in his first crop, that was enough evidence for me that he was doing exactly what he was supposed to do.
"We were approaching the horse on the buy-in as if he was a classic sire, and we gave him mare support as if he was a classic sire," said Sikura. "Everything had to catch up to that value, or it would've turned out to be a very bad move. It was one of those all-in bets on a 20-1 horse, and those are great to cash. However, it makes for long days if it doesn't happen, and, in this case, it would've been long years."
Instead, Curlin has had a phenomenal year. He is now the 14th-ranked stallion in the world (and fourth in the U.S.) on TRC Global Rankings, and is second on the North American sires money list, courtesy of 2016 G1 winners like Exaggerator, Stellar Wind, Off The Tracks, and Curlina. Exaggerator, who won the Preakness, is Curlin's second classic winner after 2013 Belmont Stakes victor Palace Malice.
Great for the industry
Their performances have helped justify his stud fee increase from $35,000, his last year at Lane's End, to $100,000 in his first year at Hill 'n' Dale. Curlin entered stud at Lane's End in 2009, and Sikura gives full credit for the horse's success to date to that operation.
"I claim no ownership of his success as far as his stakes winners," said Sikura. "That all happened at Lane's End and was not my doing, but hopefully he will continue. It is very rewarding because he was a great racehorse, and when those kinds of horses reproduce themselves, it is great for the industry.
"He is ascending in value and quality of mares he has bred. Stonestreet is so committed to the horse. The mares they are going to breed to him this coming year are just ridiculously good. I consider ourselves fortunate and lucky. We needed a big horse, and I thought that was an opportunity to get involved in a big horse. So many dominoes fell into place."
While initial returns indicate that purchasing Curlin has turned out to be a major success, Sikura recognizes that the stallion game is not an easy thing to be involved in.
"The stallion business is difficult and changing," said Sikura. "With all of the incentives and mechanisms and opportunities people have to breed without paying a stud fee, you have to be self-supporting of your stallions or not stand the horse for less than $15,000 because it is pretty savage under that level.
"For example, with freshman sire Maclean's Music, I was ridiculously and naively certain he would be an important stallion. Not enough people were crazy enough to believe that to be true. I found out quickly that I was going to have to breed 25-30 of my own mares to give him the opportunity he needed to have a chance. We bred Made Me Shiver and Silver Assault, two significant stakes horses from his first crop, so that's rewarding."
Elite pedigrees
In addition to its stallion operation, Hill 'n' Dale is home to a broodmare band that numbers around 100. According to Sikura, they are segmented into different categories: elite commercial broodmares, developing families, buy/sell/trade mares, and fillies claimed or bought specifically to breed to a certain sire to supplement their chance to succeed.
"The head start I got in the business was a small farm with a mortgage, so we have to sell horses," said Sikura. "We have to continue to trade. Any impression that we would only sell our second-rate fillies or unimportant families couldn't be further from the truth."
Although Sikura does like to retain fillies from his significant families, his track record backs up his statements. For example, Hill 'n' Dale sold Mi Sueno as a foal. She went on to be a G1 winner, and her daughter by Frankel, Mi Suerte, made headlines earlier this year after her eye-catching debut score in Japan. The farm also sold stakes winner Serena's Cat as a weanling, and she went on to produce champion Honor Code.
"Those are just two examples of very significant race fillies and producers that we sold as weanlings," said Sikura. "My goal is always to sell one as well as I can and for that horse to turn out to be great value for the buyer. That goes for a $10,000 horse or a $1 million purchase. "
One of the most notable broodmares Sikura has been associated with is 2007 Broodmare of the Year Better Than Honour, who is the dam of back-to-back Belmont Stakes winners Jazil and Rags To Riches, as well as stakes winner Casino Drive. Sikura owned her in partnership with Southern Equine Stables, and they offered her at the 2008 Fasig-Tipton Kentucky November Sale. She was purchased outright by Southern Equine for a world-record $14 million.
"I have never shied from the fact we try to present our best horses," said Sikura. "I always use a guideline that the least important thing is what you pay. The most important thing is that you buy things you highly covet. In the end, buying the right horse is what allows you to win or lose, not how much money you saved. A bad horse is expensive whatever it cost."
Of the big name runners on the track today, few are bigger than Songbird. Sikura consigned her at the 2014 Fasig-Tipton Saratoga Select Yearling Sale, where she sold to Fox Hill Farms for $400,000.
Do as you say
While Hill 'n' Dale routinely ranks among the leading consignors, Sikura also is an aggressive buyer. A perfect example of that is when he consigned Willis Horton's Take Charge Brandi at the 2015 Keeneland November Breeding Stock Sale, and then ended up purchasing the champion filly for himself for a sale-topping $6 million.
"To have a genuine point of view, you have to do what you say," said Sikura. "She wasn't bought as an evaluation of an asset; she was bought as an important piece in the establishment of an elite group of horses. Yes, there is a financial aspect to it, but the over-reaching goal was the determination to own her.
"In saying that, I was out of money. That was my last bid, and it was more than I was planning to give, but once it is over, then you focus on the next one. That's not to slight it, it's a significant commitment, but that was our last bid. She's rare, and rare brings a lot of money."
It should come as no surprise Take Charge Brandi was bred to Curlin this year. Sikura is clear in his goal: own elite horses and help create pedigrees that matter. That will never be an inexpensive endeavor, but it is where his heart is.
"If someone says how can you spend $6 million for a horse, well how can you spend $6 million for a boat?" Sikura said. "It is a matter of what your passion is. I think horses, particularly at the boutique elite level, are living, breathing pieces of art. There are paintings that bring $150 million, and a painting really has no value other than you get to look at it and admire it. It can't perform, but I suppose at the same time it can't die.
"With horses, you get the ability to play geneticist. You get to try to enhance and elevate that pedigree of that individual and make it even more animated, even more beautiful, even more effective as a producer and as an equine athlete. That's pretty powerful."