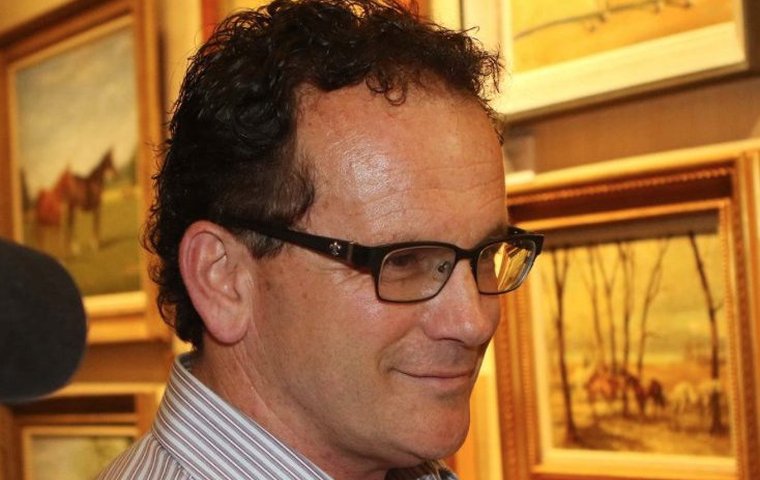 This is a huge week for John G. Sikura, president of Hill 'n' Dale Farm in Kentucky and one of America's leading horseman, with enormously impressive drafts of breeding stock on offer at the big November sales at Fasig-Tipton yesterday and Keeneland from today. Here, in a major three-part interview, Sikura tells Amanda Duckworth about his theories and ideas on racehorses and breeding, and, in part one today, about what motivates him to succeed.

It's easy to assume that, when a son takes over the family farm, he had everything handed to him. However, to do so is usually undervaluing the person in question, and, specifically in the case of John G. Sikura, it would be a grave miscalculation of a shrewd but humble man.
Sikura has been at the helm of Hill 'n' Dale Farm in Lexington, Kentucky, since 1994, but his racetrack education began as a child in Canada, when his grandfather would take him to the races.
"He was a $2 bettor, but he always wore a suit to the track," said Sikura. "He would cut out the newspaper selections for that day, and he would bet $2 every race. I started going with him when I was maybe six or seven."
Sikura, who has built Hill 'n' Dale into a leading stallion farm and sales operation, was always drawn to horses, and he began studying pedigrees at an early age. His father, John Sikura Jr., emigrated from Czechoslovakia as a teen and bought and sold Thoroughbreds for 35 years. He established the original Hill 'n' Dale in Ontario, Canada, in 1960.
Great Canadian breeders
"My exposure to the horse business started at a young age in Toronto," said Sikura, who was born in 1957. "I was fortunate that I grew up at a time of great Canadian breeders. Windfields Farm was probably the first farm I followed. They had a great draft of yearlings every year that they would sell at Woodbine. So I got to see Northern Dancer fillies, and I could see families develop.
"I used to mark and circle pages of fillies I thought were really interesting or pedigrees that appealed to me and follow them. There were several great Canadian breeders and very robust trade there. It was the halcyon days of Canadian breeding and racing, and I was a young kid. You are very influenced by what you see at that age, and I was drawn to it."
Back then, Hill 'n' Dale was a much smaller operation than the multi-million dollar entity it is today. Sikura paid his dues, participating in hands-on barn chores like hauling hay, and, by the time he was 14, he was helping run the barn at his father's Woodbine consignments.
"I have always felt an allure to the business, and I have an affection for the animal and watching pedigrees develop," said Sikura. "But we didn't have the kind of resources to ever own those elite kinds of horses. Our idea of long term was short term: buy a mare, sell a mare, sell her foal, and hope you gained enough to buy another mare.
"I admired those developing pedigrees, like the ones Sam-Son Farm had, though, and I always hoped one day to be able to have an influence on the breed and achieve something of significance. My dreams then probably were not as a big as they turned out to be later. Initially, if you bred a stakes winner, it was an enormous success."
Hitching a ride
Growing up, Sikura was as much a fan of racing as a participant, and he grew attached to certain horses he had nothing to do with professionally. One of those horses was Fanfreluche, a Northern Dancer filly who was named Horse of the Year in Canada and champion 3-year-old filly in the United States in 1970. At the end of that season, Fanfreluche was sold as a broodmare prospect for a then world-record price of $1.3 million.
"I remember as a kid wondering how the heck they could ever sell Fanfreluche," said Sikura. "Then they would sell her daughters. I was almost offended that someone could be a seller of something so unique. I was in love with her and all of her daughters, even though I had no ownership. I never touched them, and was as distant as any fan, but just watching that happen, I never forgot that. Those early impressions about the long-term value of achieving significant, reproducing female families, you don't forget those."
Sikura's love of Fanfreluche was so deep that one year he hitchhiked to Woodbine to watch her one of her daughters, champion La Voyageuse, run.
"I remember I had lost my driver's license because I was driving too fast, but I wanted to watch La Voyageuse," said Sikura. "A straight drive was about 40 minutes, so it took me about three hours by hitchhiking. Just before the entrance to Woodbine, a policeman pulled over and asked me what I was doing. I told him I was going to the races, and he said I shouldn't be walking on the side of the road like that because it is dangerous. I said, 'Well, I was actually hitchhiking. How about one last ride to get there?' "
The policeman gave him a ride to the front entrance.
Continuing education
Sikura has always been drawn to pedigrees, and he tried to study as much as he could growing up, but at the time information was not nearly as readily accessible as it is today.
"At that time, media was at a snail's pace so the only media in the horse business was The Blood-Horse," said Sikura. "When I would come home from college, I would steal my father's Blood-Horse and take it back with me. He would always call me screaming, 'You took my Blood-Horse!' and I would always just say, 'I thought you were done with it.'
"It was the only way to keep up with the business. There was no daily news, no updates. The in-tune person might have a friend in France who had just won a stakes and call a Kentucky breeder and say, 'Do own the dam of this horse who just won a stakes?' But if you weren't that person, you wouldn't know about it for a week.
"It's amazing the immediacy of news and information today versus then. Back then, a few farms took in the money and made all the decisions and created all the stallion access. I think it is a much more democratic process now. That's good and bad because everyone can compete, but at the same time, everyone can compete. You have to find your own niche or do a better job or somehow separate yourself from the traffic if you want to capture market share."
Growing up
While Sikura loved horses, he also loved hockey, and he was quite good at it. He played in college before playing professionally in Europe. Eventually, deciding between two of his passions caused a temporary rift within his own family.
"I played my last year of hockey in Denmark, and I came home and I told my father I was going to go back because I had a chance to play in Germany," said Sikura. "He looked at me and said, 'Time for you to get a job.' I didn't take him too seriously, but for a month he refused to talk to me or acknowledge me. He would walk right past me. I got the message he wasn't happy. He was always a huge supporter of me playing, but he knew it was just time.
"However, I moved out of the house and into my hockey coach's basement. I trained all summer and said I was going to go to Germany. But sometimes you just know. You just can't pretend anymore, and you know it is time to move on. I knew it was time, so I went home and I worked on the farm for a year and six months or so."
Sikura's father had expanded and bought a small farm in Kentucky, so eventually Sikura decided he wanted to move down there.
"I came to Kentucky in a horse van with as many clothes as I could put in a hockey bag," said Sikura. "I knew a lot about pedigrees, but I didn't know a lot about Kentucky and teasing mares and all that stuff was new to me."
A new perspective
With that move, Sikura learned even more about the horse business and continued to thrive.
Then, in 1994, everything changed, and it happened in one of the most tragic ways possible.
"I was going to the Newmarket sale, and when the plane landed, I got called to the front of the plane," said Sikura. "There was a telephone there, they handed it to me, and they told me that my father was killed in a car accident. I don't even really remember because I was in such a daze, but I know they got me a car and sent me to the airport across town so I could go home.
"I went from Lexington to Heathrow to wherever the other airport was back to Toronto in the same day. The whole way back, the whole nine-hour flight, all I could think was my father was just killed. Every time I think times are tough, life is tough, or that foal didn't sell well, that memory gives me pretty good perspective."
Although some raised suspicions about the car fire that took his life, the elder Sikura's death was ruled accidental and General Motors settled a product-liability suit with the family.
After his father died, Sikura took over the Kentucky farm, while his brother, Glenn, took over the Canadian farm, both of which are still in operation.
"I probably never had the courage to reach too far or do too much until I lost my dad," said Sikura. "That horrible day was almost like a transformation. All these lessons you've been taught and the things you've learned, you don't realize you know them until you go into survival mode.
"I think a lot of my motivation to succeed is to fulfill some of the things he wanted to do and didn't get to do. He was an entrepreneur and a guy of great character and personality. He was much more magnanimous than me, much more outgoing and better with people. I want to create something that's world class, and a lot of it is a tribute to him."
How the dominoes fell into place with Curlin: don't miss part two on Friday