Who's the oldest jockey still active in Thoroughbred racing around the world? It's not 55-year-old U.S. Hall of Famer Gary Stevens, who is the oldest rider currently in the TRC Global Rankings top 500. It's not the famed Brazilian Jorge Ricardo, who has ridden more Thoroughbred winners than anyone ever (he's approaching 13,000). Ricardo will be 57 at the end of this month. It could, however, be great-grandmother Sue Martin, the subject of this article by Emily Shields last year. Martin, who is 64 now, was had two rides at Ellis Park in Kentucky earlier in the month, so she's still going strong.

If there's anyone senior to Sue Martin and still in regular action, please let us know, and we can investigate.

One rider we thought it might be until recently was Trond Jørgensen. Then two things happened: first, Sue Martin reappeared at Ellis Park, and second he announced his retirement at the end of August - just a few days before his 62nd birthday on September 6. Until then, he may well have been the oldest active male rider in the world.

Jørgensen had a flourishing career as one of the top jockeys in Scandinavia for 45 years, and he had barely a break. How did he survive all that time close to the top of such a strenuous profession? He let Geir Stabell into the secret.

Trond Jørgensen was just 17 when he had his first ride. It was 1973, and he fell off. He picked himself up and he kept going – and he's done that ever since.
With more than 500 wins since at the 'once-a-week venue' of Øvrevoll in Norway, he went on to become one of the most sought-after riders in Scandinavia. And it stayed that way through five decades.
But Jørgensen plays that side of it down. "I do not think it's a great achievement to race at my age. But for the battle with the weight, I think I could go on till I'm 70," he said earlier this year.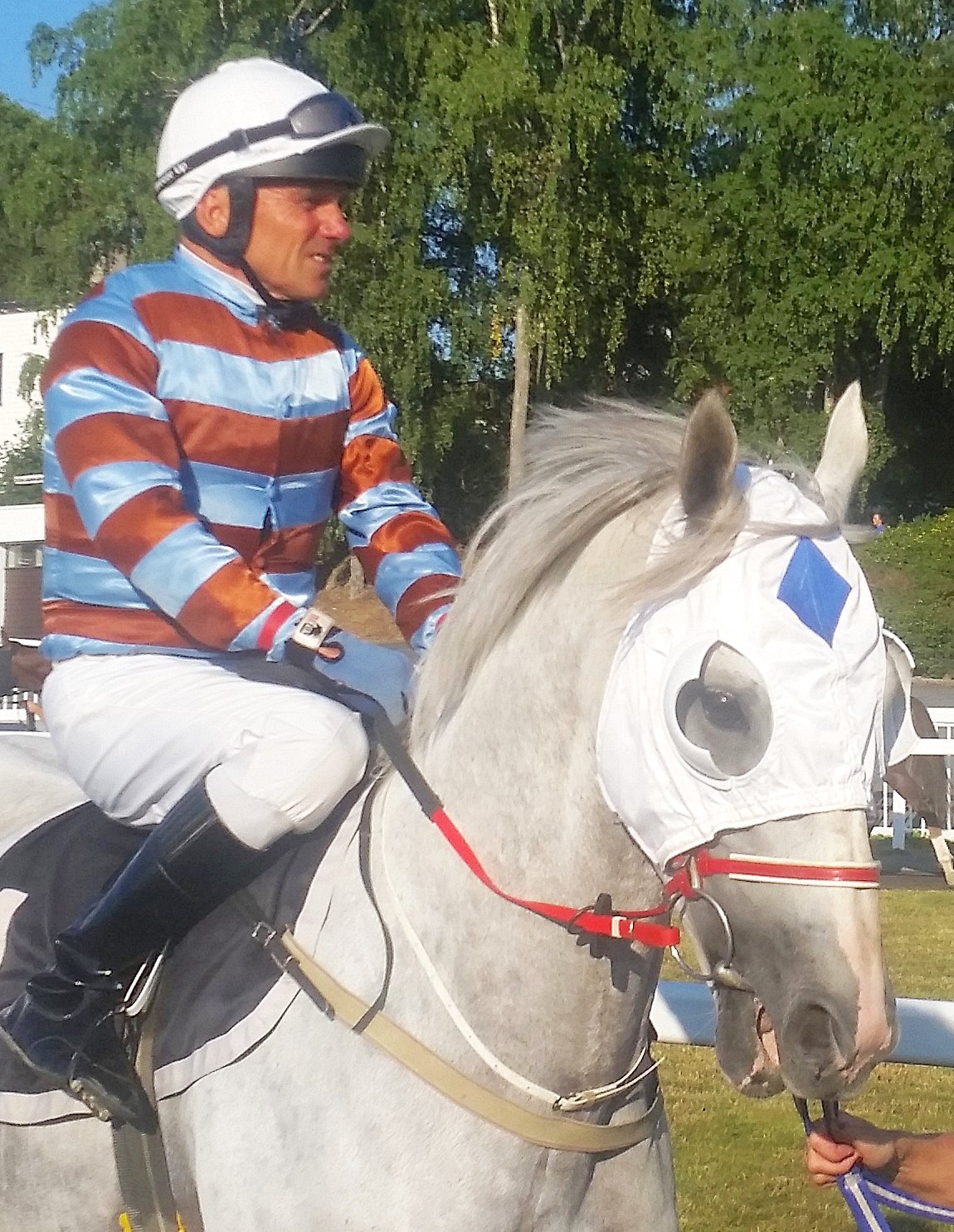 Jørgensen has calculated that he has wasted about 1.5 tonnes in saunas over the years. He's on a small, sometimes very cold and seldom lucrative racing circuit, with limited opportunities. So what's been the driving factor? "The love of the game," he says.
He is only the fifth rider to have achieved more than 500 wins in the history of Norwegian Thoroughbred racing.
Jørgensen would be labelled "game, genuine, and battle hardened" if he were a racehorse. Like any other jockey, he has taken some knocks and heavy falls, "but I have been so lucky," he says. "I have never broken as much a rib, and this has, of course, made it easier to enjoy the sport for such a long time.
"I have seen several jockeys give up after injuries, and it's understandable. If you begin to have doubts, or lose your appetite, then race-riding is not a sensible occupation."
A question of ambition
Still, there must have been more to the Norwegian's incredibly long career than having been fortunate enough to avoid injuries. "Oh, yes, of course there is," he says, "and I firmly believe that having been not too ambitious has helped me to a long career.
"When I was young, there were many around me who wanted to push me across borders, to ride more in Sweden and Denmark, something I did, but mainly on horses shipped out from my trainers' yards. Janos Tandari and Walter Buick [father of William] began travelling from course to course in Scandinavia – spending a lot of time at airports – but such a life did not appeal to me. I have never had an agent and I have never called a trainer or owner trying to get a ride."
To say the man has been injury-free is not quite correct, as Jørgensen – Gary Stevens – was riding with a hip replacement later in his career. "Apart from some soft tissue damages, none of my falls caused serious injuries," Jørgensen says, "but wear and tear is something you can't avoid.
"For a couple of seasons, I was troubled by pain in my groin after racedays and it was getting worse. Finally I saw a doctor. My left hip was in pretty bad shape. But the operation went well and ten weeks later I was back at the races, winning on my first ride back."
Jørgensen began his career with Jacob Hveding Fretheim, one of the leading handlers in Scandinavia during the 1970s and 80s, and he was champion apprentice three years on the bounce while part of Fretheim's team. Active also as a junior footballer and cross country skier, he soon devoted all of his time to horses, "but doing other sports, like skiing in the winter and biking in the summer, has been very helpful to maintain fitness throughout my career," he points out. "I've always done what's fun."
'Take a break'
The season at Øvrevoll racecourse runs from April to December, and the winter break is another factor he believes to have been beneficial. "With the break, it has been easier to keep going, not just [because] I have had that to look forward to, but also because the body has been given a break from being constantly pushed, and starved. I have normally put on about 10kg (22 pounds) every winter. It's become tougher with age to get that weight back off in the spring, but it's been worth it. Without the winter break I would never have managed to stay active for so many years."
Having wasted the weight of three racehorses in saunas through his career, Jørgensen, who stands 1.67m (5ft 5½ins), normally lost 2kg (4½ pounds) before each raceday in his younger days and his one-day record was losing over double that, while a few years ago he lost 8kg (nearly 18 pounds) in a week for one ride – in a run of the mill handicap.
Staying healthy has always been a priority. Never ever a cigarette, and hardly ever any alcohol. "Only I can look after myself," he reasons.
"I truly love the sport, the horses, and riding races," he says. "But for that, I would have given up a long time ago. I have been shocked to hear how some younger jockeys talk – often sounding like they hate everything about this job but the winning experiences. Winning big races, partnering champions, has been important to me as well, but I get the same kick out of riding a moderate handicapper who produces his career best on the day and puts big smiles on the faces of trainer, owner, and groom. That, to me, is so satisfying. As is being placed in an important race on a longshot."
The horse that 'stopped me retiring'
An absolute longshot of a horse was instrumental in Jørgensen extending his career.
"I actually did retire for a few months in 1997," he says. "I felt tired and was fed up with the weight struggle, so I stopped racing but continued riding out for trainer Wera Torgersen. I was also acting as a steward at Øvrevoll.
"Wera initially needed help with a difficult horse called Muhab, which she had bought out of Are Hyldmo's yard. Well, long story short, later on she was standing him and the result of Muhab covering her own mare Fillippika resulted in the colt Firello, who became one of the best horses ever bred in Scandinavia. I realised his potential, and it soon dawned on me that I had a choice.
"Even if I rode selectively, I could not work as a steward and hold a licence at the same time. So I came out of retirement quite quickly. Firello was too big a temptation – he was a horse that really should not be. Bred in Norway, by an unknown stallion, out of a mare his owner had also bred on her farm, he was to brush shoulders with the best imports."
Firello's sire, Muhab, was a useful sprinter in Norway, after being purchased from Peter Walwyn's lot at the Tattersalls Horses December Sales in 1995. He had acted as a pacemaker to Bahri when the latter won the St James's Palace Stakes at Royal Ascot the same year.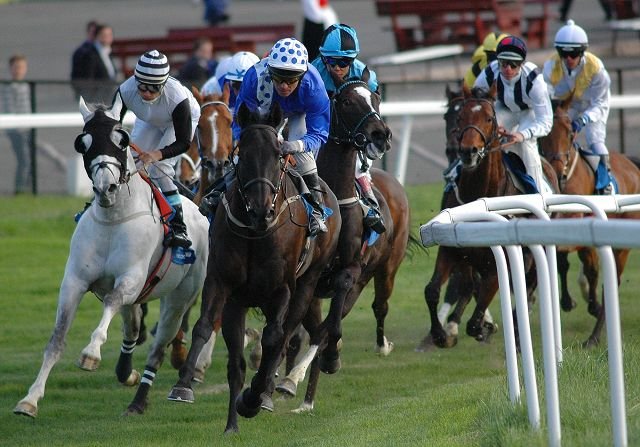 "As a juvenile, Muhab won twice and ran second to Annus Mirabilis in the Sommerville Tattersall Stakes. He was a son of Lyphard out of the Habitat mare Magic Slipper, who was a two-time winning half-sister to Fairy Footsteps and Light Cavalry. Still rated around the 100-mark, he looked a bargain when sold for 12,000 guineas at Tattersalls.
"He closed out his career with five wins and seven placings from 46 starts. He was no champion, but had an interesting pedigree and durability to match, making Mrs Torgersen decide to secure him as a future stallion for her own mares. Firello's dam, Fillipikka, was a daughter of the Scandinavian champion Dalby Jaguar. She won 14 times from 75 starts for her owner-breeder-trainer.
Her son, Firello, also won 14 times, from 53 outings. Jørgensen partnered him in all but two of these races. "He won all the main races for locally bred horses," Jørgensen says. But he was also right up with the best imports. Together we managed to get second in the Oslo Cup.
"Firello was efficient from 1600 metres to 2000 metres, he set a course record over 2000 metres at Øvrevoll and at one point he was the highest-rated horse in Scandinavia. He started off as a top juvenile and just kept on improving every year. He was a fairytale."
'The best I ever rode'
Firello is still going as a hack at the age of 18. The veteran jockey does not rate him as the best he has ever ridden, however. Classy imports like Oslo Cup winner Rheinsteel, high-class sprinter Bal du Seigneur, and multiple middle-distance stakes winners Silvestro and Sand Ship all rate higher.
"I guess my answer would be Sand Ship, if asked which was the best I ever rode," he says. "He was a complete racehorse. You could hold him up to put him close to the pace. He always delivered his best."
Sand Ship was trained by legendary handler Terje Dahl, who Jørgensen rode for after leaving Hveding-Fretheim in 1986. Imported from France, where he had run a close second to Chercheur d'Or in the G3 Prix du Lys for Sir Michael Sobell and trainer John Cunnington Jr, Sand Ship became one of the best horses ever seen on the Scandinavian circuit. At the end of his career, he stood as a stallion in Norway, then relocated to Gestut Mercedes in Germany.
Sand Ship's dam, Desert Nymph, ran third in the Irish 1000 Guineas and was a half-sister to nine other winners.
Jørgensen partnered the grey son of Ela Mana Mou to victory in the 1986 Oslo Cup, when he beat the Charlie Nelson-trained British raider Gorgeous Strike, and a week later the combination followed up with an impressive win in the Eclipse Stakes at Klampenborg Galop outside Copenhagen. "That was one of the most amazing feelings I've had on horseback," Jørgensen recalls. "We came from last to first and he finished the race off like a sprinter."
Following his first spell with Terje Dahl, Jørgensen joined Dahl's main rival, Wido Neuroth, and one of the yard's top horses, the former German-trained Wildvogel, became the horse who forced him to get down to his career lowest riding weight in 1987.
"Wildvogel was off to Baden-Baden for the [now G2] Oleander-Rennen," he says, "and the weight was 53kg, one kilogram below what had been my absolute minimum, but I managed it and we won the race."
Wildvogel, a son of Windlauf, thus became the first non-German trained winner in the history of this staying contest. He also won the G3 Gerling Preis and ran second in the G1 Aral-Pokal, though under German-based riders.
Beating Piggott
Jørgensen's career is missing two things, a jockeys' championship and a win in the Norwegian Derby.
That was never champion rider is partly because of his selective approach, and no Derby win is down to tough luck with a couple of near misses, including a nose defeat on the colt Bi Majestic.
That said, he rode the same horse to victory in the 1992 edition of Jydsk Derby, staged on the provincial Danish course in Århus, and it became a race to remember. He won the race in style, while a certain Lester Piggott – brought in especially to ride the big favourite No Gravity – was back in third.
"That was great fun," Jørgensen says. "The atmosphere at this small course was incredible, almost like a mini-Cheltenham. The biggest thrill, however, was to read the local paper the next day, seeing the headline Jørgensen upsets Piggott in Derby. I've got the cutting framed on the wall."
The last few years, Jørgensen has combined race-riding with a job for a construction company and riding out for "two or three trainers a few mornings every week".
Advice to young jockeys
He never did get his jockey championship, but he beat them all for stamina.
"I have spent hours upon hours on horseback for about 50 years, and I will continue riding out for as long as my body agrees with it.
"My main advice to younger jockeys is quite simply, make sure you enjoy the riding, make sure you get time to relax, take breaks.
"Remember, if you want to be at the top, you have to push very hard, in every way. I never did that. I found out that I enjoyed my racing more by taking a laid back approach, something I don't regret. I meet skiers in their 80s all the time, joggers too. The key is to adapt to your age, and how long you last depends very much how long you enjoy what you are doing. It's all in the mind."