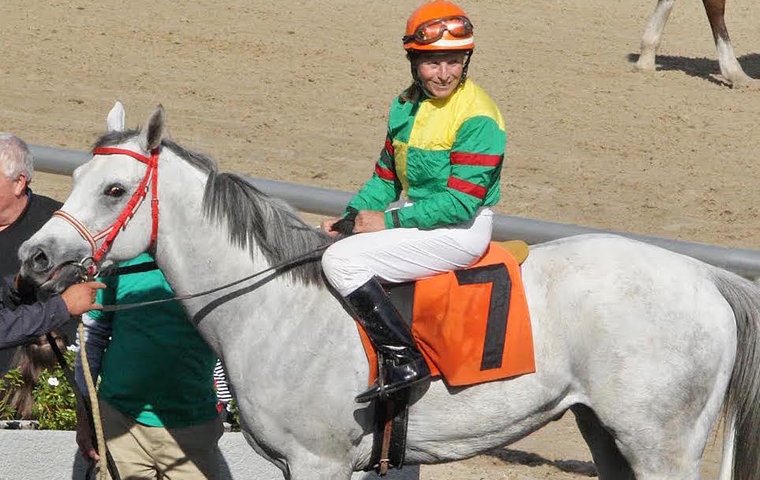 An unexpected media storm swirls around jockey Sue Martin, but she knows it won't last. "These are my 15 minutes of fame," the good-natured Martin noted. "When they're up, everyone will simply move on."

Even a modicum of fame is well deserved for the soon to be 63-year-old Martin, a great-grandmother four times over who has ridden all across the United States, from fair tracks in Idaho to the prestigious summer meet in Saratoga Springs.
On January 29, she sparked a shower of attention by riding 25-1 Blue Haze Of Fire to victory at Tampa Bay Downs in Florida, her first win since 2014. That should not be the enduring part of her tale, however, as Martin's career racing across the country with seven children in tow is so inspiring that her husband Wayne calls it "worthy of a movie".
Horse crazy as a girl, Martin took lessons from age eight on, eventually graduating high school in 1972. She branched out from jumpers to riding racehorses shortly afterwards, dropping out of the University of Idaho after just one semester to pursue riding.
First winner
Wayne, who saved enough pocket change to buy his first horse at auction at age ten, was her perfect match. They met in Yakima, Washington, where she galloped horses and he trained. Bound by a mutual love of horses and an infatuation for each other, they eloped just days later.
Martin won her first race as a jockey in 1974, taking a Quarter Horse event at Coeur d'Alene Turf Club in Idaho. "I rode all over Washington, Oregon, Montana, and Idaho, and had my first baby in Montana," Martin recalled. "My son was born August 13, and I won a race September 22. I didn't waste any time."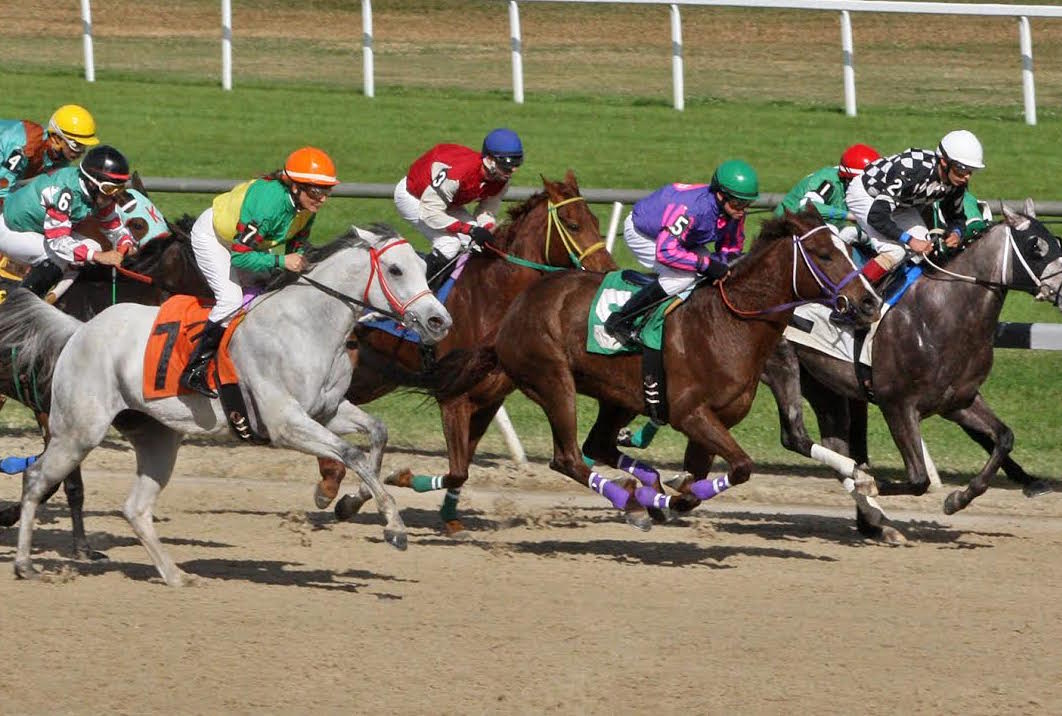 Even when she wasn't riding the races, Martin was still galloping her husband's horses every morning. "I stayed fit just by riding," she said. "You get on five to ten horses a day, and they each go about two miles. If that was five days a week, you'd be going between 200 and 400 miles a month, but in racing, it's six or seven days a week. That's a lot of miles. I've worn out a lot of boots and a lot of jeans."
As more Martin children were born – seven in total – she continued to ride races, traveling from one track to the next and taking her brood along.
Sue and Wayne's children were born in 1975, 1977, 1979, 1982, 1985, 1987, and 1992. During this span, she rode in, "the Northwest, then Michigan, Ohio, Illinois and Kentucky, then went to Saratoga and the rest of New York. Florida, then back to Washington again, oh, and Prairie Meadows for a while! Timonium in Maryland. Then we went to Florida to settle down."
Life on the road
From 1991 through 1999, the Martins stayed put in Florida, putting the last of their kids through high school while breaking young horses for others. As her children started off to pursue their own lives, the Martins moved to Tennessee, then ended up in Kentucky near Ellis Park, which only runs during the summer months. In the winter, they return to Florida.
'Empty nest syndrome' is real for Martin, according to her husband. Life on the road, although unconventional, is simply how the kids were raised. "We sent the kids to school, then we'd bring them home and put them in bed before we headed off for night racing," Wayne Martin explained. "That was hard on them."
But they hardly suffered. "They were all very smart, social kids, despite changing schools a lot," Sue said. "They made friends, got good grades, then packed up and moved on. I'm very proud of them, they've all done very well."
And they've gone on to give the Martins grandchildren – 18 in total – and great grandchildren – four. The children are spread out between Kentucky, Tennessee, and Florida, causing Wayne to joke, "We've got the summer kids, the winter kids, and the ones we see driving between our winter and summer tracks kids. I keep getting smaller and smaller places so that they can't all come back home. It was hard to cut those ties, because Sue wants them all to come back to the nest. We babysit, a lot."
Twice declared dead
Babysitting is not the only service the Martins provide their children. When one daughter suffered a devastating house fire, she asked her parents to come help her repair it. Instead, they took a winter off from racing and rebuilt the entire property from the ground up.
"The original house was built in 1909, so we decided it wasn't worth the effort to repair it," Martin recalled. "We tore it down and built a duplex, with three bedrooms on each side. I'm really good at siding and roofing, you know. And running the wires underneath the house, and doing the plumbing under there too, because I can fit into the crawl space. When we were done, everything passed inspection."
Sue and Wayne have been married nearly 44 years, and their relationship is unwavering. "He's superman," Sue said. "He's my right-hand man, and my agent. He taught me everything I know."
"I wouldn't trade her for a dollar, anyway," Wayne joked about his devout wife, who thanks God daily for her relative safety. Twice, she was declared dead, but "didn't stay dead".
"I broke my collarbone most recently," she said in that nonchalant way jockeys have of discussing their injuries, "and I've had concussions. I broke both cheekbones, my left arm with a plate and screws, and dislocated my shoulder. I broke four vertebrae in my back and punctured a lung. I have a titanium rod in my shin, but they removed the screws from my ankle. I still have some in my knee though. Oh, and I broke my left foot, too. I didn't do it on purpose, but when I broke my shin I got to spend time with my daughter, who was having a baby."
Humble words
Wayne doesn't worry about his wife, as long as she's aboard one of the horses he trains. "When you're driving your own car you aren't worried, but if you have to take someone else's car out and go a hundred miles an hour? That's when you worry. She's never been hurt on one of my horses."
Right now, the Martins only have two Thoroughbreds in their charge, full siblings named Golden Fire Fly and Blue Haze Of Fire. It was on the latter that Martin broke her win drought, guiding the nearly-white 5-year-old mare, a June foal, to a length victory. The upset victory caused a $53.80 payout.
Martin was quick to pass the moment off on others. "Her owner is a very nice man," she said of Blue Haze Of Fire's James Hester, Jr. "I was really happy that the horse did so well for him. And my husband had her ready to run. You never know what will happen in a horse race, that's why they call it gambling."
Despite her humble words, Martin is as much a part of the victory as anyone. "I've ridden her almost every morning for the last two years, every day except for when I broke my collarbone. And my husband, God bless him, he asked me if I rode her exactly as he instructed. No, I rode her the way she wanted to run. We won because she put herself in a spot, settled, and then she wanted to win. Typical female."
As if the extended family and work in racing doesn't keep her busy enough, Martin also participates in endurance rides, racing her "fabulous" half-Arabian in 25-mile competitions. "It's a nice change from always going in circles," she joked. "The scenery is nice and the people are wonderful."
News affiliates around the world have picked up Martin's story, but she knows the attention will subside and then vanish. She's already moved on from the race and is thinking about a great-grandchild due to be born in Indiana in June.
"I'm hoping I can ride in Indiana this summer, to be close to them," she said. Perhaps Martin's best skill is her ability to combine being there for her beloved family while still pursuing her passion for racing.