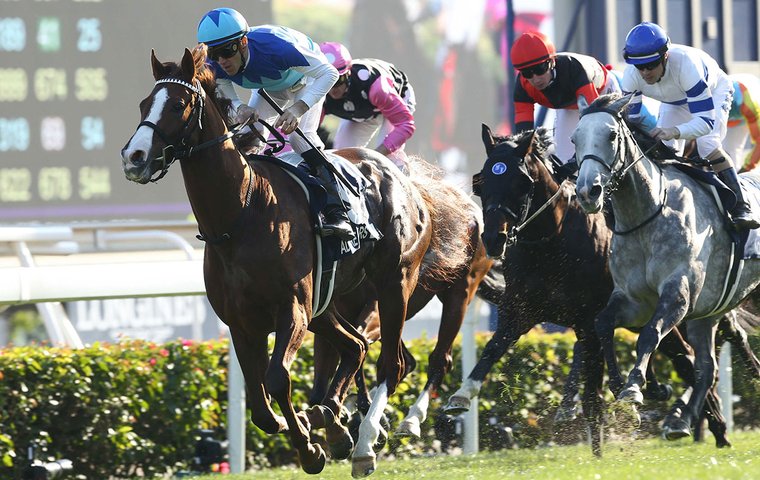 'Trust the process' is a mantra of many leading sports organisations around the world. It is a declaration that elite preparation is the mother of elite performance, and to achieve sustainable success it is necessary to have driving principles.

In horse racing, no country has showed the cause and effect can be linked by good thinking like Japan.
For the details, please review this excellent article by Nancy Sexton, which we published in June. Really, it is so clear why the Japanese are experiencing a golden period of success in races outside their own country; it is not a fluke; it is going to happen more regularly from now on.
The strength in depth in Japanese middle-distance horses is nothing short of awesome. The country swept the three Hong Kong International races at a mile or more last weekend – no surprise whatsoever to anyone who has followed this site. Few writers know this beat better than J A McGrath: why not review both his preview and report?
It turned out the Japanese contingent did not need the mighty Almond Eye, but Silk Racing's superstar has been flattered time and again by runners to whom she is linked by form lines. Our view is that, in terms of class, she is second only to Enable among active horses on the planet – and even this could be subject to change by the end of 2020.
While the writers above have helped to capture in words the rise of Japanese Thoroughbreds and the reasons behind it, it's high time for a statistical recap within the window of our rankings, for which we started collecting data comprehensively in 2011.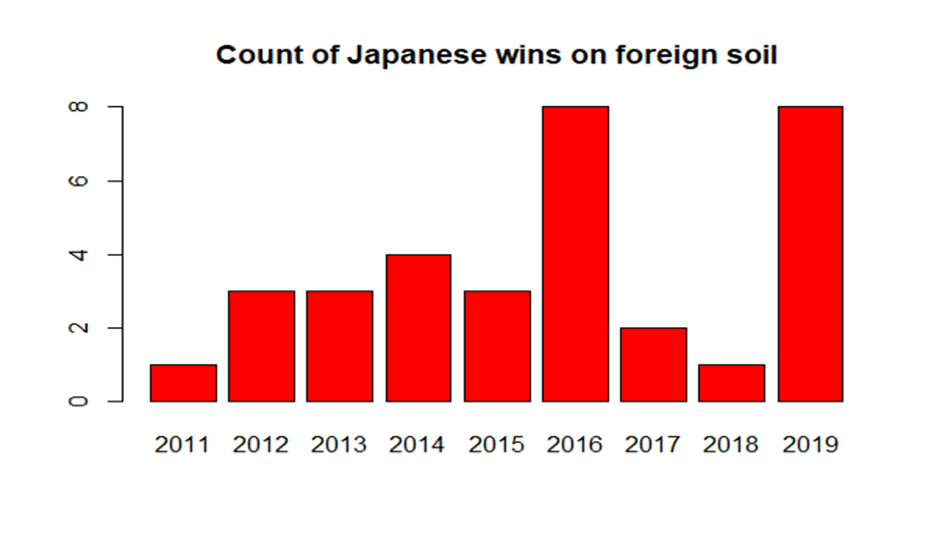 Japanese horses have run in 267 races outside their country in the last nine seasons combined. They have won 33 times, for a strike-rate of 12.4 percent. Of those wins, 13 have come in Hong Kong, seven in Dubai, six in France, five in Australia and one each in Great Britain and the USA. The plot above shows the distribution of wins across the time frame; a chronological list of winning horses, and details of the races won, is given below: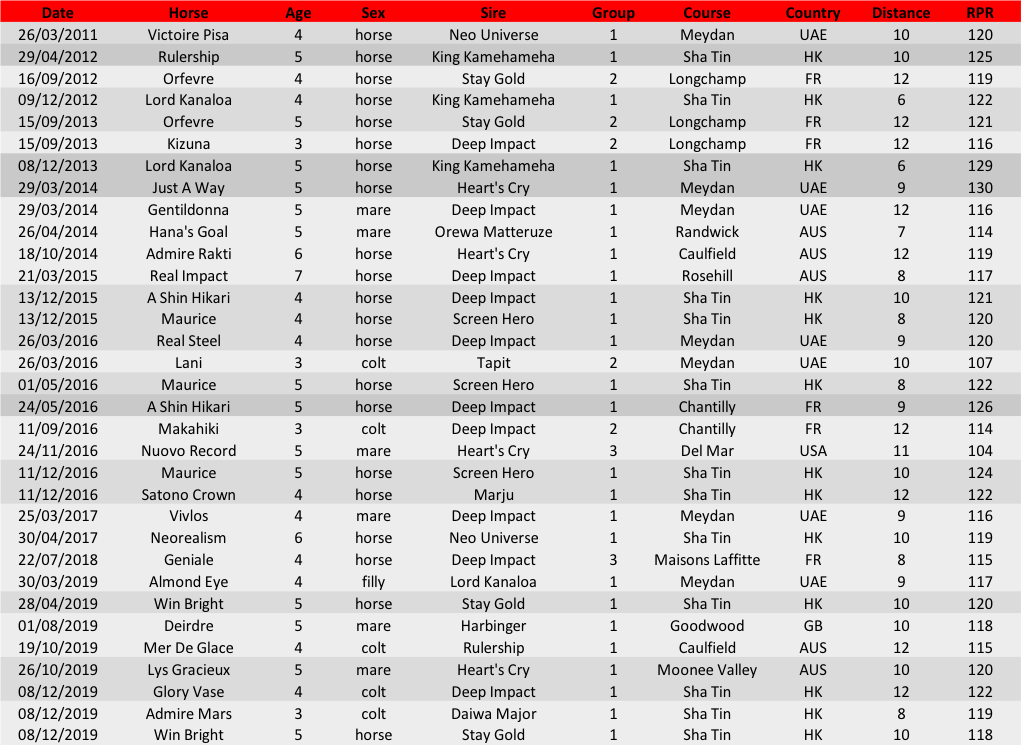 All these wins came on grass, except Victoire Pisa's, which was on the old Tapeta surface at Meydan. The table is shaded, with the darkest rows, like Rulership's, for example, being performances rated 125+ by Racing Post Ratings (RPR), the next darkest rows being those of 120+ and the lightest rows being the remainder.
Notice the proliferation of G1s; this, of course, makes sense given the shipping involved and the proliferation of valuable targets at home.
But this 'Redquake' of success around the world for Japanese horses is not, of course, the full story. At home, the quality and competition in domestic Group races continues on an upward curve.
A sure sign of the quality of competition in a country is strength in depth. No race in Japan proves this more than the G1 Autumn Tenno Sho, won by Almond Eye from Danon Premium and Aerolithe. Behind in seventh was the G1 Japan Cup winner Suave Richard, while eighth was Win Bright, who won the G1 Hong Kong Cup. Several other horses from this race have run well in the same or other top races, as well.
Finally, the table below contains the names of the best horses Japan has produced since 2011. Here, we have merely ranked the horses by number of wins, with a minimum of five imposed, which is a lofty threshold. Each horse's last win is given, with the date in year-month-day format.