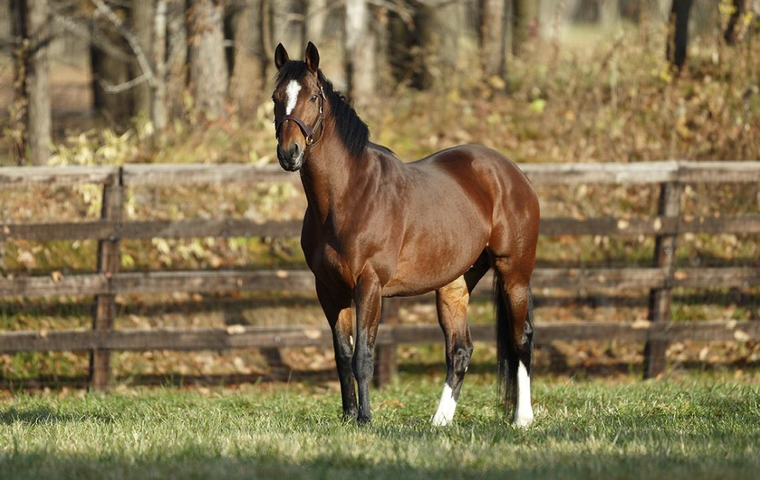 Imagine a world where the aim is to breed the best athlete. One where soundness and longevity in the horse are celebrated.

Unfortunately, many breeders in Europe feel they have to produce with the sale ring in mind if they are to survive. Shocking levels of prize money don't help; the faster horse with the ability to come to hand quickly is often the favoured target of middle-to-lower market buyers, many of them pinhookers. As such, our industry would rather cluster behind a series of cheap G3-winning sprinters at stud over a Derby winner such as Ruler Of The World.
Which is why it was so refreshing to visit Japan, a country where the idea of breeding a supreme athlete remains top of the agenda.
An in-depth knowledge of Japanese racing is not needed to appreciate the regard that the tough middle-distance horse is held in. Rarely will high-end breeders embrace a horse who retires after two seasons of racing. Instead it is a long career, one that invariably includes a strong performance over two miles, that is often influential in dictating a horse's popularity with breeders.
Overwhelming presence
There is probably no better example than the Shadai Stallion Station's Deep Impact, an overwhelming presence within Japan as his sire, Sunday Silence, was before him. Out of an excellent 12-furlong performer in Wind In Her Hair, Deep Impact's victories ranged from the Satsuki Sho (Japanese 2000 Guineas) over 10f to the Tenno Sho (Spring) over two miles. In between, he also won the Tokyo Yushun (Japanese Derby over 12f), Japan Cup (12f) and Kikuka Sho (Japanese St Leger over 15f).
The idea of mile-and-a-half G1 winners warranting a fair crack at stud is alien enough to many breeders in Europe, let alone ones able to carry their speed over two miles.
Now 17 years old, Deep Impact was priced at 40,000,000yen (£290,000) this year as he continues to remain Japan's answer to Galileo. Unfortunately, his season was cut short by a neck injury, but on the track it remains business as usual, with Roger Barows' victory in the Tokyo Yushun helping to ensure that his sire heads into the summer with a healthy advantage over his rivals as he goes in pursuit of an eighth consecutive Japanese sires' championship.
Among those poised to assume Deep Impact's mantle when the time comes is Almond Eye's sire, Lord Kanaloa, a different kind of animal, who excelled over 6f. Yet, in keeping with the Japanese desire to prolong a horse's career, he packed in 13 wins in 19 starts over the course of four seasons.
Lord Kanaloa's presence on the Shadai roster alongside Deep Impact underlines just how powerful the Yoshida machine has become.
Daiwa Major, who represents a fusion of two true Shadai forces in Sunday Silence and Northern Taste, remains the only stallion to break Deep Impact's hold on the leading 2yo sires' list and has a current star to his credit in recent NHK Mile Cup winner Admire Mars.
Another son of Sunday Silence, Heart's Cry, has forged an excellent domestic record while striking international notoriety as the sire of Woodward Stakes winner Yoshida - hopefully he will one day be available to Kentucky breeders. In the meantime, encouragement can be gleaned from the start made by an older son of Heart's Cry in Just A Way, another tough and versatile customer who has already been showcased to an international audience via the American exploits of his first-crop son, Master Fencer.
The need for patience
That's just a snapshot of the power within the Shadai roster. And, although the farm has added American speedsters such as Drefong and Mind Your Biscuits in recent years, it is notable how many of the roster stay true to the Japanese ideal: big, strong middle-distance horses with the bone and action to go with it.
Naturally, however, such horses often require a need for patience, and the question has to be asked as to whether Harbinger would have been quite so effective elsewhere. The runaway King George winner of 2010, Harbinger was sold to stand at Shadai in a multi-million pound deal. By Dansili, he had been a later maturing middle-distance horse who had failed to run as a juvenile, none of which would have sat well within the commercial market further west, and, although he was Japan's leading first-crop sire by earnings in 2014, a first crop of 148 foals contained just three stakes winners.
Indeed, Harbinger was a slow burner; by the time his first crop turned five in 2017, he had just four stakes winners to his credit. Yet, for one reason or another, he has since enjoyed a major upturn in fortunes to the extent that his stud record today comprises five G1 winners, led by Deirdre and Persian Knight. Each of the quintet hail from his third and fourth crops, foaled in 2014 and 2015. Would the U.S. and European markets have been quite so forgiving? Maybe I'm being harsh, but I suspect not.
Of course, anyone connected with the industry worldwide is well aware that not every decision works out. For instance, a slew of Epsom Derby winners sourced during the 1990s, notably Generous, Dr Devious, Erhaab, Lammtarra and Oath, did little to enhance the Japanese Thoroughbred.
Against that, acquiring Sunday Silence back in 1990 was a masterstroke. However, that dark son of Halo is also proof that sometimes you can have too much of a good thing; look no further than the country's premier auction, the upcoming JRHA July Select Sale, in which approximately 80 lots catalogued carry inbreeding to the great stallion, up from 63 in 2018.
At the time of writing, six of his sons also sit within the top ten Japanese sires. Such domination, for all its value, does intensify the need for an outcross, and it is probably no coincidence that the outlying quartet - Harbinger and King Kamehameha alongside his sons Lord Kanaloa and Rulership - have plied their trade by working so effectively with Sunday Silence line mares. Lord Kanaloa and Harbinger are two excellent examples, having sired G1 winners Almond Eye, Saturnalia, Deirdre and Persian Knight out of such mates.
One of the strongest broodmare bands worldwide
Hopes obviously now run high that Deep Impact's legacy will be secured via his sons. While one of his first major names to stud, Derby winner Deep Brillante, has made a lukewarm start to his stud career, there are a series of other sons waiting in the wings, notably Kizuna, Real Impact (also a shuttler to Arrowfield Stud in Australia) and Spielberg, all of whom have first 2yos this year.
Real Impact is already off the mark, while there is seemingly a fine word for the progeny of the 2013 Derby hero Kizuna, whose first crop made up to 50,760,000yen (£370,000/$470,000) at the recent Chiba 2YO Sale and was recently represented by his first winner on the JRA circuit.
Meanwhile in Europe, 2000 Guineas winner Saxon Warrior was understandably popular at a fee of €30,000 in his first season at Coolmore in Ireland.
It also can't be forgotten that decades of pursuing some of the best racemares to grace America and Europe have resulted in the accumulation of a seriously powerful collection of bloodstock. That in particular relates to the Yoshida family, whose farms are homes to surely one of the strongest broodmare bands worldwide.
Such animals, the result of determination and wealth, have obviously helped play a part in making Japan a world player. But I can't help thinking that, with their desire to see older horses race on over a variety of trips, they also have the right mindset for success. For instance, nowhere in Japan will you find a colt who has retired to stud at two.
Ultimately that has to enhance the breed while undoubtedly strengthening an already appreciative fan base, which, as anyone can tell you, are two vital components to the health of the sport.