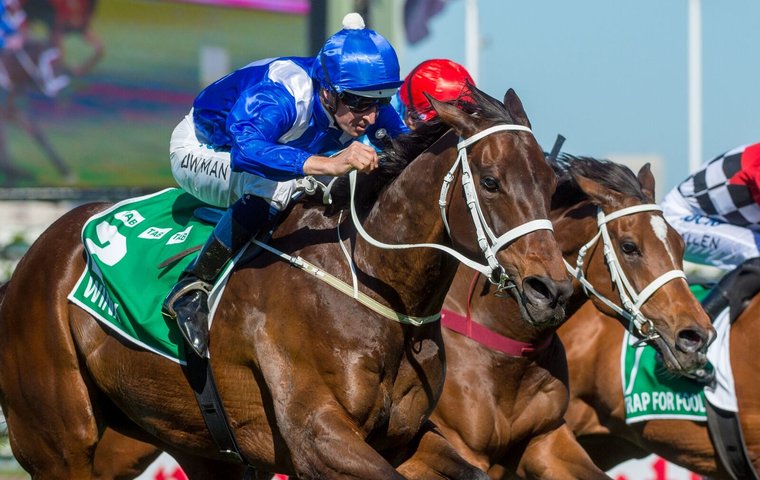 In the final part of his celebration of Street Cry's two legendary daughters, Zenyatta and Winx, Todd Sidor mulls over statistics that may give a hint as to why the Australian mare, who ran her last race a year ago tomorrow (Saturday), was able to perform the way she did.

Click here for part 1: The career of Zenyatta
Click here for part 2: The career of Winx
There has been much science applied to examining Winx's success. Is there any attribute that explains her greatness?
A horse's speed is a function of two elements: stride length and cadence. The first is self-evident in Winx, and the second is how quickly she turns her stride over. She is also phenomenal in how long she can maintain her top speed up to four furlongs.
Her stride average is 23 to 23.5 feet, which is moderate, but in the Warwick Stakes, where she broke slowly, as she would do on occasion, Winx got out to 24.58 feet, which is a full foot longer than her average stride length.
Her cadence is 2.63 strides per second. By contrast, Ulysses, in winning the G1 Juddmonte International at York in 2018, had a stride length of 23.16 and a cadence of 2.53 strides per second. Top European sprinter Harry Angel recorded the same figures in one major win.
Winx could do better than both of these outstanding horses, and at the latter stages of a race.
Physicist Dr Graeme Putt, from the University of Auckland, said Winx had been known to put in 2.7 strides per second, compared to the average of 2.3 for other horses. Practically, what this means is that, per minute, Winx could move 170 lengths compared to 140 by most other horses.
She could not only lengthen her stride when she needed to, but quicken it, which was responsible for her devastating turn of foot and why she could close late in a race so easily.
While track comparisons are certainly not determinative, in the 2018 Breeders' Cup Mile, won by Expert Eye, the pace was 24.68 and 49.85 early, with 24.80 for the final furlong, but Winx had run faster - in her 2018 Chipping Norton, for instance, after an early pace of 24.87 and 48.83, she ran 23.14 for the final two furlongs.
In 2017 and 2018, Breeders' Cup Sprint winner Roy H came home in times of 12.05 and 12.43, and 2017 BC Turf Sprint winner Stormy Liberal in a time of 11.55 for the final furlong.
Australian superstar sprinter Chautauqua's best final furlong time in 2016 was 11.5.
Winx's average final-furlong time in seven-furlong races of 11.1 is faster than all their times, and she has run up to a half-second faster (10.6) than her average - in the 2018 Turnbull Stakes (see video below).
Todd Sidor, an attorney by trade, has helped produce equine law seminars, and continues to own horses as a member of racing partnerships. His more than two decades' passion and respect for the sport of horse racing will always make him, first and foremost, a racing enthusiast.