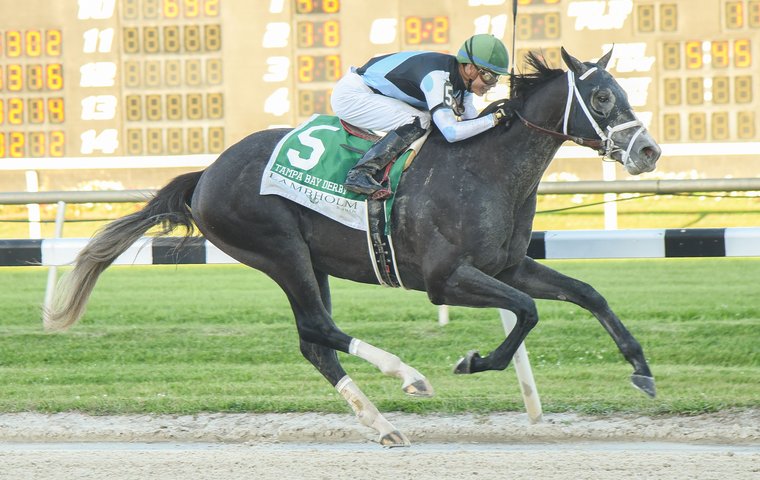 Crossing a street can be the simplest of task. It's usually a quick and uneventful process in the everyday life of people in all corners of the world. Yet on one fateful afternoon in August of 2015, the all-too-routine act of walking from one street to another triggered a chain of events that has taken Aron Wellman and his partners on an amazing journey that just might include a coveted stop at Louisville on the first Saturday in May.

On that day, Wellman, the President of Eclipse Thoroughbred Partners, and his business partner, Eclipse Chairman Brian Spearman, had just viewed the Denali Stud consignment at the Fasig-Tipton Saratoga Select Yearling Sale and were walking back to the main sales pavilion.
With each step, Wellman's mind raced faster and faster as he thought about a gray son of Tapit he had just seen at the Denali barn. Wellman loved everything about the young colt.
"I don't like to throw my cards on the table too soon, but I think the people at Denali were well aware of my affinity for that Tapit colt. They knew I was smitten with him the first time I saw him," Wellman said. "He had so much substance, depth and scope to him. He had good bones that could support a hefty frame. He walked with an incredible amount of power, yet was graceful on his feet for a heavier horse.
"He was the kind of horse that your eyes swell up when you see him."
Making the impossible happen
Yet Wellman also knew the colt was destined to sell at the auction for a seven-figure price well beyond his group's relatively modest means. While Danza had finished third for Eclipse in the 2014 Kentucky Derby, he was bought for just $105,000 as a yearling. The syndicate's multiple G1-winning filly Curalina, who was sold by Eclipse as a broodmare prospect for $3 million last November, was originally a $125,000 yearling buy, ironically enough from a Denali consignment.
"I would generally toss out a son of Tapit from a Grade 1-winning mare at an auction because if they pass a physical inspection he would probably be too expensive. The most Eclipse had ever paid for a horse at a sale was about $200,000," Wellman said. "But this colt was a standout."
As he pondered ways to make the impossible happen, Wellman crossed the street and saw Bridlewood Farm's general manager, George Isaacs, and farm trainer Jonathan Thomas walking toward him. Wellman knew both of them quite well from sending some of Eclipse's young horses to Bridlewood for their early training.
In an instant, a plan popped into Wellman's head.
"Aron asked us if we had seen that beast Denali was selling," Isaacs said. "He said he didn't have the resources to buy him and wanted to know if we were interested in partnering up with him. I said we'll check into it."
About 10 minutes later, Wellman's phone rang and destiny was in motion.
Three-way partnership
Isaacs was shopping for young colts to build up Bridlewood's racing stable and augment the farm's acquisition of well-bred fillies and mares, including half-sisters to Arrogate, Beholder, Songbird, Nyquist and Honor Code and a full-sister to Untapable. He also liked what he saw in the precocious Tapit colt and convinced Bridlewood owner John Malone to join forces with Wellman.
Yet, even with Malone on board, Wellman knew he need one more partner to make the finances work. So he and Isaacs decided to contact Jonathan Panagot, the racing manager for Robert LaPenta, who also sends his young horses to Bridlewood's Florida farm. Wellman knew Panagot from the days when Wellman worked for the Team Valor partnership and Panagot was the stable manager for trainer Graham Motion.
Panagot pitched a three-way partnership to LaPenta, who was receptive to the idea.
Best known for starting his own stable with trainer Nick Zito more than a decade ago, and producing runners such as 2007 juvenile champion War Pass, 2008 Belmont Stakes winner Da' Tara and beaten Kentucky Derby morning-line and betting favorites in The Cliff's Edge and Dialed In, LaPenta has become more involved in partnerships in recent years and now has a stable of 40 horses, with 15 of them belonging to partnerships.
"The game has changed," LaPenta said. "You look at the sales and prices have gone up, so it's no surprise there are more partnerships. You're at a disadvantage on your own. I still buy a lot of horses on my own but I like partnerships because I can share some of the risk and costs."
Before long, Wellman received a call from Panagot that was the answer to his prayers.
Valuable commodity
That short walk across a street in Saratoga Springs, New York, put in motion a chain of events that led to the new partners buying that Tapit colt with a winning bid of $1.2 million and embarking on a journey that has them in a highly enviable position with a leading contender for the Kentucky Derby.
Wellman's Eclipse Thoroughbred Partners, Bridlewood and LaPenta are now the proud owners of Tapwrit, their son of Tapit who became a G2 winner on March 11 and jumped into the upper echelon of Triple Crown candidates by setting a track record in an impressive 4½-length victory in the Tampa Bay Downs Derby for seven-time Eclipse Award-winning trainer Todd Pletcher.
Making matters even more satisfying for the ownership group, they have a rather rare and valuable commodity in a regally bred colt who sold for a million dollars and has become a bona fide Triple Crown contender.
"With his type of pedigree, if he can hit it big, it's a jackpot situation," Pletcher said.
If something special happens next month at Churchill Downs, rest assured there will be more buzzers and bells going off for that jackpot than you'll hear in a busy racetrack casino, and it's not an unreasonable possibility. The way Tapwrit has developed and added muscle since his recent victory has ignited an outbreak of Derby Fever among the team supporting him.
"Tapwrit is the real deal," LaPenta said. "He's going to make some noise in the Kentucky Derby. I really believe that."
McCraken again
Before the Run for the Roses rolls around, Tapwrit will face a major test. While his victory in the Tampa Bay Derby, the colt's third win in five career starts, lifted him to 54 points in the Road to the Kentucky Derby series and assured him of a spot in the opening leg of the Triple Crown, the eight-week gap between the two races was problematic for a colt who, in LaPenta's words, has been "kicking down the stalls".
So, to keep active, Tapwrit will get his final Derby tune-up in Saturday's $1 million Toyota Blue Grass Stakes at Keeneland, where he will meet up once again with McCraken, the colt who beat him by a length and a half in the G3 Sam F. Davis Stakes at Tampa Bay on Feb. 11 and is #1 in the latest National Thoroughbred Racing Association 3-year-old poll.
"Tapwrit came out of the Tampa Bay Derby really well and his energy level is so high that we believe he will benefit from another race before the Derby," the 39-year-old Wellman said. "We went over our options and the Blue Grass was the most attractive one. We are well aware that McCraken is going there, but that didn't factor into our decision to go there or avoid him. We just want to do what is best for our horse."
A year ago, Wellman was in a similar position as Eclipse bought a share of Destin after the colt's victory in the Tampa Bay Derby for Pletcher. Destin did not race again until the Derby, though Wellman said that decision to give him eight weeks of rest was made before his group acquired a share of the horse from Twin Creeks Racing Stables.
The nastiest of beats
Destin finished sixth behind Nyquist in the Kentucky Derby, but then took a five-week break and ran a sensational race in the Belmont Stakes, losing by a nose when Creator – a son of Tapit - caught him in the final stride.
"They don't get any nastier in terms of beats than that Belmont," Wellman said.
This time, Tapwrit will be cutting the eight-week gap in half, following a similar path as the one Pletcher mapped out for Mike Repole's Outwork, who was second in the Tampa Bay Derby and then won the Wood Memorial.
"This is a different situation with a different horse," Wellman said about the timing dilemma that faced Destin and Tapwrit. "We're not unhappy about it being a tough situation because it's a fortuitous situation, but it's not cut and dried. You try to find that healthy blend between analyzing the speed figures and assessing your horse and that was a tough call. But we'll be going from Florida to Kentucky and then hopefully getting a good, useful race out of him in the Blue Grass, and then staying in Kentucky.
"That makes sense logistically, and he's a type of horse that's better off when he's settled in and comfortable in his environment. We thought the Blue Grass was the most direct route to get to the Derby."
Master of markets
While there's a logical path to the Derby in place, the journey that has made it all possible was anything but routine.
Even after Wellman put together his partnership, there was no guarantee that they could land the coveted colt by Tapit out of Appealing Zophie. It was initially decided that $1.1 million would be the group's ceiling, but fortunately Malone was in Saratoga at the time.
The Chairman of Liberty Media Corporation, which owns a share of the Atlanta Braves and Sirius XM and is regarded as the largest land owner in the United States, Malone had a notion that $1.1 million might not be enough to land the colt.
"Mr. Malone is a master of markets and one of the most brilliant businessmen in America and he said, 'Guys, you should probably be willing to go to $1.2 million,"' Isaacs said.
Much to Wellman's relief and joy, Malone's assessment was spot on.
"I don't know if it was an epiphany, but Mr. Malone hit the nail on the head and I'm not sure if we would have put in that extra bid if he hadn't said what he did," Wellman said. "We're certainly glad that we did. For that much money, you didn't want to be pennywise and pound-foolish."
Disappointing debut
A little more than a year later, after the partners agreed to name the Tapit colt Tapwrit for his sire and Successful Appeal, the sire of the dam Appealing Sophie (in court cases a successful appeal is known as a writ), there was a different mood for them at Saratoga. Tapwrit made his career debut at the Spa on Sept. 3, and was sent off at 5-1 odds, which seemed a tad high for a million-dollar juvenile trained by Pletcher.
Yet Tapwrit proved to be an underlay as he showed little in his first start, finishing last in a field of 10, beaten by more than 18 lengths.
"I guess, if we're all being honest, we were on pins and needles until the next start," Isaacs said. "We were sure disappointed, but it was explainable when you look back. We all knew he was a Baby Huey type, very green and had a lot to learn. His times in the morning were solid for a 2-year-old, but his body language told you he's wasn't ready for that first start. I guess the pressure got to all of us and we decided to run him there before the end of the meet."
While Pletcher was not envisioning a decisive win in Tapwrit's debut, he was caught off guard by the colt's poor effort and revised the playbook for him.
"I don't know what happened in that first race," Pletcher said. "It was uncharacteristic for one of our first-timers to run as poorly as he did. We certainly felt he trained much better than he ran, so we were surprised and disappointed. We felt we had to regroup and start over."
'The light bulb went on'
Wellman said Pletcher began training Tapwrit with more gusto and that brought out the best in the gray colt.
"Sometimes with a well-bred, high-priced baby you tend to go soft on them. After the debut, when we decided to take the kid gloves off, he's really responded well every step of the way," said Wellman, who sells each of his horses as an individual LLC and has just a handful of Eclipse owners in the Tapwrit partnership within the partnership. "It's been fun to watch him develop from a backwards, immature horse into a horse that is really starting to gain a lot of confidence and transform into a man before our eyes."
Pleased with Tapwrit's progress after that dismal debut, Pletcher sent Tapwrit to Florida to prepare for his next start.
"Once he got to Palm Beach Downs, Tapwrit got better and better," Pletcher said. "The light bulb went on."
In his second start, Tapwrit did not disappoint as he posted a length victory in a one-mile maiden race at Gulfstream Park West on Nov. 6.
After that, Pletcher had a successful turn as a weatherman as he entered Tapwrit in the Pulpit Stakes at Gulfstream Park as a main track only starter. Rain washed the race off the turf course and Tapwrit capitalized, claiming his first stakes win through a length victory on a sloppy track.
A valid contender
"Todd did some outstanding weather forecasting. He said 'Let's watch the weather because there could be some rain that day and we want to be ready if there is.' Todd gets all the credit for that one," Isaacs said.
Pletcher had a slightly different take on the Pulpit.
"That's what you call lucky," he said.
Pletcher followed a more conventional path to Tapwrit's next appearance in a stakes, running him in the Sam F. Davis and facing the undefeated McCraken, who was making his 3-year-old debut after closing out 2016 with a win in the G2 Kentucky Jockey Club at Churchill Downs.
The favored McCraken remained unbeaten by registering a length and a half victory, but Tapwrit showed some promise and grit in moving off the rail and finishing second at 9-1 odds under Jose Ortiz.
"He got a good experience being stuck down inside horses and could have spit out the bit at the 3/16ths pole, but Jose was able to extricate him in the final sixteenth and he found a new gear late and finished well. Then he galloped out incredibly well," said Wellman, who has roughly 50 horses in training under the Eclipse banner.
"There was a mixture of frustration because we could have been closer or won but were thrilled with the performance because he validated himself as Triple Crown contender."
Ultra impressive
McCraken missed the G2 Tampa Bay Derby due to a strained ankle, which left Tapwrit as a 6-5 favorite and he responded with a superb performance in the mile-and-a-sixteenth stakes, rallying from eighth and taking charge in the stretch en route to a decisive triumph in the stakes record time of 1:42.36.
"Tapwrit keeps getting better and better and we'll have a big shot in the Kentucky Derby if he gets there," Ortiz said. "I think he'll handle the [mile-and-a-quarter] distance without a problem. He has a great trainer who knows how to manage him and get his horses to the big races."
Before he tackles that ten-furlong distance in the most important race of his career, Tapwrit will stretch out a bit to a mile and an eighth in the Blue Grass, which should suit him quite well.
"He's really coming into himself," Isaacs said. "Everything has been ultra impressive."
The only source of angst, much to the chagrin of his connections, stems from competing in another Grade 2 - the Blue Grass was dropped from Grade 1 status for this year's edition.
"This year it's harder to pick races and it's frustrating that the Wood and Blue Grass are now Grade 2s," Pletcher said. "There's a significant difference for the winner of those races as opposed to the Florida Derby, Santa Anita Derby and Arkansas Derby, which are Grade 1s.
"It's short-sighted of the graded stakes committee to look at things over the last five years. The potential to get it wrong is high. These races deserve a longer historical look. There are some short-term trends that statistically might not add up, but if you look at it for long enough, to me, there's certain races that should be Grade 1s and do not need to be reviewed. I'm frustrated by it and I know other trainers are as well."
Ominous numbers
While the Blue Grass promises to be revealing in terms of Tapwrit's chances in the Derby, win or lose there will be a couple of ominous numbers following him to Churchill Downs, namely 1 for 45 and 3 for 78.
The 1 for 45 is Pletcher's record in the Derby, which is a mind-boggling statistic for a trainer who owns the sport's record with career earnings of more than $333 million.
"I won't say it's not fair the heat Todd gets for his Derby record, but he's won the Derby and he's also run well in it," Wellman said. "There are so many circumstance and variables that go into how and why he has the record he does, but I can tell you he has lot of happy owners who have won massive amounts of money on the Triple Crown trail with him, and he's established stallions and gotten their horses to the Big Dance."
The longer streak centers on the futility horses sold at auction for $1 million or more have endured in Triple Crown races – a statistic reported a year ago in a TRC feature of $2.2 yearling buy Mohaymen.
In the last 26 years, only three horses who sold at an auction for seven figures or more have won a Triple Crown race. It's a group that includes the Pletcher-trained Rags To Riches ($1.9 million) in the 2007 Belmont Stakes, Fusaichi Pegasus ($4 million) in the 2000 Kentucky Derby and A.P. Indy ($2.9 million) in the 1992 Belmont Stakes.
Moreover, drop that sales tag to $600,000 and the number becomes just 4 for 78 with 2006 Belmont Stakes winner Jazil ($725,000) joining the list.
"It's not as easy as paying the most for a horse and that insures Triple Crown success," Pletcher said. "But from a percentage standpoint, there's less horses in that million-dollar range so from a statistical standpoint it's going to happen less."
Less for sure. Yet, given the way Tapwrit seems to thrive as the distances get longer, perhaps he's one who can break the mold and prove that sometimes more is indeed better than less.
It would seem to be a simple concept.
Almost as a simple as crossing a street, and for Aron Wellman, hopefully as fruitful as a certain stroll on an August day in Saratoga.
Road to the Kentucky Derby: click here for James Willoughby's assessment of Tapwrit's Tampa Bay Derby victory